---
Idea 01
No frames? No problem.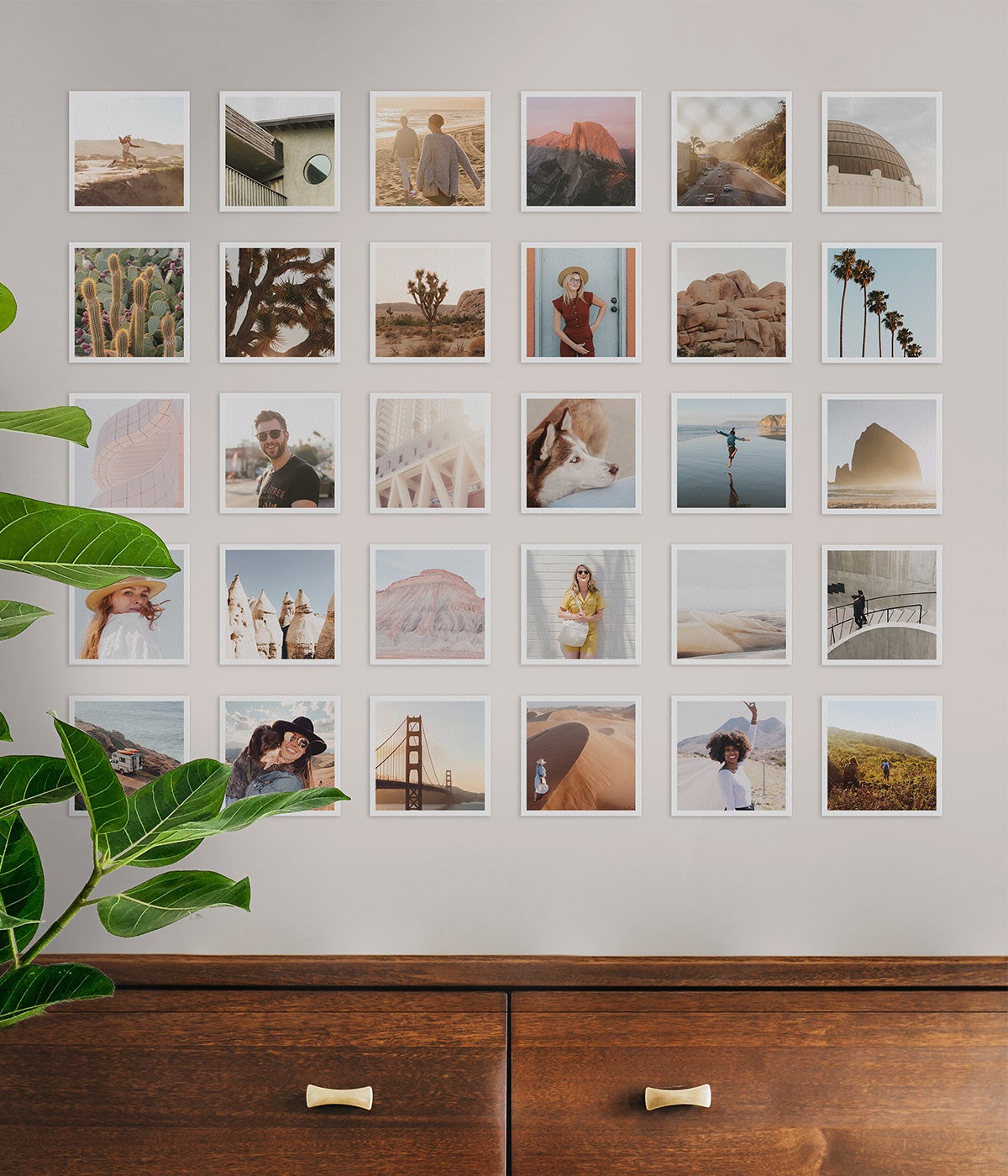 What you'll need: Everyday Prints, washi tape or poster tape

One of our favorite photo wall ideas involves creating a mosaic of your photos in print. We recommend using a ruler or measuring tape to space out your prints and keep your grid clean and consistent. Best part? No need for frames, hammers, or nails (landlords, rejoice!) — use washi tape or poster tape to adhere the prints to your wall safely.

Pro tip: If you aren't into straight lines, try experimenting with spacing and angles for a more creative and artistic look like our friends, @thebusfamily.
---
Idea 02
Bring Your Travels Home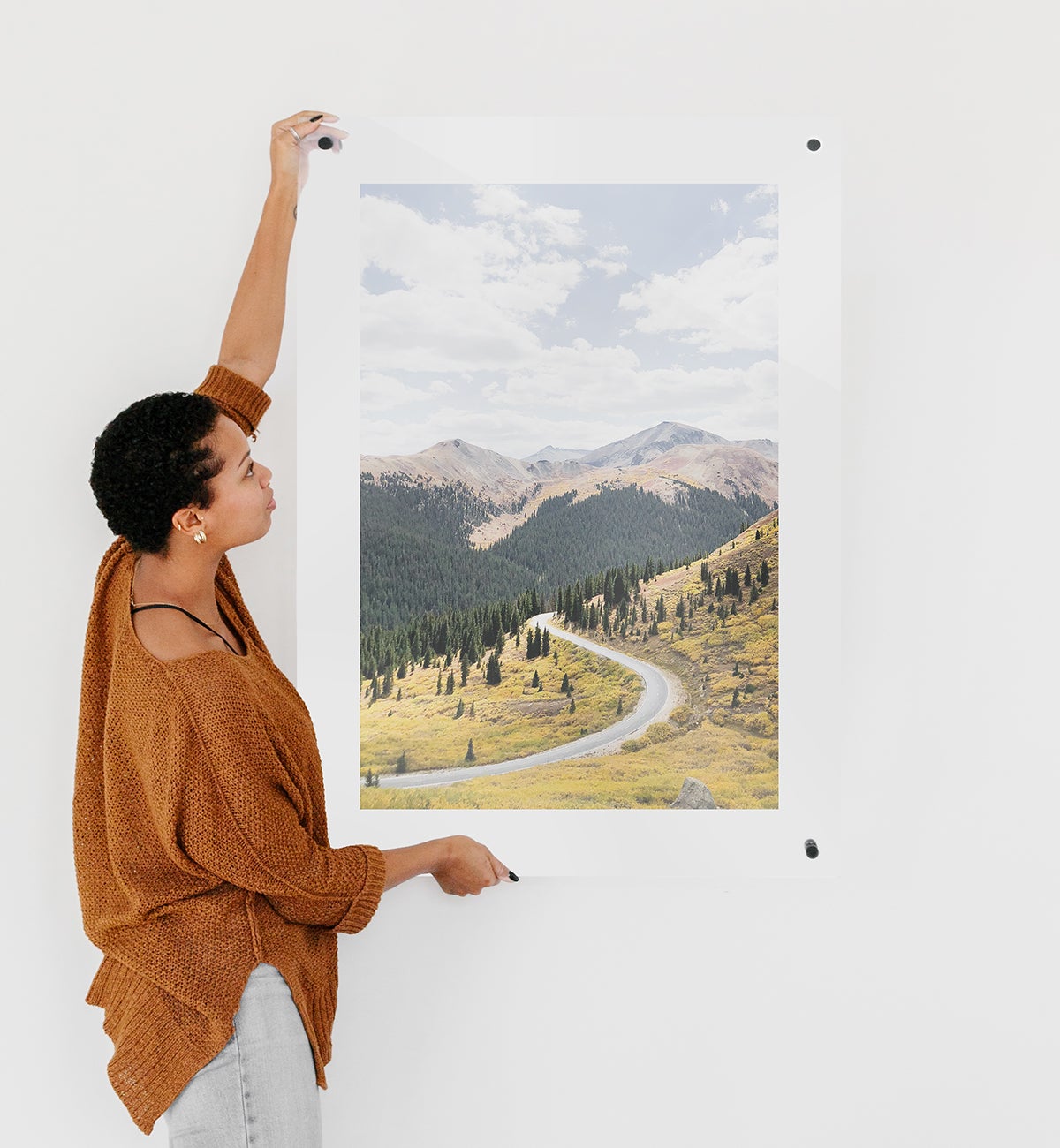 What you'll need: Floating Frame, your most-loved travel image

Experience wanderlust often? Us too. A great way to relive your travels and escape for a minute or two is to feature your most-loved travel photography in your space. Our Floating Frame is designed to give the photo you choose the attention it deserves, creating a statement piece that takes you right back to the memorable places you've stood. Decor trends come and go, but a stand-alone frame like this will always be in style.
---
Idea 03
Level Up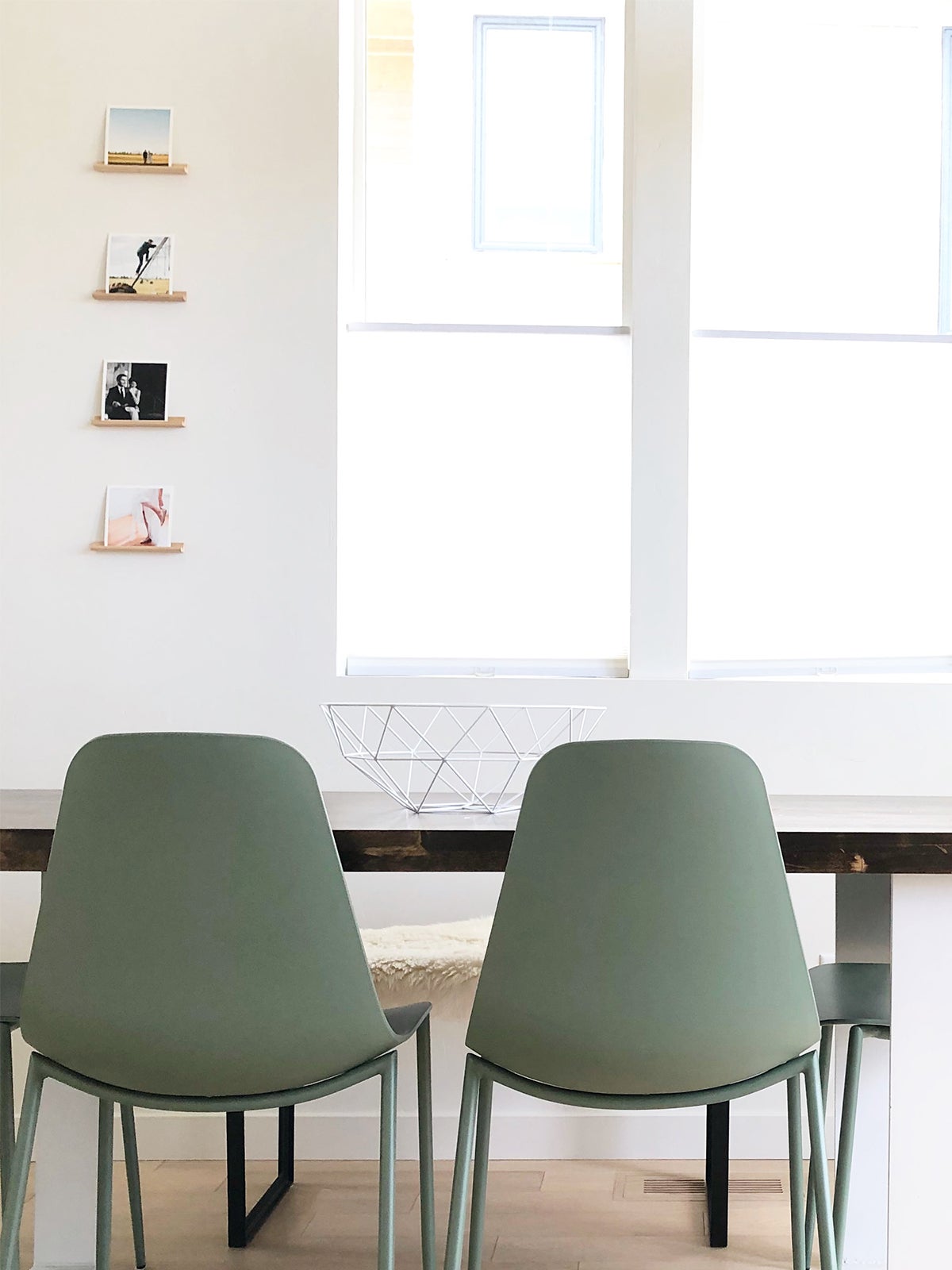 What you'll need: Everyday Prints, large or small Wooden Photo Ledges

If you're working with a thinner area of your wall, one of the photo display ideas we love (thanks @bethanyloveall!) is stacking wooden photo ledges and placing prints on each ledge. Easily swap out the photos featured monthly or however often you want. This is a great way to highlight anniversaries and birthdays or welcome new seasons with the photos you choose.
---
Idea 04
Say It With Love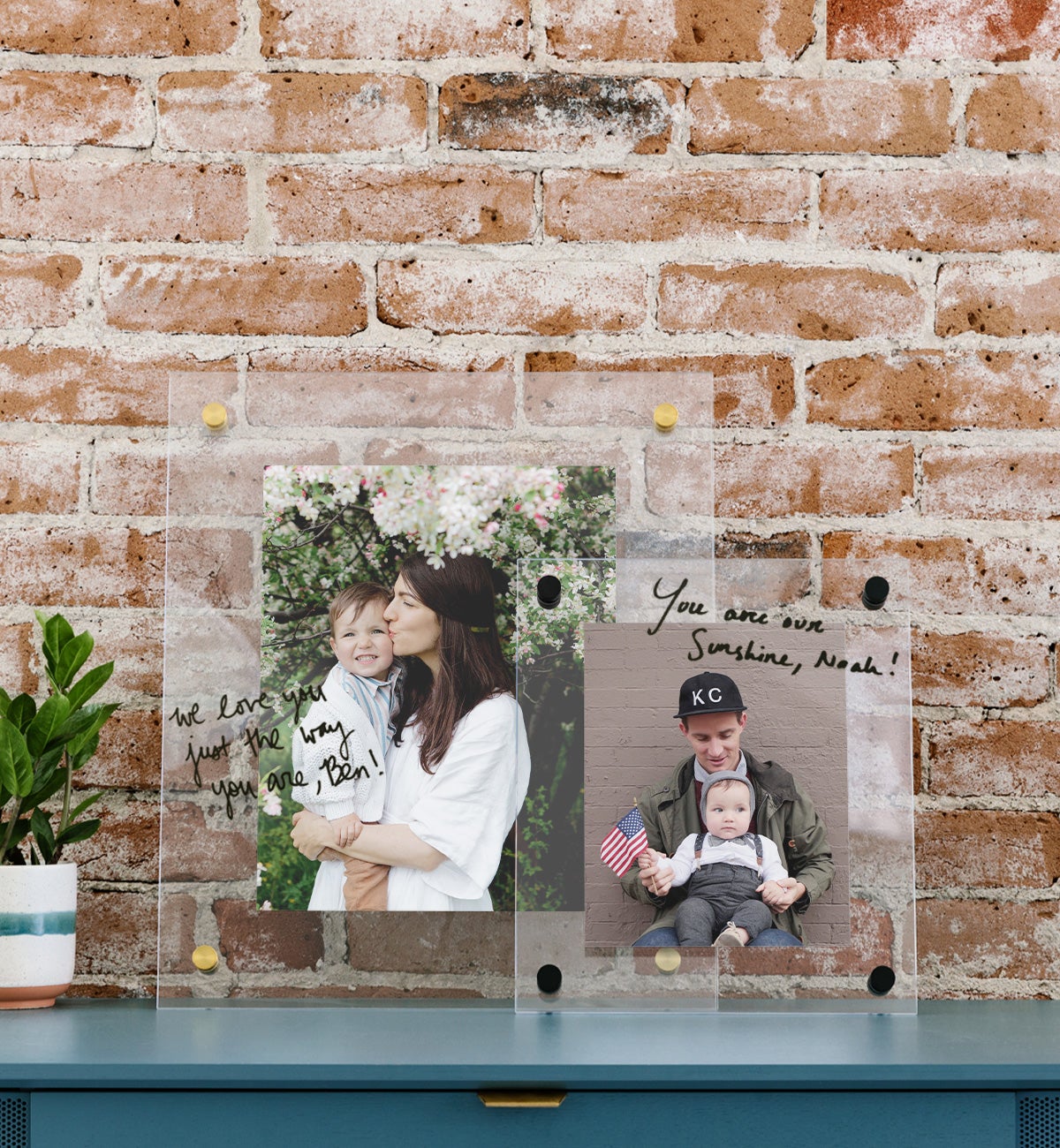 What you'll need: Floating Frame, wet- or dry-erase marker

Consider love notes, upgraded. Leave your little ones or family members a note about how much they mean to you on our Floating Frames. We suggest placing the frame in their room and occasionally sneaking in to write your message on it with a wet- or dry-erase marker. It's a thoughtful and unique way to wish them a good day at school or a happy birthday.
---
Idea 05
Cozy Up a Corner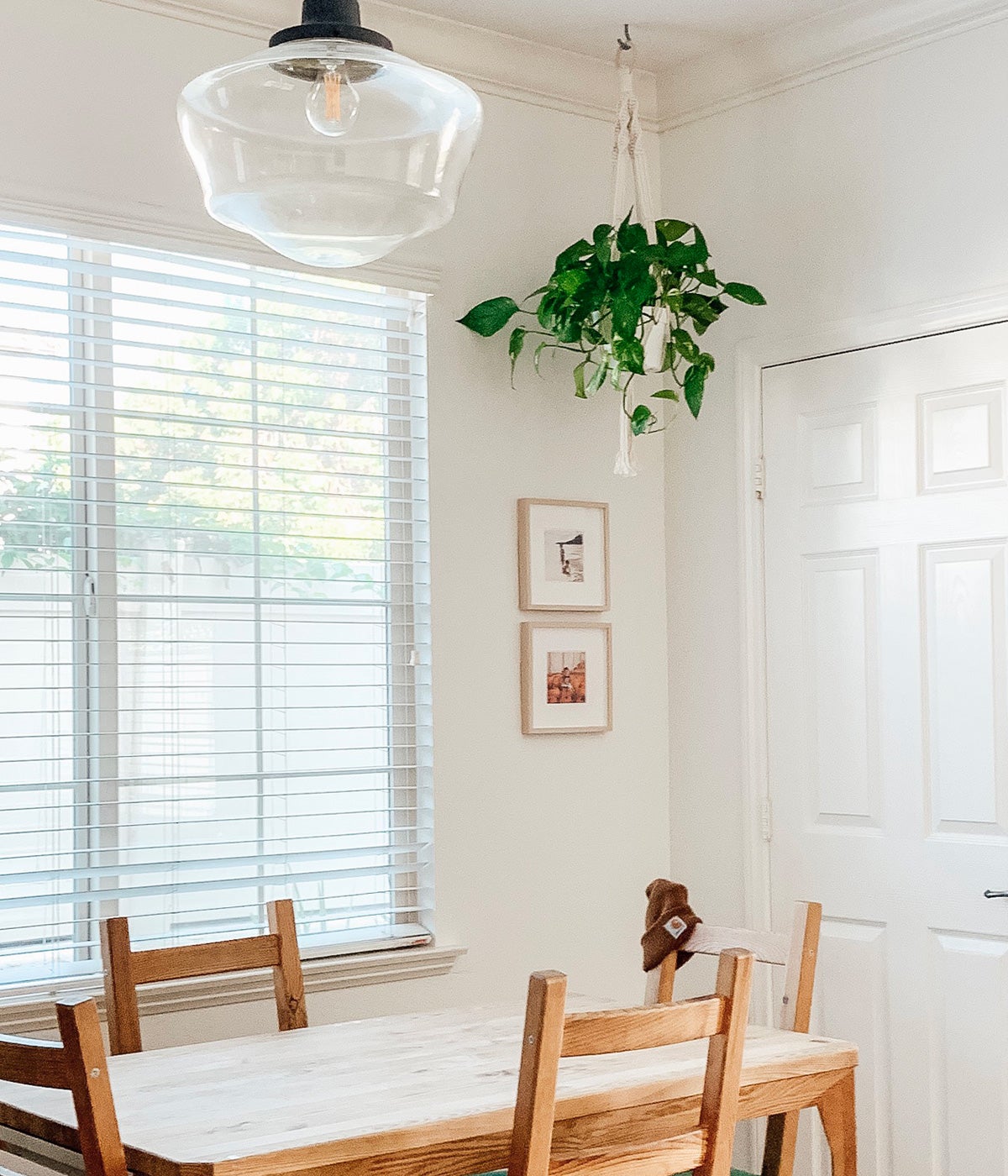 What you'll need: Gallery Frames

Sometimes, it seems more important to tackle the largest walls in our homes, but decorating a corner or small space can have just as much impact. Try featuring framed prints in a nook for a thoughtful touch, like @mindydiaz, and say hello to your new favorite corner in the house. Pick out two (or more) of your favorite types of frames and stack them to make great use of an unassuming area.
---
Idea 06
Liven Things Up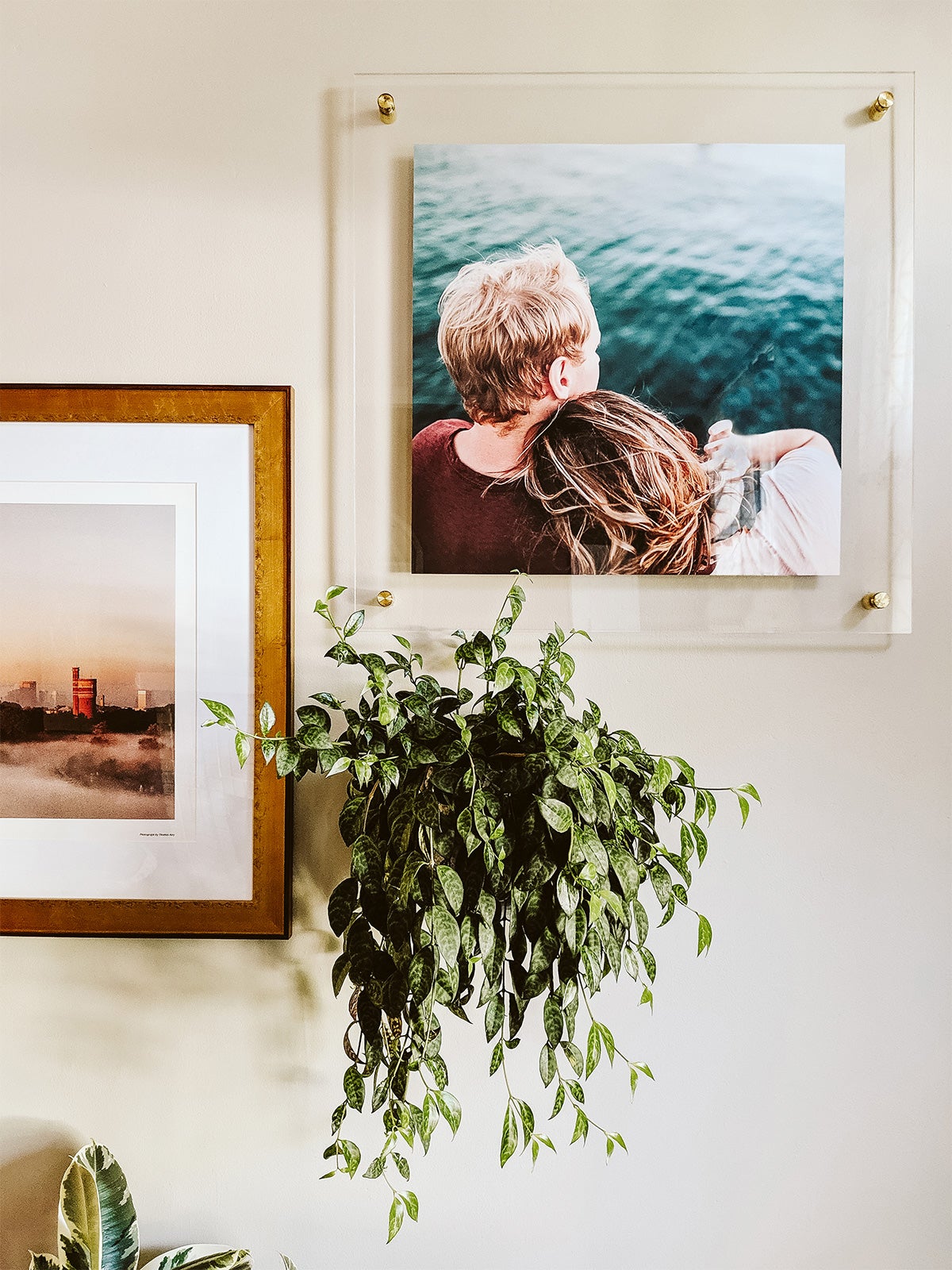 What you'll need: Frames, any hanging or wall-mounted plant

A tried and true way to refresh your space: Bring the outside in and liven things up with plants. A bundle of new plants adds a breath of fresh air as well as a delightful pop of color. Follow the lead of @honemade-photography by pairing greenery with framed prints. Mix and match them on your wall and watch the whole room come alive.

Pro tip: Amplify the effect by featuring the outdoors in the photos you frame, as well!
---
Idea 07
Put Menu to Mantel
What you'll need: Floating Frame with print, wet- or dry-erase marker

Oui, chef! There's something remarkable about gathering around the table together. Mark the entire experience by creating a family menu board with our Floating Frame. Use a wet- or dry-erase marker to update the "menu" each night and see faces light up when they see what's to come.

Pro tip: Create a menu print by saving a .jpg file with the permanent words you'd like to feature. Easily upload that file to print in our editor when customizing your frame.
---
Idea 08
Create a Panoramic Effect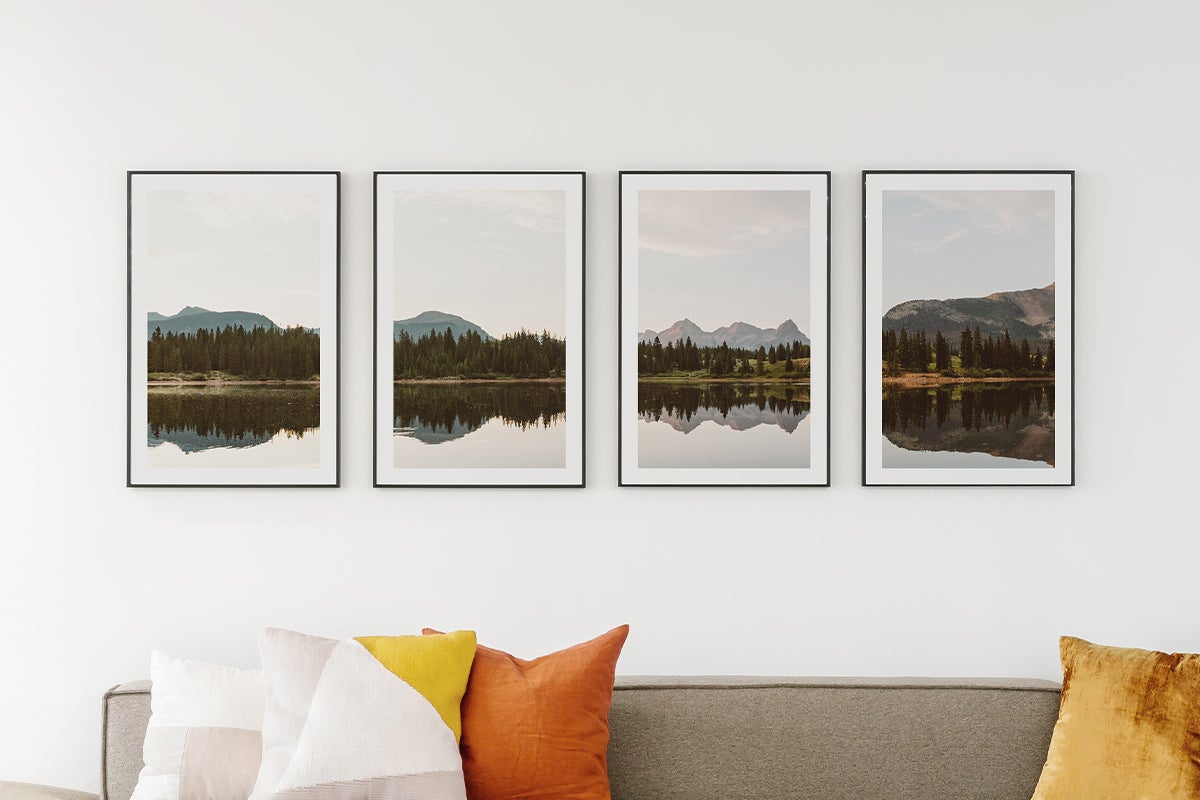 What you'll need: Modern Metal Frames, photo-editing app such as Photoshop®

For a picture hanging idea sure to wow family and friends, create a photo version of a "triptych." You can do so by splitting a horizontal photograph of a landscape into multiple panels to turn a big, blank wall into a sweeping panorama. "A successful triptych has seamless continuity," says our design director, Barrett Brynestad. "When you crop the image, factor in the space between frames, so your hills (or waves, or buildings) roll smoothly from one to the next."

Pro tip: Use your photo editing tool to crop the image into seperate image files and print each in its own frame. Arrange the frames on the wall to match your original photo.
---
Idea 09
Embrace the Shelfie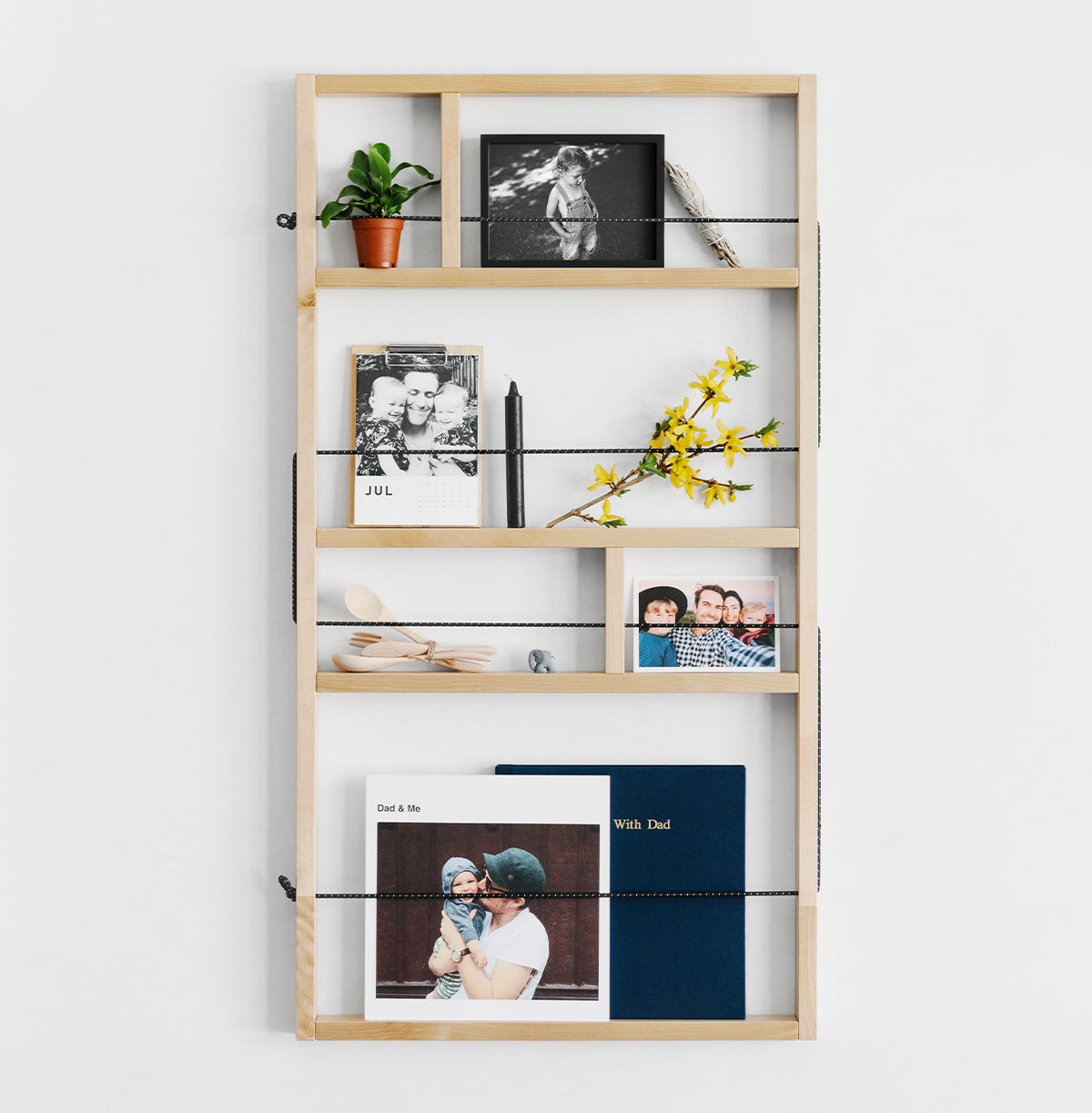 What you'll need: Assortment of photo books, frames, calendars, and prints; any wooden multi-layer shelf; and knick-knacks

We believe your space should always feel like, well, you. Make use of a multi-layer wall shelf to display photo books, prints, plants, knick-knacks… each item a unique way to tell your story and feature the details that matter. This decor idea doubles as a way to organize and declutter — just hold onto the things that matter and find a space for them to call home.
---
Idea 10
Layer It Well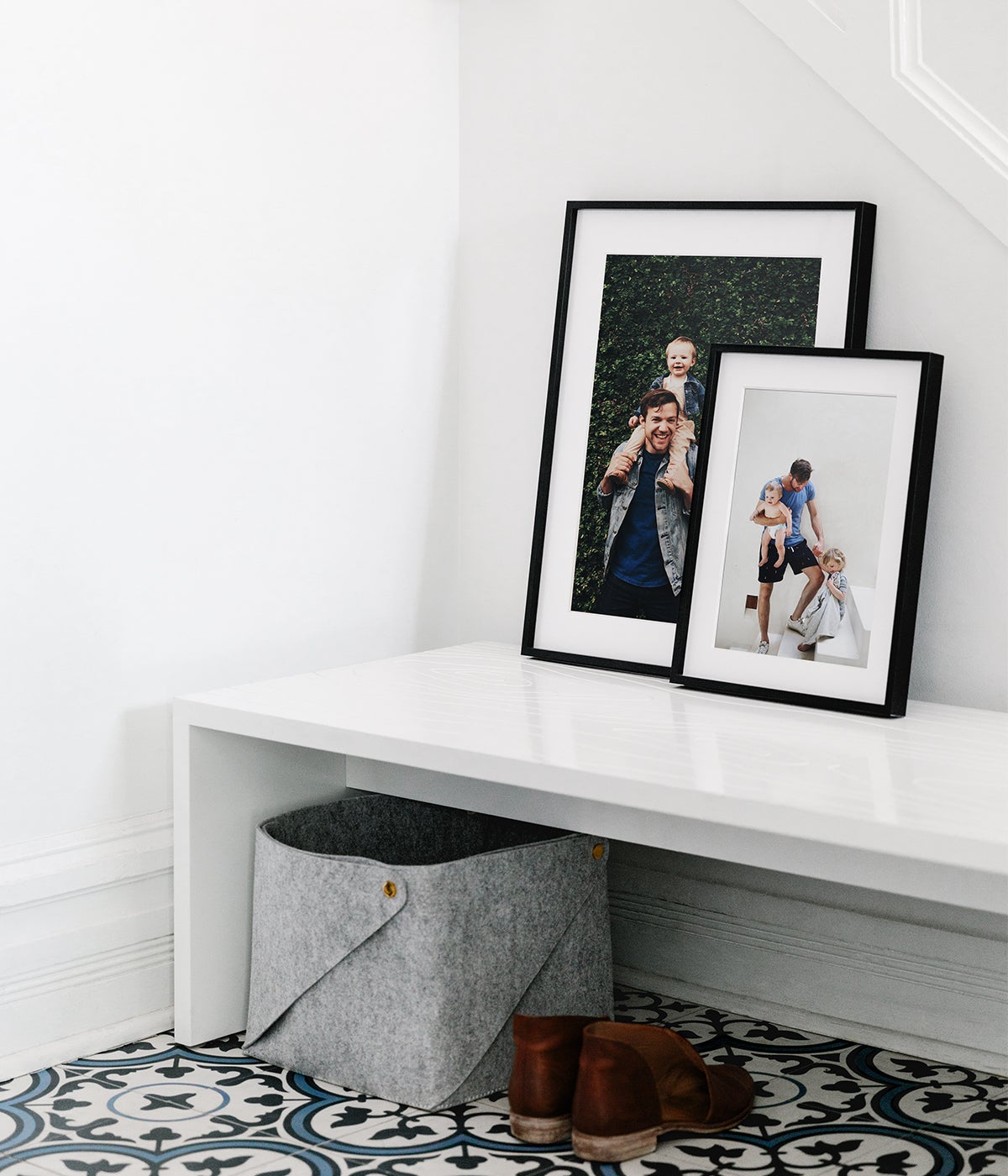 What you'll need: Modern Metal Frames

Choose two or three metal frames and lean them against a wall in an overlapping manner — including multiple pieces adds intentionality to the overall look versus an oops-forgot-to-hang-them appearance. This is a simple way of decorating that simultaneously allows you to change your art as often as you'd like!
---
Idea 11
Spark Some Inspiration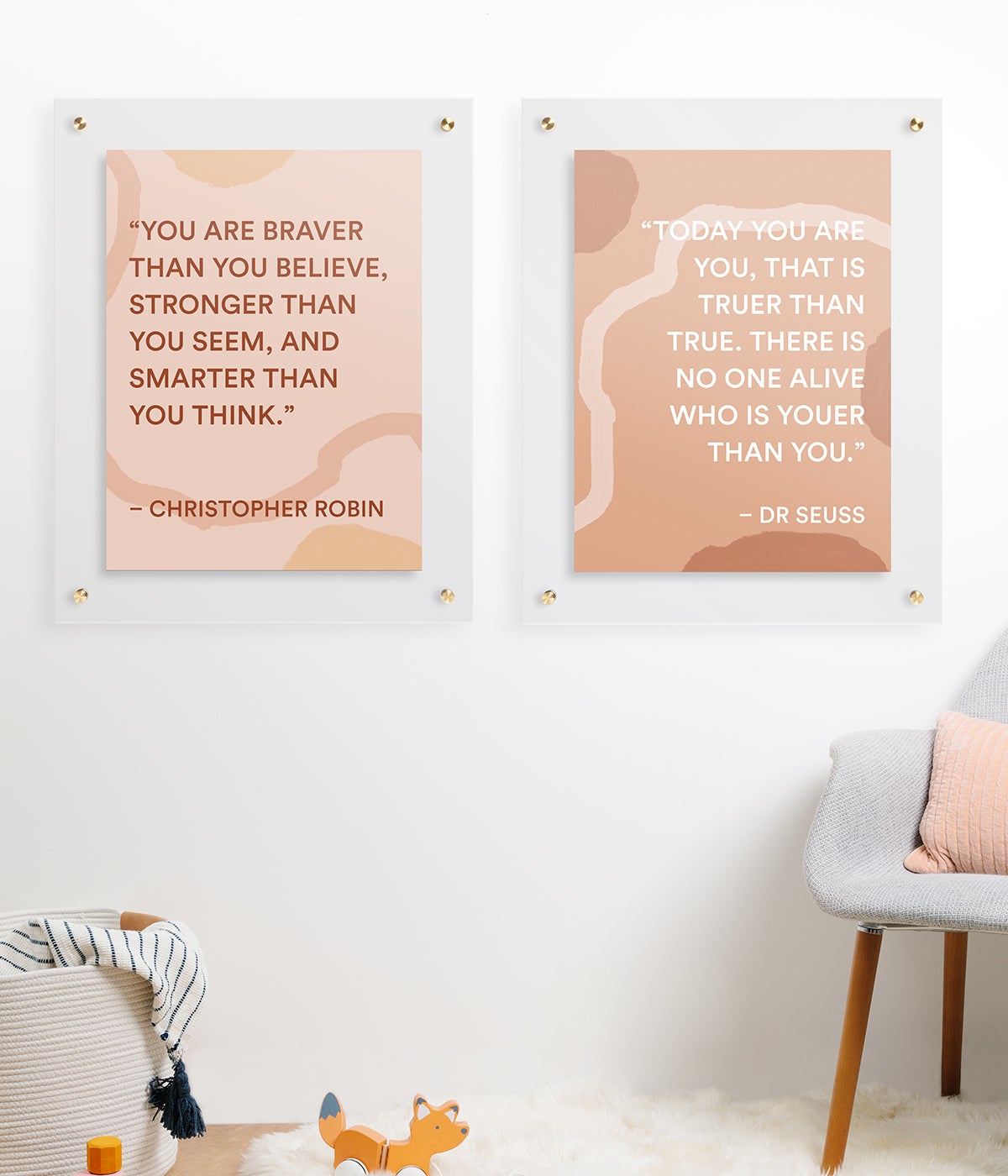 What you'll need: Floating Frames, photo-editing app such as Photoshop®

Inspiration, on demand. Encourage and affirm your little one by hanging quotes in their room. Play with fonts and sizes in an application like Photoshop to emphasize certain words. Then print your quote in a frame like our Floating Frame to create an impactful display.

Pro tip: Save your quotes as .jpg files to easily upload them in our editor when customizing your frame.
---
Idea 12
Cue Your Wedding Photos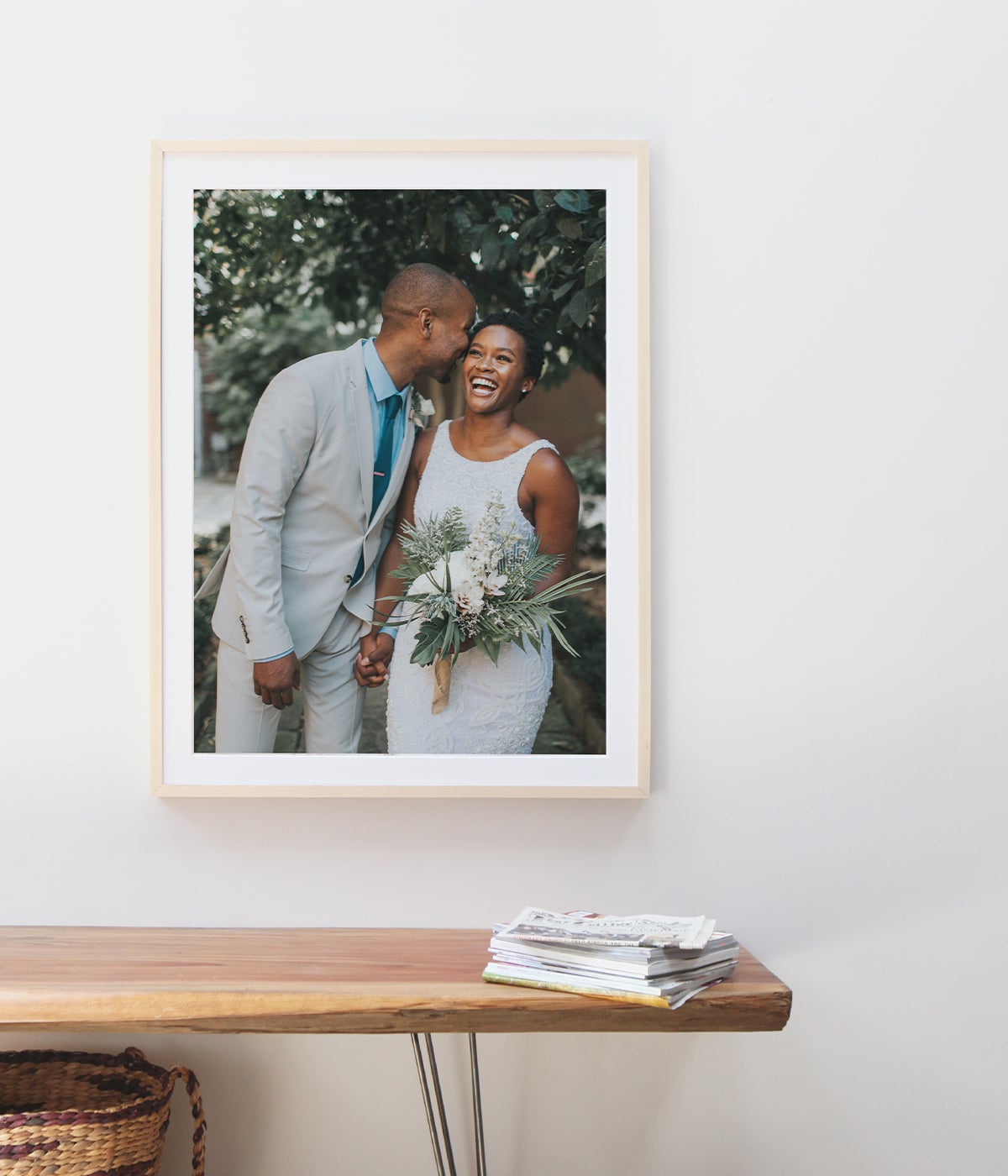 What you'll need: Gallery Frame, favorite wedding photo

When it comes to large wall art ideas, recall those high-quality wedding photos you have on hand. These photos are well suited for a large Gallery Frame. Relive your big day every day by featuring the photos in your home.

Pro tip: Be sure to ask your wedding photographer for both high resolution and web size versions of your photos. The web size is ideal for social media sharing; however you'll want a higher resolution for print.
---
Idea 13
Go For the Gallery Wall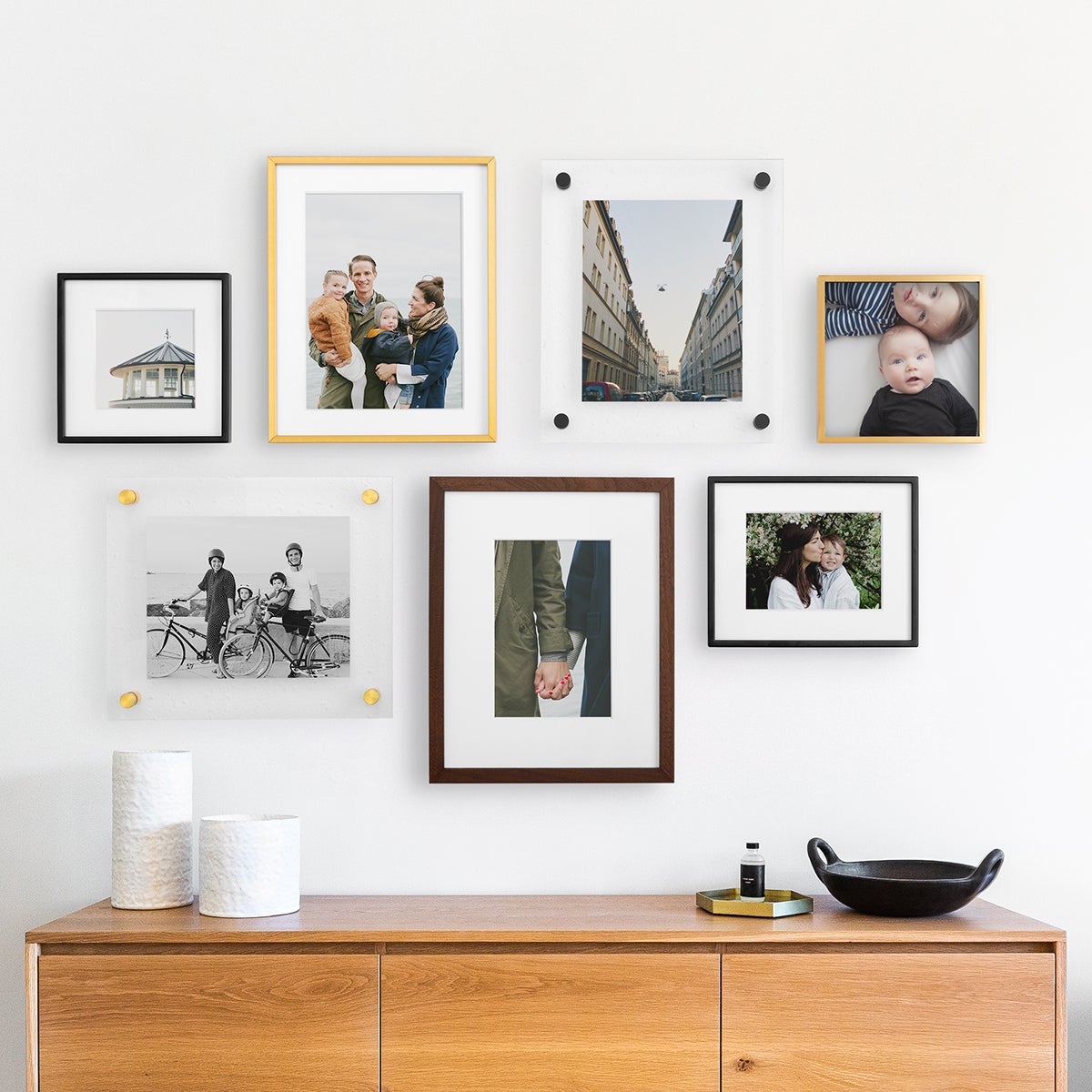 What you'll need: Assortment of Photo Frames

Looking for gallery wall inspiration? Create a personalized display with an assortment of different frame types and sizes. When choosing photographs to feature, keep the variety in play and select a range of family, travel, portrait-style photos…

To create an eclectic gallery wall design like this one, align the bottom of the first layer and the top of the second layer, hanging the frames with equal distance between them. The differing sizes will do all the heavy lifting of establishing a creative and unforced look.
---
Idea 14
Think Big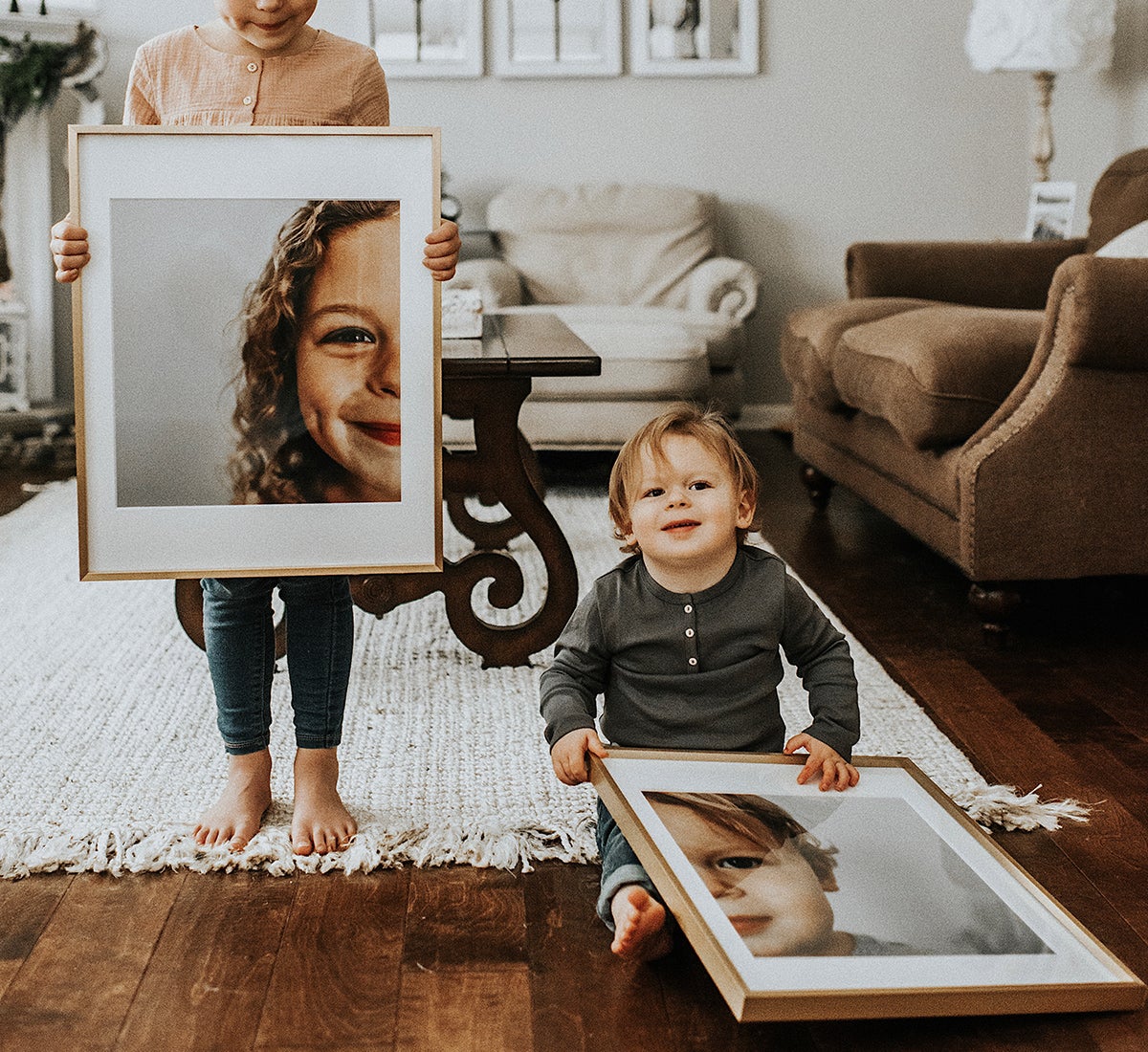 What you'll need: Modern Metal Frames

For large wall decor ideas, look no further than the little faces in your life. @gcalebjones prints portraits of his family in our Modern Metal Frames to celebrate them in his home. These larger-than-life portraits will become a statement piece in any room, with a metal finish that plays off of other decorative elements in the room like furniture, lighting, and wall color.

Pro tip: No need to hire a photographer. We've rounded up our best Portrait Photography Tips for you.
---
Idea 15
Honor Your History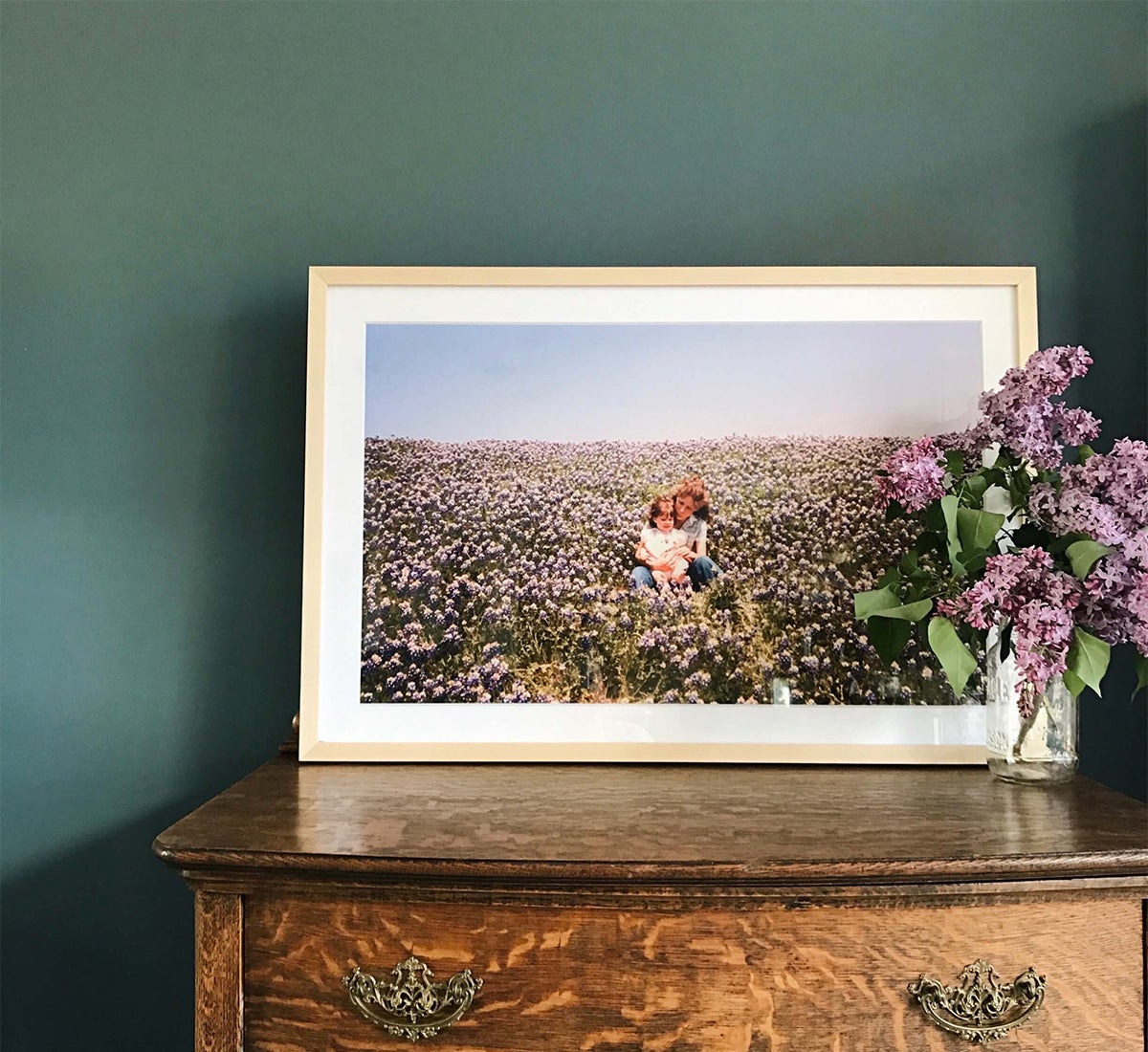 What you'll need: Gallery Frame

Give your old photos a new life and honor your family history by scanning old photos and framing them in your home. If you don't own a scanner, use your mobile phone to capture the image with the camera or an app like Pic Scanner. Upload the scanned image to our site and print away! Once you have your framed print, stow away the nails and prop it up on your bedroom dresser or shelf.

Pro tip: When "scanning" the photo — be sure to hold your phone directly overhead, avoid direct sunlight, hover your body over the image to block glare, and tap the middle of the screen to focus.
---
Nailed It
Which Wall Art Idea Will You Choose?
The important details are the ones that tell your story best and offer creative enjoyment in the process. Despite the tips and tricks you read throughout your wall art journey, there's no right or wrong way to decorate your space. Take the tips that suit you best, and run with them.

We'd love to see how you feature these unique wall art ideas and any others in your space. Tag us on instagram (@artifactuprising) — we're looking out and ready to be inspired!
---