---
When To Send Thank You Cards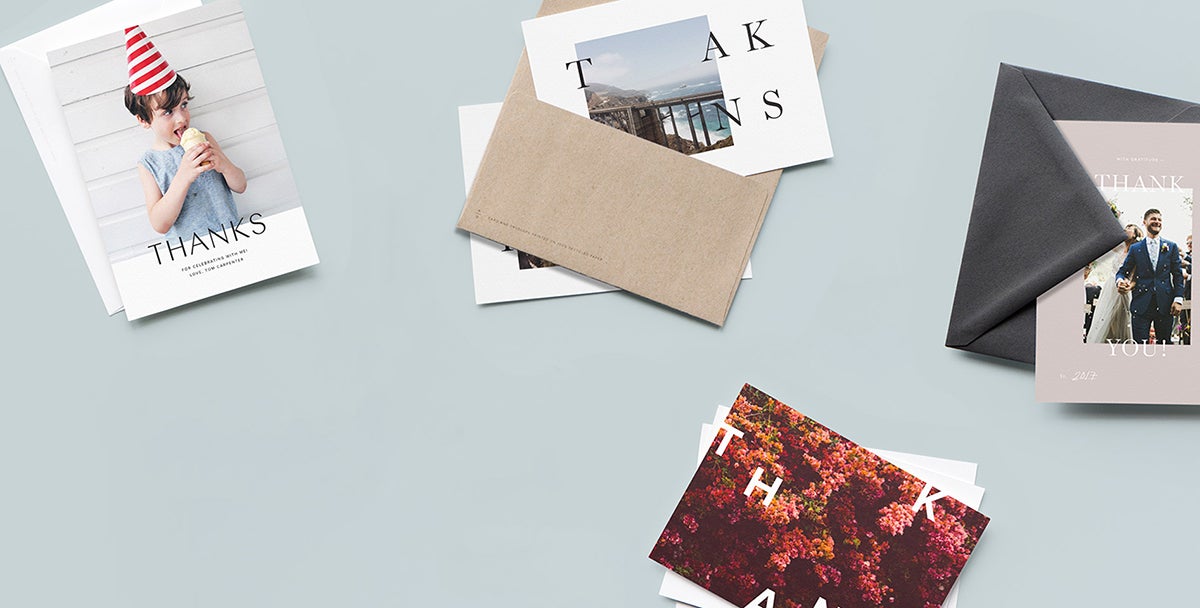 Knowing when to send a note of gratitude can be a little tricky. As a rule of thumb, we say feel free to send a thank you note whenever the urge strikes you. However, in general, you should strongly consider sending a card if any of these five scenarios apply:
To wedding guests & gift-givers
Following a special event or dinner
After receiving a gift
Showing gratitude to a client or colleague
Following a job interview
---
Wedding Thank You Cards
Thank You Card Design Idea: Foil-Stamped Minimal Thank You Card
Timeline

Mail your cards within three months following the wedding. As you start receiving gifts leading up to the main event, send your thank you's as they come in. You'll have plenty of cards to send after the big day, so getting ahead of them will save you time and effort later. Plus, it's completely acceptable to send a thank you prior to the wedding if the gift arrives early.

Wedding Thank You Card Wording & Etiquette

Thank you card etiquette is an important factor to consider as you get started on your cards. The formality of your card should be based on how well you know the person or couple. If you're sending a note to family friends who you refer to as "Mr. and Mrs. Davidson" in person, you should address them in your card the same way. With closer friends and family, feel free to be a little less formal.

Thank You Card Ideas for Adding a Personal Touch

Always make reference to the gift given, as well as the person's attendance at the wedding, to truly let them know how much it meant. If they gifted you a brand new griddle, drop a little mention like "can't wait to have you over for pancake brunch!" If they didn't attend, be sure to let them know that they were missed.
---
A Thank You Following an Event or Dinner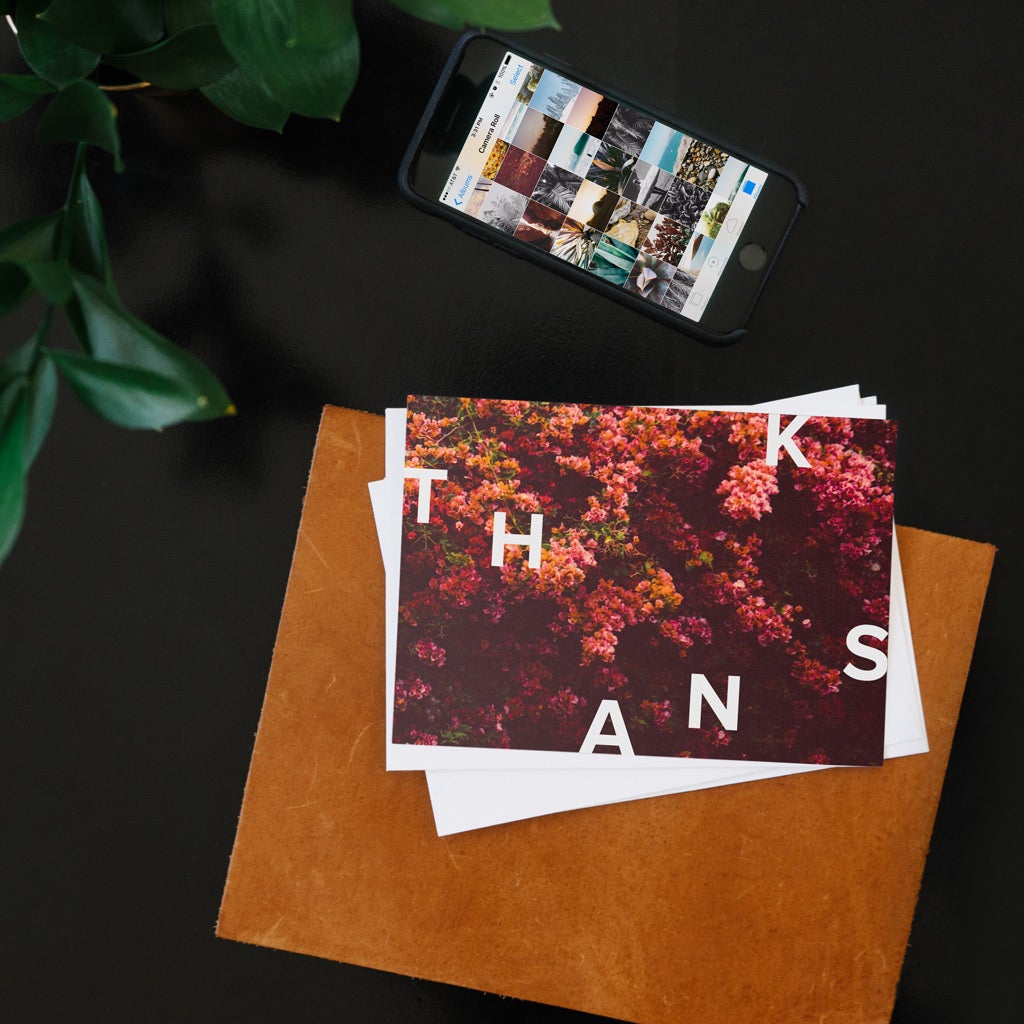 Thank You Card Design Idea: Modern Thanks Card
Timeline

Send your thank you as soon as possible following the event, preferably within one week — but in a bind, it's okay to send it up to a few weeks after.

Post-Event Thank You Card Wording & Etiquette

If this thank you is going to a friend, keep things casual and use your own voice to make it sound conversational. If sending a thank you to an acquaintance, it's great to keep your tone warm and express gratitude for the invitation. Sign off with a friendly phrase that doesn't feel too rigid, such as "Our best," "Until next time," or "With full tummies."

Thank You Card Ideas for Adding a Personal Touch

Make a point to mention an aspect of the dinner or event that really stuck with you. For example, "Jane's creme caramel was absolutely delicious — I'm going to be following up with you two for that recipe!"
---
A Thank You After Receiving a Gift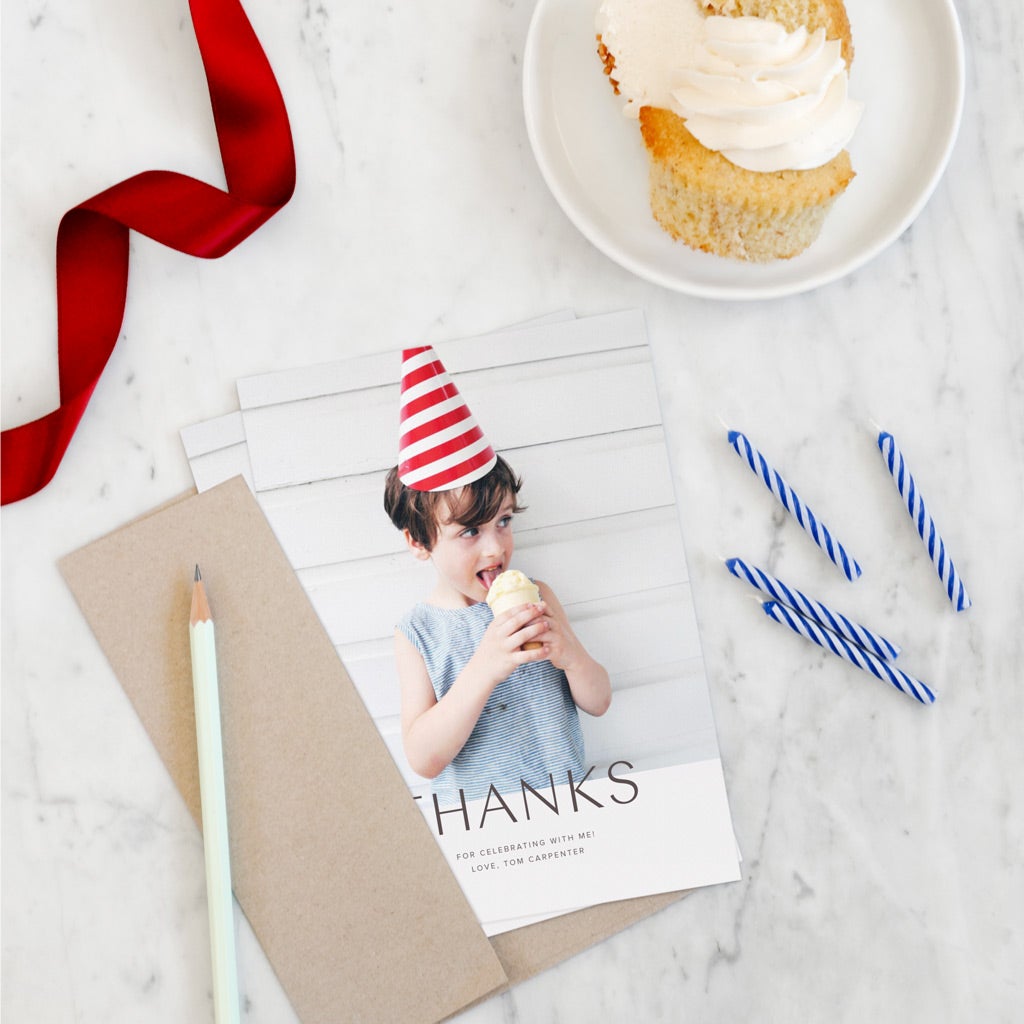 Thank You Card Design Idea: Classic Thank You Photo Card
Timeline

Send your card as soon as possible after receiving the gift, preferably within the first week afterward. (The sooner you do it, the less likely you are to forget!) While it's not always a necessity for birthday gifts, it's usually expected to send a note for baby shower and graduation gifts.

Post-Gift Thank You Card Wording & Etiquette

While your note doesn't need to be lengthy, a proper greeting, body (2-3 sentences), and sign-off is best when sending a thank you following a gift. Include phrases like "I love it!" or "it was perfect!" to make them feel great about their gift choice.

Thank You Card Ideas for Adding a Personal Touch

Since a heartfelt thank you goes a long way, add a sentence or two about how you plan to enjoy the gift. For example, "The coffee maker was the best gift for Liam and I — it's such a great way to kickstart our mornings!" or, "The Fleetwood Mac record was such a thoughtful gift — I've been listening to it nonstop!"
---
A Thank You to a Client, Customer, or Colleague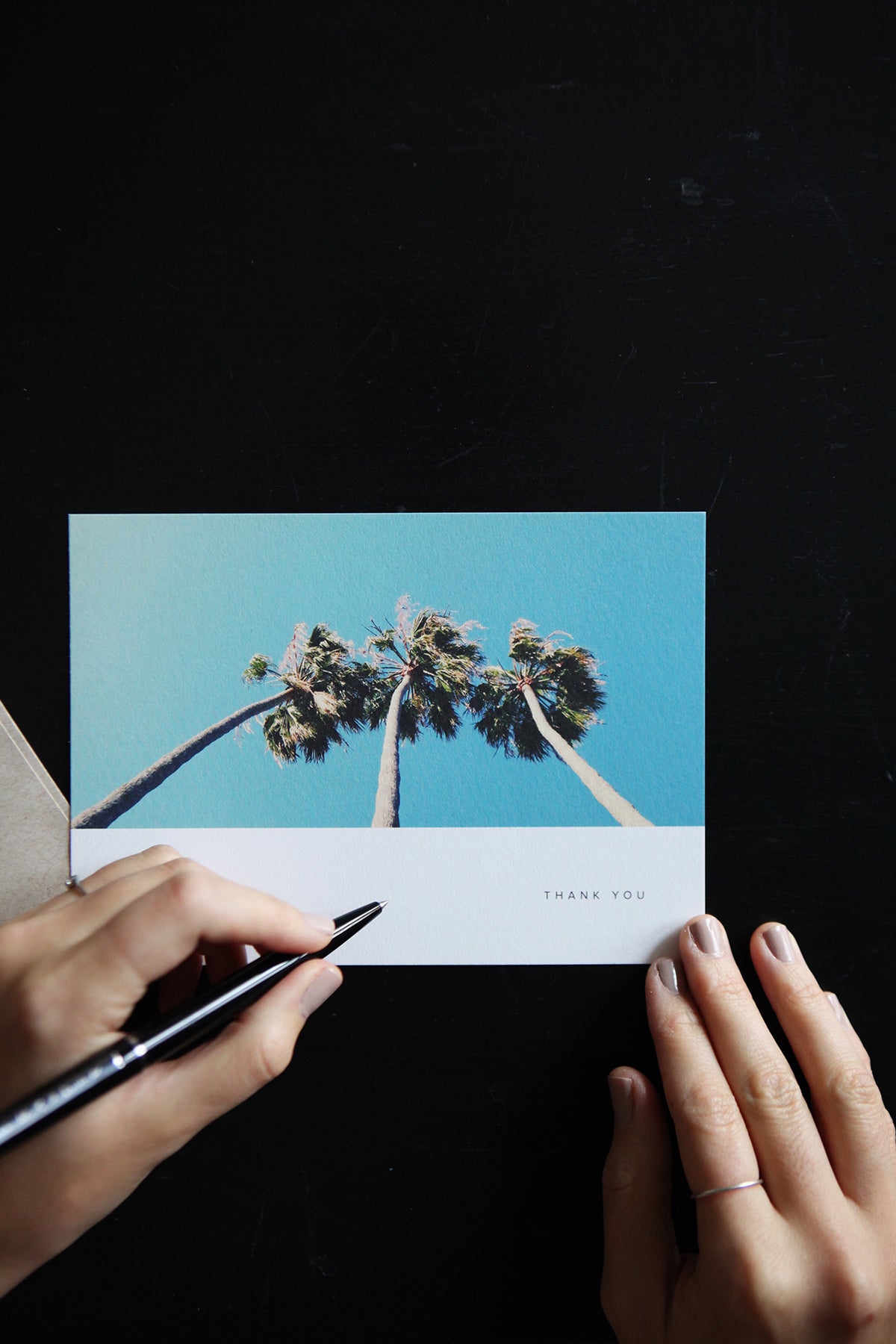 Thank You Card Design Idea: Thank You Card
Timeline

Anytime! In business settings we constantly communicate through phone or email, so sending a handwritten thank you to a great customer or helpful coworker is a memorable way to go the extra mile. Sure, it's easy to send a simple email, but sending a card shows you took the extra time to acknowledge them as valuable partners or collaborators.

Thank You Card Wording & Etiquette

When sending this type of thank you card, it's best to keep your sign-off professional. Save the "Love, [name]" for a more personal note. That said, you can still let your personality shine through with a sign-off that suits your style. A few favorites are "To great things," "In all things gratitude," and "Cheers!"

Thank You Card Ideas for Adding a Personal Touch

Let the person know that you value them — whether it's telling a coworker you appreciated their help with a project while you were on vacation, or including a note of gratitude in a customer's purchase package, these small actions speak volumes. For truly unique thank you notes, include an inside joke you may have with a coworker or a personal story that came up in your last call with a client.
---
A Thank You After an Interview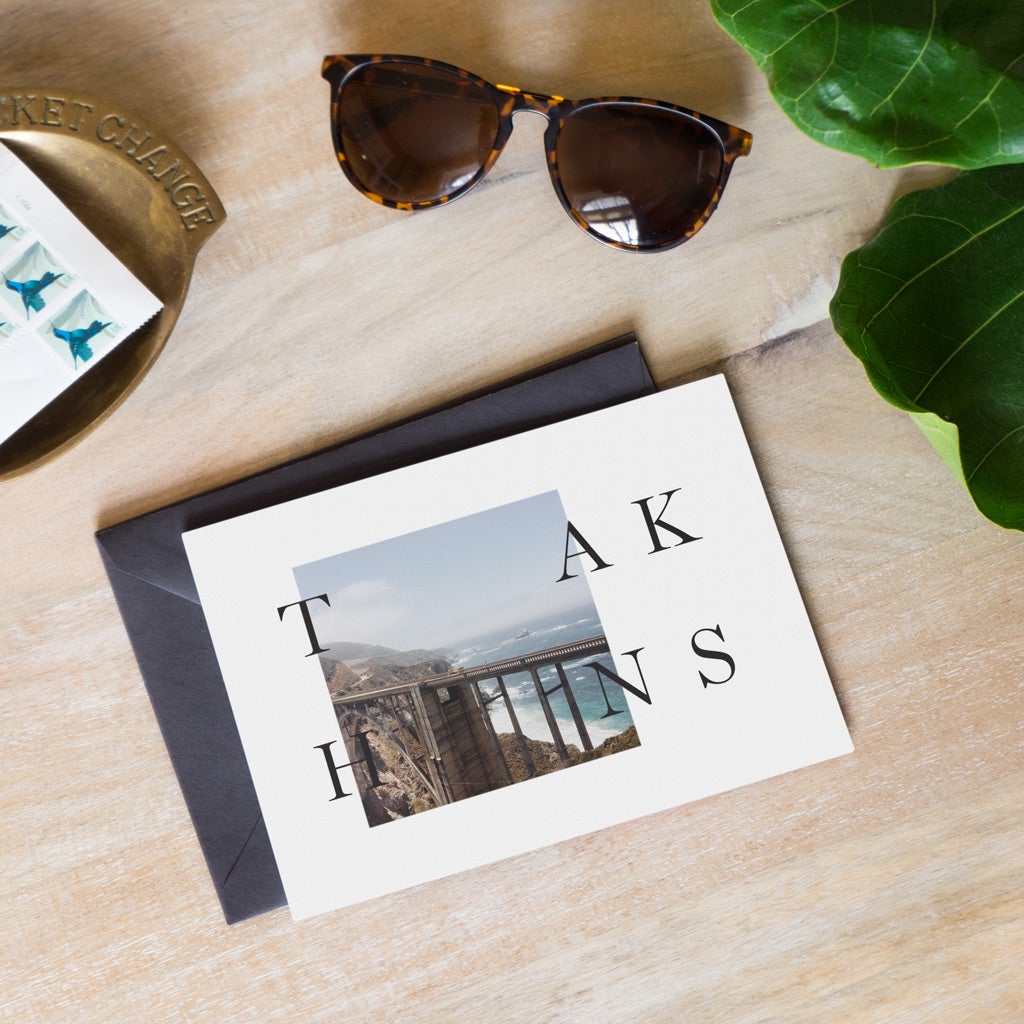 Thank You Card Design Idea: Bold Thank You Card
Timeline

Sending a thank you card following an interview is a thoughtful way to differentiate yourself from other candidates in the running. Remember: Time is of the essence if you want to make an impact. To make sure your cards get there the day after your interview, you'll want to drop it off at the post office the morning before the big day.

Post-Interview Thank You Card Wording & Etiquette

While you'll want to keep things a little more formal and professional when sending this type of note, it's important to remember that interviewers are also looking for signs of your unique personality. After all, they want to make sure you fit into the company culture. That means that you should balance phrases like "thank you so much for the opportunity" with language that distinguishes you from the small pile of thank you cards they may receive through the process. A little joke can go a long way.

Thank You Card Ideas for Adding a Personal Touch

In many cases, you'll interview with a handful of people across the company. After each interview, make sure to jot down notes about the conversation, including funny or memorable moments. Then, send each individual interviewer their own card and bring those moments into your note.
---
Addressing Thank You Cards Properly
Be sure to address your thank you to anyone who hosted, attended, or gave the gift. For example, if your friend Elise invited you to the dinner party, but her husband was there as well, it's polite to include both of their names. If you ever find yourself in an instance when there are more than two people to thank in a given situation, it's okay to include the additional names within the body of your note.

For example:

"Stella and Graham,

Thank you both so much for celebrating with us at our wedding – it was wonderful spending time with the two of you and the boys! Alex and Aidan look more and more grown up each time we see them!"
---