---
Idea 01
Light up your prints.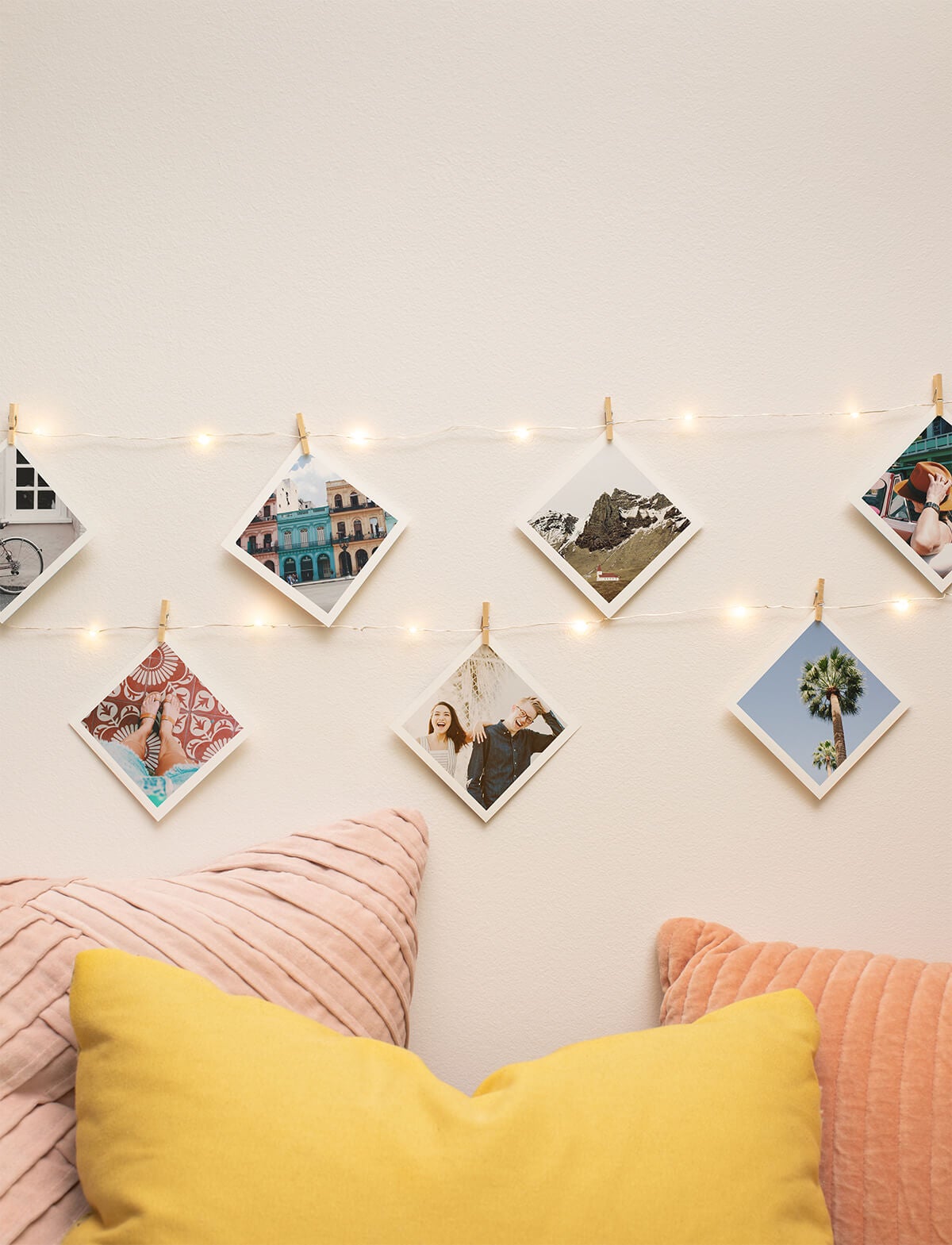 What you'll need: String lights, fasteners (e.g. clothes pins, tape)

True story: String lights make everything a little better. So try using them to display the people and places that add a little light to your life. If you get a little creative with how you string them up, you'll have multiple ways to display photos from just this one idea. (Pro tip: If you want diagonal prints like the example, rotate your images 45 degrees on your phone editor before printing.)
---
Idea 02
Opt for a photo hanger.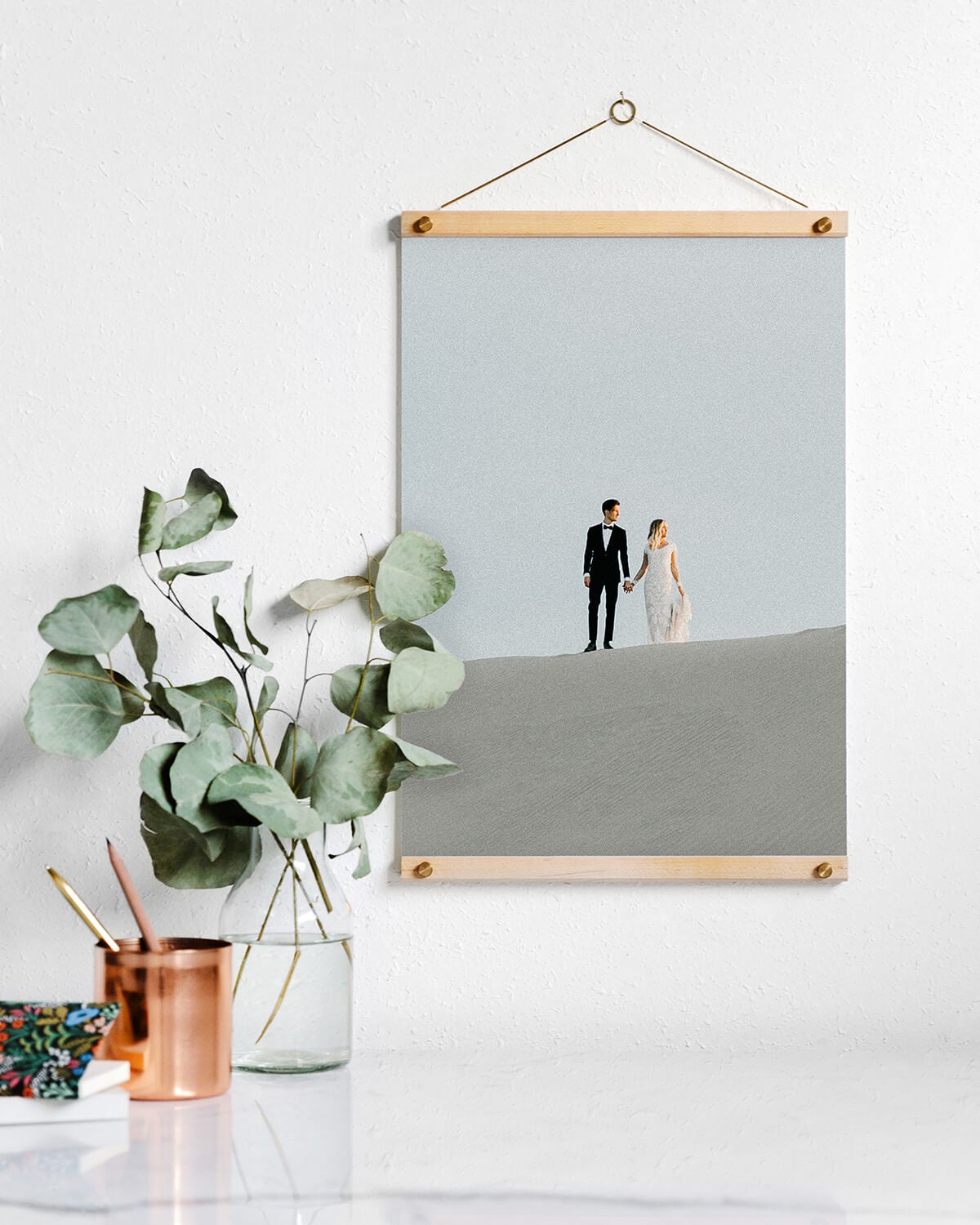 What you'll need: Large Format Print, print hanger, wall hook

You don't need a frame to hang it on the wall in an elevated way. A print hanger gives you all the sophistication of a frame plus unique minimalist appeal that can make the space. Just pick a large photo print that you love and slip it into the hanger.
---
Idea 03
Branch out for a natural display.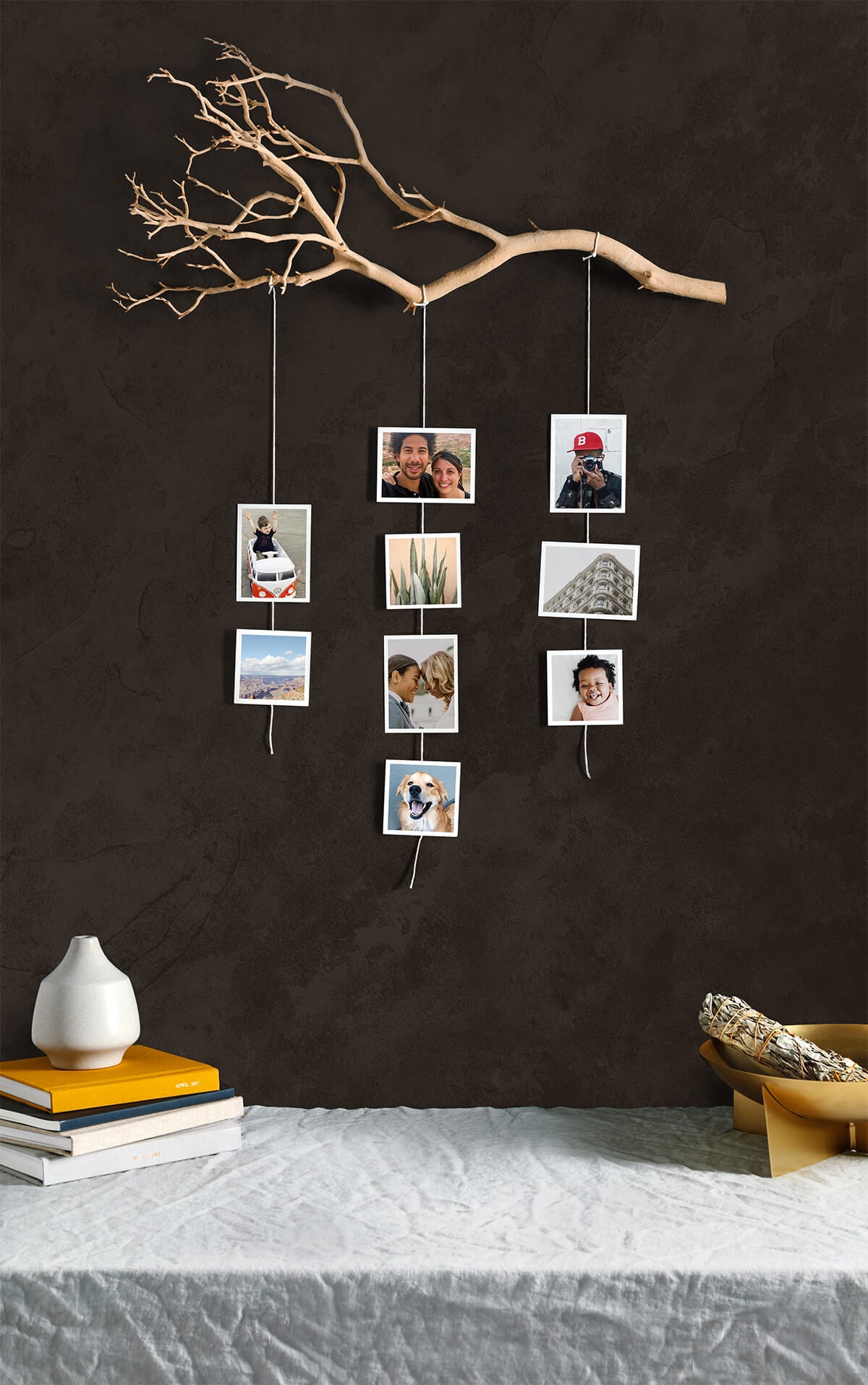 What you'll need: Branch, string (yarn or hemp rope work great), tape, anchor hook

Add a bit of string and tape to turn that fallen branch you found on your hike into unique decor. It's the perfect way to bring in a natural element amongst your other photo display ideas. (Note: You can also use a hole puncher to string through holes in your prints... your call!)
---
Idea 04
Pull those binder clips out of the drawer.
What you'll need: Binder clips

If you're looking for a simple solution to a clean look, consider binder clips your new best friend. Find clips with a metallic finish to get a better look and match other decor you might have in your space.
---
Idea 05
Consider a photo easel.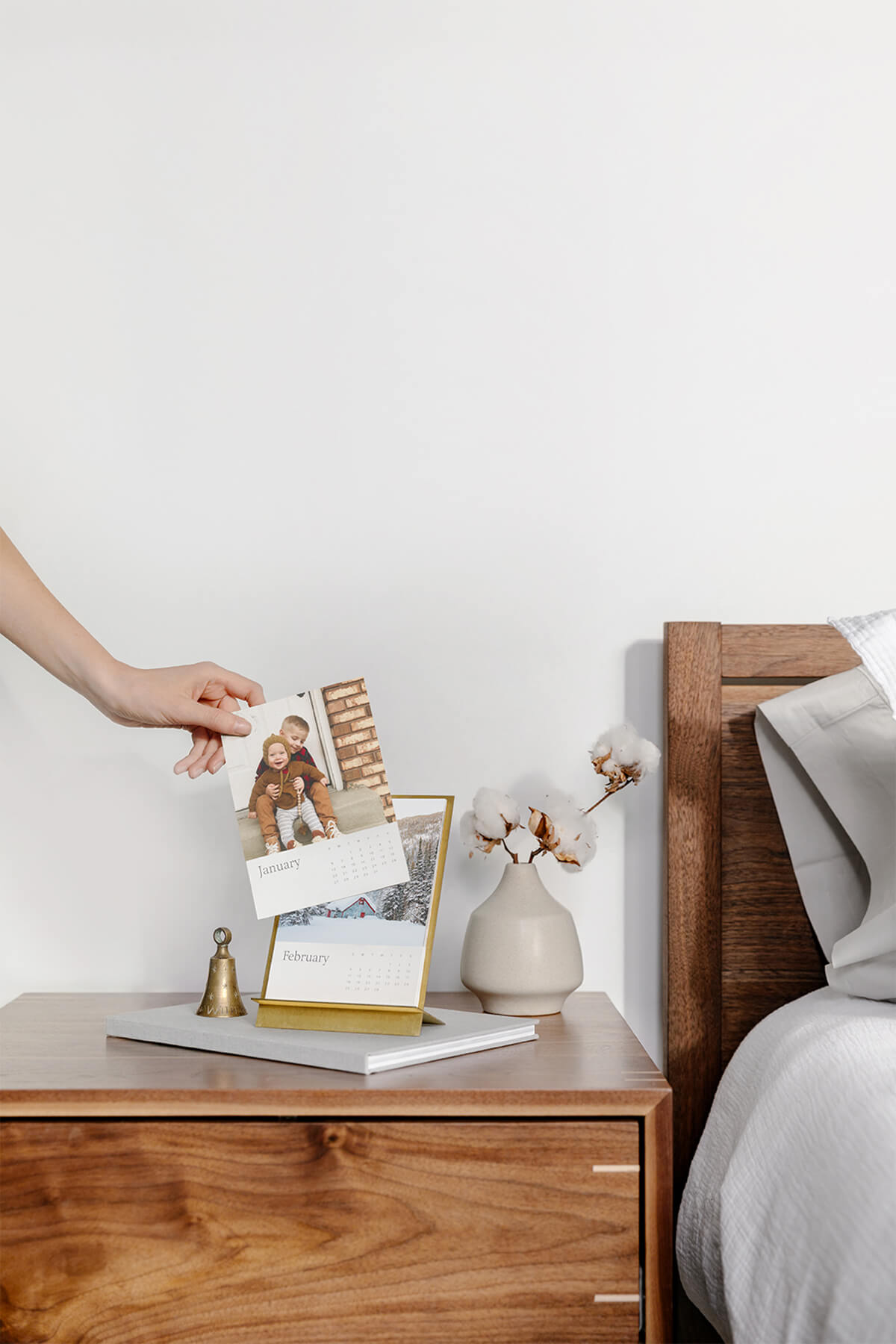 What you'll need: Brass Easel

Need new ways to display photos on a table or desk? Easel does it. A small easel can be the perfect alternative to a tabletop frame and makes it simple to swap photos. Just place a stack of your favorite prints on the ledge and change the feature print periodically.
---
Idea 06
Frame around prints with washi tape.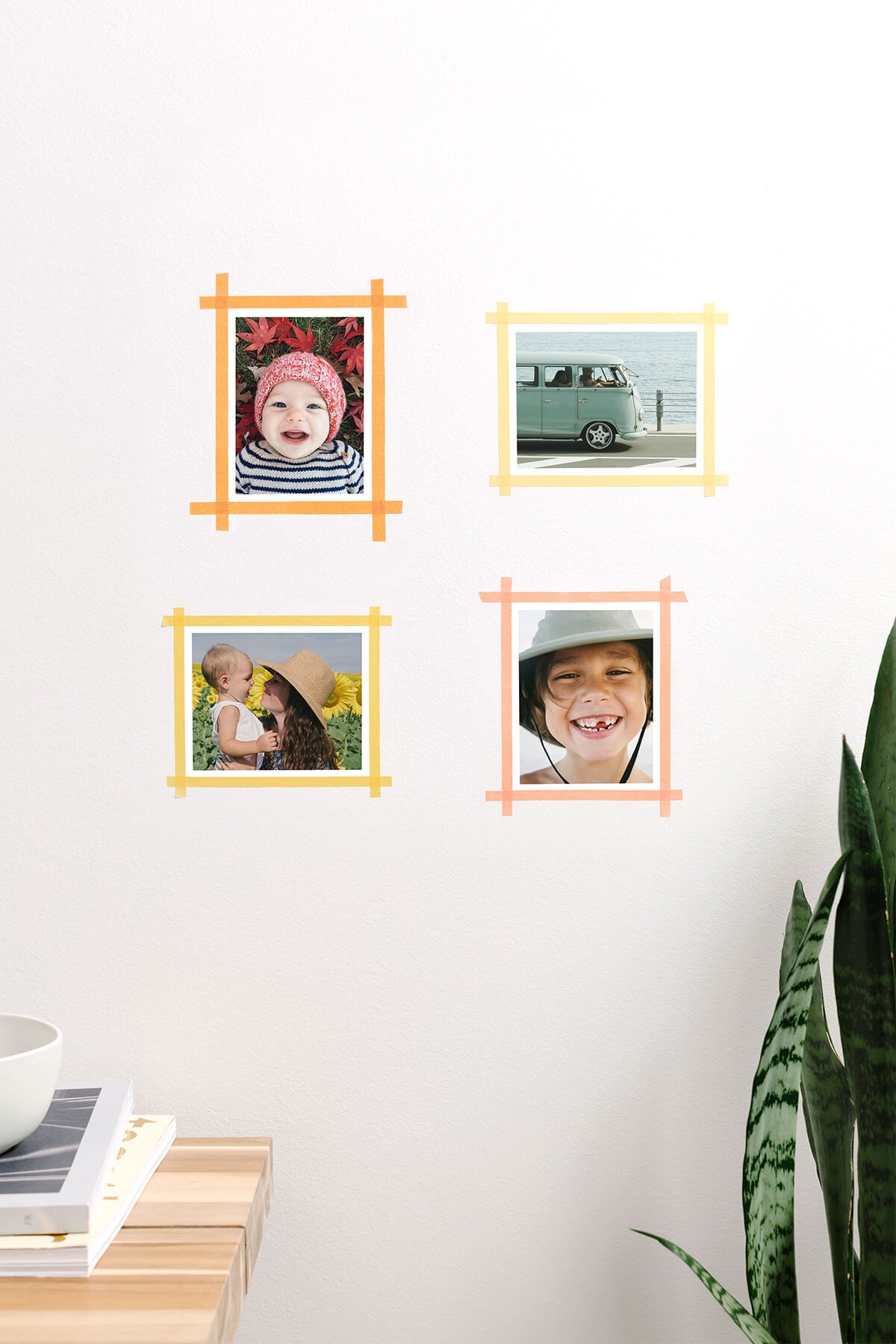 What you'll need: Washi tape, poster tape (aka gentle double-sided tape)

Your walls will thank you for this one. Skip the nail holes for colorful borders by using washi tape to create makeshift frames. By leaving a little space between the prints and tape, you can give it a gallery effect and keep your prints from getting damaged. (This is where the poster tape comes in.)
---
Idea 07
Arrange your prints into a grid.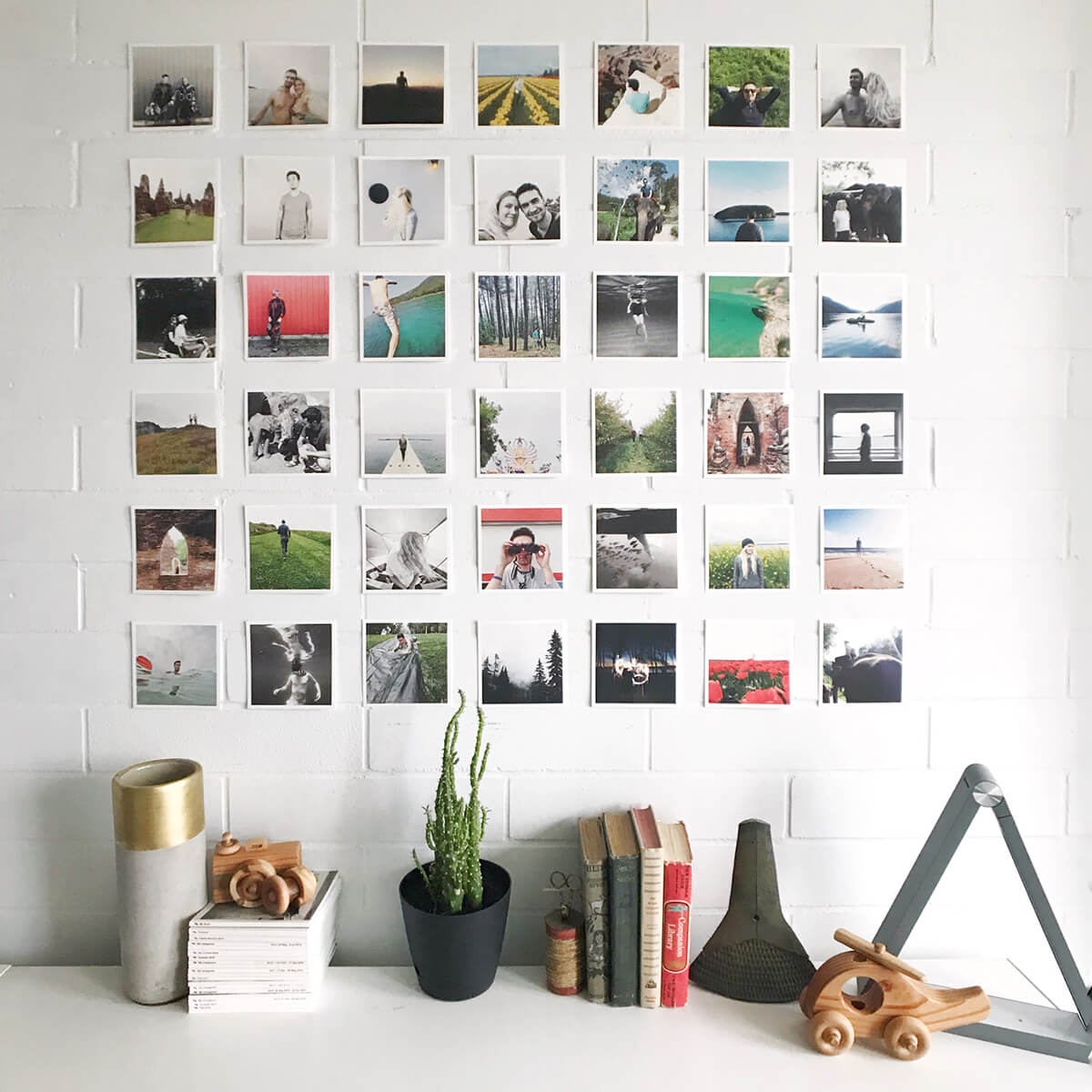 Photo By @ernestgentryceramics + @edswoodentoyshop
What you'll need: Poster tape, ruler (optional)

Have a lot of prints to display? The more photos, the better the grid! We recommend using a ruler to space out your prints to keep your grid clean and consistent. Not to say you can't also experiment with angles and spacing a bit to produce a more creative photo display. Just make sure you use poster tape so that you don't damage your wall or prints.
---
Idea 08
Repurpose a screen or fencing.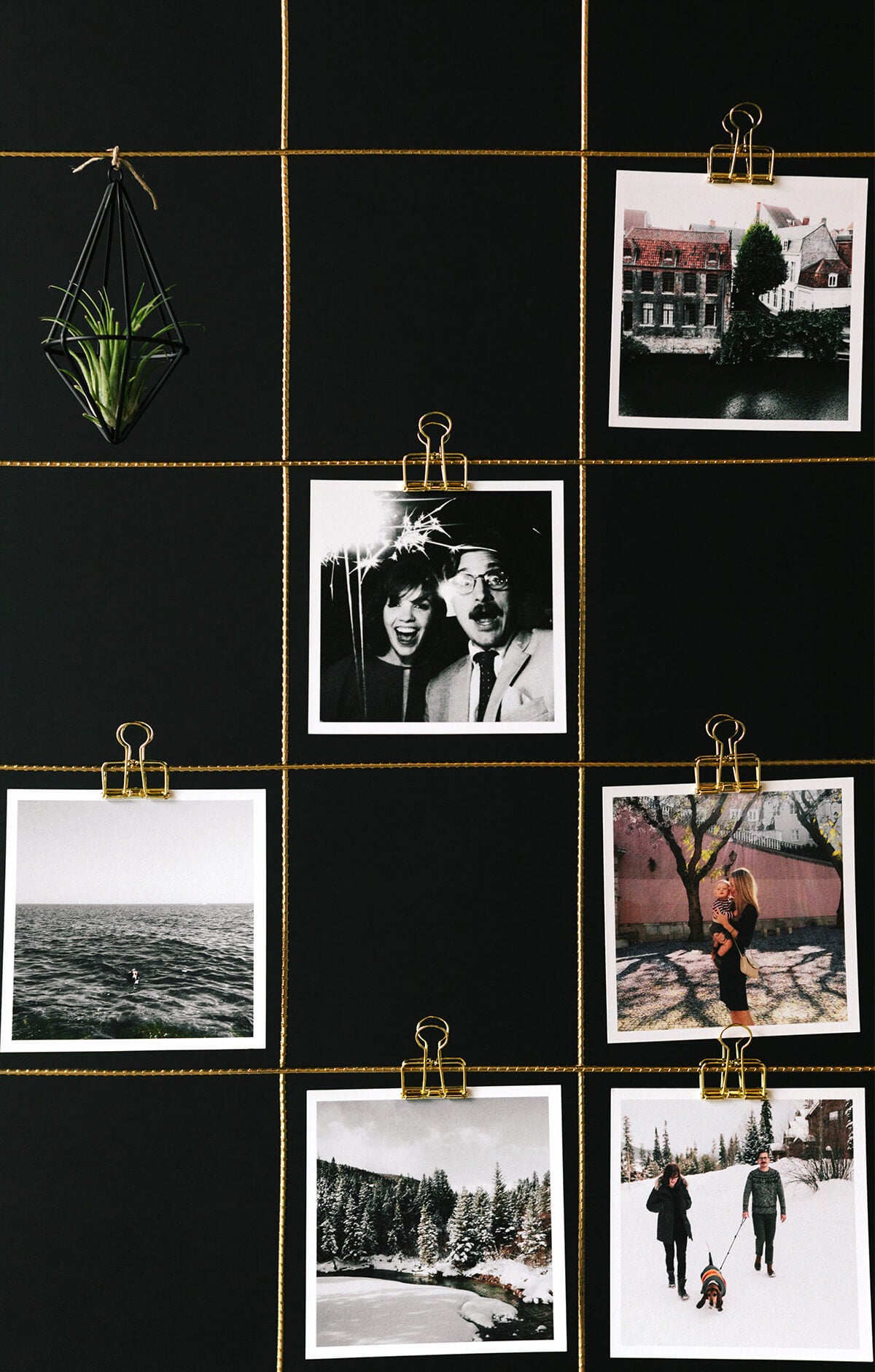 What you'll need: Screen divider or fencing, fasteners (clips or clothespins)

Fencing makes the perfect blank canvas for a unique photo display. Plus, with a little bit of spray paint, you can customize to create an upscale look. A little gold goes a long way! (Pro tip: We used simple fencing from the hardware store to create the display in the photo.)
---
Idea 09
Line your prints on a photo ledge.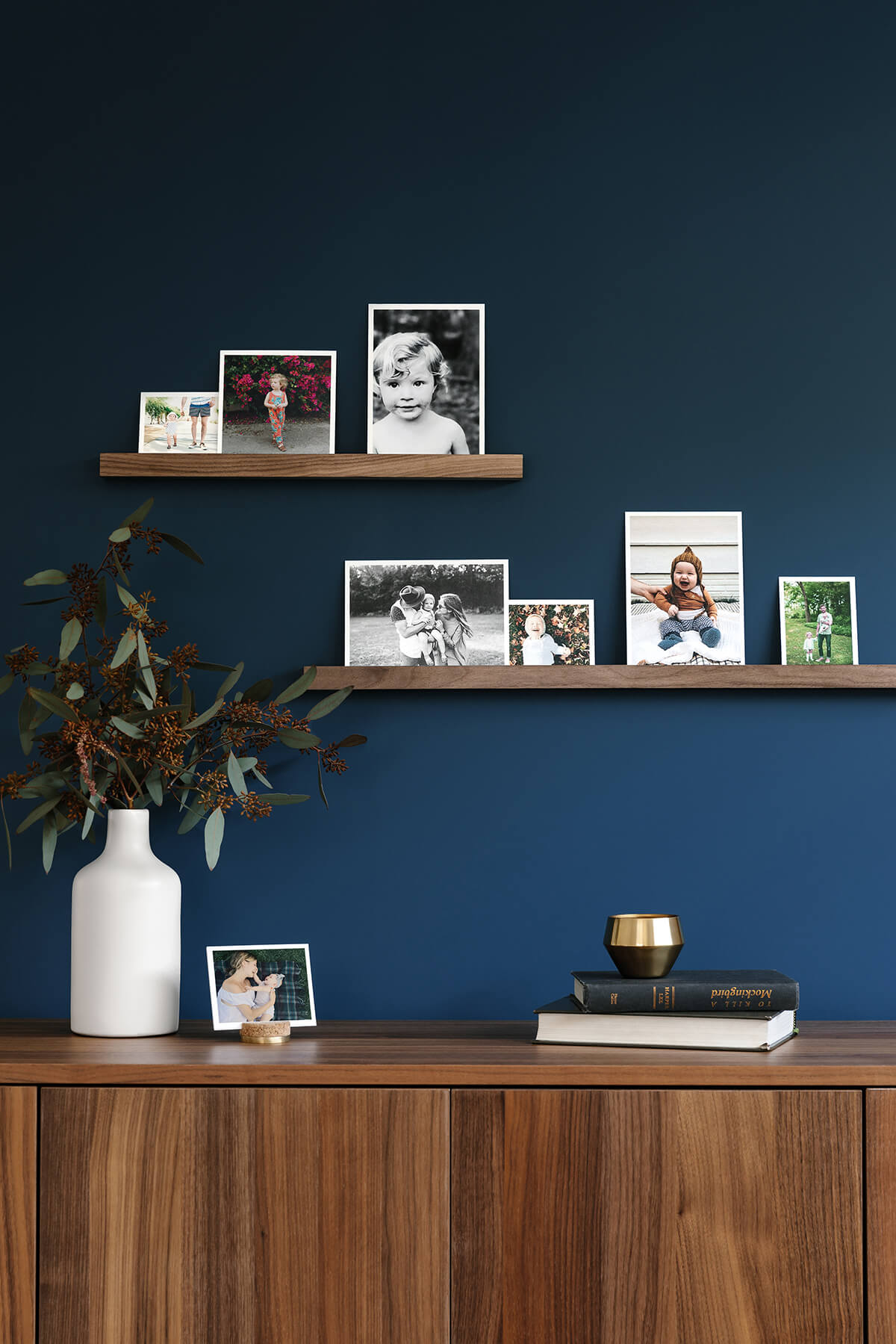 What you'll need: Wooden Photo Ledge

A Wooden Photo Ledge is a sturdy solution for unique photo display, and still simple to secure to a wall. Don't want to hang it up? Placing it on the mantle works just as well. Either way, mixing and matching different print sizes can keep things from becoming too uniform. (Hint: Use multiple ledges like the photo above to make the most of your wall.)
---
Idea 10
Level up with a ladder.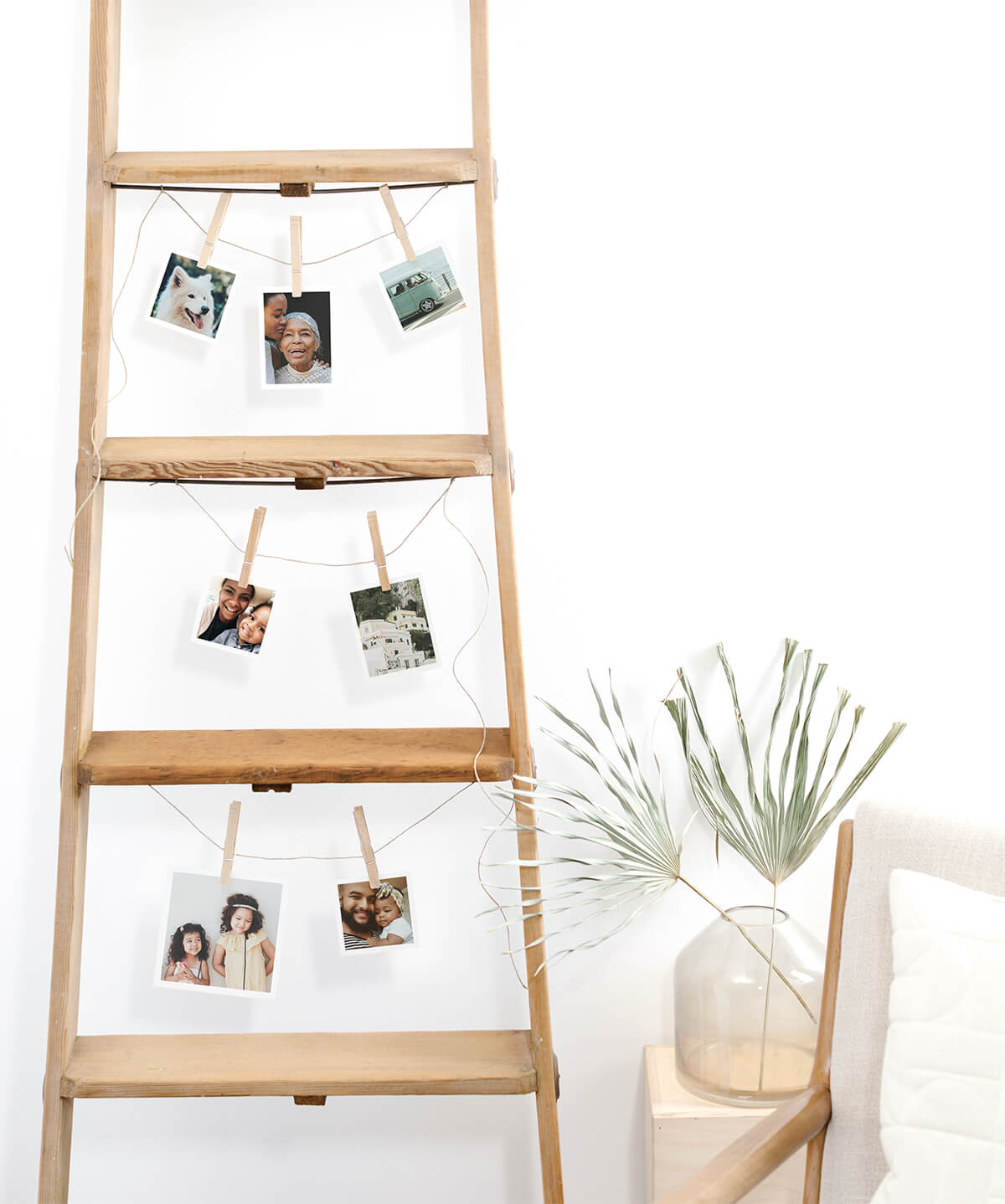 What you'll need: Wooden ladder, string, tape or clothespin

Don't throw out that old wooden ladder sitting in the garage — it's your ticket to a multi-tier photo display. Tying a string across each rung will give you a line to hang photos. Or, you can choose to punch holes in your prints and tie each photo to the rung. For a little variation, alternate between photos and other items on different rungs.
---
Idea 11
Choose a photo block for small spaces.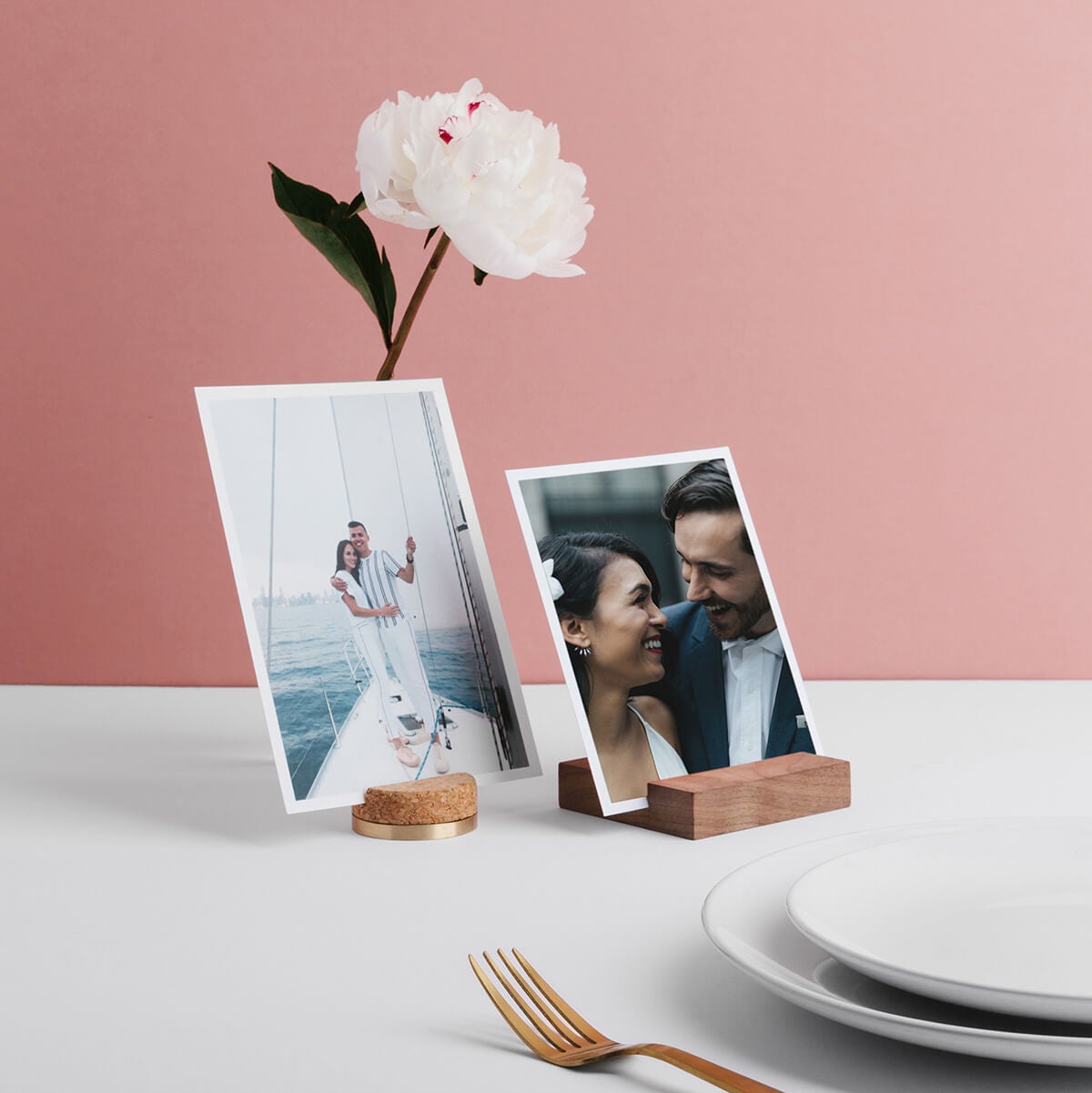 What you'll need: Walnut Photo Block

Have a small space on a mantel or shelf that's perfect for a print? Use a photo block stand to make it happen with minimal effort. It's subtle, sleek, lets you easily switch out photos, and gives more stability than standing prints up against other items. Plus, you can put it just about anywhere. (Bonus: Ours is made from reclaimed Colorado black walnut.)
---
Idea 12
When in doubt, tape it.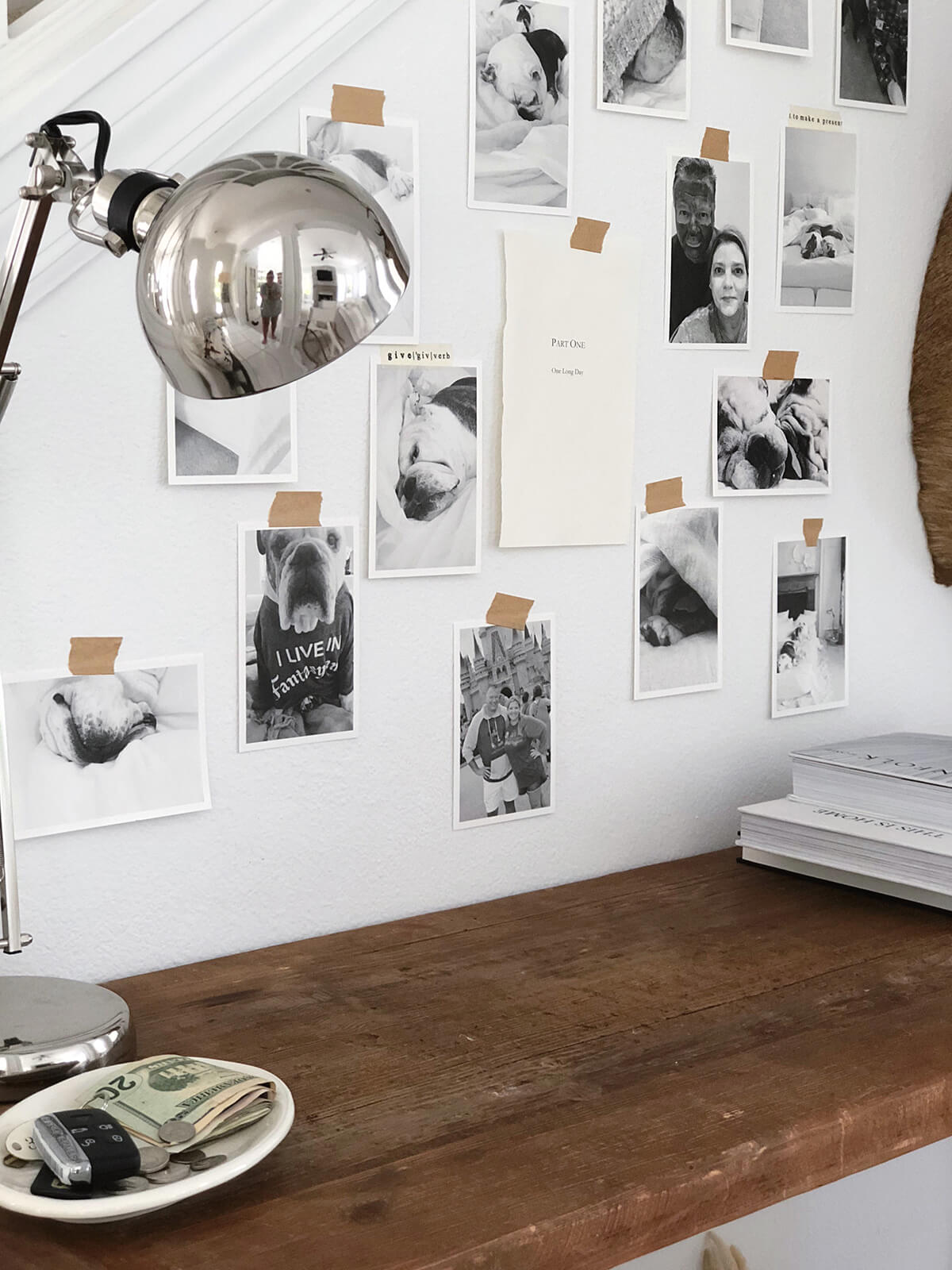 Photo By @withlovedani
What you'll need: Gentle tape of your choice

We're saying no to the stigma against tape. When used the right way, it's a simple, tasteful shortcut to getting those prints up on the wall. You can use accent tape to add a little color or parchment tape to keep things classic.
---
Idea 13
Skip the frame for a display box.
What you'll need: Brass & Wood Display Box

Change things up a bit with a welcome twist on the classic tabletop frame. This display box lets you stand your photos up on any surface and store additional prints for easy rotation. Keep a stack of your favorite prints inside the back slot and swap the feature photo out as often as you'd like. (Pro tip: It also makes the perfect bookend.)
---
Idea 14
Swap table place settings for prints.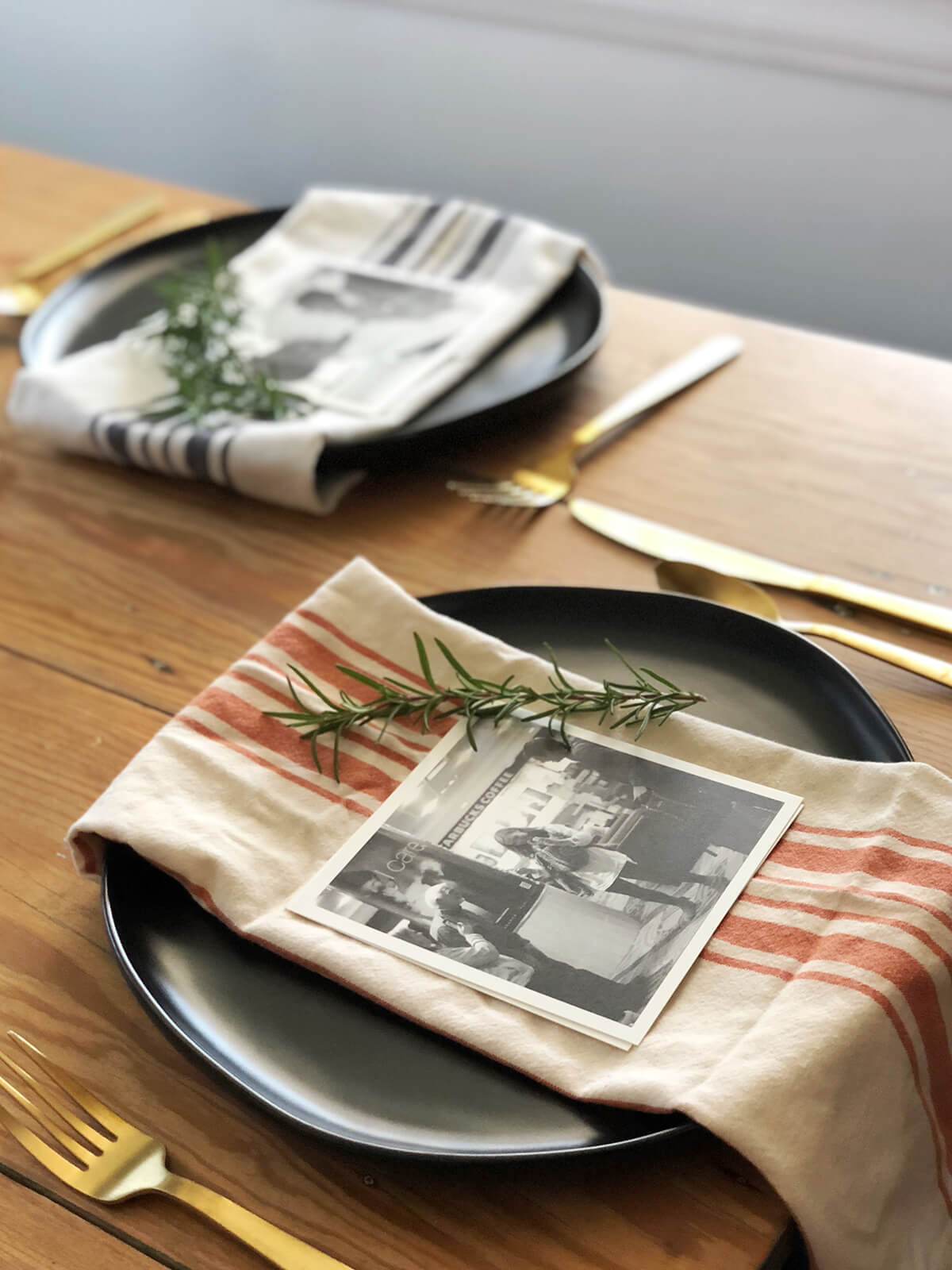 What you'll need: Just the photo prints

Whether it's a holiday meal or a wedding rehearsal, prints make the perfect table place setting to let your favorite people know exactly where to go. Because a special occasion calls for that little something extra to make guests feel right at home.
---
Idea 15
Cue the clothespins.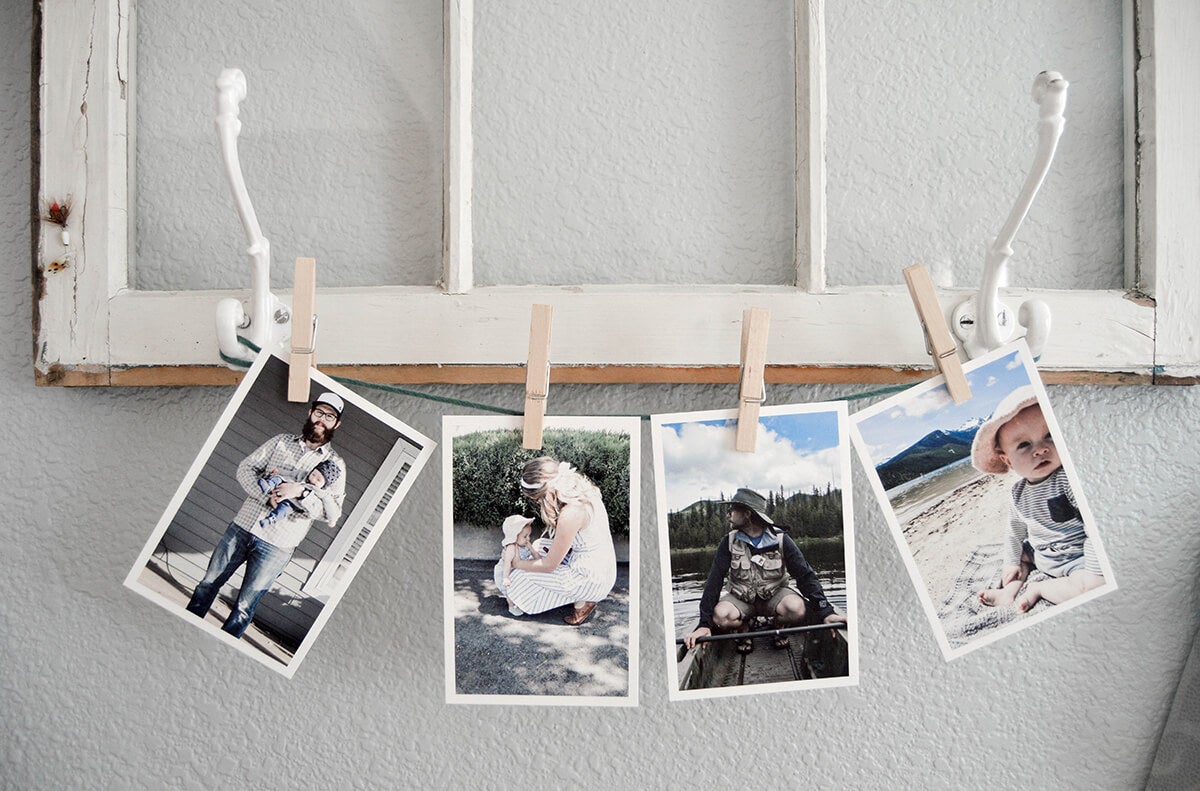 Photo By @freas.naturals
What you'll need: Thick string such as hemp rope, clothespins

Take a page out of the old-school dark room with a clothespin display. Your line can go above a door frame, run between hooks, under a mantel — let your imagination run wild.
---
No Frame. No Shame.
Creative Photo Display Ideas from Our Community
---
Which photo display idea will you use?
These creative ways to display photos without frames are just a start. We'd love to see how you use any of them in your space. Don't forget to tag us on instagram (@artifactuprising) with your own spin.
---