Softcover Book
Featuring 100% recycled interior pages and 120 lb matte, textured cover stock, the Softcover Photo Book is available in seven different book sizes and eight cover designs to fit any style.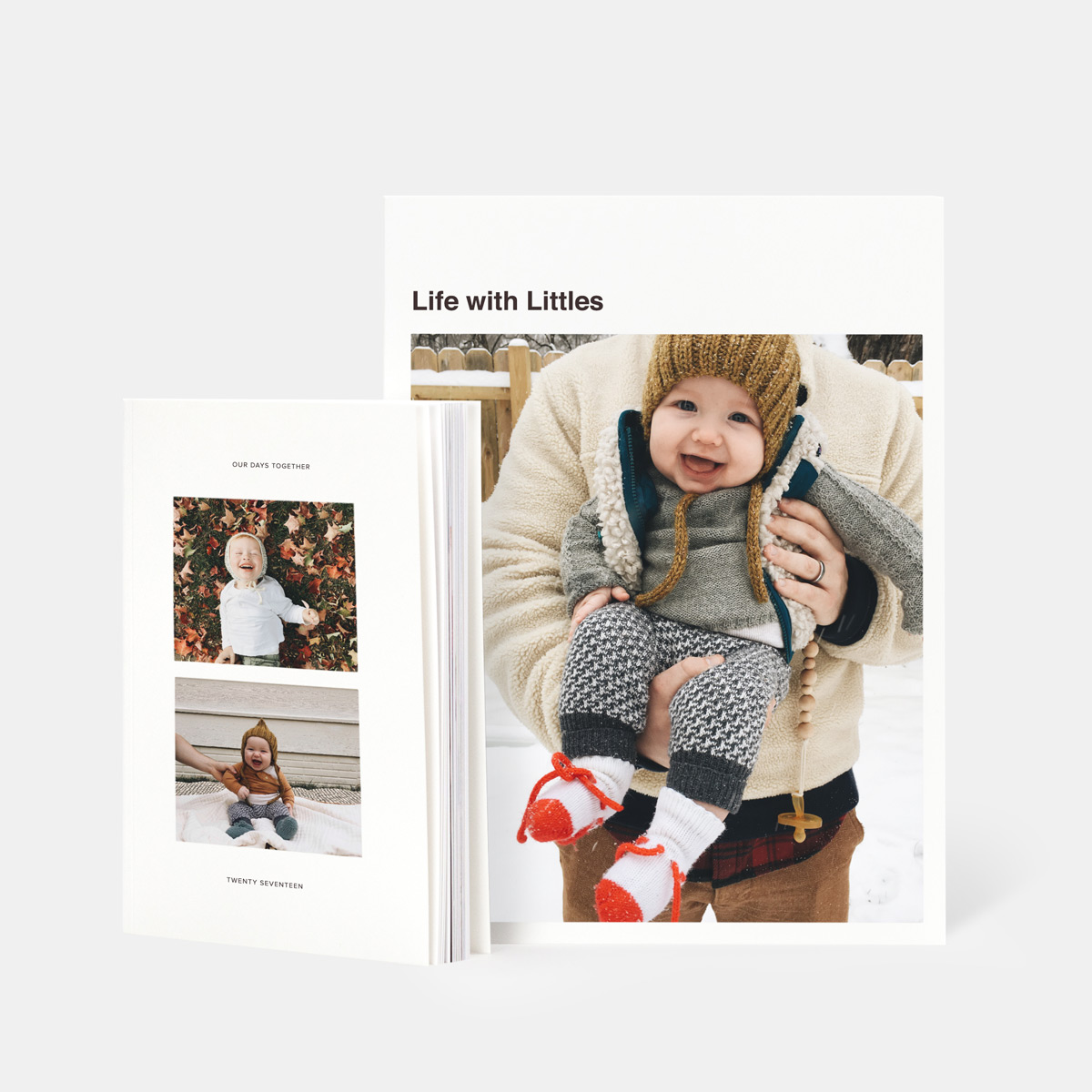 Perfect For: Sharing photos on the go — toss this lightweight book in any bag and share your stories anywhere at anytime.
Why we love it:
Holds more pages (and photos!) than any other book in our line
A great place to archive your everyday camera roll in print
Small enough to tuck in your carry-on to share your best days with friends and family
Makes a great gift for friends and little ones in your life
Pro Tip: Matte paper absorbs ink differently than you might expect. To get the best idea of how your image will print, we recommend viewing your image on your computer with the brightness lowered down to 50% — adjust the brightness of your image as needed.
---
Instagram Friendly Book
With all the same qualities and features as our Softcover Books, the Instagram Friendly Book comes exclusively in the 5 x 5" size, and links up to your Instagram account to import photos directly from your feed.
Perfect For: Bringing your Instagram photos off your device, even if those photos are no longer on your camera roll.
Why we love it:
Print your Instagram photos with ease
Book can be built from your book within the app or desktop
Add your photos' captions, dates taken, and locations to each page (in app only)
Makes a great gift for the avid iPhone photographer
Pro Tip: When created within our app, this book gives you the ability to automatically import your Instagram photos' caption, date, and location into the page. This feature isn't available when building your book on desktop, but you could manually add in text boxes to accomplish the same thing!
---
Hardcover Book
Printed on 100% recycled interior pages (just like our Softcover Books!), with your choice of fabric color, and a full or partial dust jacket, the Hardcover Book's archival quality and classic layouts are a top choice to highlight your best days.
Perfect For: Making permanence of your year, vacation, or an important event (big or small!) in print.
Why we love it:
Add up to 200 pages for a book that speaks volumes
Customizable dust jacket to protect your book and showcase a favorite image
Highlight your favorite travel photos
Makes a great gift for your parents
Pro Tip: Don't forget the matte paper note for the Softcover Book also applies here! Need inspiration for your dust jacket? Check out our book cover ideas.
---
Layflat Album
The Layflat Album touts ultra-thick pages, press printed on lustre or superfine paper, that lay flat for a seamless panoramic effect. Comes with your choice of fabric color and foil stamping on the cover.
Perfect For: Printing photos from your wedding or other big occasion. (See our Tips for Building Your Wedding Album.)
Why we love it:
Handcrafted heirloom quality
Four color options for foil stamping to make a statement from the start
Turn your engagement photos into a stunning layflat wedding guest book
Makes a great gift for your spouse
Pro Tip: Utilize the full two-page spreads to put your favorite photos center stage, without a deep crease down the middle.
---
Everyday Book
Give your day-to-day photos a home in our Everyday Book, equipped with a premium bound cover and custom foil stamping. Plus with thick, unbending pages, giving your camera roll the spotlight has never been easier.
Perfect For: Moving all of those everyday moments you've captured off your device and into your life.
Why we love it:
Customizable foil stamping for a title that says it all
Easy-to-use page layouts that put the focus on your photos
A simple way to highlight those everyday moments — big and small
Makes for a great gift for a family
Pro Tip: Curate your favorite mobile photos in a source folder on your phone as you go for easy book building!
---