---
Travel Photo Book Examples
Barrett
Return Ticket to Cuba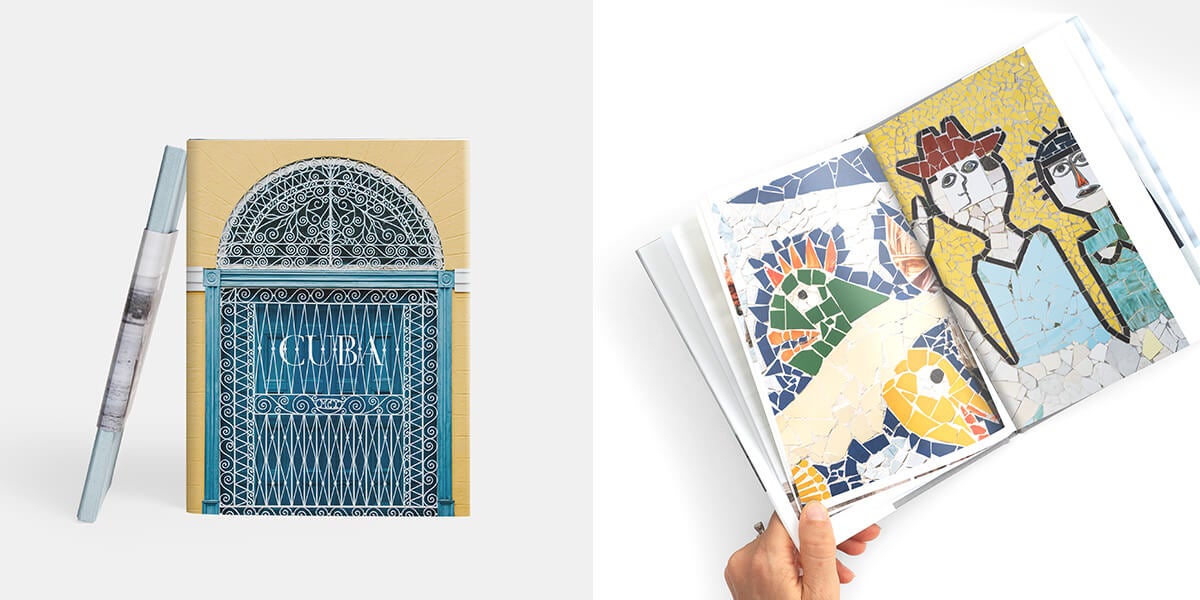 Barrett is our Creative Director, so of course his book was going to be beautiful — but that's not why we included it! We love the way he went beyond historic landmarks and typical tourist attractions, turning to authentic, everyday sights as he recreated the scene of his adventures abroad. He also experimented with some of the ample layouts in our Hardcover Photo Book, playing with the photography in unique ways to make it shine all the more. (Our favorite feature might be the way he split the "viva Cuba" photo into two, while still keeping the continuity of the original.)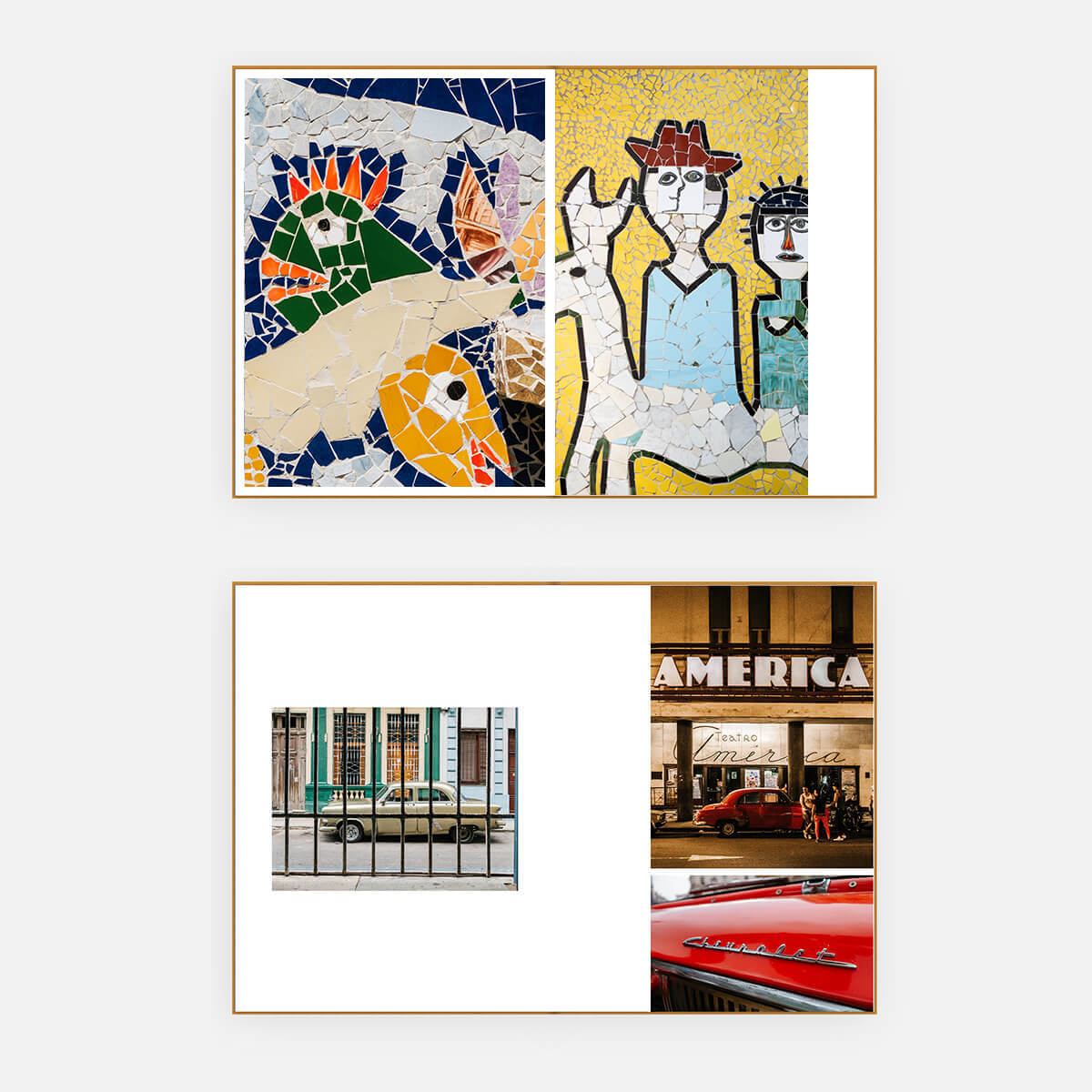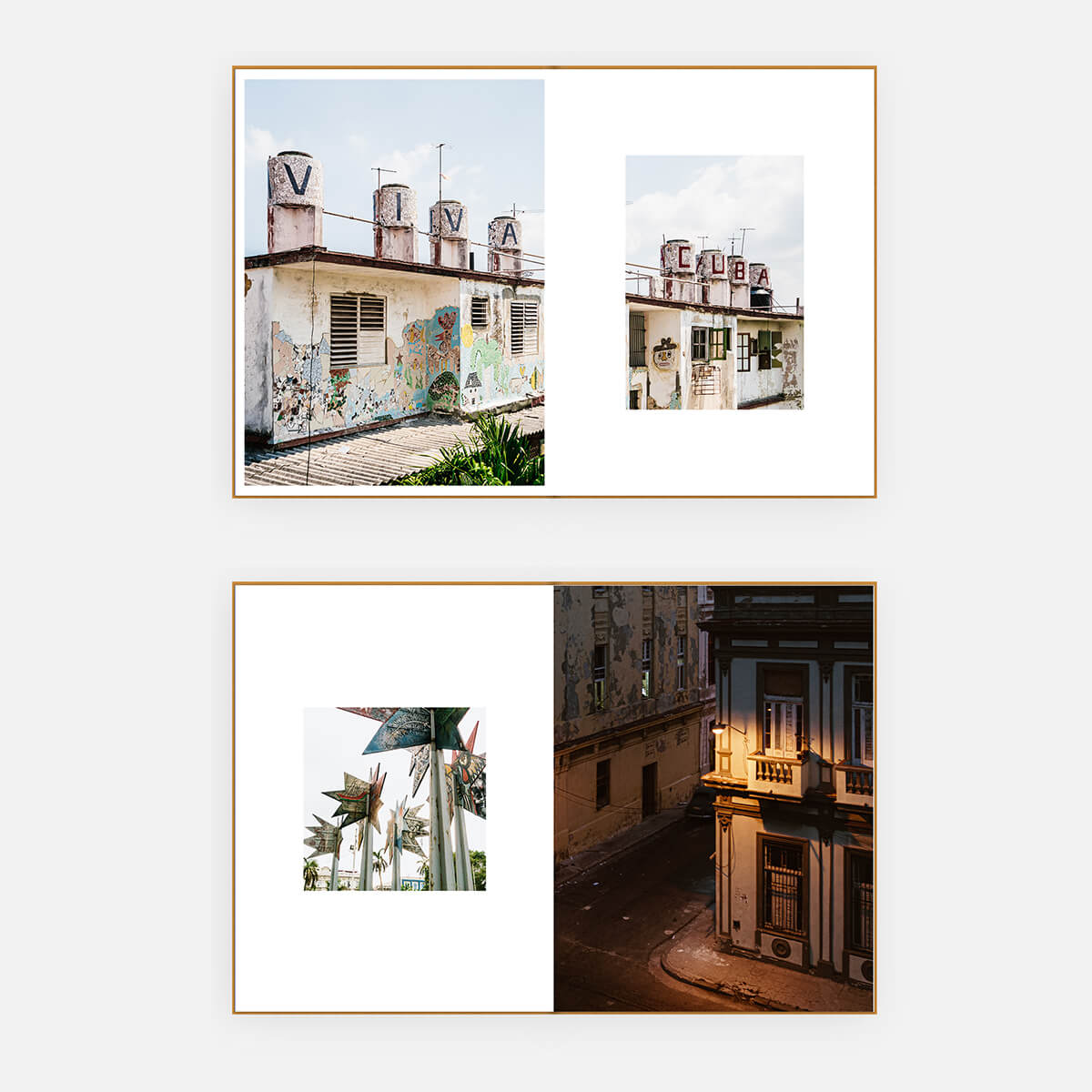 Gathering the photos from this peerless journey gave me the chance to experience our trip of 'firsts' for a second time.
---
Hayley
Paris in Print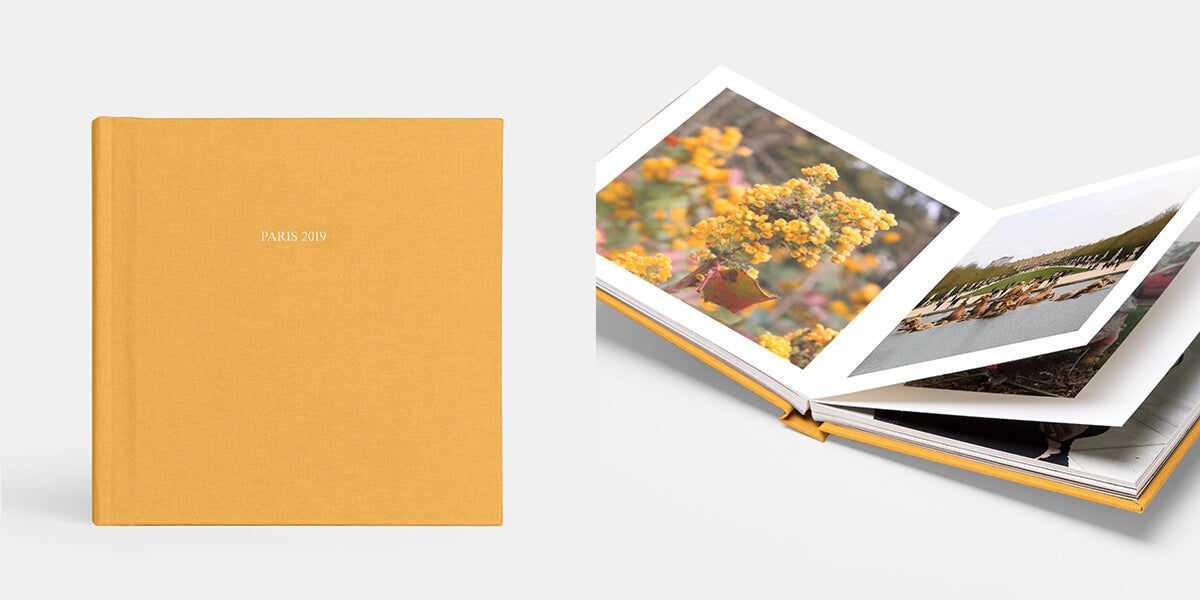 Hayley is the curator extraordinaire behind our Instagram, and it's safe to say those talents translate to her photo books too. Here, she revisits Paris all over again in the pages of our Everyday Photo Book — a quick-to-create layflat album with layout options that make things easy. We're big fans of how she uses her book to capture everything from the Louvre and Notre-Dame to the early morning light illuminating their Airbnb. It's the perfect reminder that the little things belong right beside the big.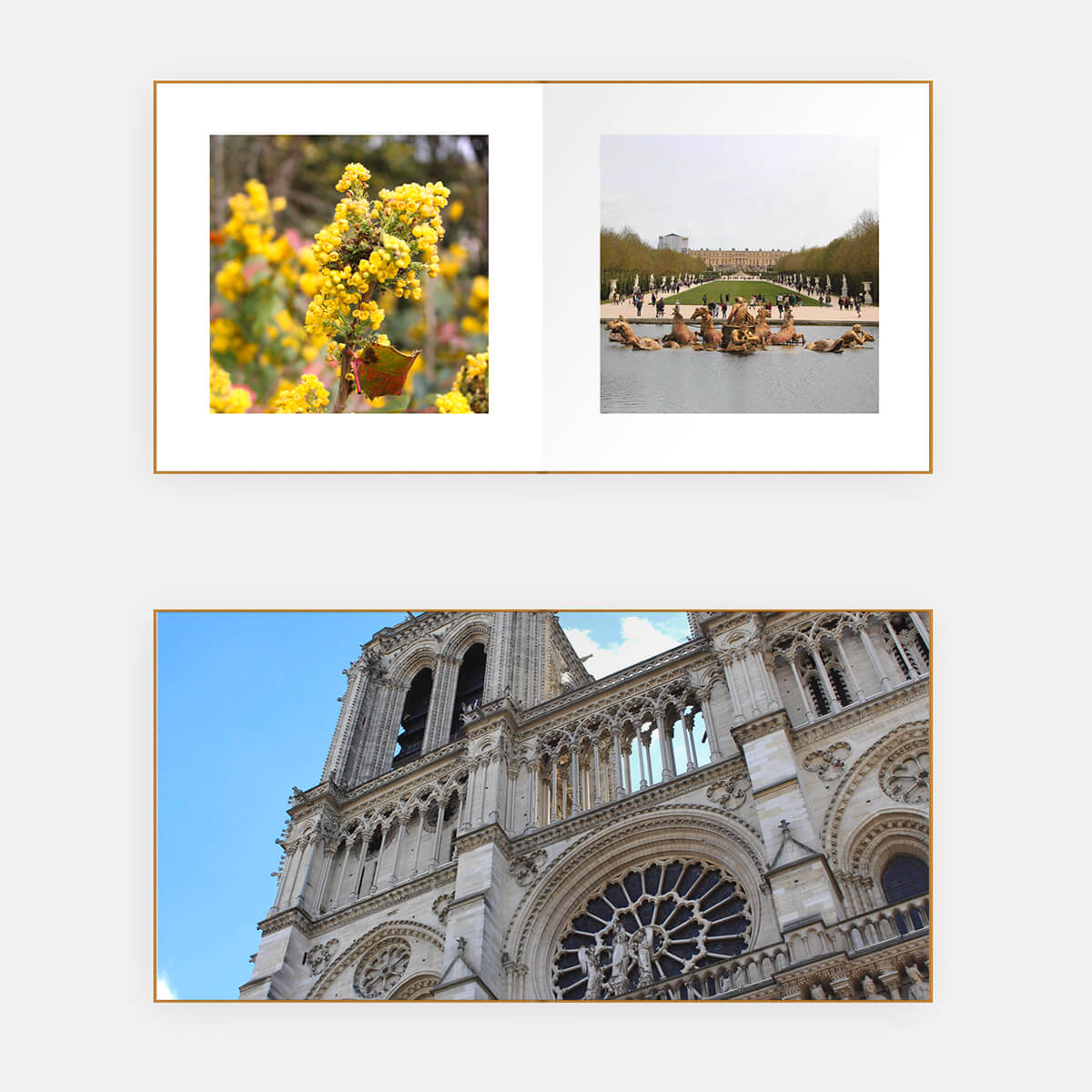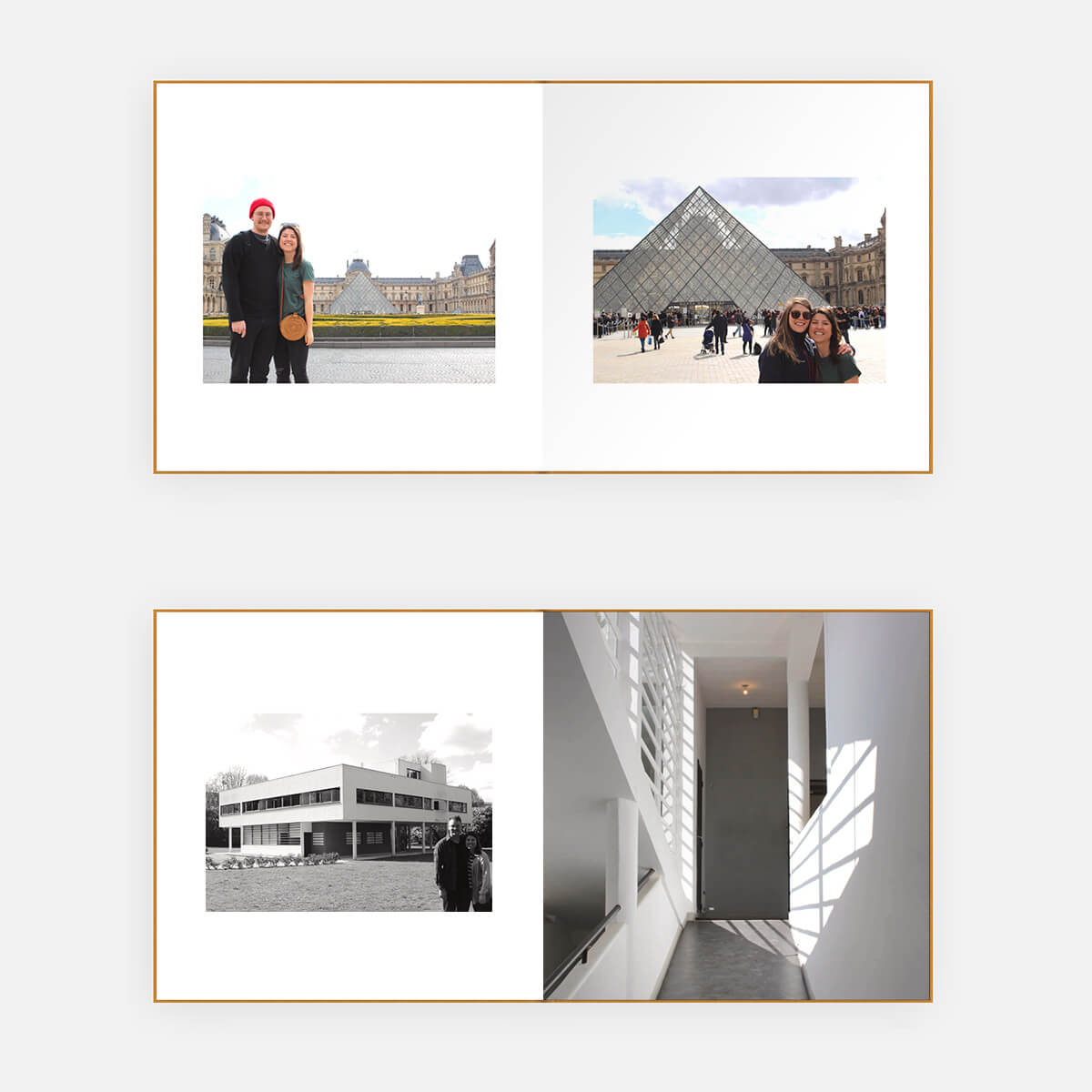 I happened to be in Paris a couple of weeks before the Notre Dame fire, and I feel like these photos allow me to hold onto a sweet sliver of what once was.
---
Leanna
Bringing It All Together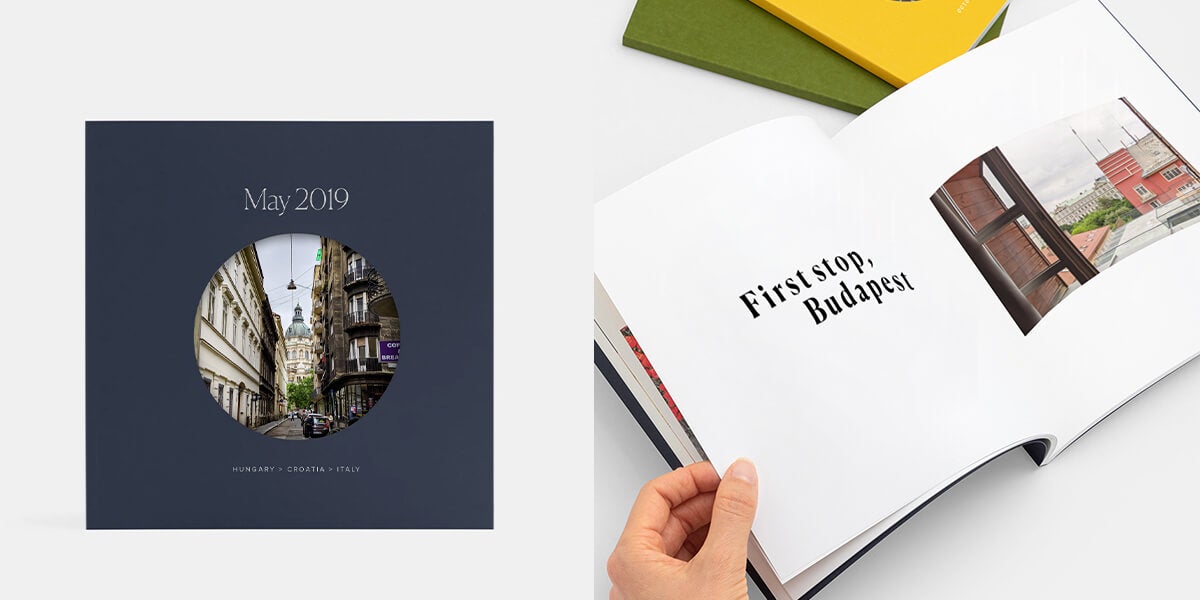 Seven friends, four cities, thousands of photos, one album. When Leanna from our Marketing team set out to consolidate her crew's shots into a single book, she knew it would be no small task. But she did all that and more, creating a unique celebration of not just the places she went, but the people she shared it all with. By using text boxes, she recreated the chronology of the trip, splitting the album into four sections dedicated to the cities they explored and the moments they shared — from spontaneous street selfies to jaw-dropping views. She even gifted a copy of this Color Series Photo Book to everyone who went on the trip!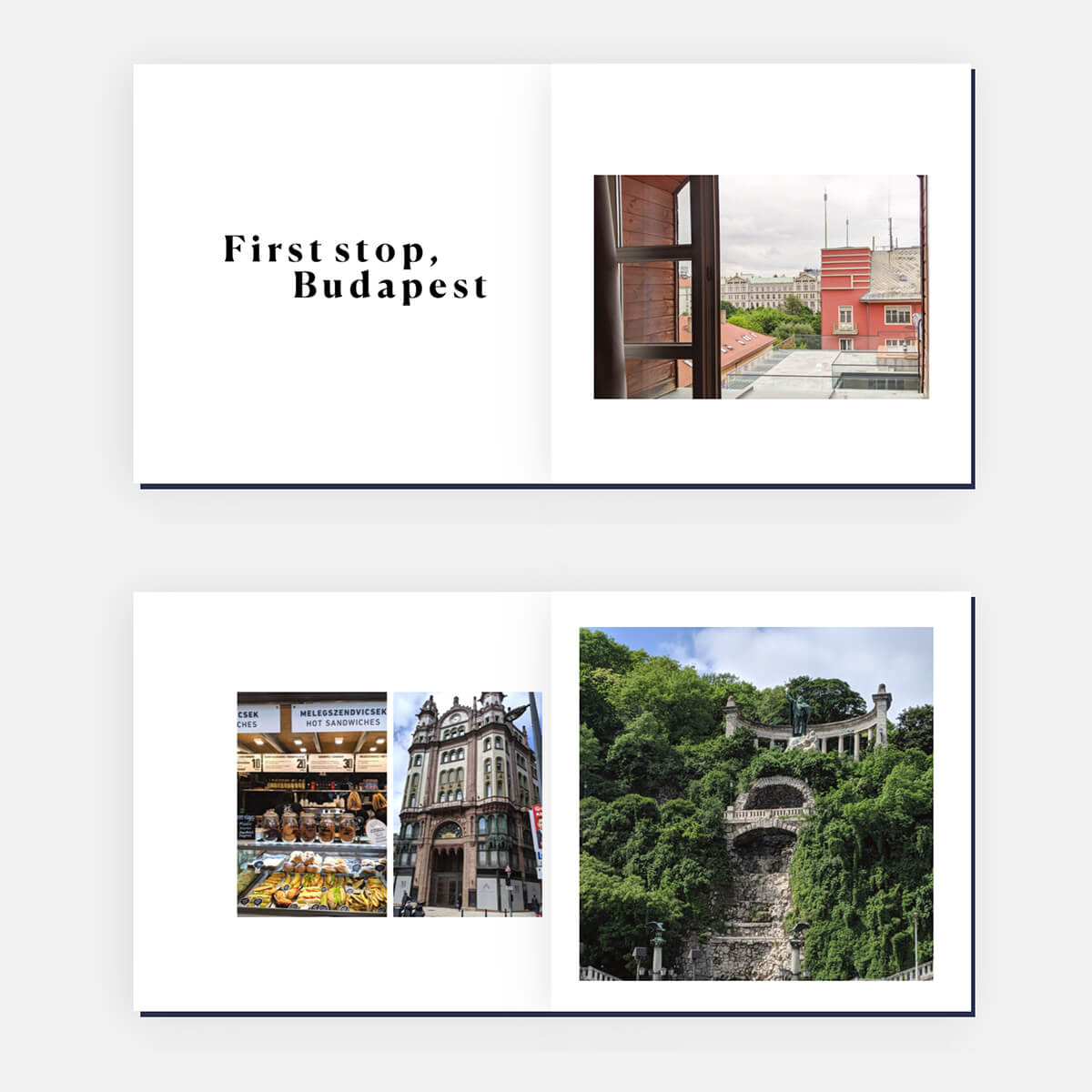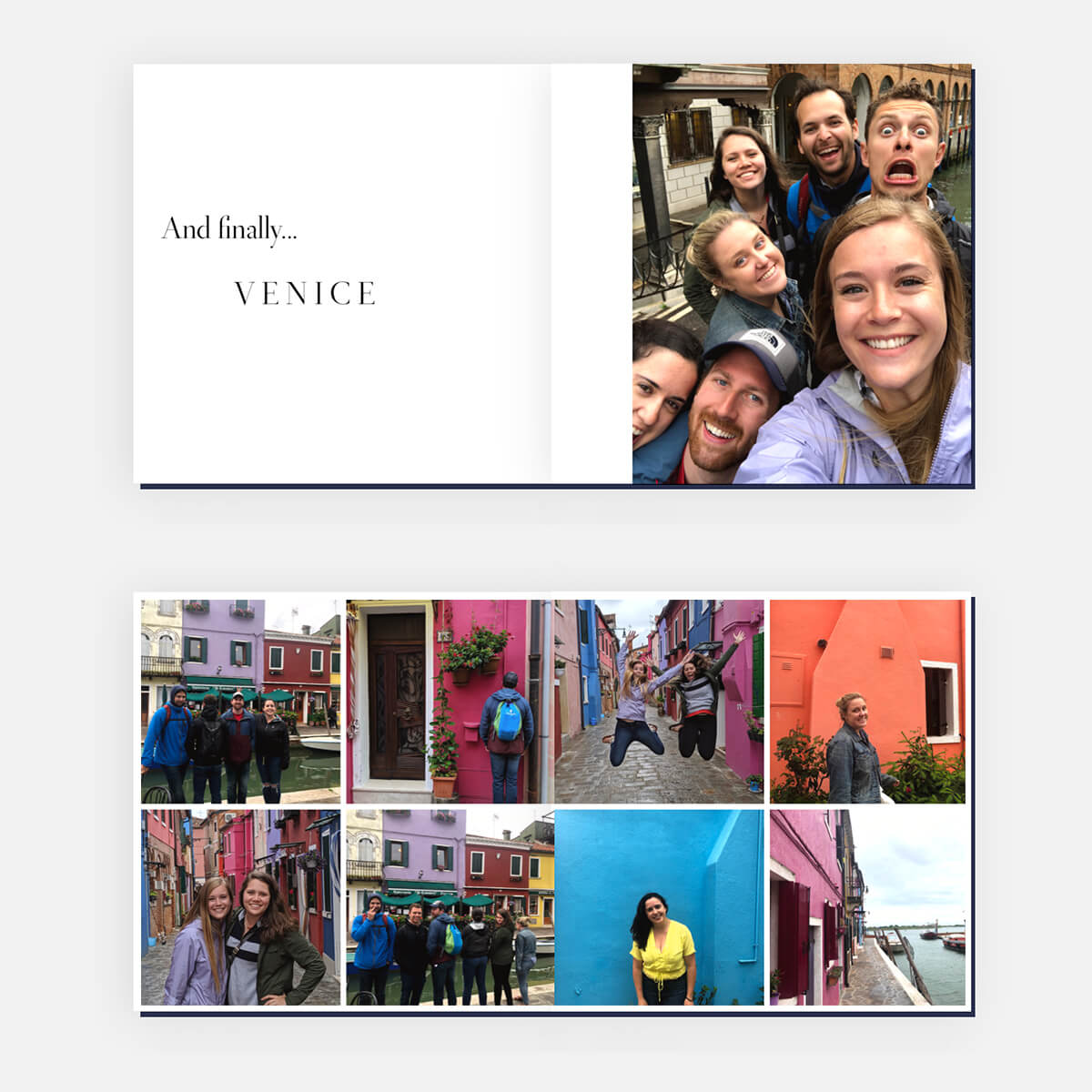 The seven of us had thousands of photos, and I wanted to compile the highlights and memorable little moments. When I finally gifted this book, we all had such a fun time flipping through and reminiscing together.
---
Lyndee
Familiar Places Found Again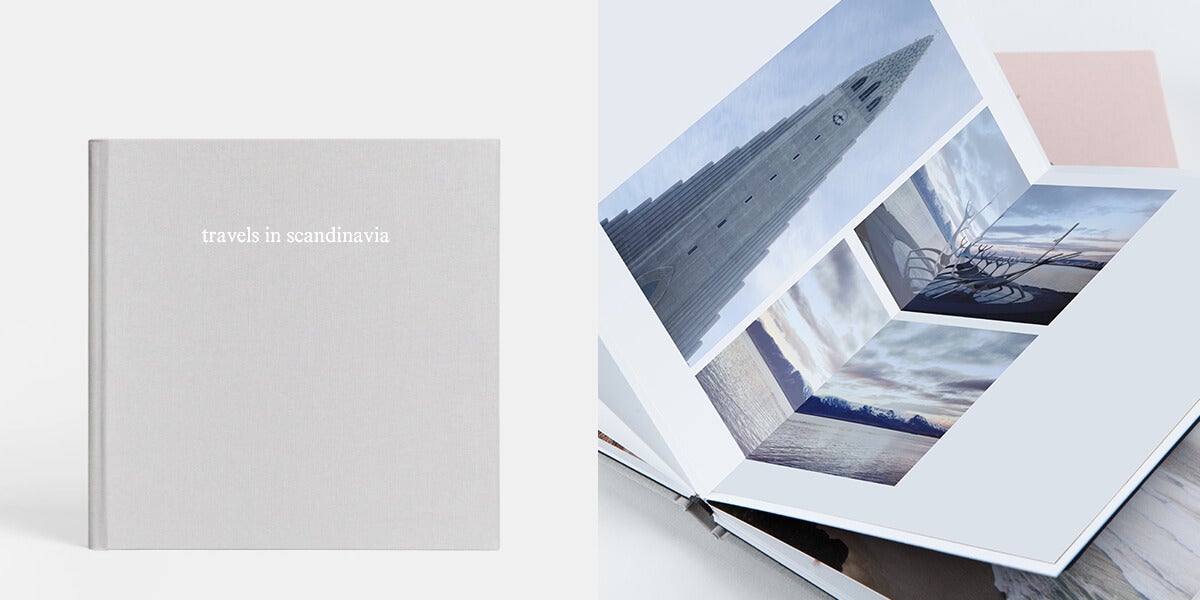 Sometimes, we don't get a chance to look back on one chapter of our lives until we're well into another. And although Lyndee lived in Scandinavia for seven years, it's only recently that she was able to finally honor those days in print. Her beautiful Layflat Photo Album is a nostalgic ode to the landscapes and countries that left their marks long after she moved back to the States. One look through is all it takes to see why she heads up our Design Services team!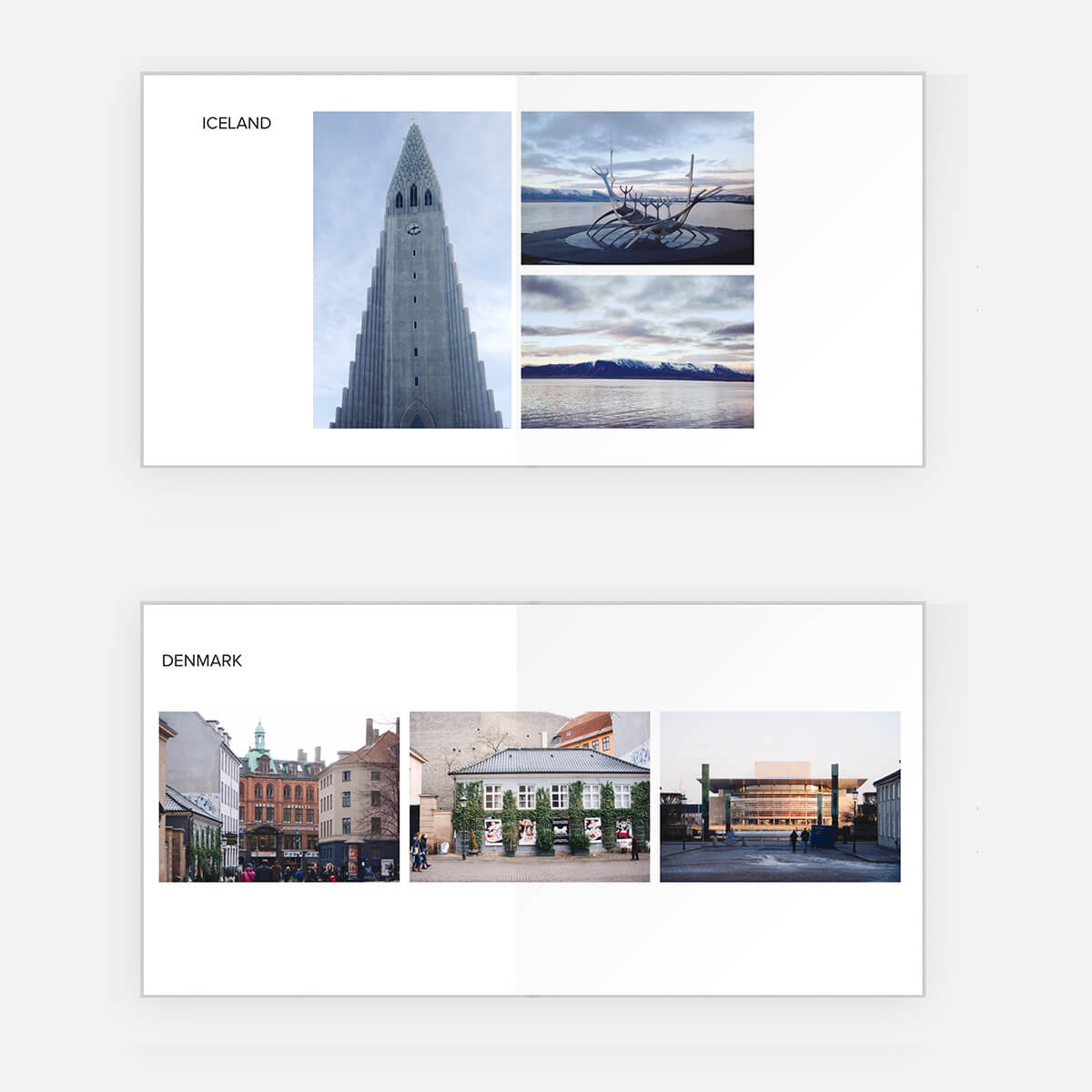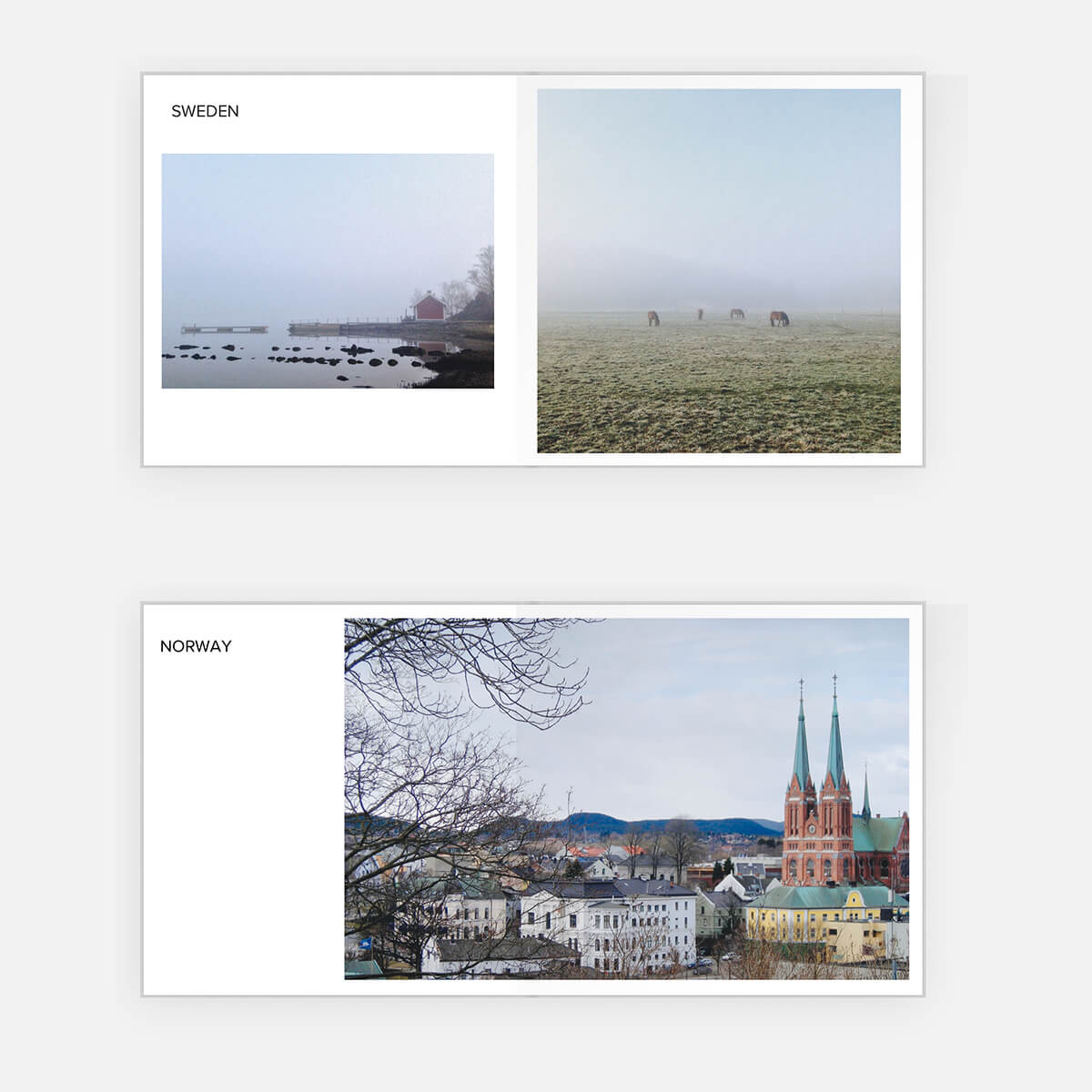 I lived in Europe for 7 years, but had never taken the time to create a photo book of my days there. This album provided a tangible way to hold on to those memories.
---
Wedding Photo Book Examples
Eliza
Their Best Day, Relived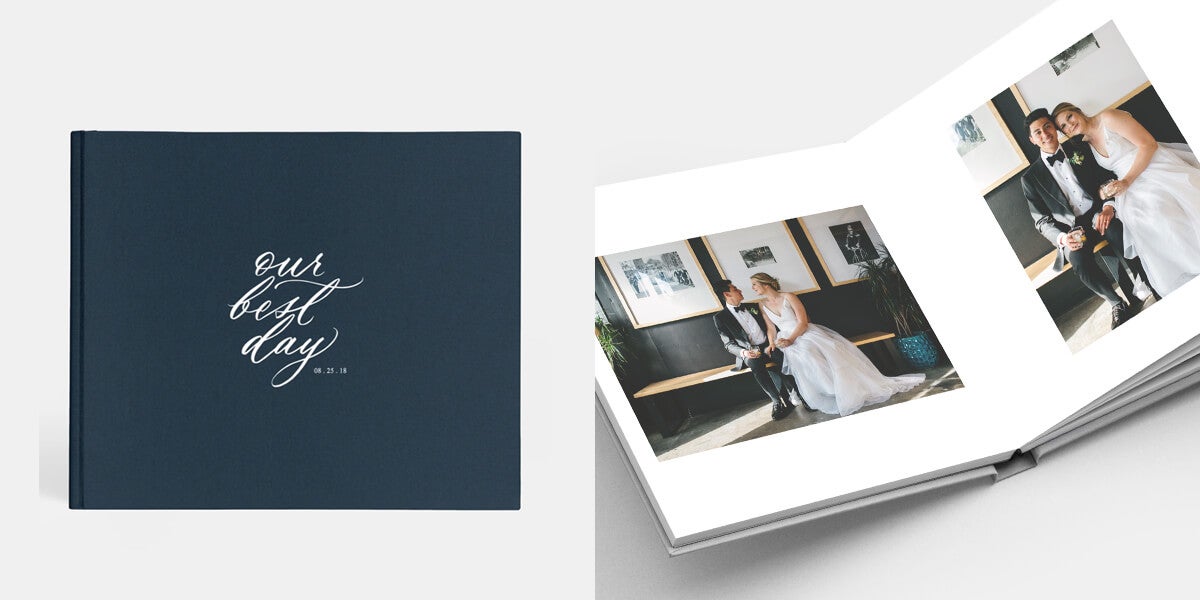 Eliza has been a part of our Customer Experience team, our Engineering team, and, most recently, our Marketing team. So it's safe to say she's incredibly talented at just about anything she puts her mind to. Don't believe us? Just take a look at how well she designed her Wedding Layflat Album, mixing and matching photo book layouts to bring out the rich stories in every micro moment — whether it's the picture-perfect panorama from the bartop or the beautiful chaos of the late-night dancefloor.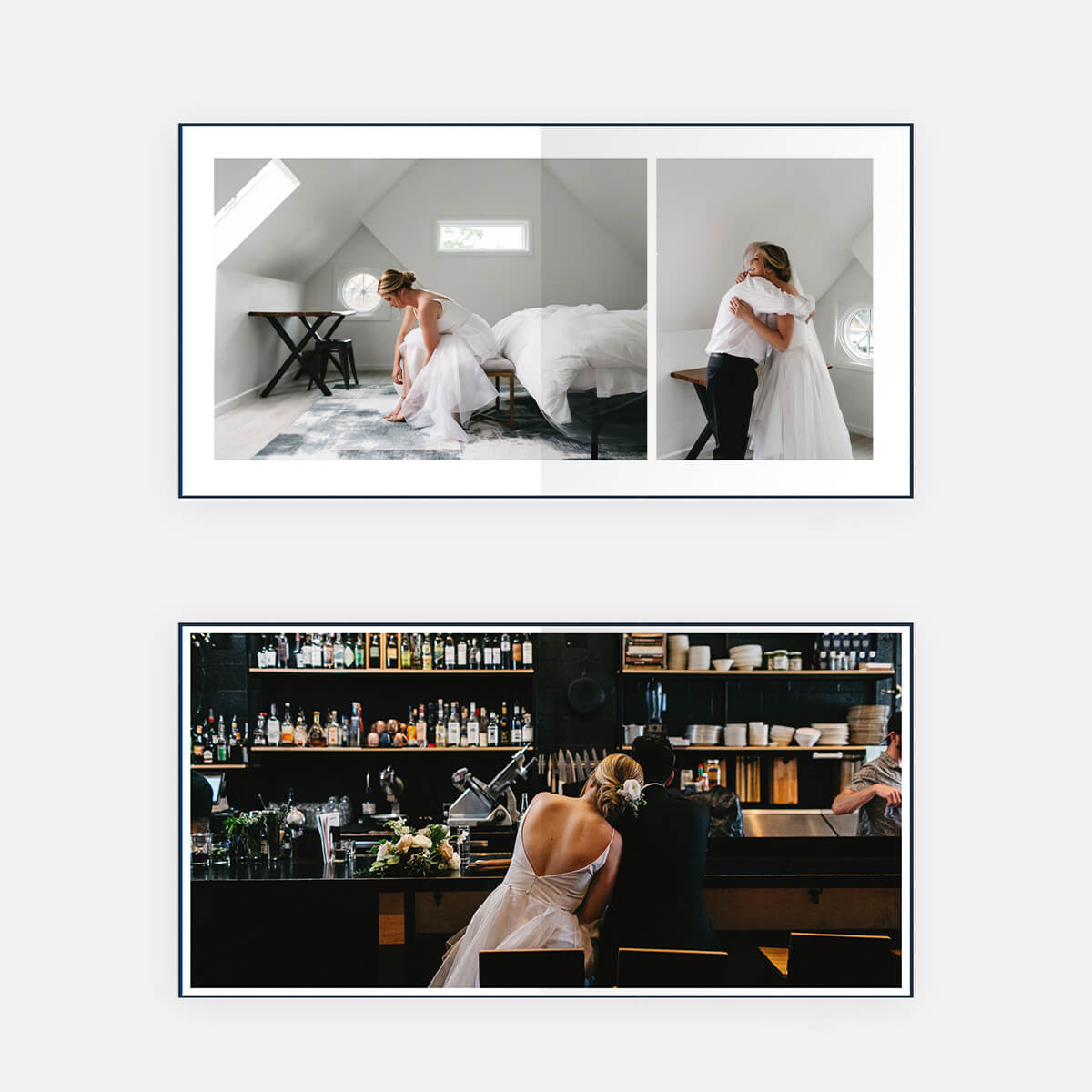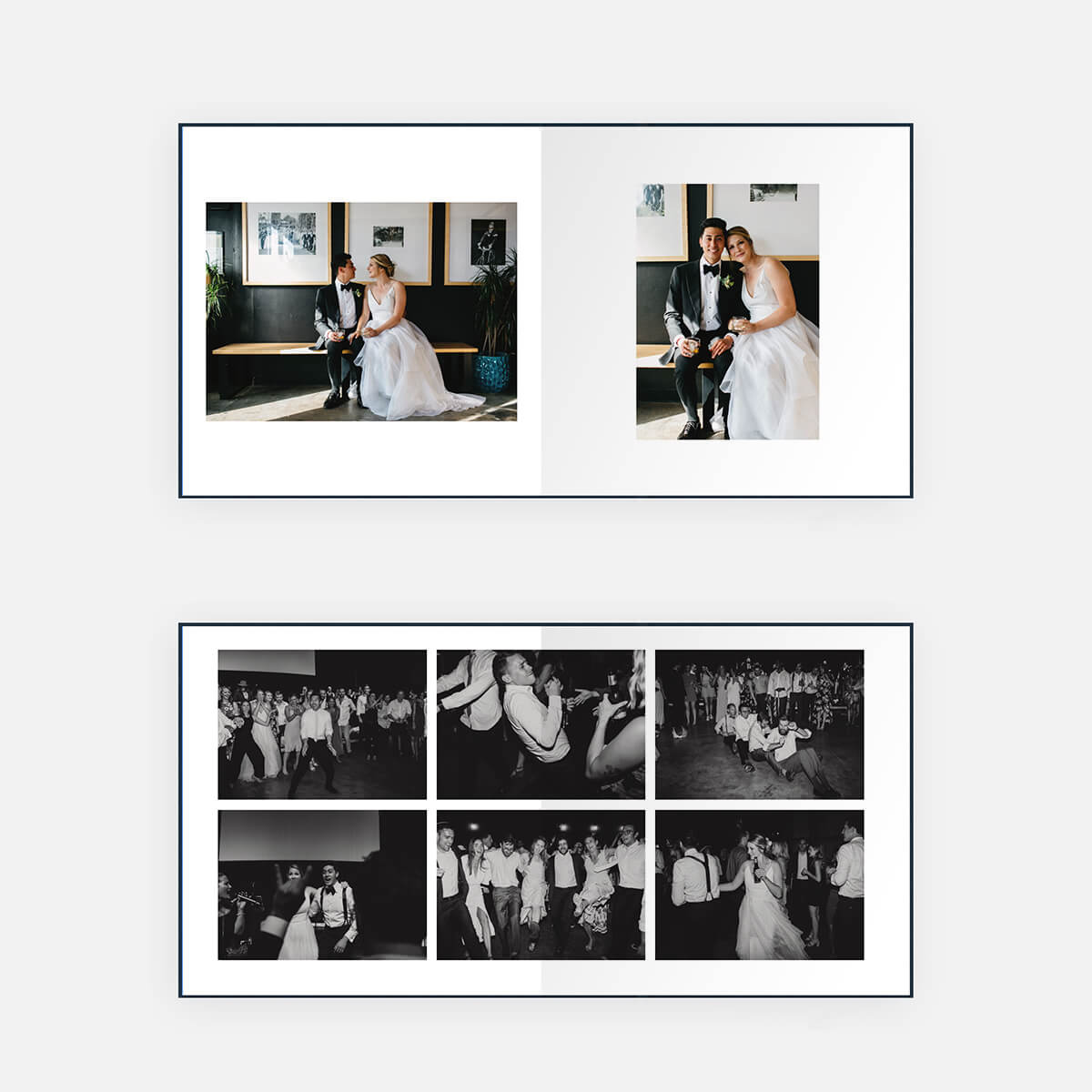 We loved looking through these photos together a few weeks ago on our first anniversary, remembering how beautiful it was to have all of our family and friends dancing and celebrating together.
---
Year-in-Review Photo Book Examples
Erin
Cross-Country Reflections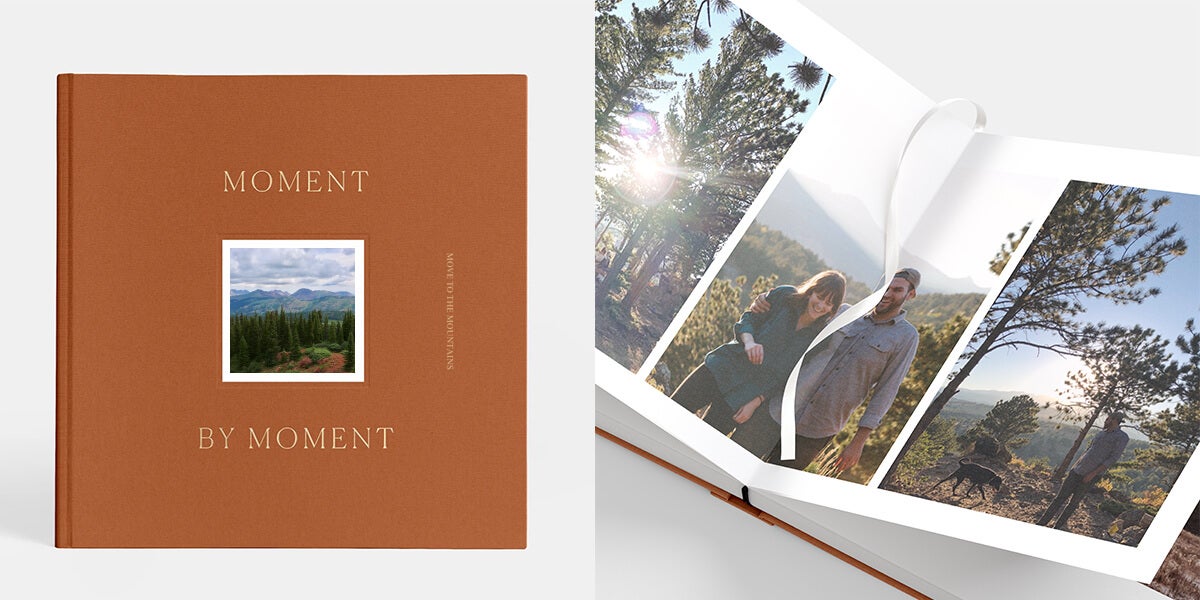 Our Senior Copywriter Erin is the master of using eloquent words to create beautiful narratives. But when documenting a new chapter in her life after a cross-country move to Colorado, she didn't have to use words at all. Filled with some of her favorite moments in this new place she calls home, her album is a story of celebration and reflection that she will preserve for years to come — which is exactly why she chose to tell it in the ultra-thick, time-tested pages of a Signature Layflat.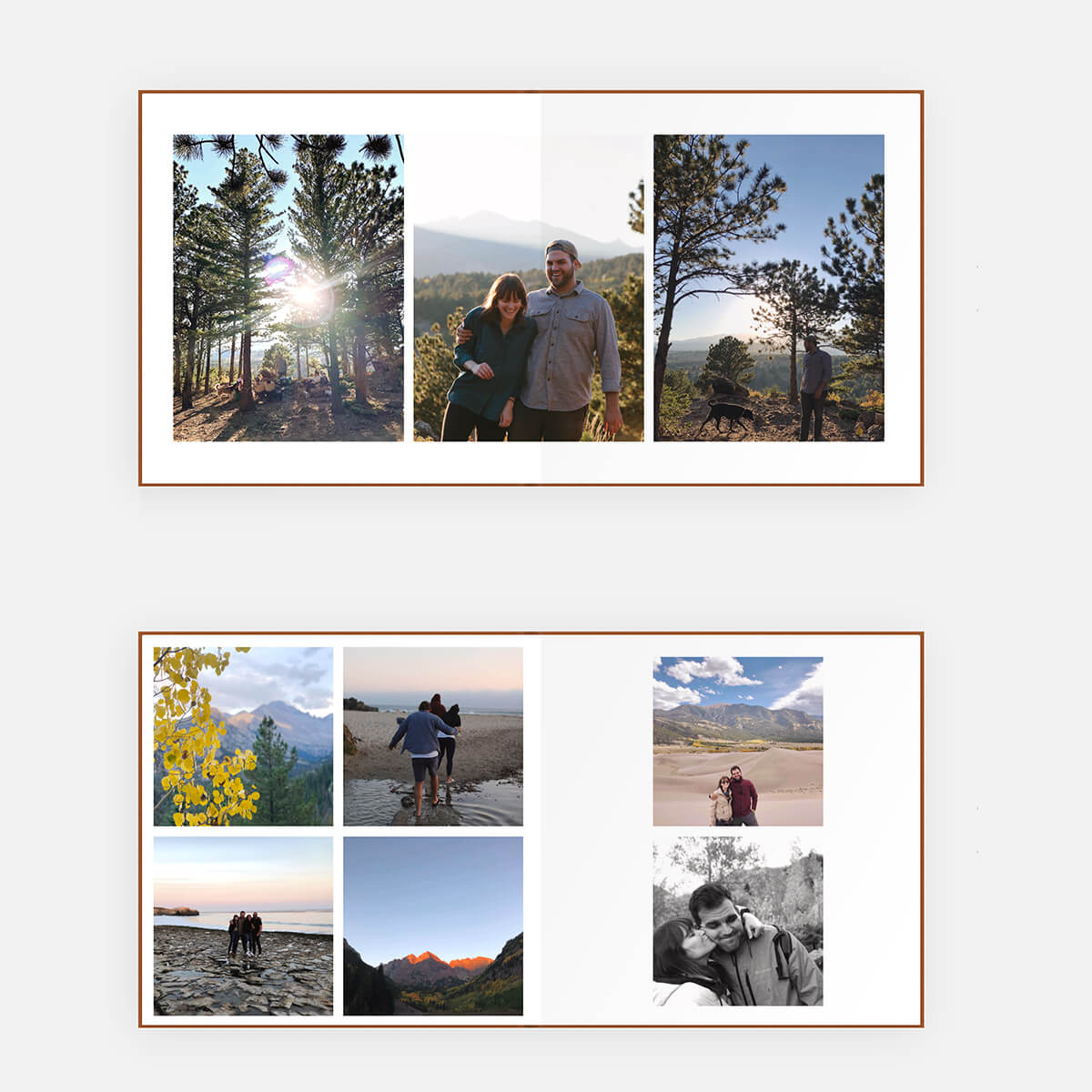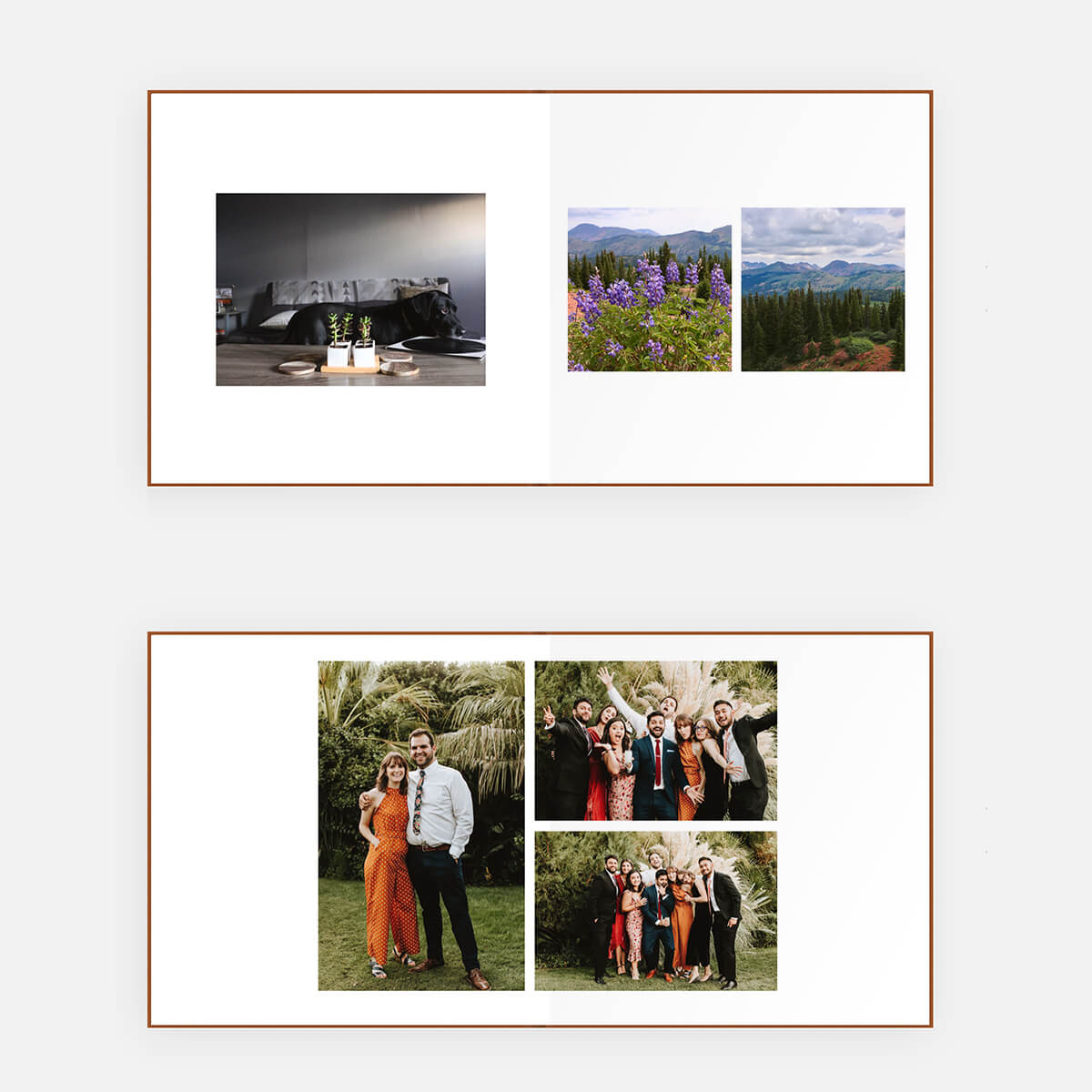 So much has happened since moving across the country to Colorado. It was time to document this stage in our lives, reflecting on change, growth, and lots of newfound joy!
---
Photo Book Examples for Kids
Alberto
The Little Book of Bugs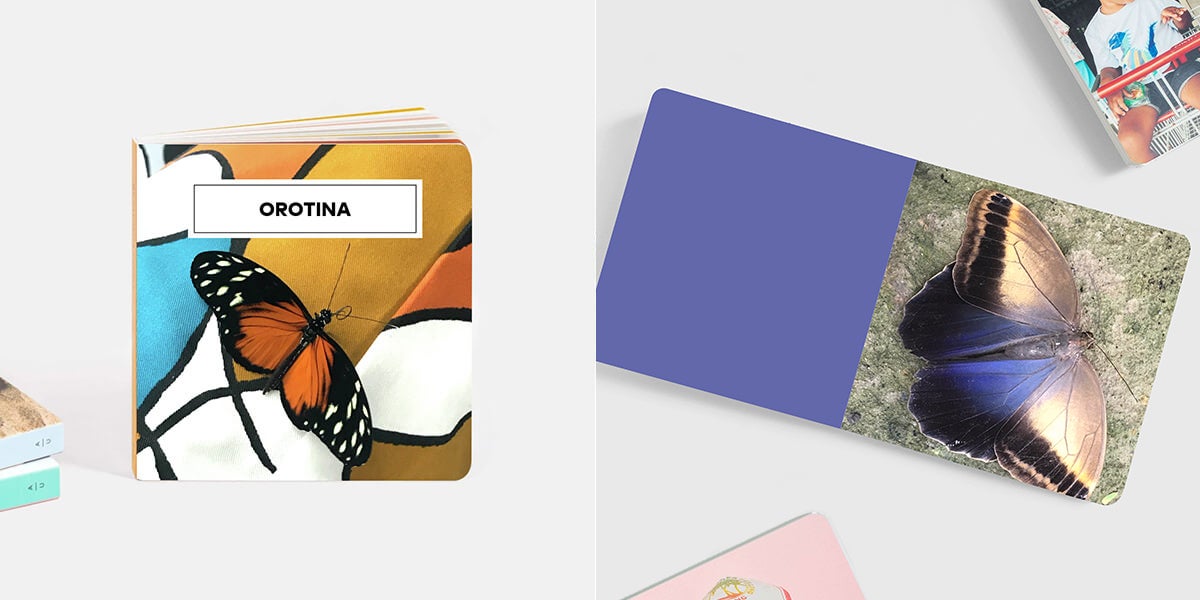 Alberto, our VP of Marketing, has two little ones whose grandma, a biologist, lives in Costa Rica. And while the distance might keep them from seeing each other as regularly as they'd like, it doesn't stop grandma from sending the kids colorful photos of fascinating insects. So Alberto took some of those photos and used them to create this stocking stuffer on grandma's behalf. Filled with butterflies, beetles, and beyond, it's a Board Book sure to jumpstart learning for curious kiddos. (Alberto's mom asked for one too!)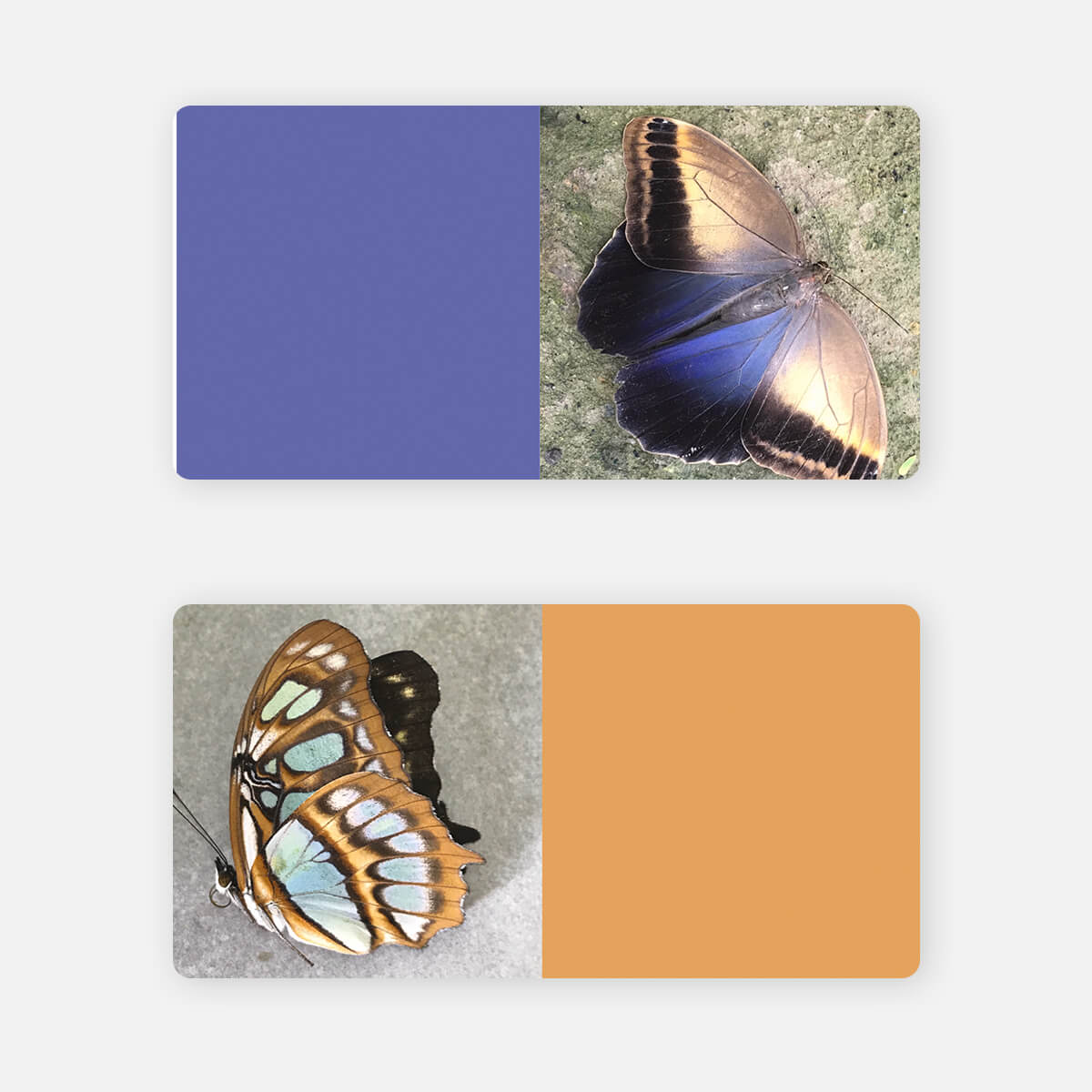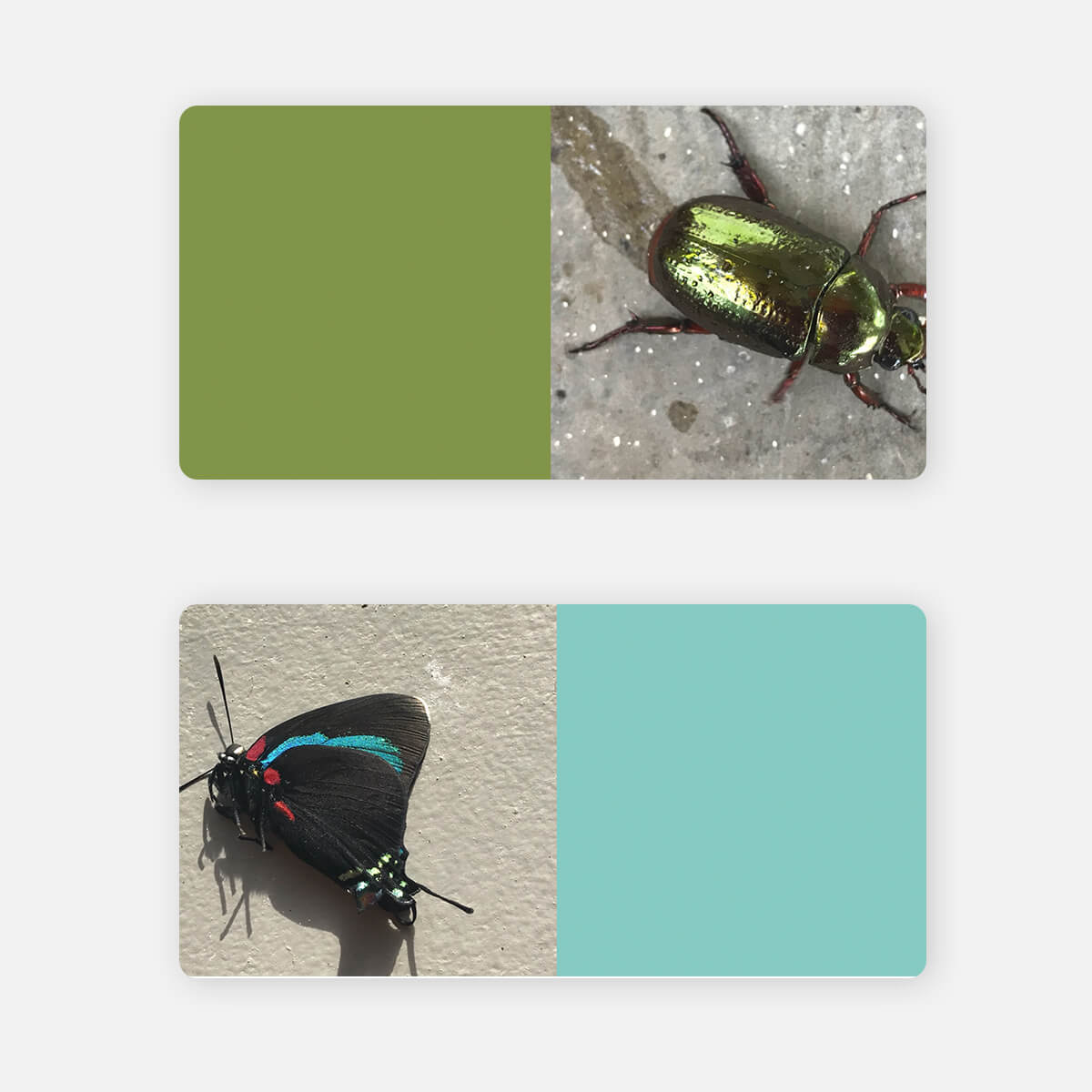 My parents would always send their grandkids pictures of their travels. The kids were particularly drawn to the insects, so when they each got their own personalized insect book, they were blown away.
---
Emily
Bird-Watching in Our Backyard
Emily's husband is a birder, and she was looking for a way to help him share the hobby with their young ones. So she took some of his photos from City Park, and used them to create this one-of-a-kind Board Book of birds that can be found right here in our backyard. She's the creative genius behind many of our products, so we're not at all surprised that she did something completely unique! (Want to create something like this? It's easier than you might think thanks to a trio of pre-designed themes.)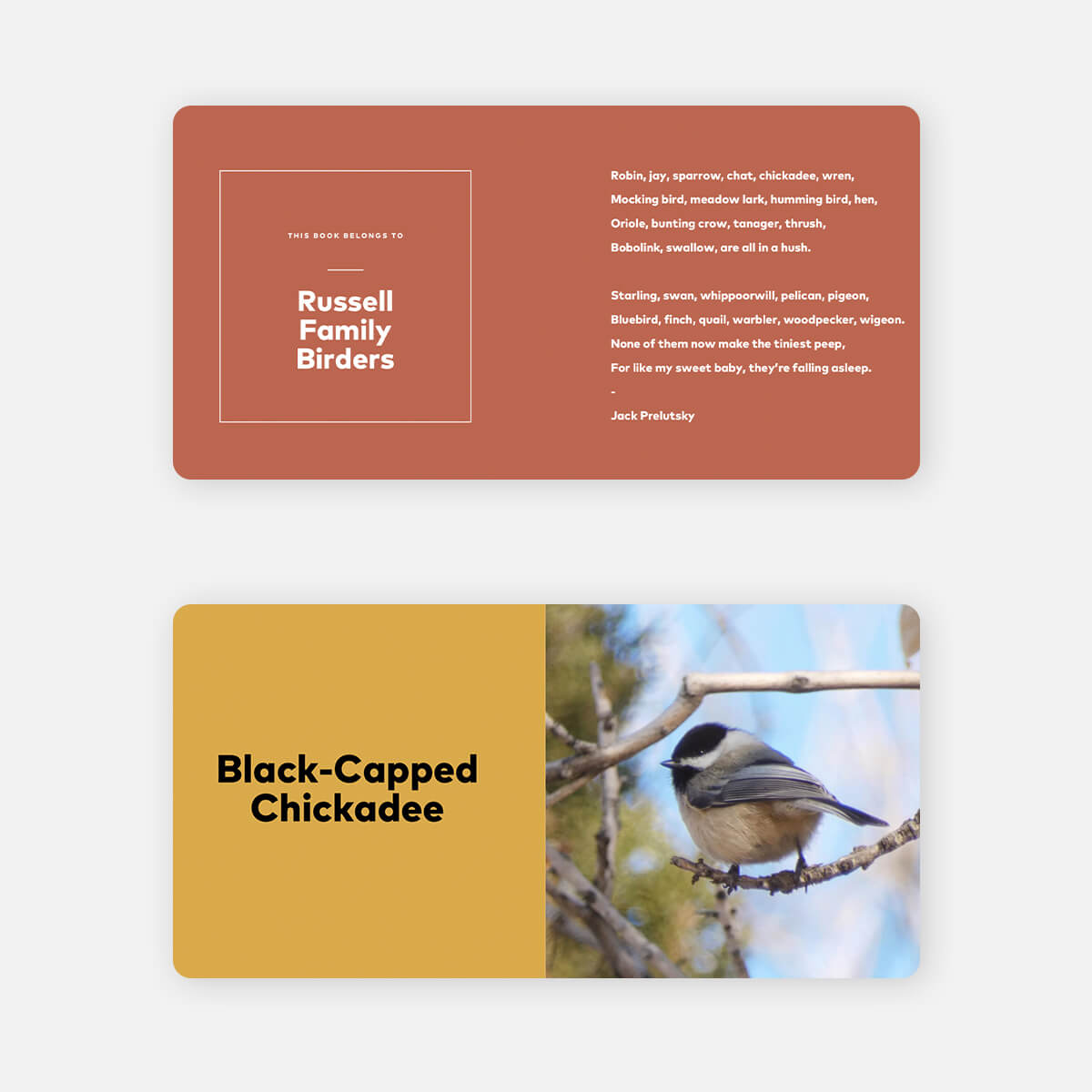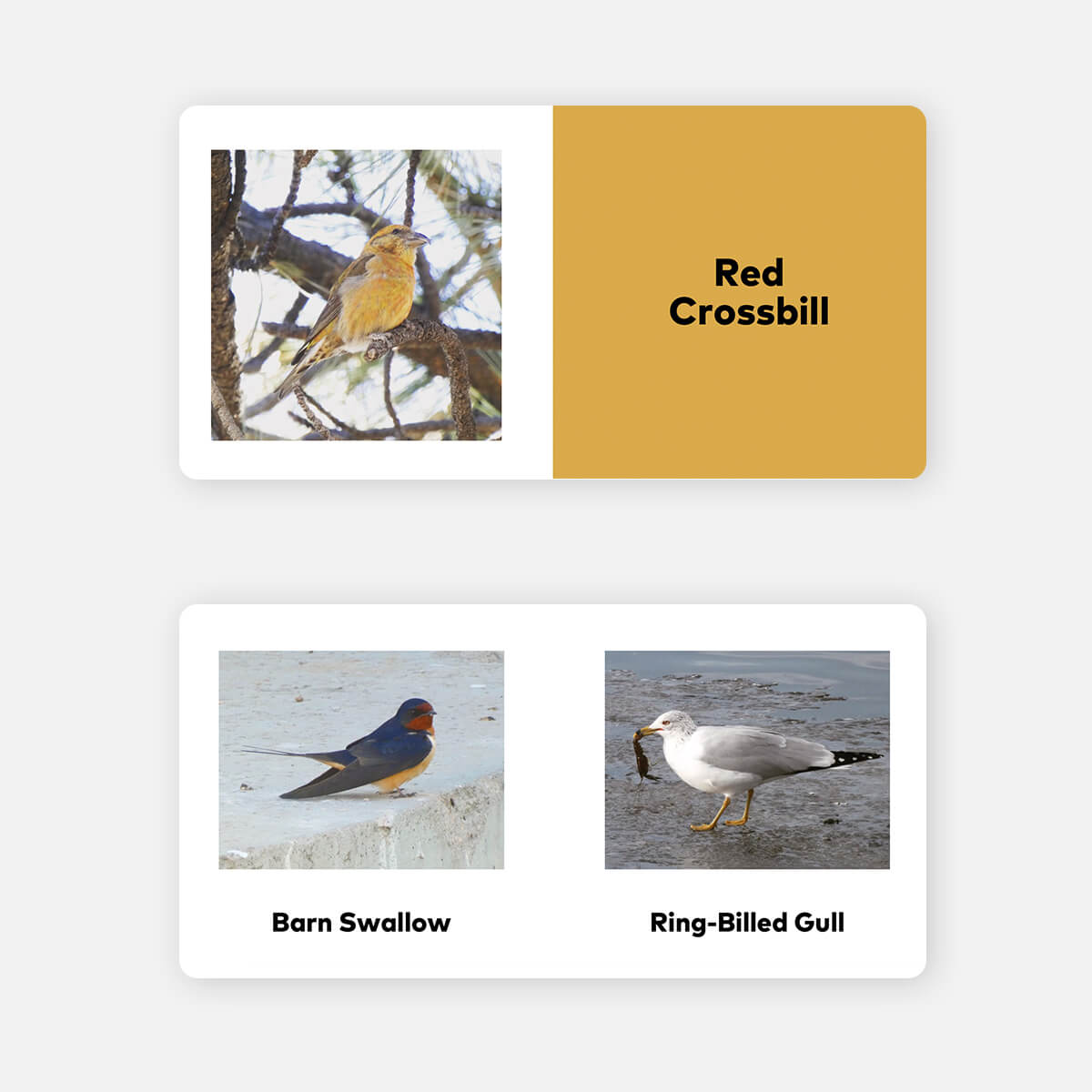 He's so excited to be able to share his hobby with our kiddos in a format that makes it easy for them to enjoy and learn.
---
Lead by Example
Time to Start Your Own
With these photo book examples in your back pocket, hopefully you have a few new ideas for how to bring your own album to life. If you do, we'd love to see it! Just tag us on Instagram using @artifactuprising.