---
Variety is the Spice
Something for Everyone
Gone are the days of cookie-cutter cards. With over 150 card styles that each have several customization options, you can be sure that the card you're putting in the mailbox is uniquely your own. Not sure where to start when it comes to picking your design? Here's a quick look at different styles that can help narrow things down:
Put the Focus on the Photo
Minimal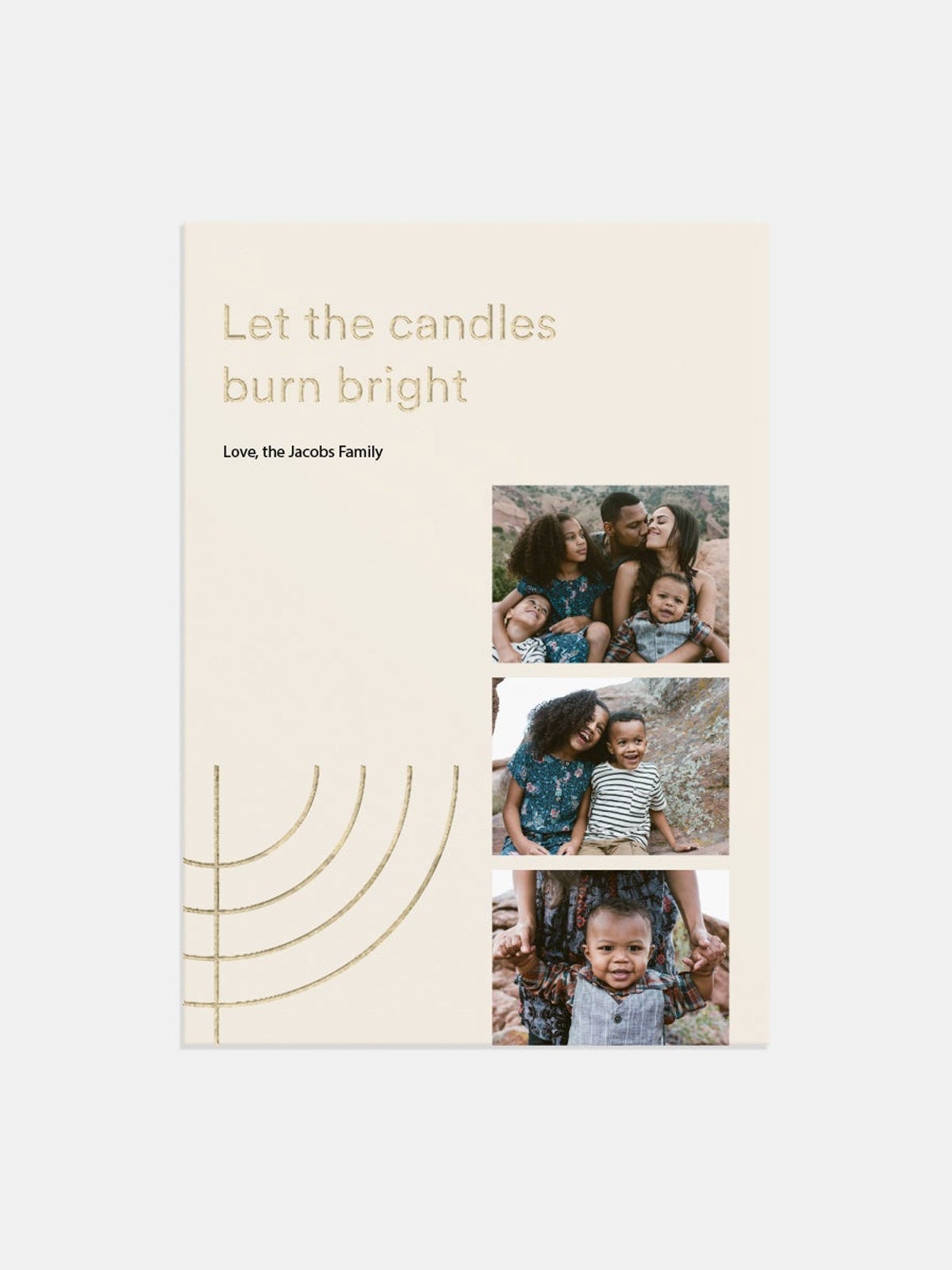 You can't go wrong with a minimally designed card: it puts the emphasis on your photo above all else (which we're undeniably fans of!)
---
A Graceful Take on Gratitude
Hand-Lettered
This feminine card style is as elegant and refined as they come — a favorite for a reason!
---
Perfectly Playful
Illustrated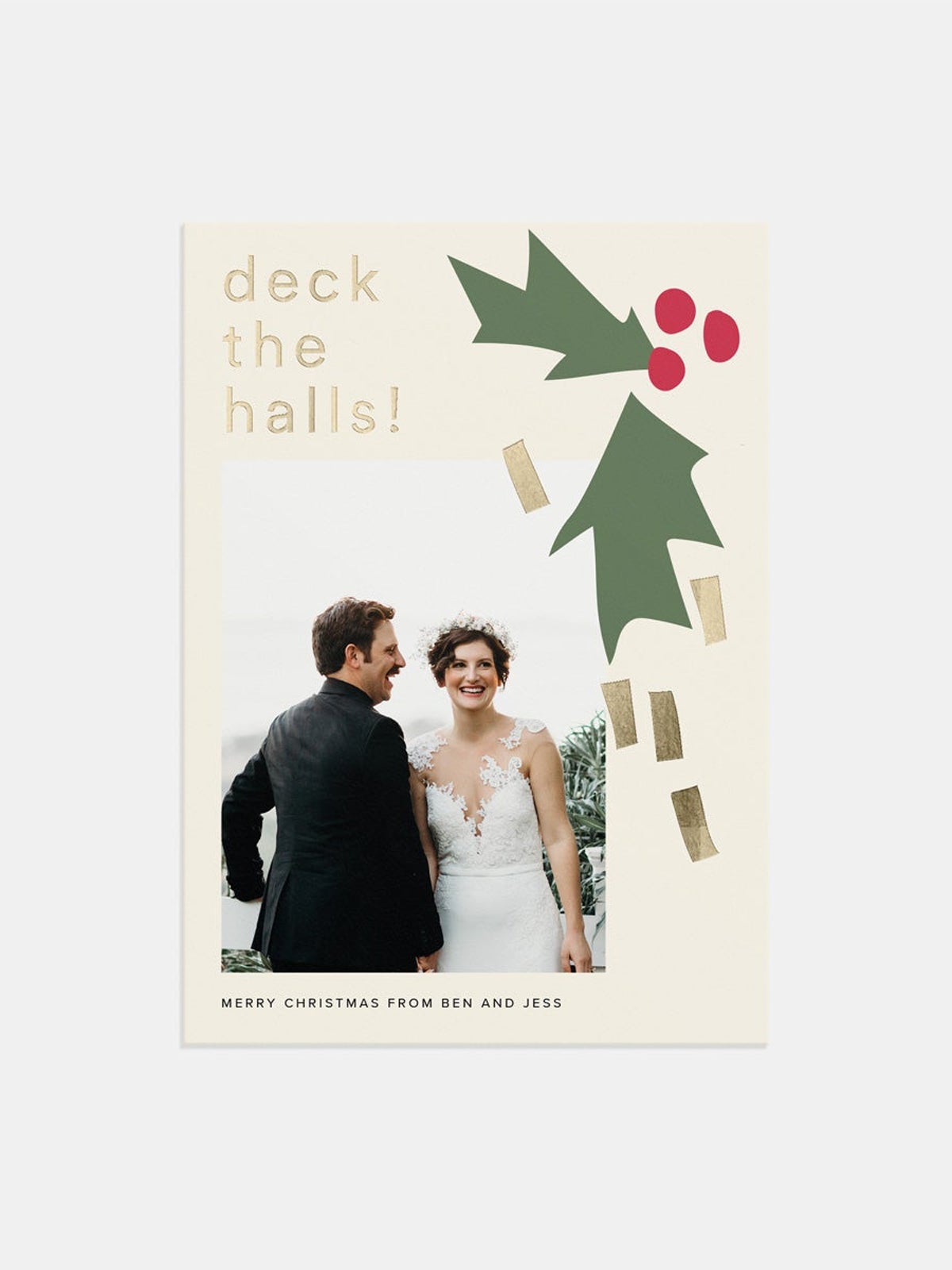 If you're looking for a fun and playful card that will bring joy to all, head straight to the illustrated cards... we promise you'll love them as much as we do!
---
A Fresh Take on Festive
Modern
For those who can't make up their minds on which card to choose, we recommend going with a modern card: it caters to all types of aesthetics and is clean and classy.
"The holiday cards I created on your site were utterly perfect. The paper selection was spot on, the image quality was the best I have ever seen, and the overall look was EXACTLY what I was looking for. It felt like it was a true representation of my personal aesthetic."

—Ellie, Tennessee
---
Designed With Intention
The Little Details
Made For What Matters
Photo-First Designs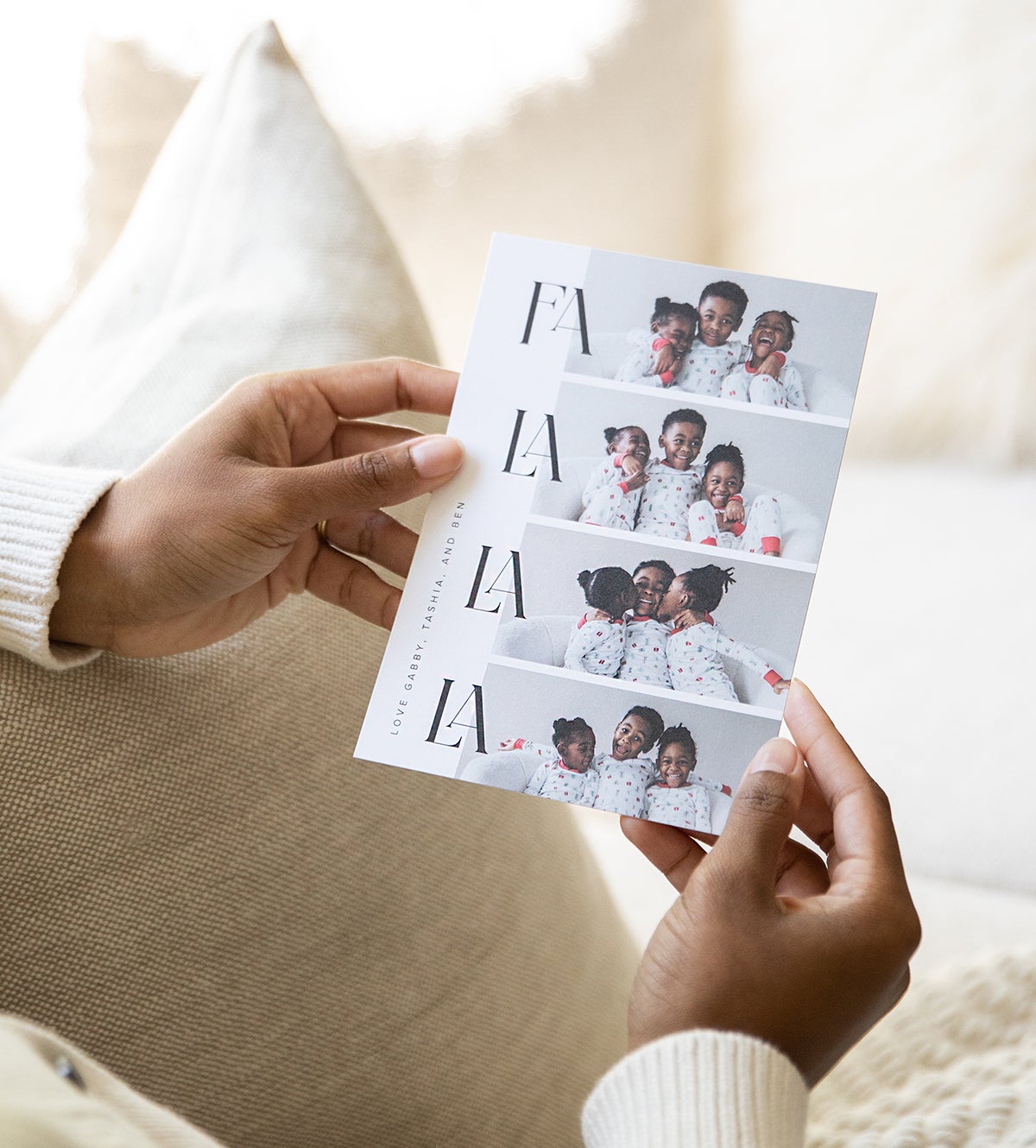 Every card we've designed was created to put your favorite photos front and center — from family photos to festive scenes and beyond. No matter which card you choose, the emphasis will always be on your most-loved image(s). Have more than one photo that deserves the spotlight? A multi-photo design might do!
---
Stand Out in the Stack
Thoughtfully Curated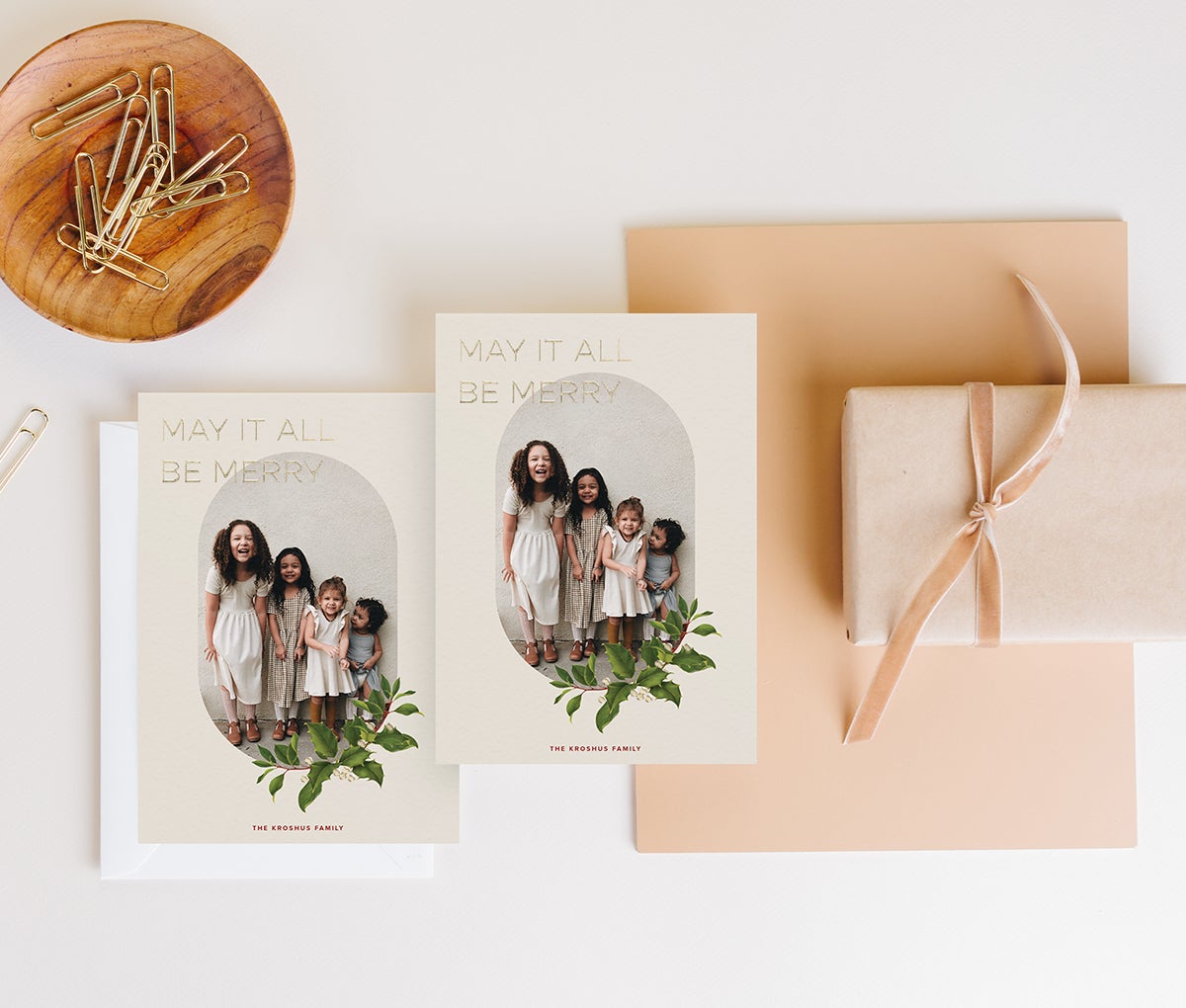 Whether it be elevated hand-lettering or unique illustrations, each card we offer is exlusive to our line and carefully designed to feel memorable. With personalization as our purpose and a good mail day as our mission, we set out to help you create a card that feels true to the way you want to deliver joy.
---
Because Materials Matter
Premium, 100% Recycled Paper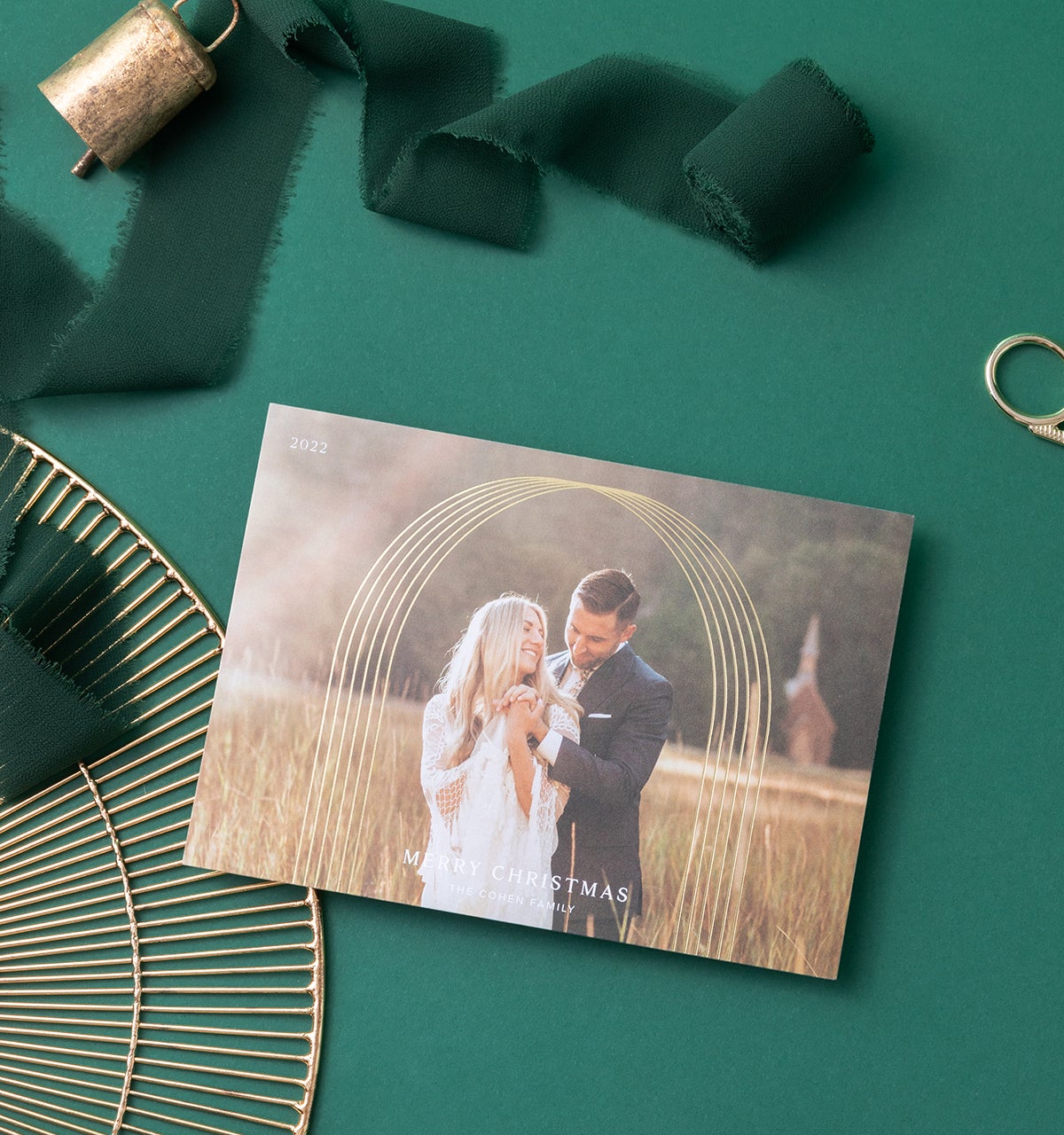 So often, holiday cards are enjoyed for moments — maybe a month — then simply thrown away. We choose to print ours on thick, premium paper so recipients want to hold on to them for longer, using 100% recycled paper to reduce the impact of this long-held tradition on mother nature. This paper, 110-lb. Mohawk Loop Eco White in Vellum finish, not only gives your cards a pleasant matte texture, but also substantial quality you can feel.
---
Designed to Shine
Traditional Foil Stamping
Like many of the other photo goods in our collection, holiday card designs featuring foil are brought to life via the traditional foil stamping method — where the foil is gently pressed into the paper with heat for an elegant, textured finish. We use this method instead of digital foil printing, which has become commonplace in the industry, because we know the perfect card doesn't come from cutting corners.
---
Make It Your Own
Perfectly Personalized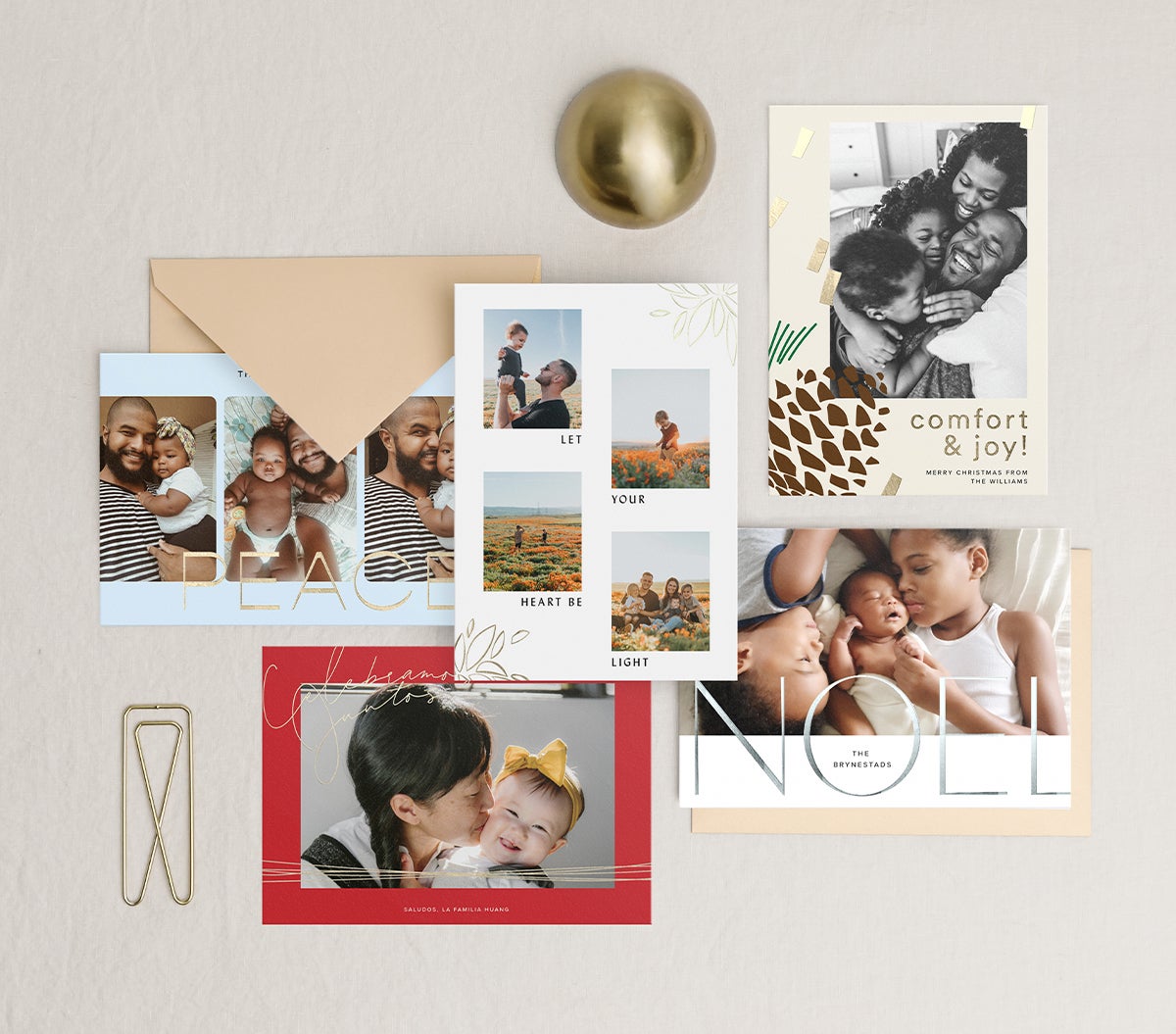 The cards we send friends and family, and the sentiments behind them, should reflect who we are. So as we set out to craft a diverse collection of designs you could truly make your own, we did so with an eye for extra personalization.
Inclusive Greetings
Because there are many reasons to celebrate the season, we offer greeting options for multiple holidays and languages, including Hanukkah and Spanish.
Five Foils
Each card comes with the choice of five foil colors (including holiday fan-favorites burgundy and frost!) to make sure that you have a color that pairs well with your image.
Custom Color
If you see a "custom color" badge on the thumbnail of a card as you scroll through our collection, that means you can personalize the border and text color of your card to virtually any tone.
Front to Back
We offer seven different layouts for the back of each card — ready to be filled with well-wishes, holiday letters, additional photos, or a mix of it all. (Or, leave it blank if the sentiment feels simple this year!)
Go Your Own Way
Our cards cater to what's most important: your photo. That's why you'll find many cards available in both horizontal and vertical orientations. Because the card should fit the photo, not the other way around.
Don't Forget the Envelope
Kraft brown, white, dove grey, or gold... the way you want to make your first impression is all up to you.
---
Close to Home
Printed in the USA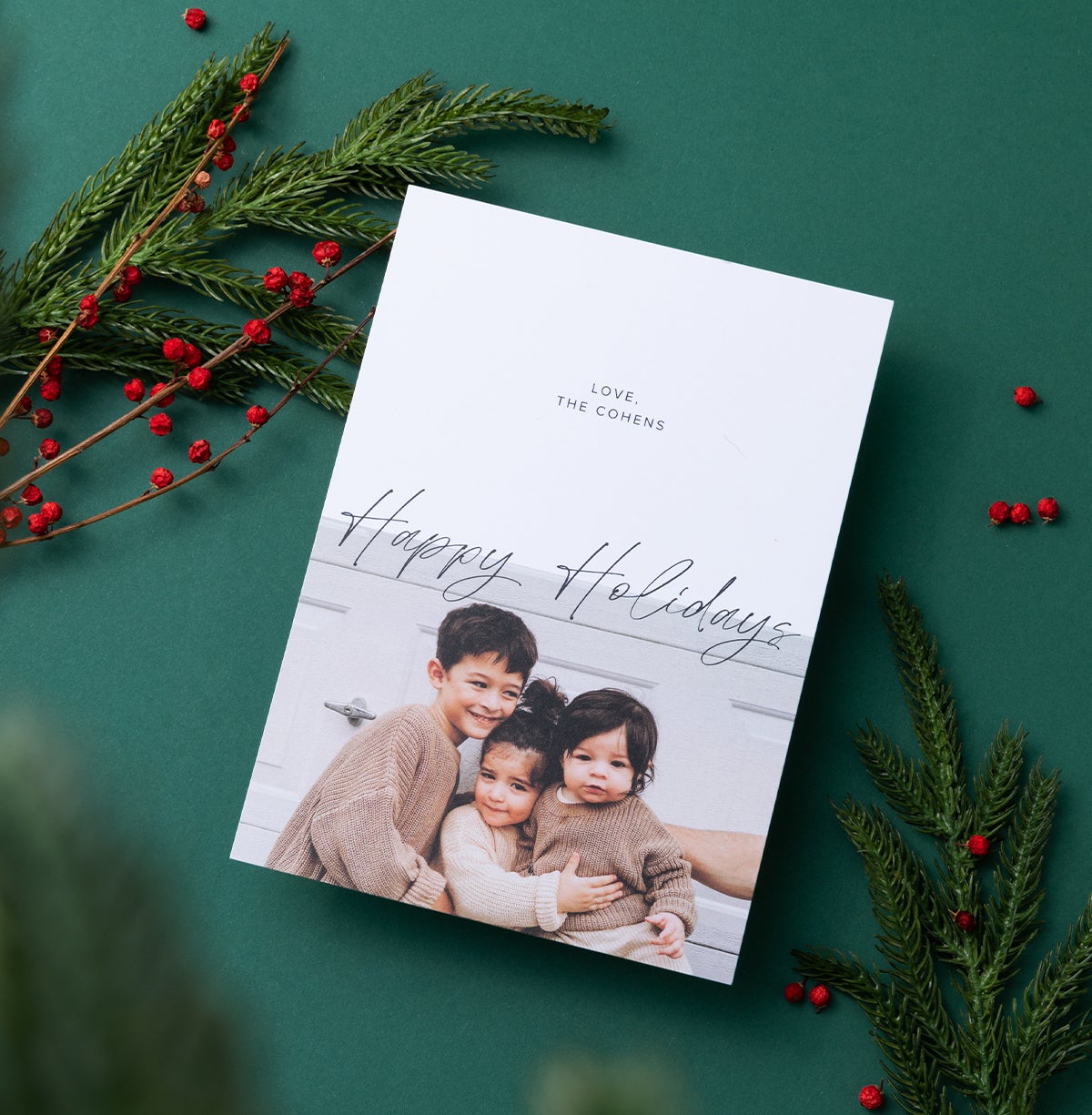 Each card is printed and packaged right here in the USA, and then sent straight to your doorstep to send to mailboxes everywhere. After all, the things that matter most should be kept close to home.
"The streamlined designs on Artifact Uprising look more like magazine ads than holiday cards." —Refinery 29
---