---
@thebrittanyyouknow
Poetry in Print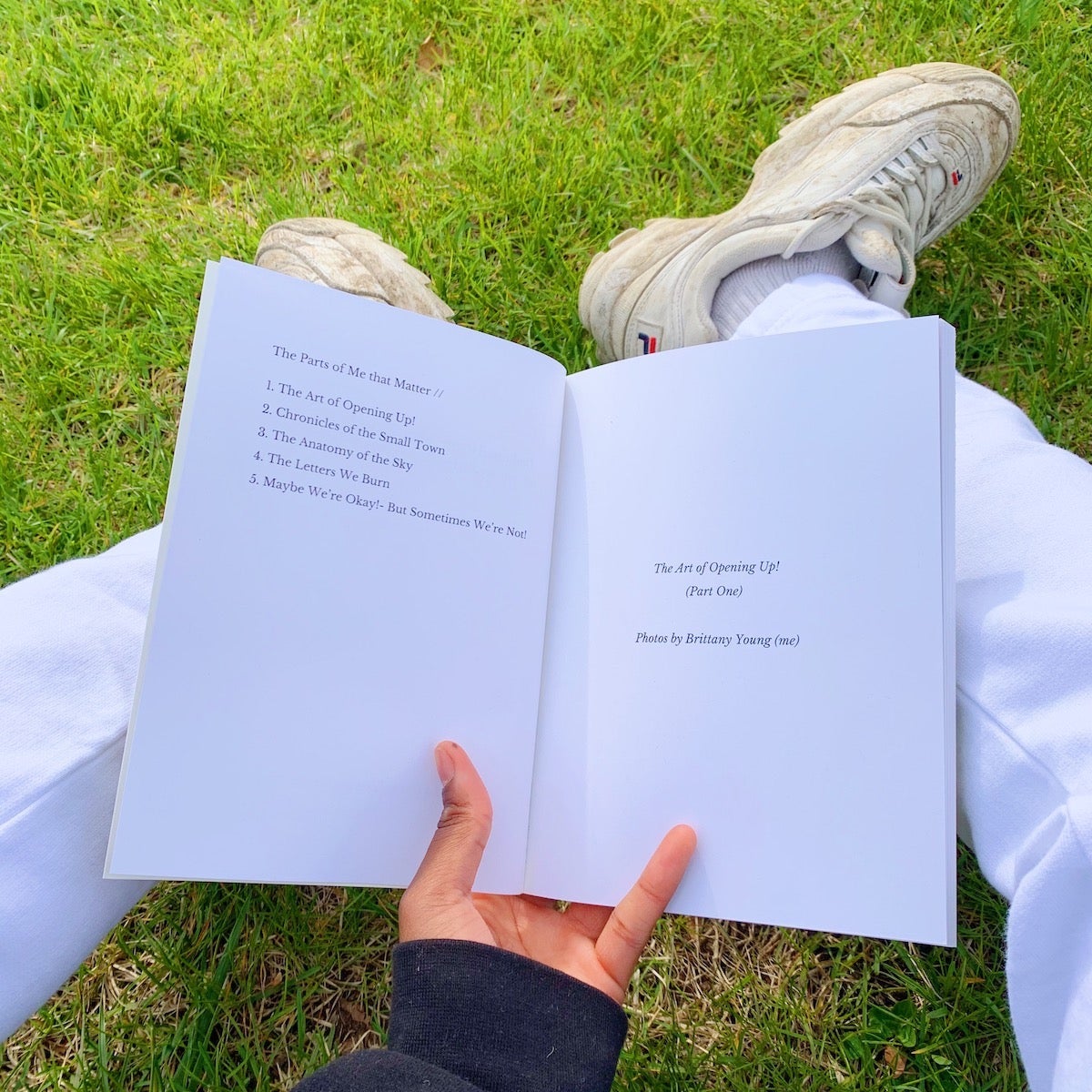 These days, the images and words we create most often live in the ephemeral mediums of camera rolls and computer files — but there's simply no substitute for seeing creativity come to life in the tangible. Just ask @thebrittanyouknow, who took our Softcover Photo Album and reinvented it into a self-published book of poetry, complete with her own photography.
---
@shelbygoodman
Decor, Designed by You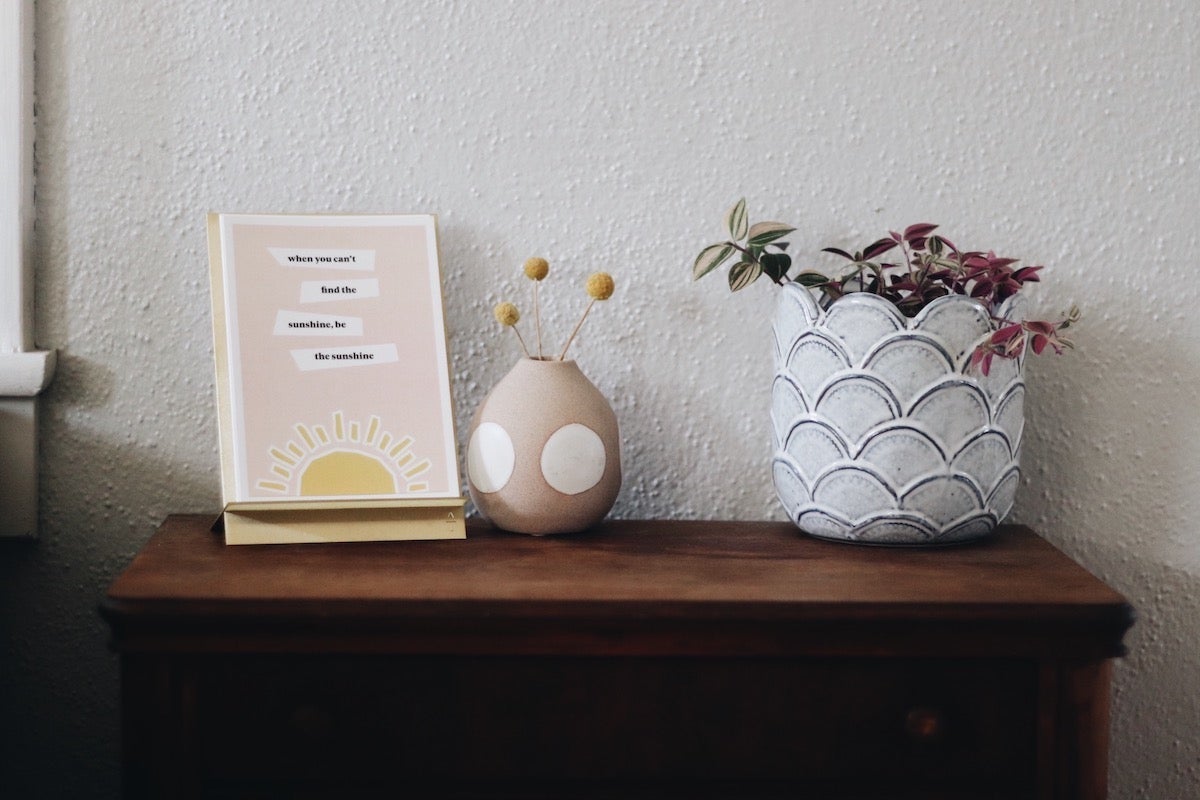 The easiest way to find decor you love? Create it yourself.... much like our friend @shelbygoodman. By using her own inspirational designs as the prints included with her Brass Easel, she created a one-of-a-kind photo stand to put her bright designs and unique aesthetic on display. Plus, with 12 prints at her disposal, she can change the featured print to set a completely new mood.

Pro tip: If you love this idea, make sure to save your designs as .jpg files so you're able to easily upload them to the editor.
---
@roamandgolightly
A Tour of the City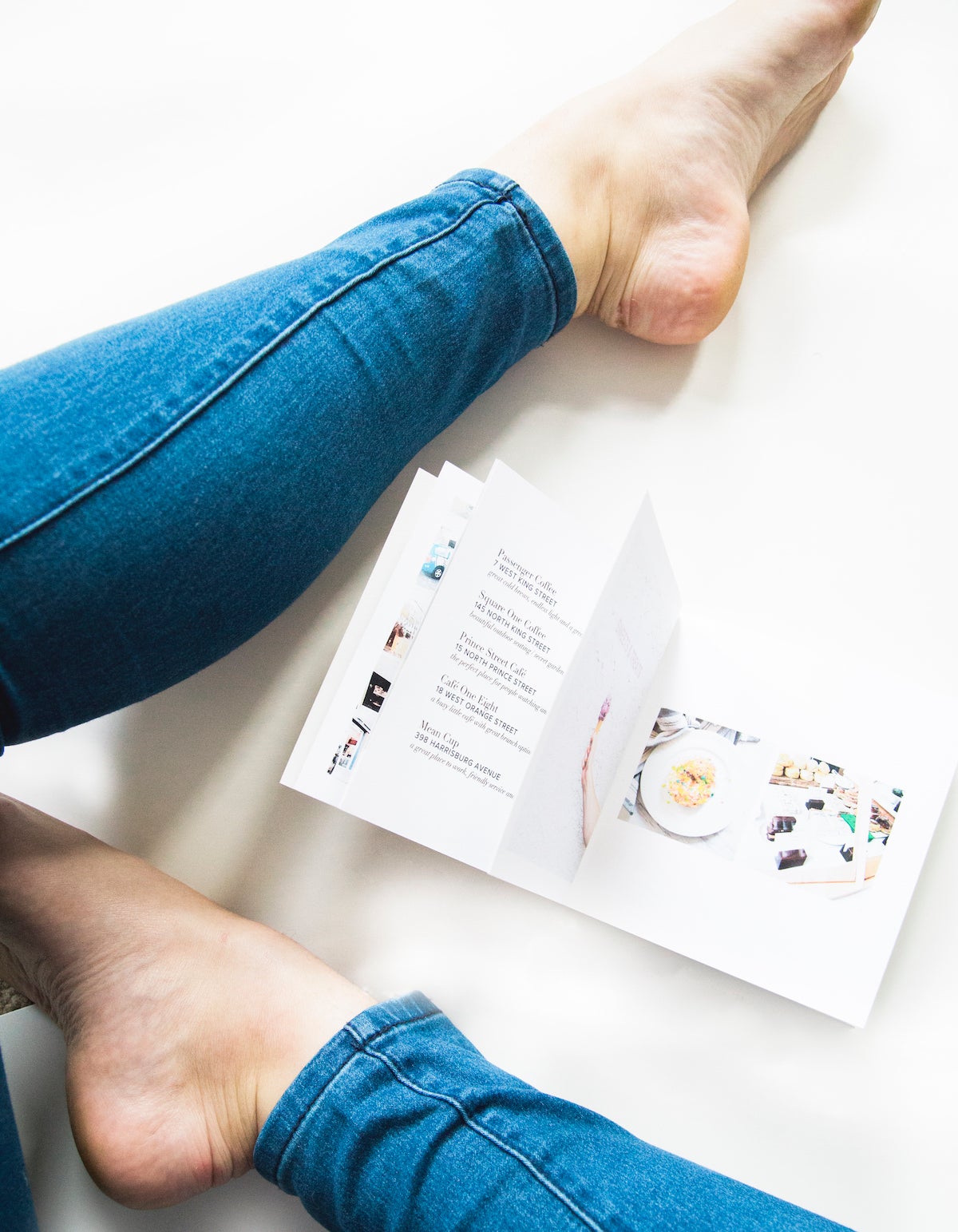 @roamandgolightly is ready to show you the best of Lancaster, PA with a design-forward city guide that puts her photography on display. An out-of-the-box idea for travel enthusiasts and creators of airbnb guest books alike, we're nothing short of swooning over this curated collection of local favorites. She really brought out the best in our Softcover Photo Book, pairing text and photo templates for one of the most creative photo book layout ideas we've seen yet.
---
@kathleenmotoa
B is for Baby Board Book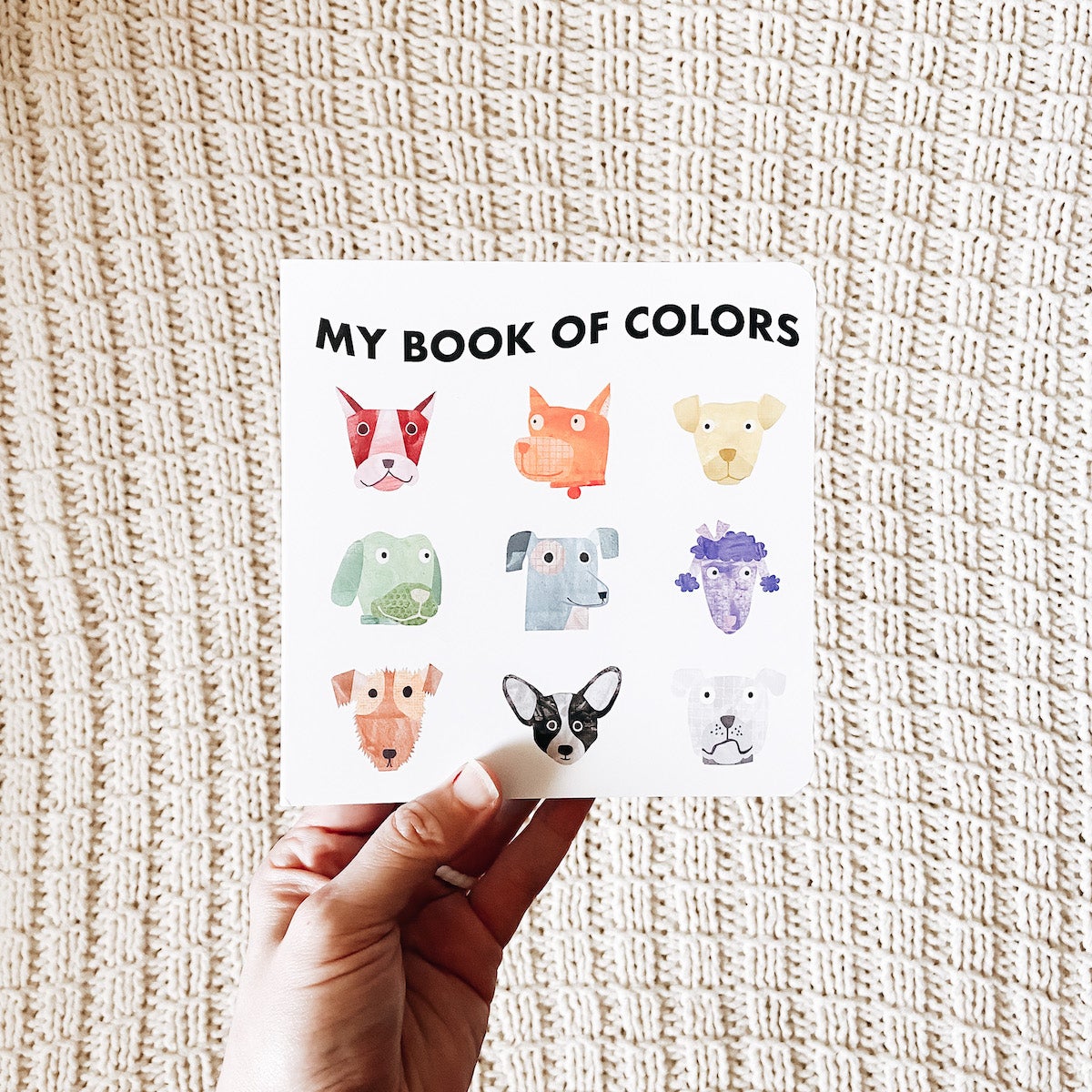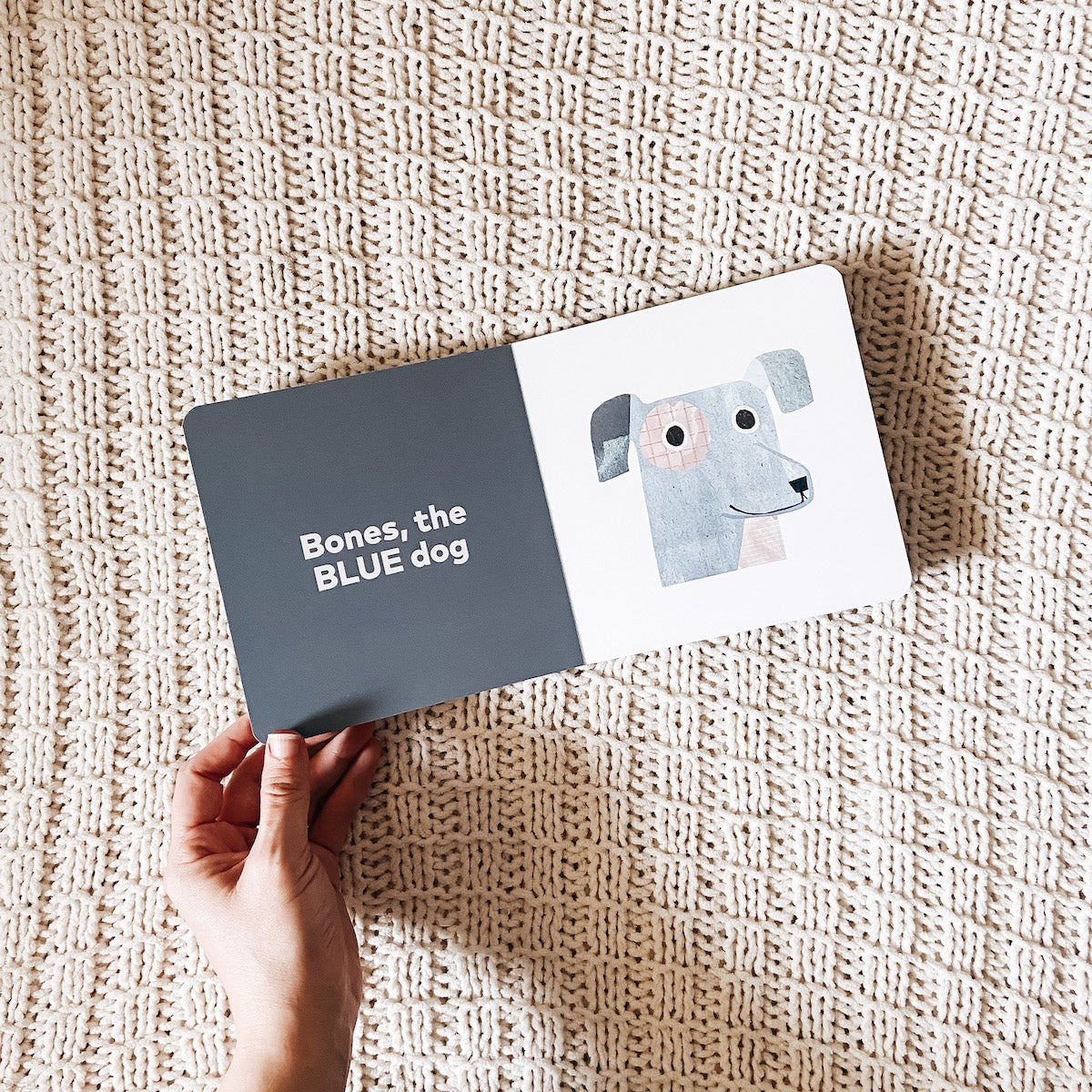 Take a page from @kathleenmotoa and jumpstart their learning journey with a book you create yourself! She designed this sweet little Baby Board Book by uploading her own illustrations, matching critters with colors to put her own spin on storytime.

Pro tip: Nervous about creating your own book from scratch? Choose one of our three pre-designed themes to make things a little easier.
---
@babybraithwaite
Off the Fridge & Into an Album
Take it off the fridge and into a photo book, with this idea that celebrates your little artists-in-the-making — courtesy of @babybraithwaite. It's an easy way to hold on to those heartfelt illustrations over time, grouping them together by the year to look back on often. She chose to use our Softcover Photo Book, but our Color Series Photo Book would be perfect as well!
---
@brizzyroseandemma
A Picture-Perfect Proposal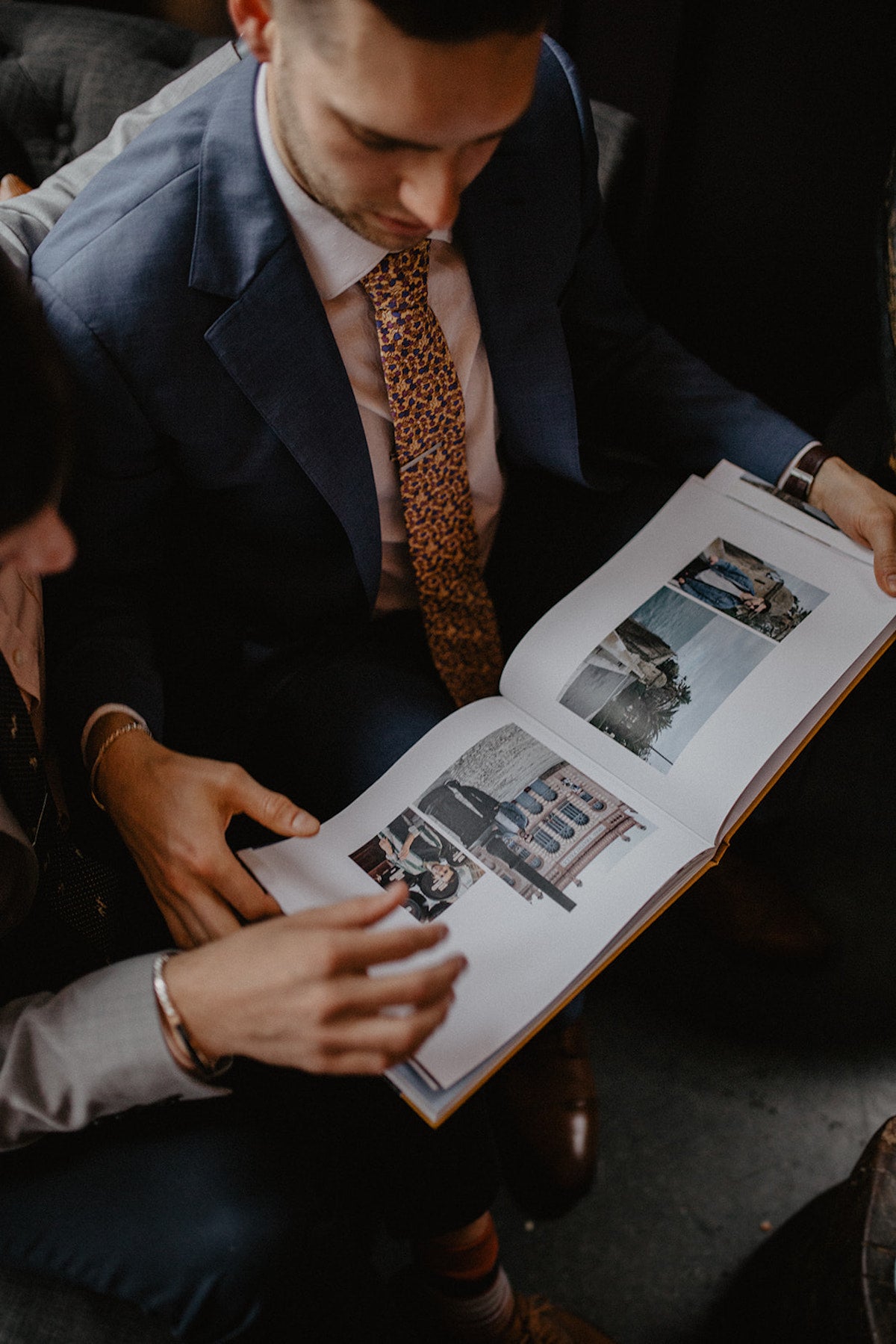 The most meaningful question you'll ever ask, placed alongside meaningful moments spent together. It's a picture-perfect proposal idea that took time, imagination, and a little dash of happily ever after. Thanks to @brizzyroseandemma for capturing the proposal and our congrats to the happy couple, Hunter and Matthew, on their new adventure together. We hope you love your Hardcover Photo Book as much as we love this story.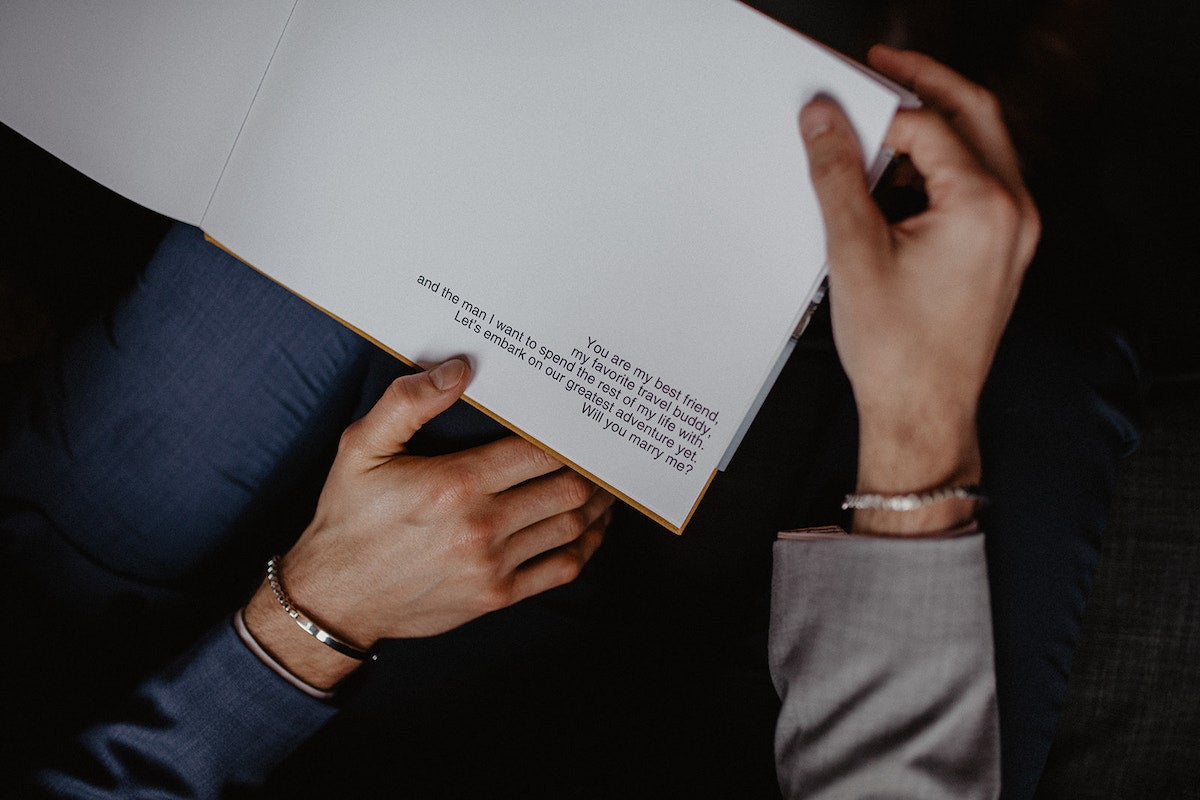 ---
@myfriendkelley
A Cozy Little Corner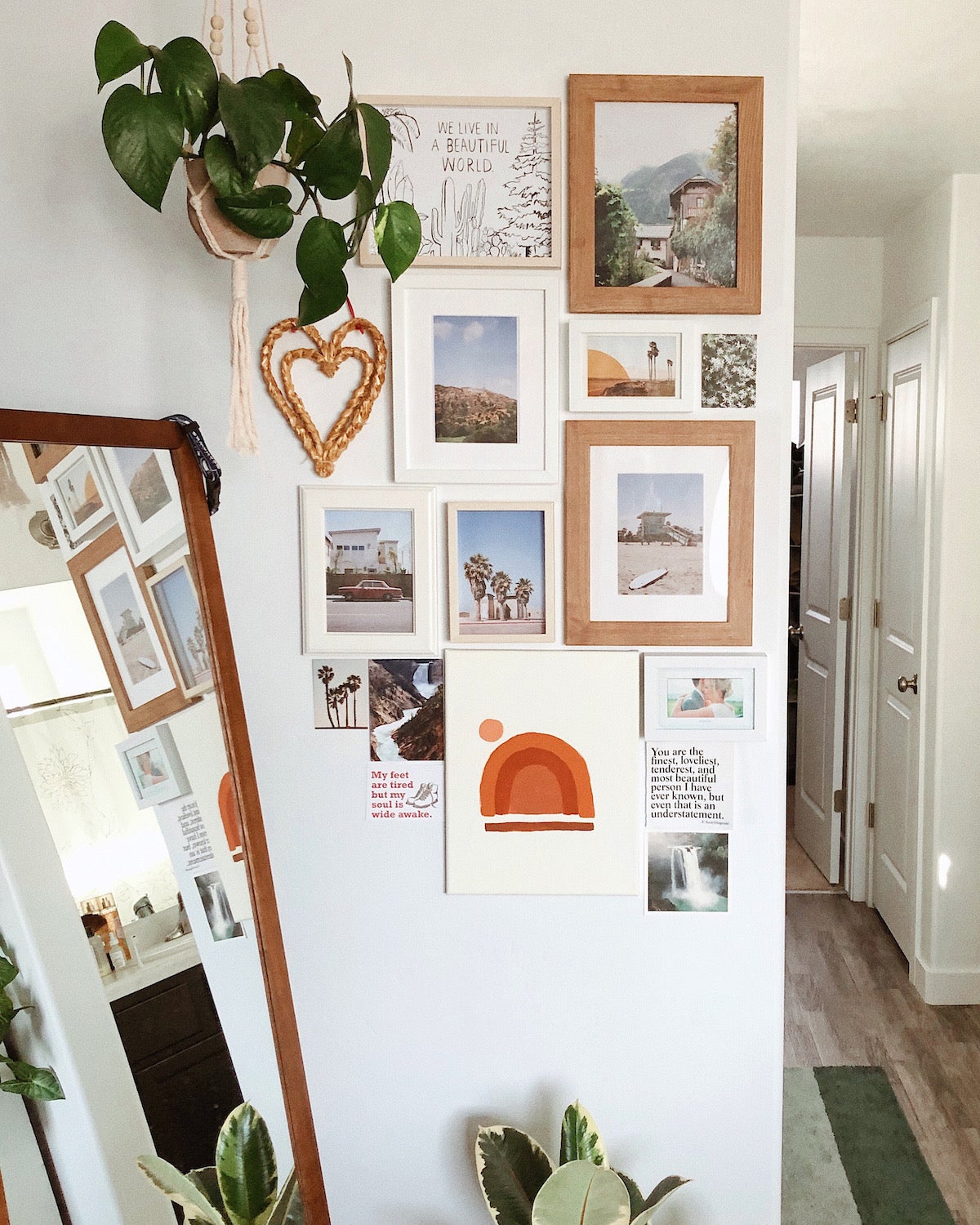 Finding creative things to do with pictures doesn't always have to mean reinventing the wheel. Sometimes, the smallest details in the simplest of ideas speak volumes. This gallery wall in the corner of @myfriendkelley's home embodies that sentiment to a tee, bringing together a myriad of art, photography, framed prints, and a well-placed philodendron plant for an effect that feels fresh and unrestricted. File under: wall art ideas we can't wait to try.
---
@alisa_larae
Two Sides to Every Story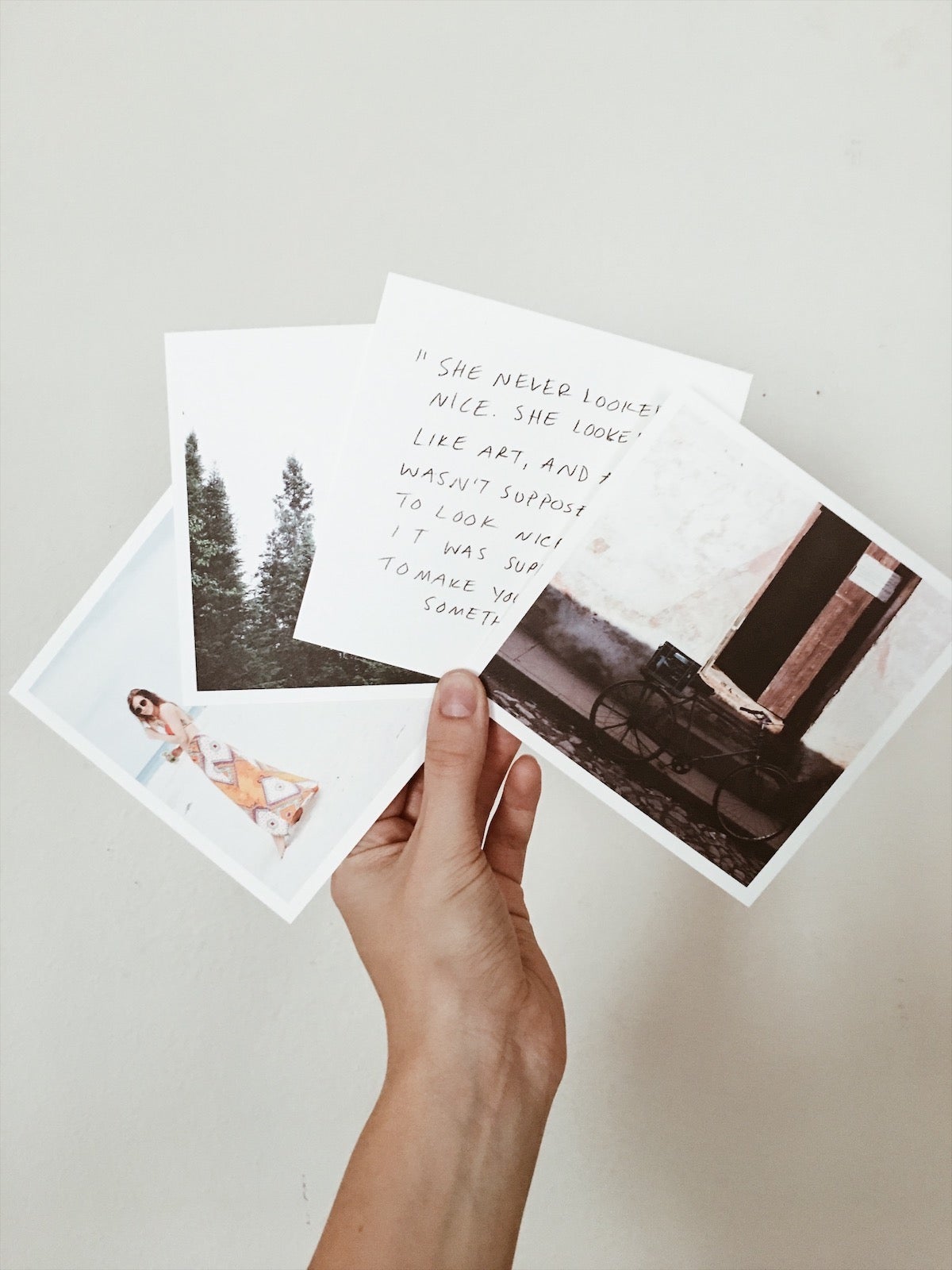 Thanks to @alisa_larae for this PSA to flip prints over and make the most of the blank space on the back. Use it to reflect on the moment, mark the date and location, or scribble a note that you know you'll want to return to one day. The idea is simple, but the possibilities are endless.

Pro tip: We offer three types of photo paper finishes in our Everyday Prints. Opt for the matte or double-thick if you want to write on the back, so as to avoid smearing your ink.
---
@stacykallen
Working From Home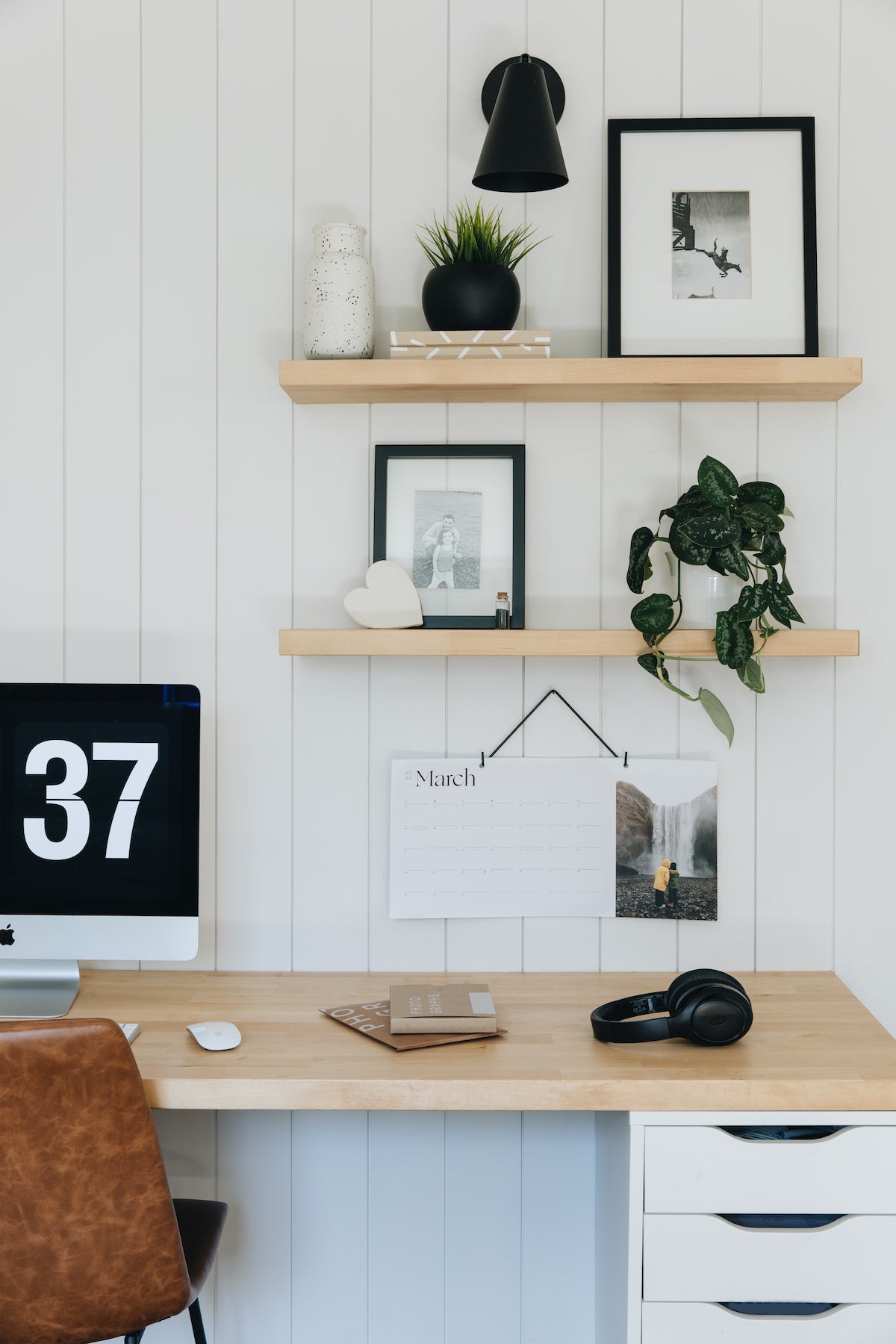 The search for office design ideas is over — and, frankly, working from home never looked better. We're honored that @stacykallen included our Modern Wall Calendar and Gallery Frames in a gorgeous workspace we wouldn't mind making our own. From the placement of the calendar to the coordination of colors, it's filled with the kind of cohesive zen that fosters calm and encourages focus.
---
@emilytartaglia
Bound by Hue
As @emilytartaglia flips through her Hardcover Photo Book, we can't help but be impressed by the way every page feels like a part of a whole. A visual story tied together by a multitude of elements — from hue and texture to architecture and art — it is a time capsule of love and leisure that leaves us daydreaming.
---
@tenillerudsdale
A New Way to Display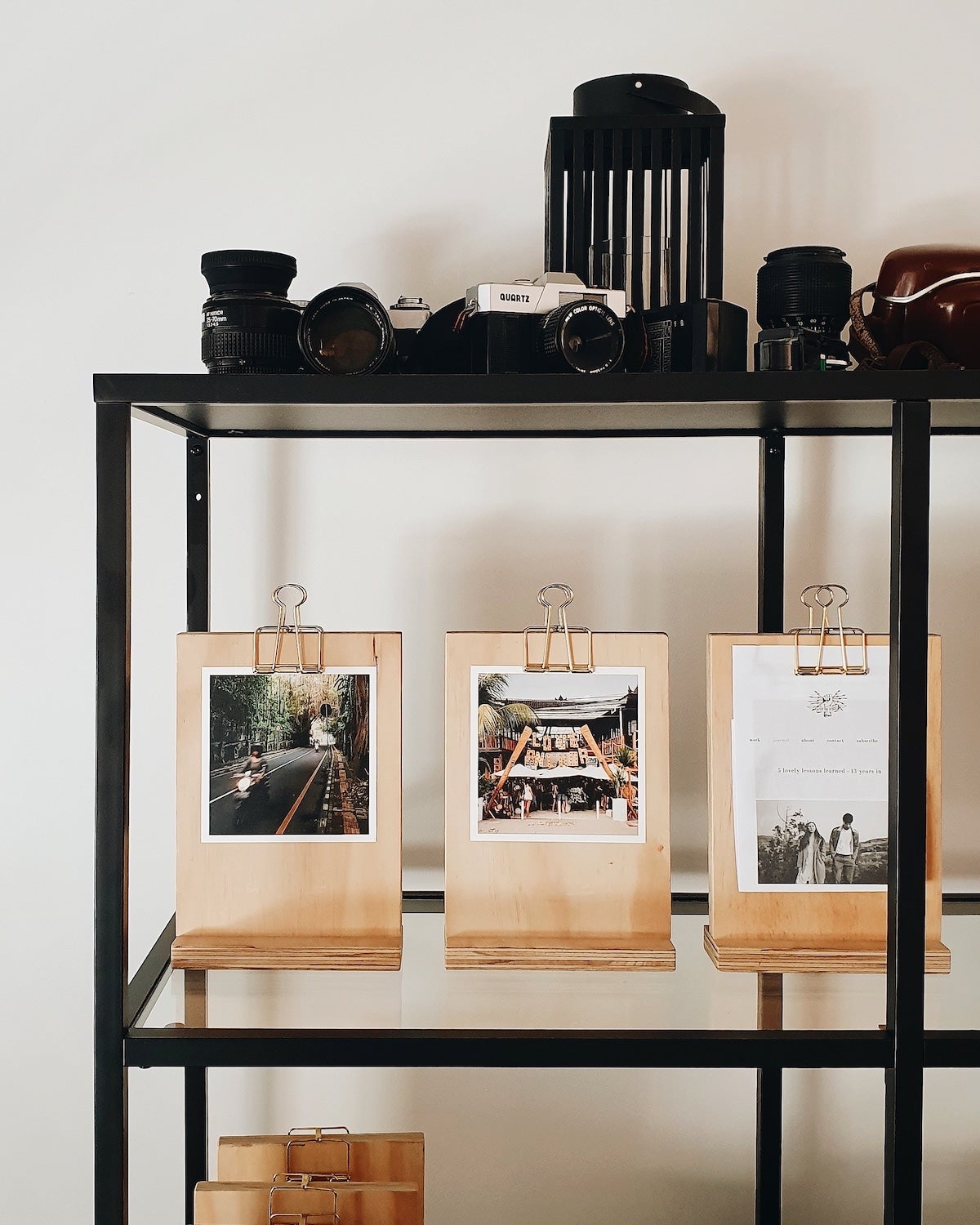 Need some frame-free photo display inspiration? @tenillerudsdale created a look that's right at home on mantles, floating shelves, and everywhere in between. Using Square Photo Prints and stands sourced from local boutique @mood.nz, this duo of photographers put together a set of thoughtful pairings that just might be one of our new favorite minimalist decor ideas.
---
@thejoshuatreehouse
A Tale of Transformation
For our friends @thejoshuatreehouse, the journey from a humble hacienda to a breathtaking inn was a story that begged to be retold. So they looked to our Scrapbook Album, reimagining its pages and pockets to tell a tale of transformation. This quick flip through the book shows a glimpse into how they documented the renovation with progress photos, letters from past owners, and other sentimentals.
---
@olivecreativeco
A Photo's Best Friend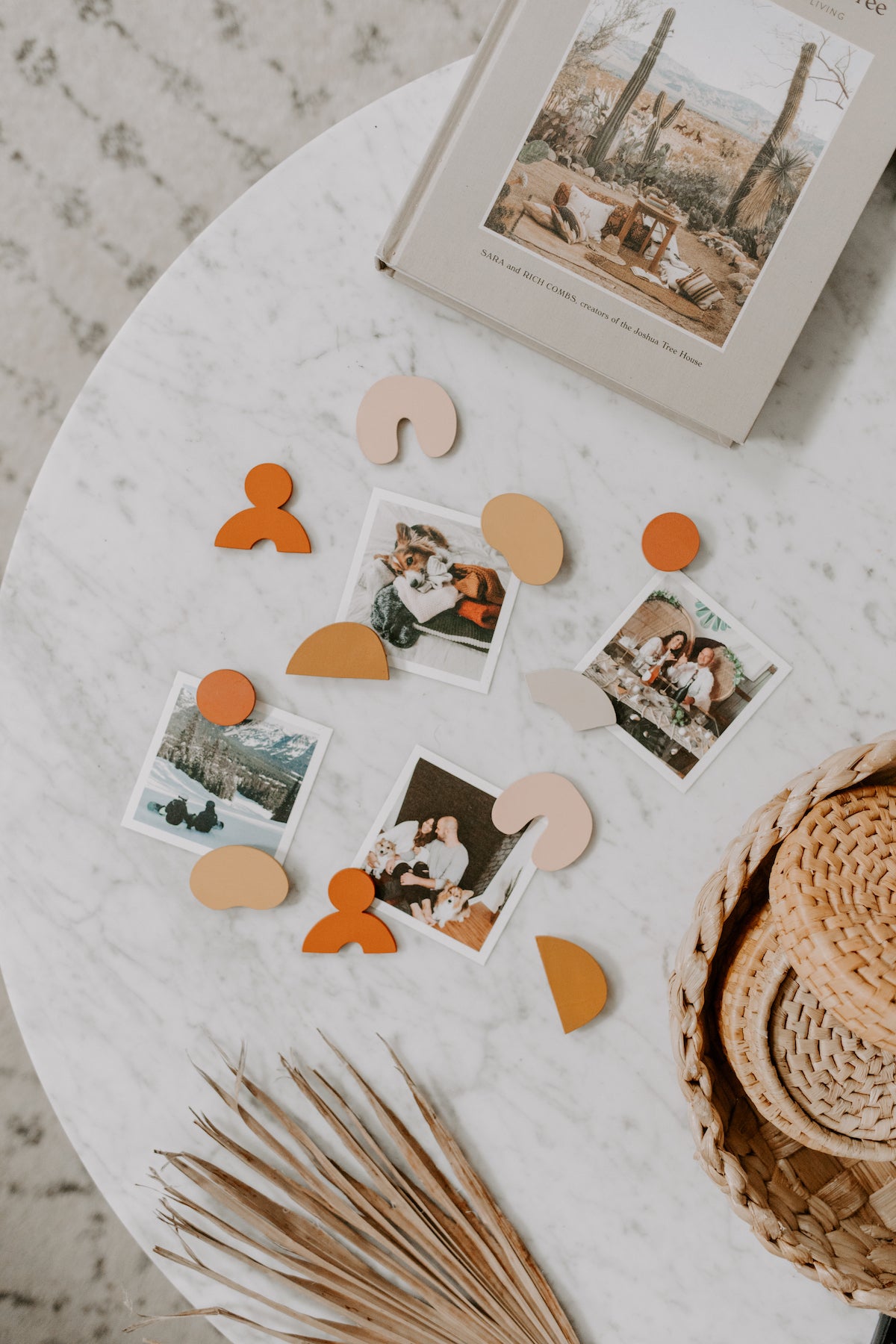 Sometimes the photos take a backseat to the display — especially when that display involves handmade magnets you make yourself. It's the little touches like these that we live for, and we'd be remiss for not giving @olivecreativeco a shout out for her creativity. Endless gratitude for going the extra mile to let those Square Prints shine.
---
@sara_cornelius_
The Big Day + The Big Escape
While the concept of a wedding album is more than familiar, there's something to be said for giving a classic its due. @sara_cornelius_ personalized a Hardcover Photo Book for her big day and another for their big escape, resulting in elevated return tickets to those moments meant to be relived. From capturing the vows to recreating the vacation, we couldn't have done it any better ourselves.
---
We Can't Wait to See What You Make
With this collection of creative things to do with photos in your back pocket, we hope you feel inspired to let your imagination loose. When you do, don't forget to tag us (@artifactuprising)!
---