---
Office Wall Decor Ideas
Idea 01
Bring the Outside In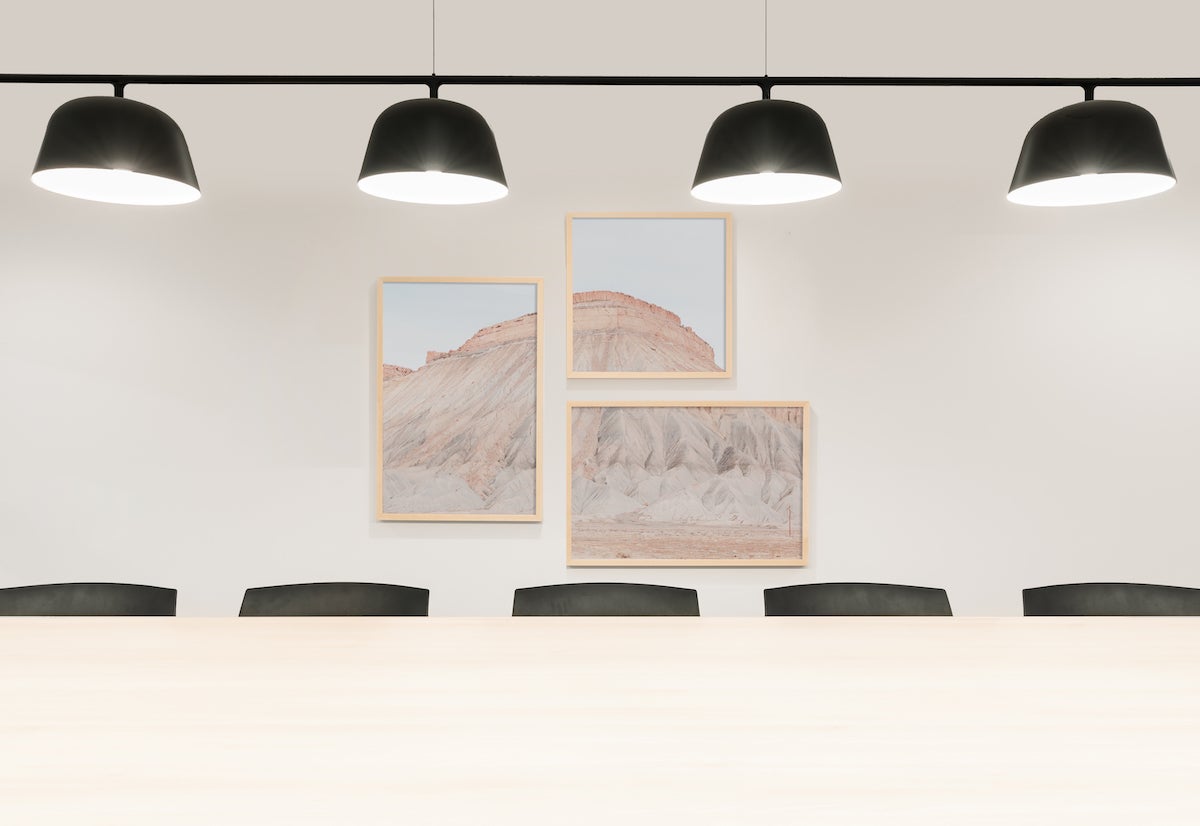 As much as we enjoy our time in the workplace day in and day out, it's always a breath of fresh air to incorporate outside views. Photos of travel near and far help maintain a broader perspective and keep you thinking about life beyond the four walls of your office.

How we did it: Most of our meeting rooms are named after cities around the world (e.g., Stockholm, Boulder, Miami). So to help illustrate these themes, we hung big, beautiful framed prints in each room depicting their namesake locations. Depending on the space, you'll find Floating Frames or Framed Canvases spotlighting artful photos of outside people and places — each taken by the in-house and amateur photographers on our team.
---
Idea 02
Add Texture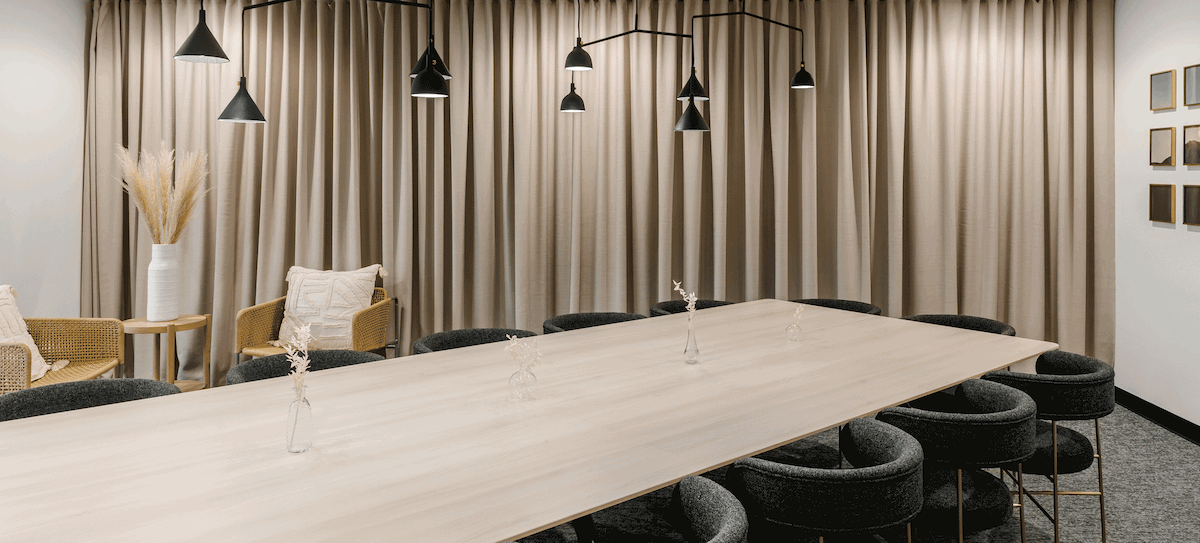 It's easy for a minimalist office to start feeling sterile when all of the decor matches perfectly. One easy way to introduce variety while keeping your office interior design intentional is to bring in a little texture. This can be done through different patterns and materials, including rugs, throws, plants, and organic materials, to name a few.

How we did it: We employed a range of textures to stimulate visual interest and create a sense of comfort. Throughout the space, you can find wood, wicker, brass, greenery, and assorted upholsteries. For example, to infuse texture in our main conference room, we worked with Loft Curtains to cover the largest wall with flowy fabric. It's a handy solution for when you may have run fresh out of office wall art ideas (or the time to curate a full gallery wall, yourself).
---
Ergonomic Design Tips
Idea 03
Keep Comfort in Mind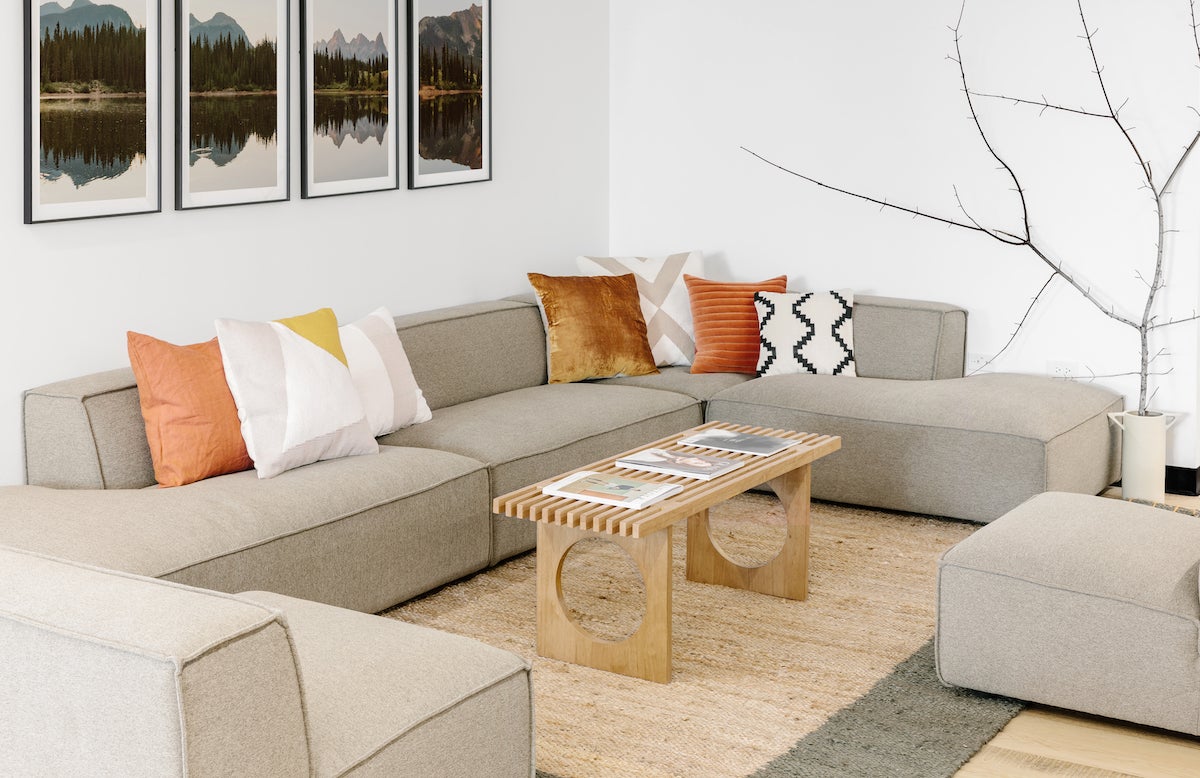 Office furniture doesn't have to feel like it belongs in an office. In fact, it doesn't always have to look like it belongs in one, either. With mental and physical comfort in mind, we designed our modern workspace to house cozy corners and ergonomic elements to fit our individual routines.

How we did it: We turned to our friends at Interior Define to help weave in some hints of home, complete with high-performance fabric to withstand the daily grind. Measured to fit each room to a tee, the models and finishes of each piece perfectly align with our vision. Around our office, you'll find loungy seating areas (replete with pillows!), welcoming bleachers for company-wide gatherings, and quiet places for some solitude (see tip 04).
---
Idea 04
Go Green With Potted Plants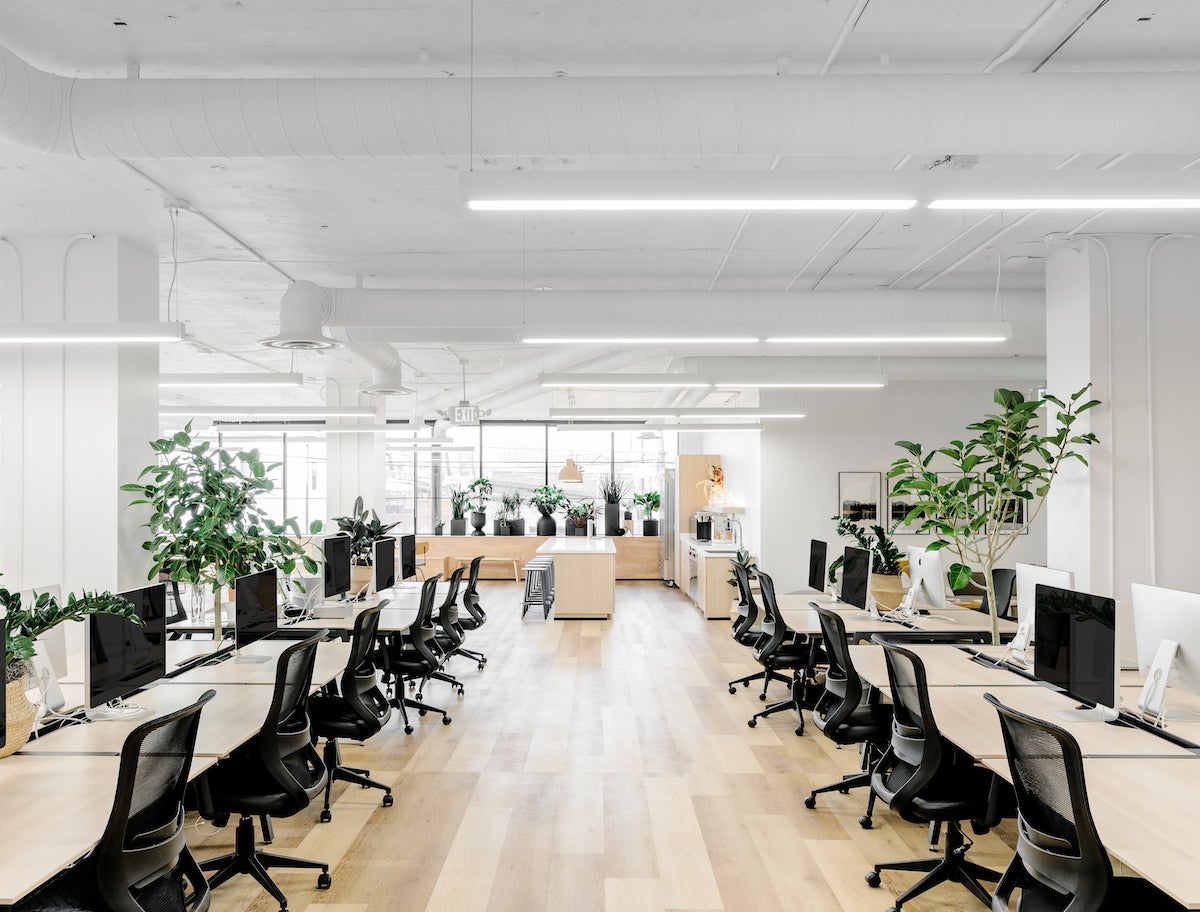 Although keeping a small jungle of office plants alive may stop the faint of heart from including them in the first place, we believe that a little greenery can go a long way. In fact, it's backed by science. From reducing stress to increasing productivity and creativity, sharing your space with live plants is always worth the maintenance that accompanies them.

How we did it: On and between each desk "pod" in our open office design, you'll find desktop greenery in addition to the small Audrey Ficus Trees thoughtfully scattered around. Our bright kitchen window sill also hosts more than a dozen plants of varying size and shape, and we've even hung wall planters on a handful of otherwise blank surfaces to create "living walls" that breathe life into every last corner.
---
Idea 05
Make the Most of Natural Light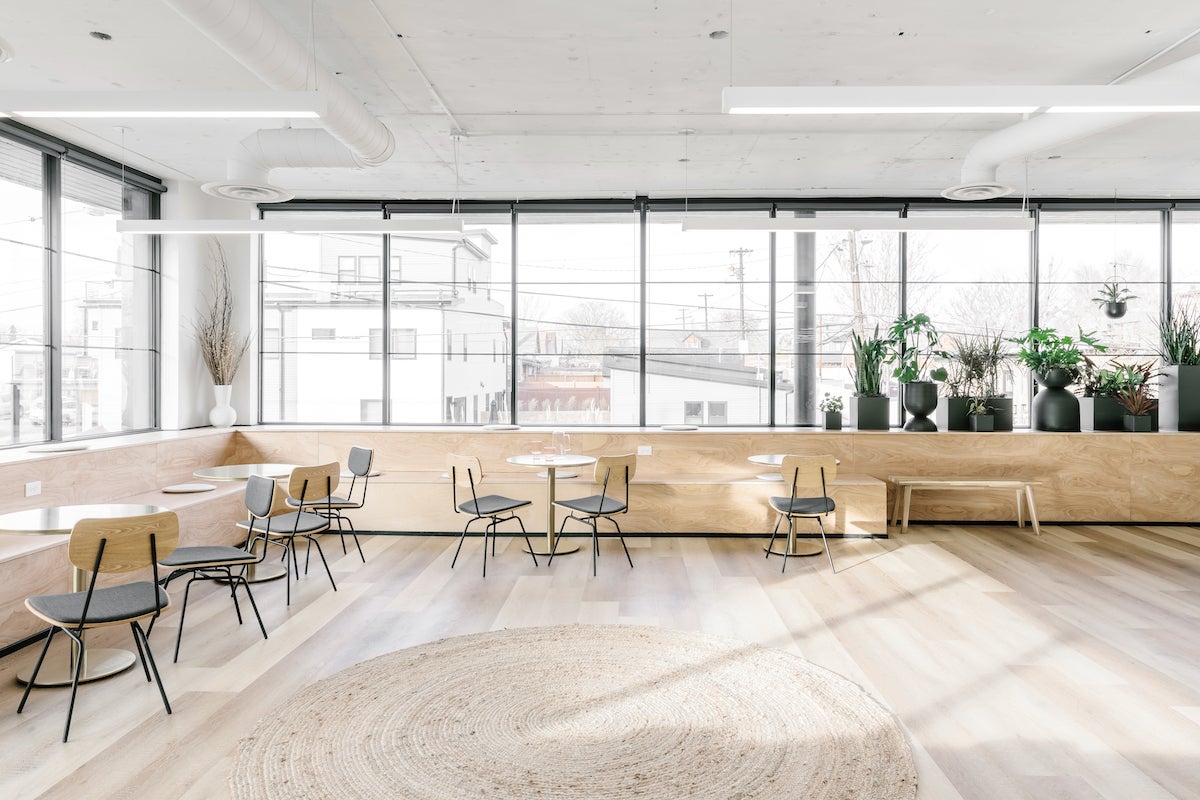 When you're fortunate enough to reside in a workplace with plenty of windows, be sure to take full advantage of the bright light nature has to offer. Studies show that exposure to natural, cooler-hued sunlight is beneficial to our moods, productivity, and alertness. Bonus: You'll increase your office's energy efficiency, too!

How we did it: Windows line the majority of our office perimeter, so we laid out the floor plan accordingly. Our photography studio, kitchen, common area, and vast majority of our collaborative meeting rooms all benefit from natural daylight. In sunny Denver, we often don't even need to flip on the lights when we enter the room — saving energy in more ways than one.
---
Idea 06
Create Places of Quiet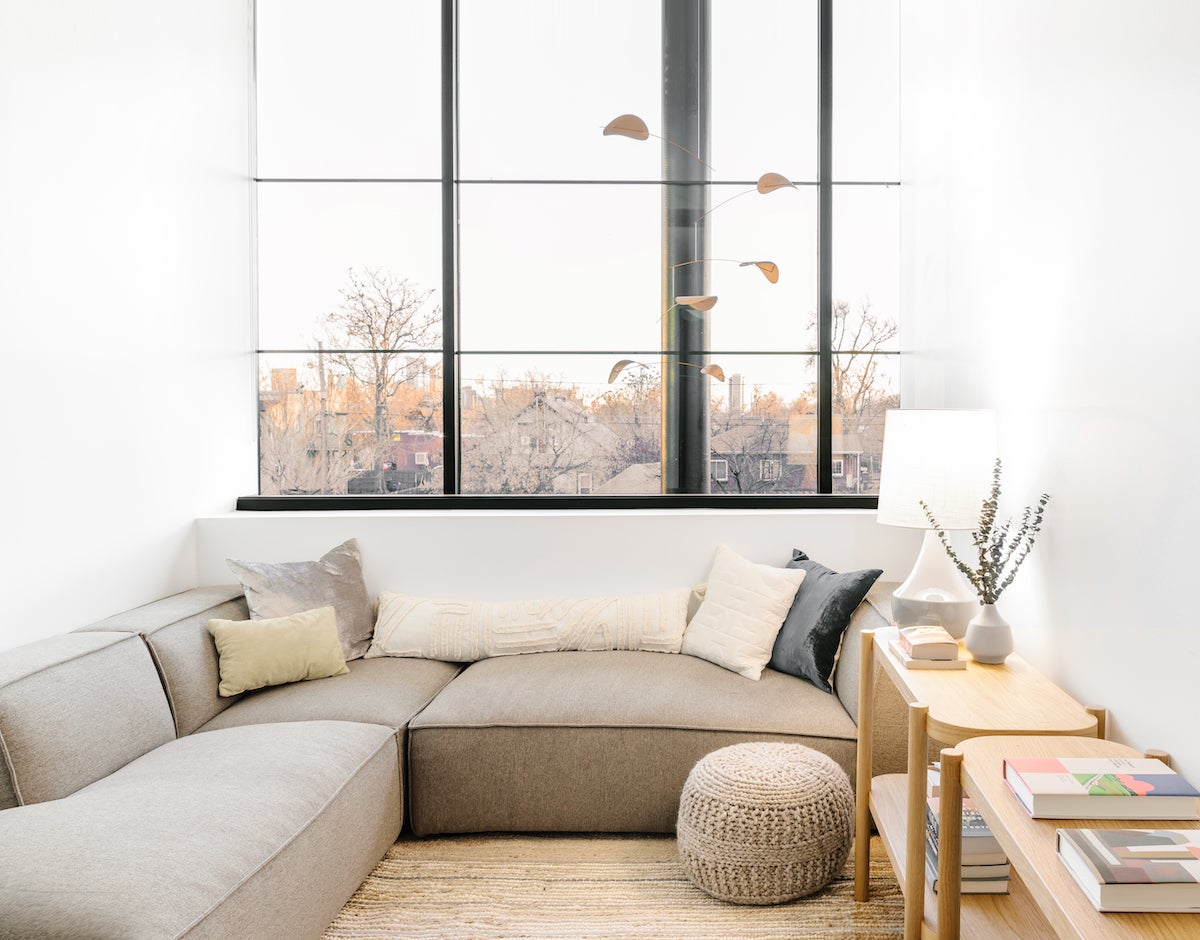 When building out an office like ours, meeting rooms are often a prioritized use of space. But with so much commotion in an open-concept floor plan, places for quiet productivity can be just as beneficial. That's why we tried to create convenient hideaways that combine both comfort and escape.

How we did it: We established multiple quiet zones, such as a library and mother's room, plus standing work stations to provide a little peace from distractions. These spaces were made warm and welcoming with custom-outfitted furniture from Interior Define, calm lighting, and approachable literature to feather through for a mental break.
---
Ergonomic Design Tips
Idea 07
Display Stories Uniquely Yours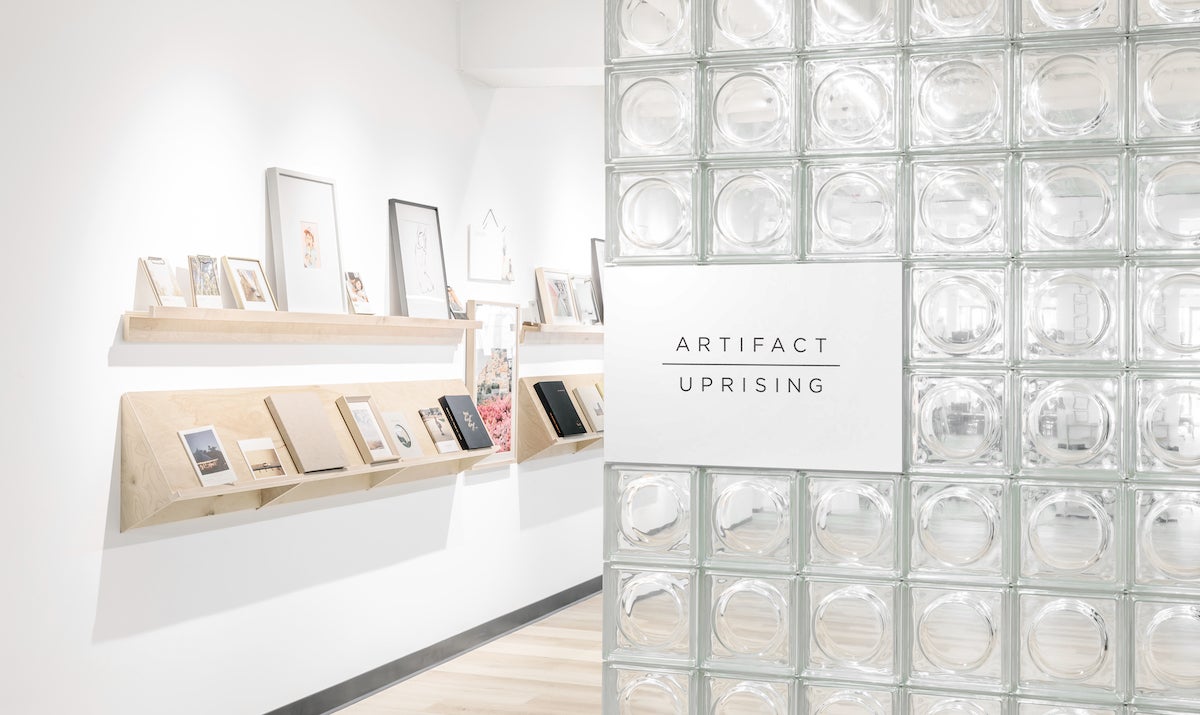 What better way to make a workplace feel like home than by incorporating stories from the very team that inhabits it? Display real photos taken by and of your coworkers to fosters storytelling and empathy in a way that little else can. Plus, it allows you all to keep your loved ones close, even when your daily calling keeps you apart.

How we did it: We asked employees to create different Artifact Uprising products featuring their own special moments and people. Displayed on a tiered wall shelf at the entranceway, these personal touches give the office warmth and personality, as soon as you step in the front door.
---
Idea 08
Crowdsource Design Ideas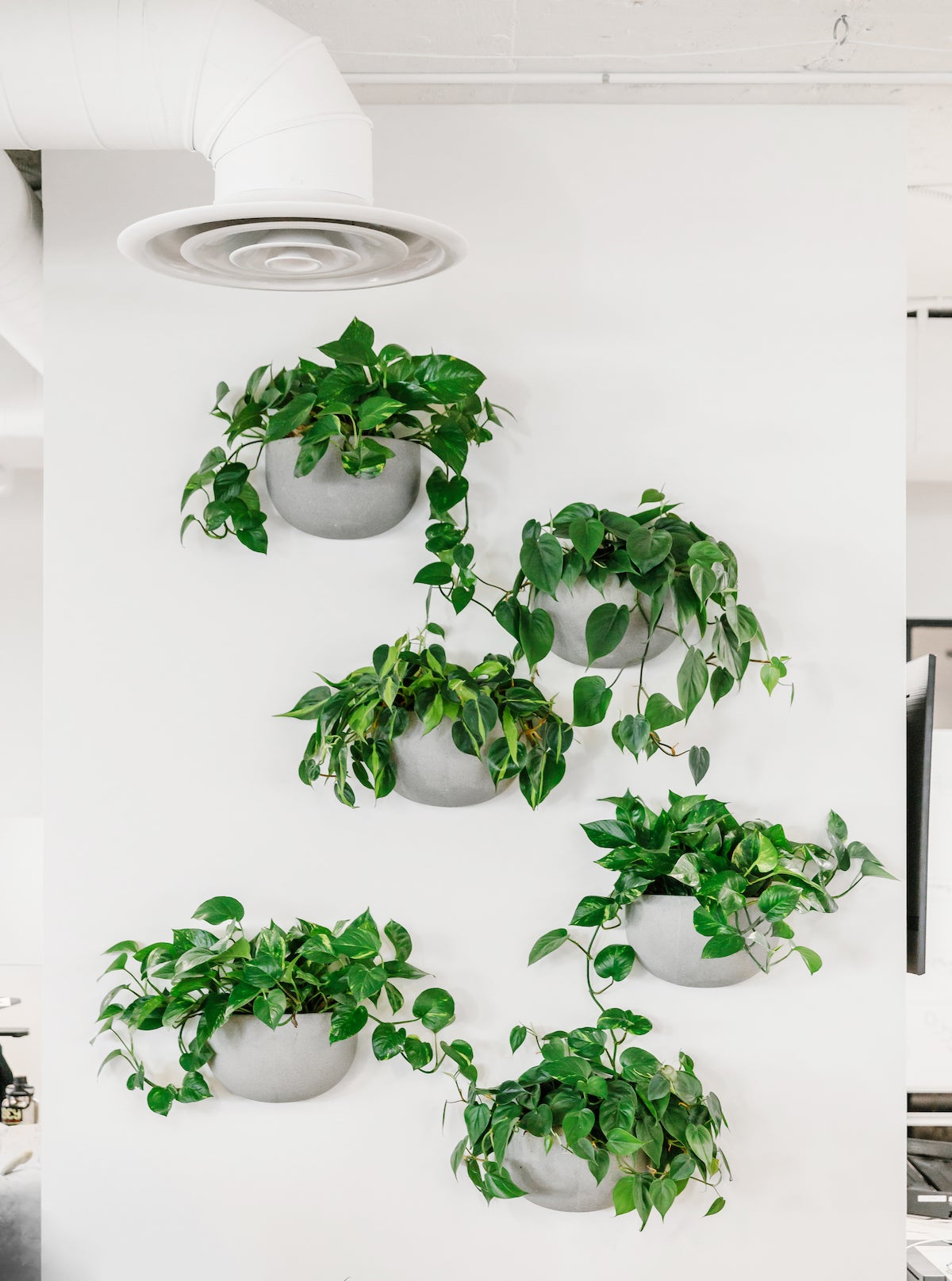 Office space design can be interactive for the whole company, and with more engaging touch points comes more ownership and attachment felt across the board. Open up some decisions to the group at large to gather creative ideas and opinions that can make all the difference.

How we did it: After sending a simple, company-wide survey, we learned what our team really wanted and needed in the new office — because it truly belongs to all of us. Top ideas were implemented, and artwork from various employees are featured throughout the space. We have our employees to thank for our living walls, "zen room" library, and cold brew on tap.
---
Idea 09
Mix and Match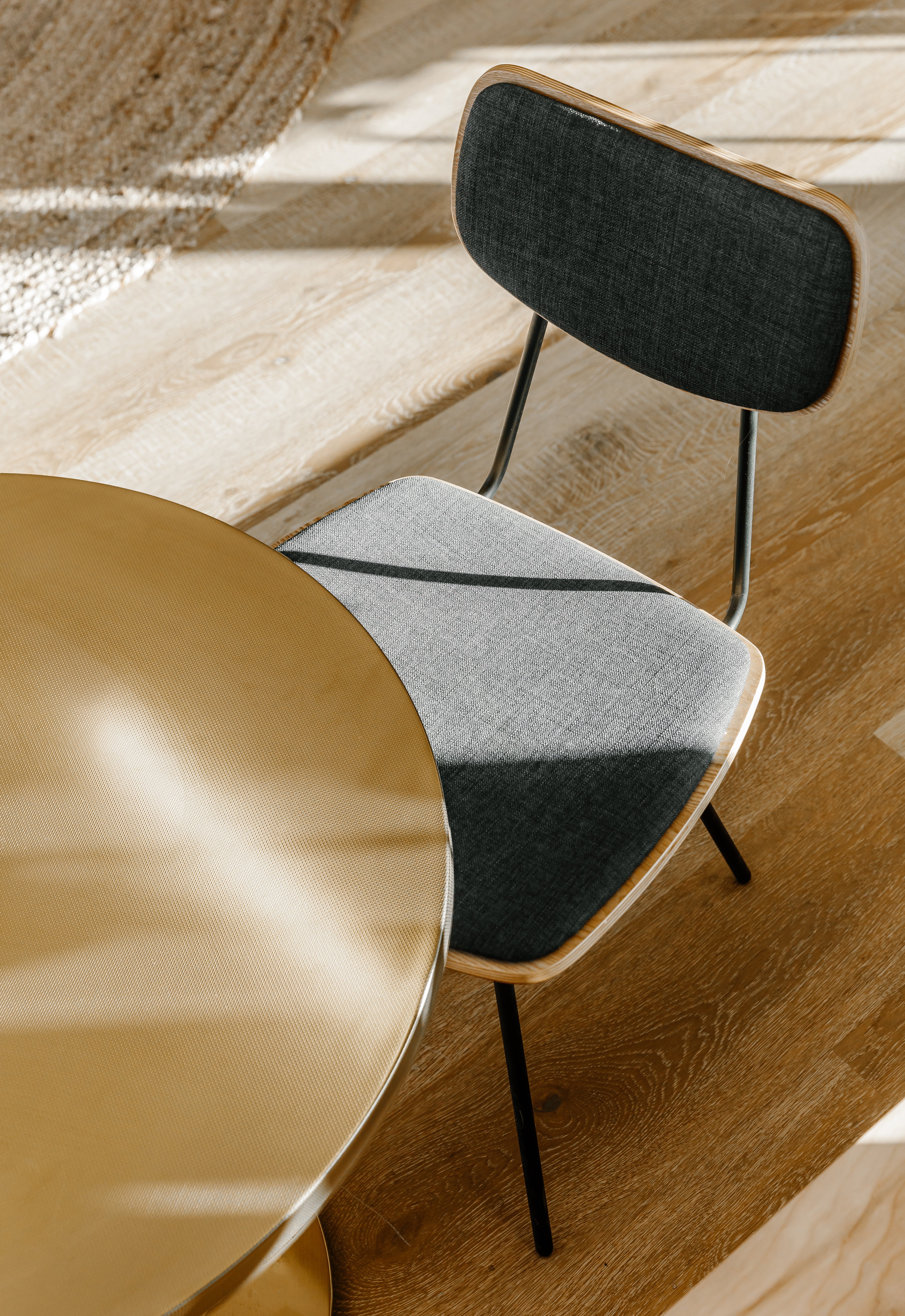 A homogenous space can often be a stale one. Our office design ideas operate under the notion that no space, including our home, should look like it all came from the same place. Luckily, it's easy to saturate yours with character by introducing a little variety and creative combinations. After all, being able to add a little from here and a little from there is what makes a space truly unique to your taste.

How we did it: No need to stray away from mixing and matching finishes, colors, artists — whatever may come to mind. In our office, custom interior design company Inside Weather helped us fashion truly tailor-made tables and chairs for complementing pops of color and texture. Each of our meeting rooms has its own furniture color making it visually distinct from the others.
---
Idea 10
Put Your Team on Display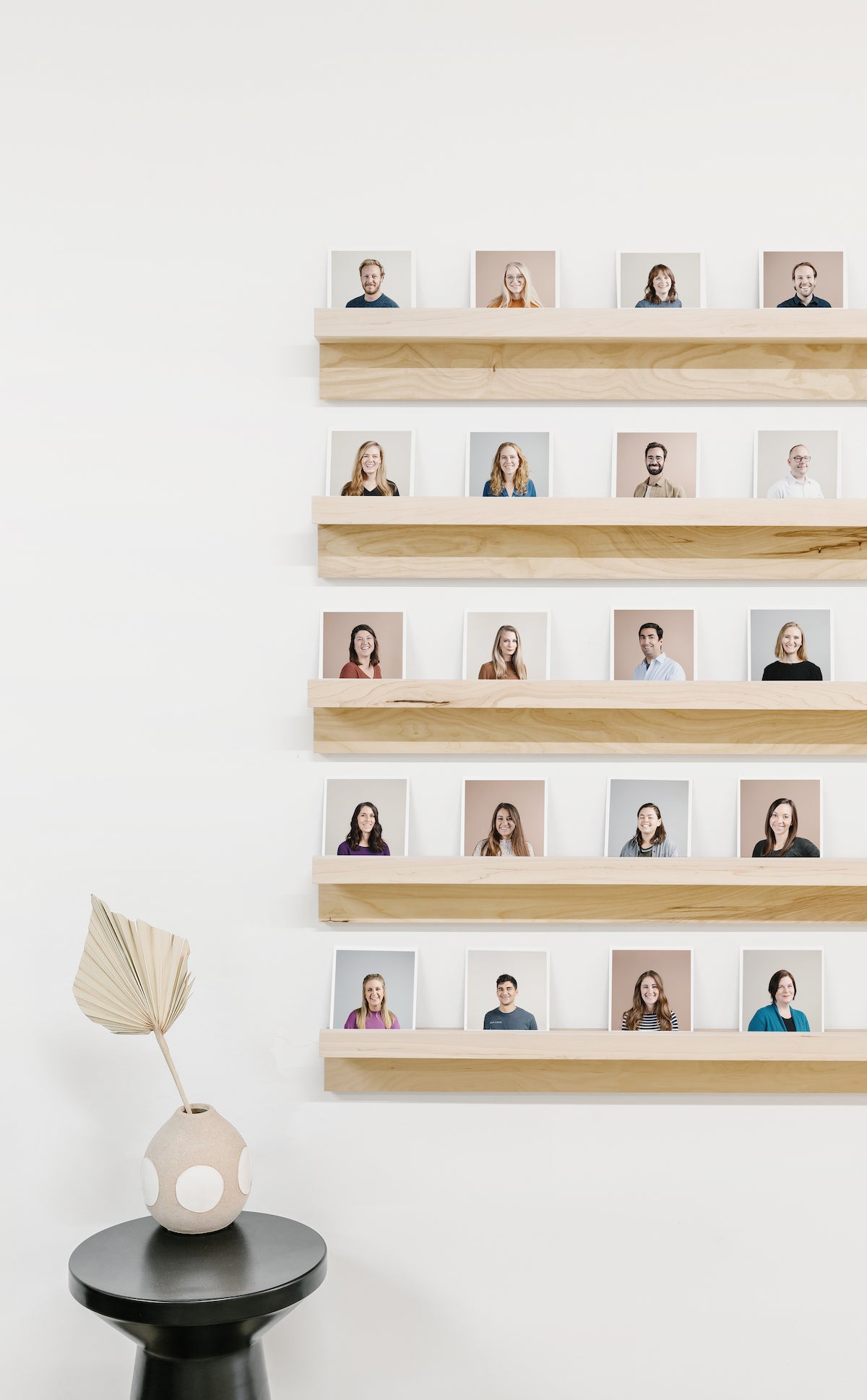 Highlighting the company values and mission is one way to reinforce your culture in the workspace, but why not go a step further and feature the very faces behind it all? Much like gathering everyone's office design ideas or incorporating employee artwork, it's an accessible way to inspire personal connection in the atmosphere they bring to life.

How we did it: Our in-house photo studio allows us to take cohesive, professional headshots of each employee with relatively low effort. Now, we're each represented in the foyer with Everyday Prints on display (dogs, too!). It's just one small step we take to make everyone feel like they're embedded in the brand and culture.
---
---