---
Timing
When Do You Send Out Save the Dates?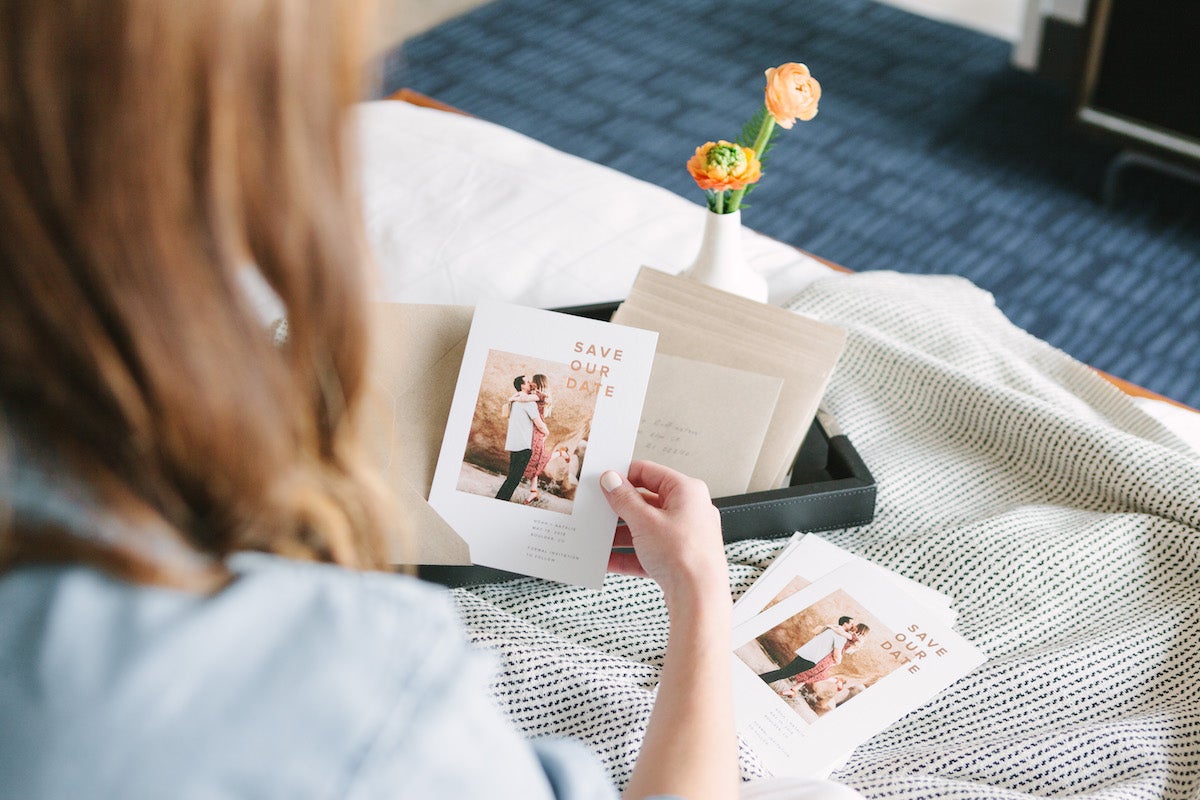 As a rule of thumb, save the dates should generally be ordered, designed, and sent six to nine months before the wedding date. Your guests will appreciate your consideration of their time as they request off work and make travel plans. For destination weddings or dates that fall near holidays, it's thoughtful to send save the dates even farther (nine to twelve months) in advance.
---
Mailing
How to Address Save the Dates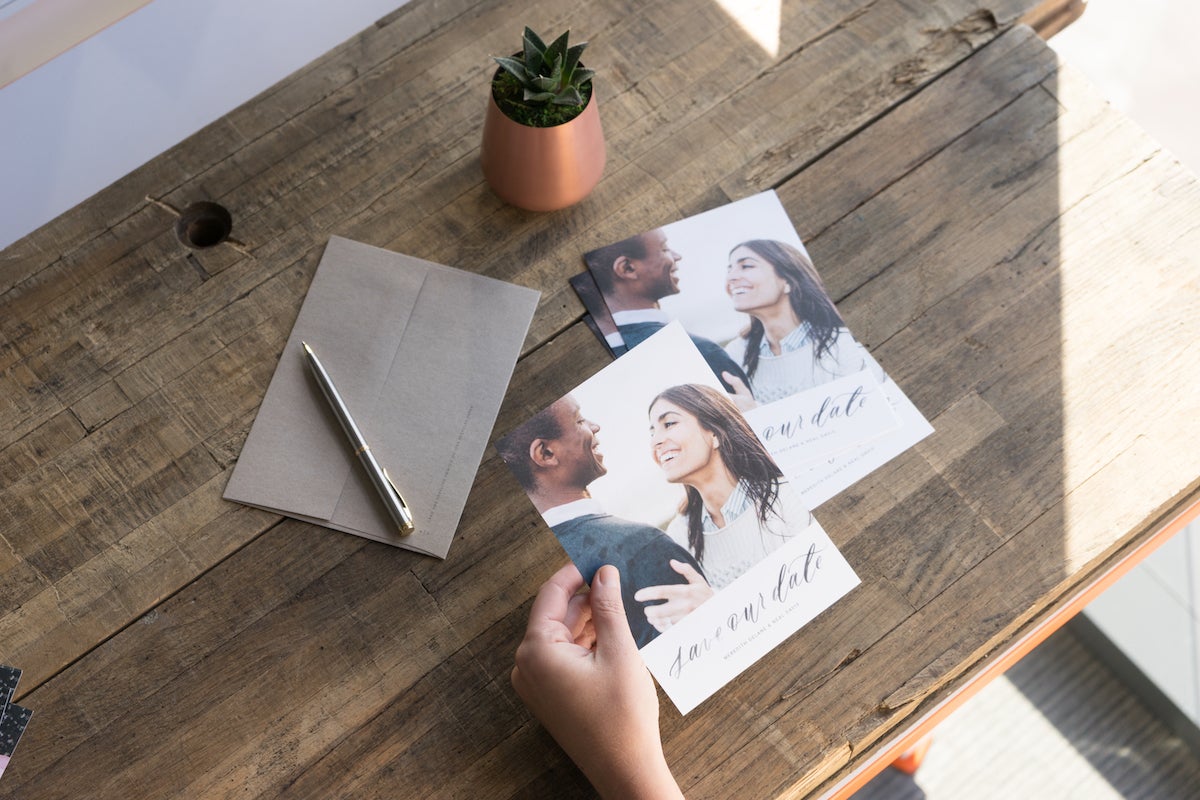 Wedding invitations traditionally include titles (Mr., Mrs., Miss, Dr., Rev., etc.), but these are optional for addressing save the dates. It's ultimately up to you, but for guidance on how to invite different kinds of guests, read on.
Single Guests

Single guests can be addressed simply with their first and last names, or with a singular title, if preferred. If you're extending an invitation for a plus one, add "and Guest" after their full name.

Examples:
Kara Benson
Ms. Kara Benson
Miss Kara Benson
Kara Benson and Guest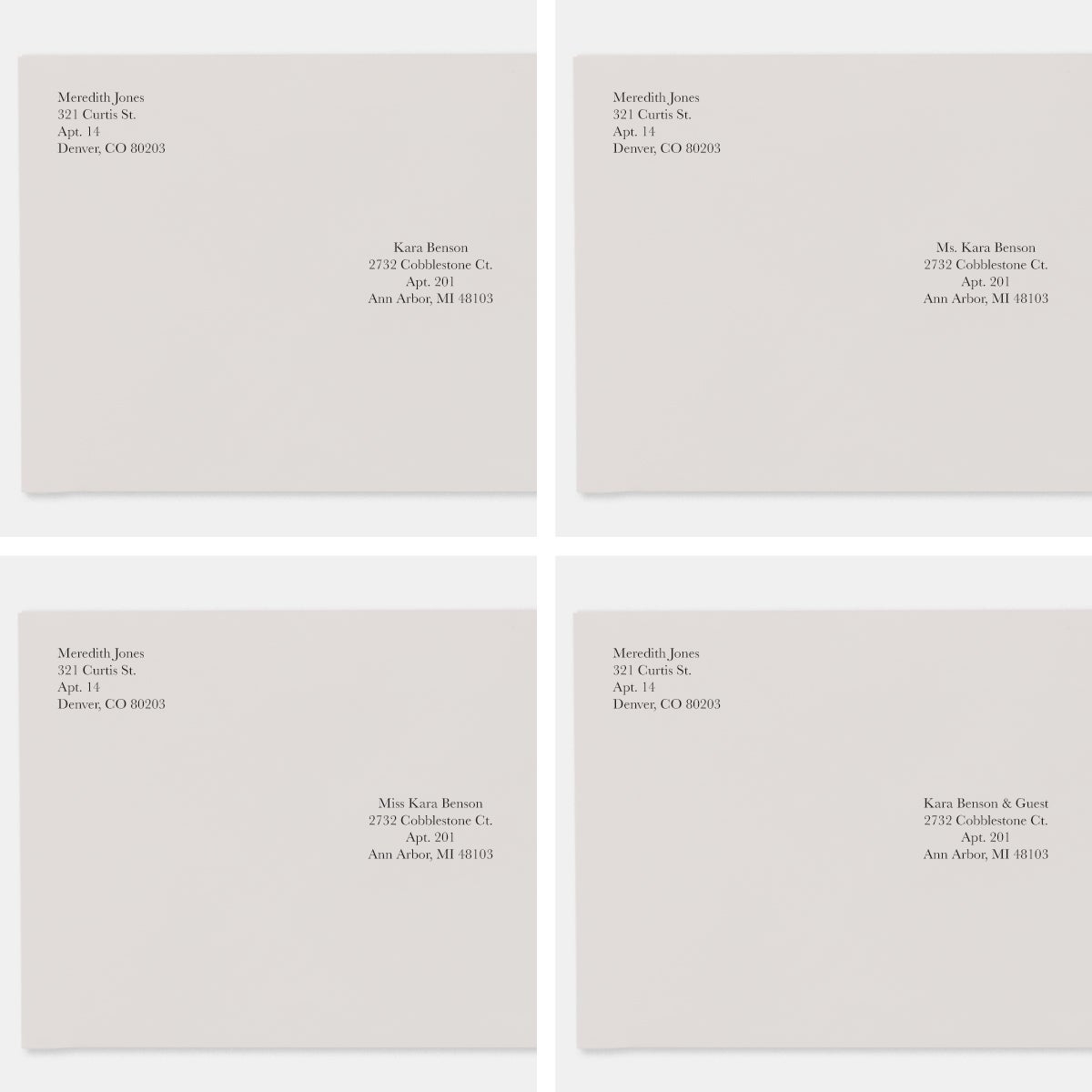 Married Couples

Married couples can be listed plainly or include titles as well. If the couple has distinguished titles (such as doctors, reverends, or military personnel) and you'd like to include them, it's appropriate to list the person with the formal title first.

Examples:
Weston and Ellie Scott
Mr. and Mrs. Weston Scott
Mr. Weston Scott and Mrs. Ellie Scott
Dr. Weston Scott and Mrs. Ellie Scott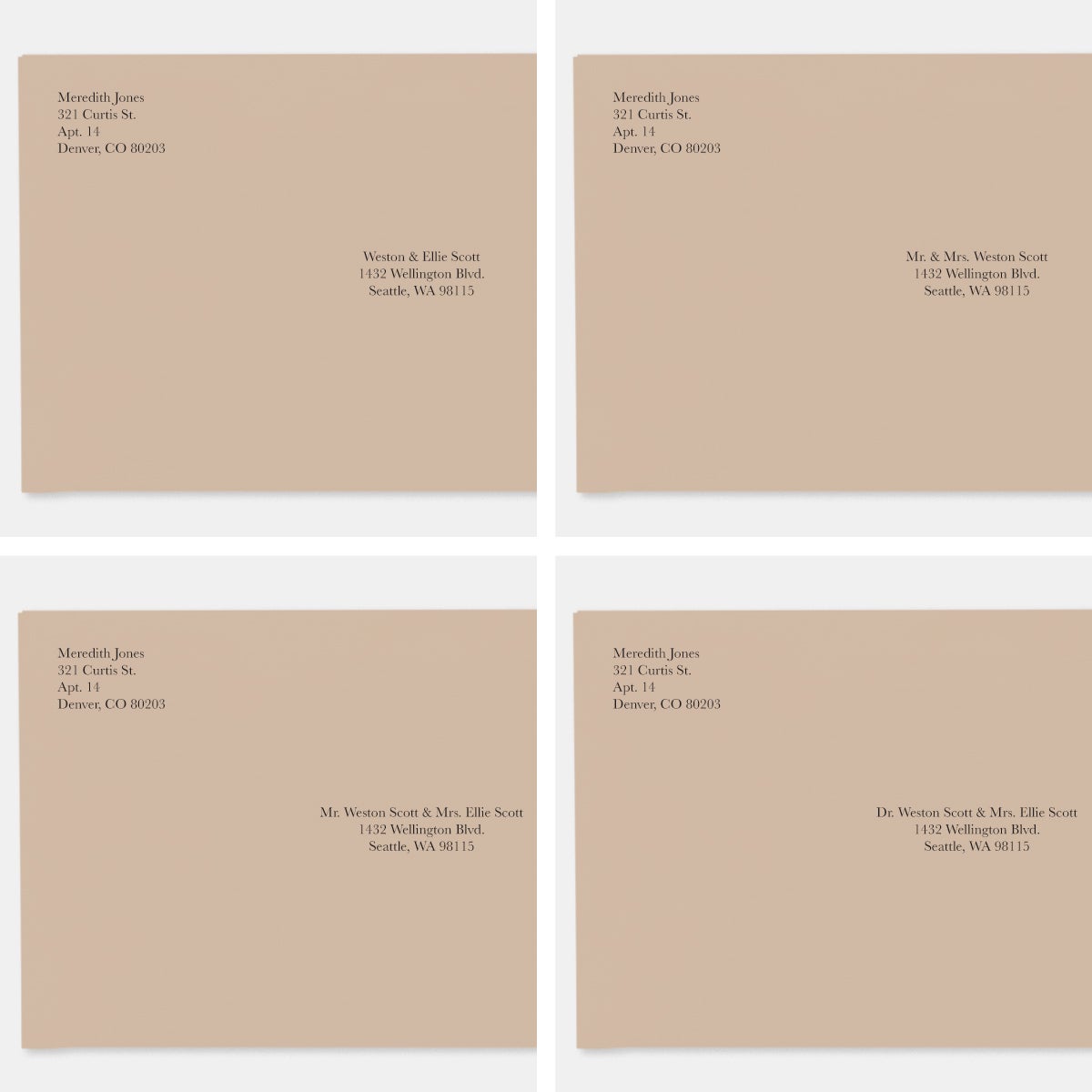 If a couple is sharing an invite, but not a last name, be sure to include both of their names on the envelope. You may only know one of them, but writing both names extends a more personal invitation — especially if the couple has been together for some time. Write the name of the person you are closest to first. If you're close to both, traditionally the man's name goes first; if you're addressing a same-sex couple, you can list in alphabetical order.

Examples:
Julia Harlow and Reid Aupperle
Ms. Julia Harlow and Mr. Reid Aupperle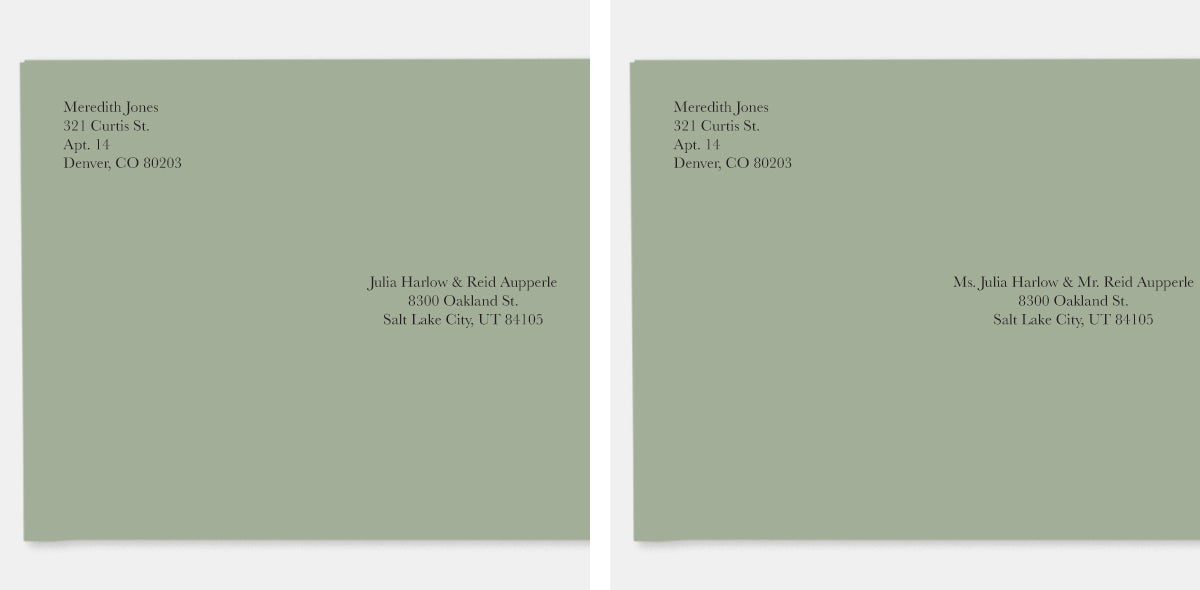 Entire Families

To invite entire families, you can simply list the last name followed by "family," or list out each name. For families with young children, listing out children's names makes it clear that children are invited.

Examples:
The Garcias
The Garcia Family
Tony, Ana, Katie and Peter Garcia
Mr. Tony, Mrs. Ana, Katie and Peter Garcia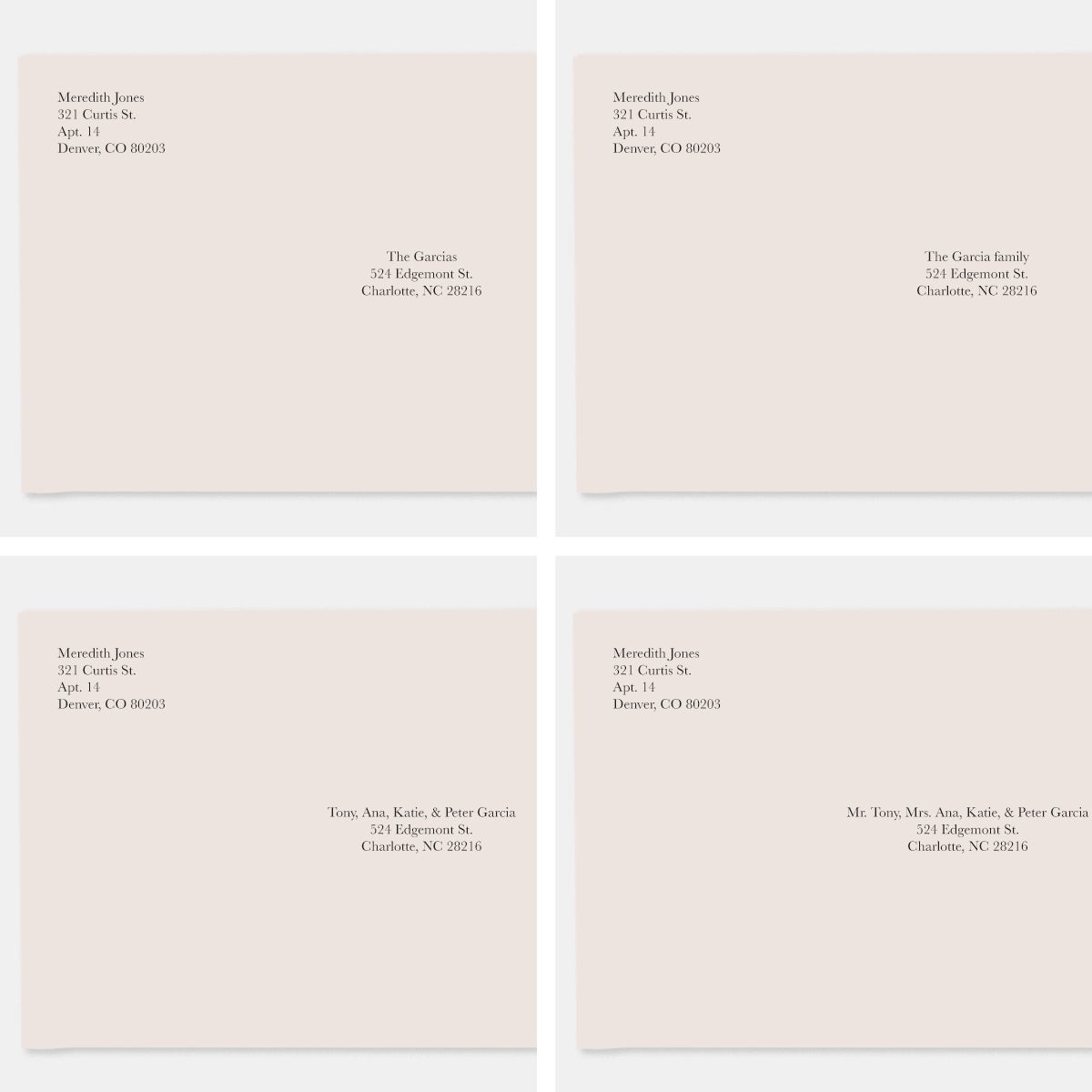 ---
Details
What to Include on Your Save the Date
There are a lot of options for save the date wording, but we recommend keeping it short and sweet. There are three things your save the dates must include:
Your names. It's traditional to list the bride's name first; for same-sex couples, consider alphabetizing.
The wedding location. You've likely booked the venue at this point, but don't include the address just yet. City and state are all that's needed for now.
The wedding date. (So guests can save it!)
It can be tempting to provide all of the details you've worked hard to arrange so far, but details are best suited for the actual invitation. Some couples opt to include a personal website, linking to wedding information such as hotel accommodations, venue, and registry. If you have a website, feel free to include the URL near the bottom of the save the date. Another option is to add, "Formal invitation to follow," reassuring guests that details are on their way.
---
Writing
Save the Date Wording Ideas
Save the dates can also give a sneak peek into the style of your wedding. The more formal invitation will follow, so wording-wise, this is the time to be creative! Feel free to use the limited text you have to match your wedding style and add a personal touch. Here are a few examples to get you started.
Classic and Formal

Leigh Grace Torwalt and Joshua Mason Young
Request your presence
at their wedding ceremony
December 5th, 2020
New Orleans, Louisiana
Formal invitation to follow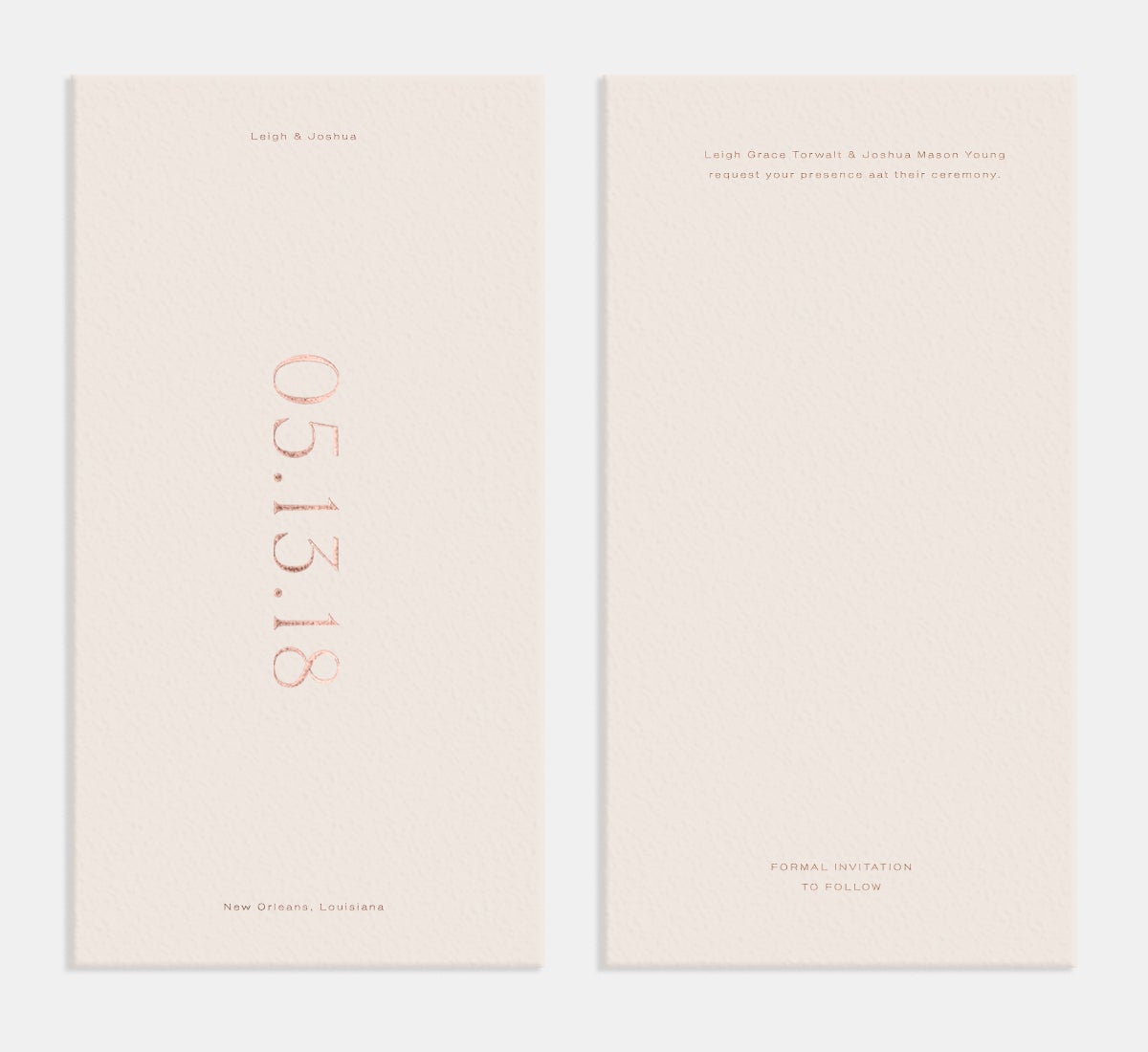 Modern and Minimal

Save the Date
Benjamin + Sage
Sedona, AZ
Formal invite to follow
benandsage.com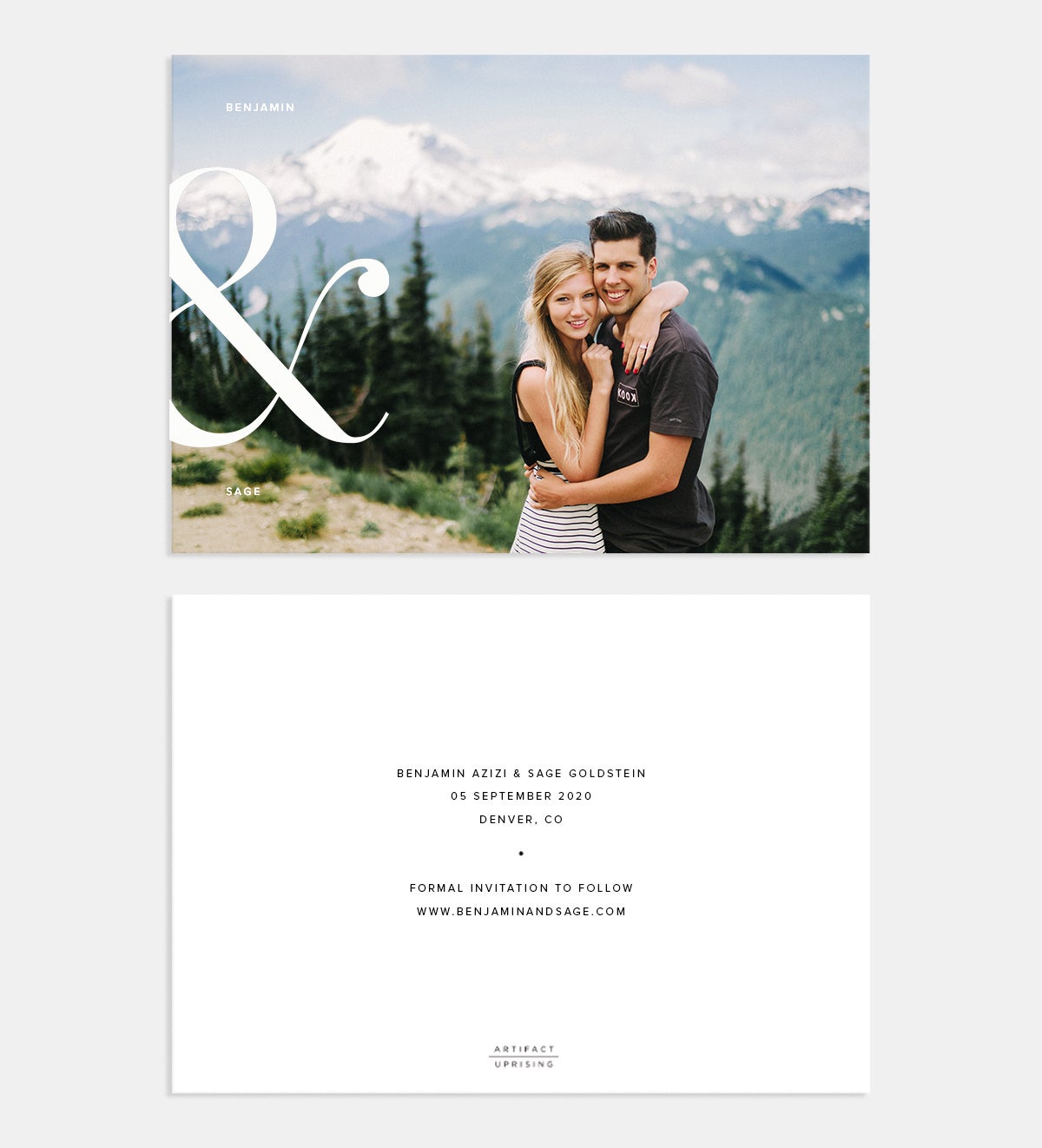 Playful and Fun

Pencil us in.
Katie Bergwall and Eric Andersen
July 26th, 2020
Dubuque, IA
Invitation to follow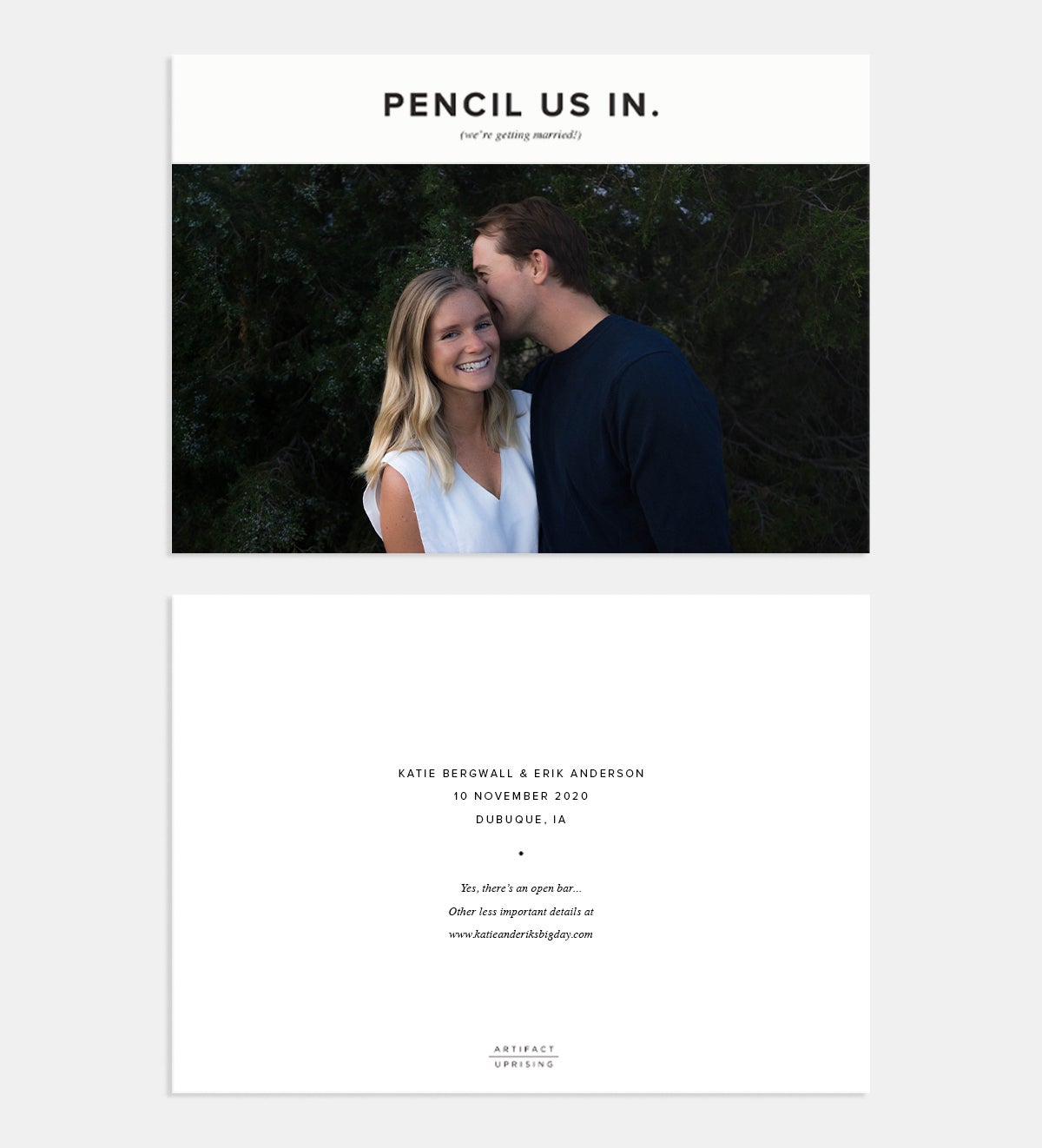 ---