---
Idea 01
Step and Repeat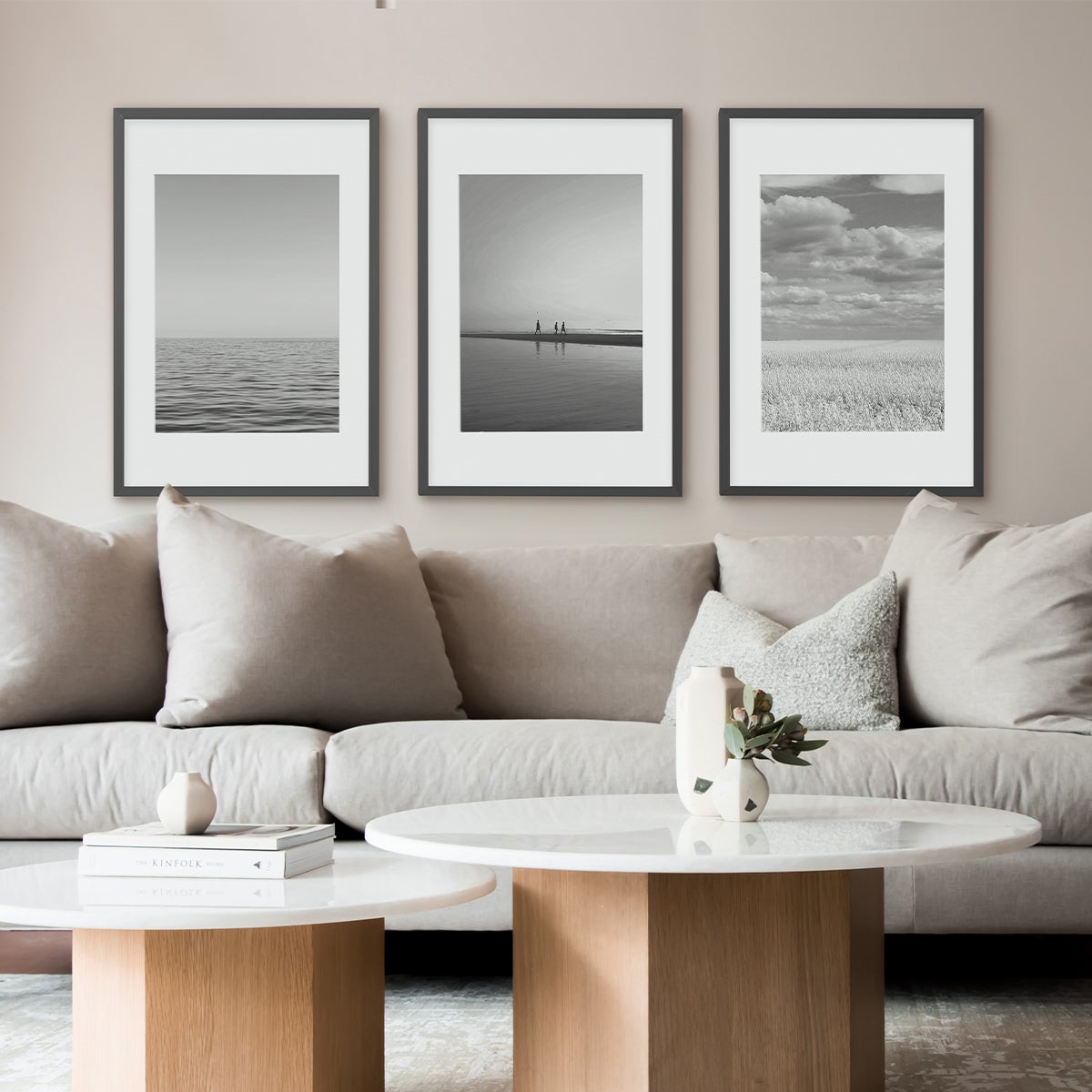 Let's start simple. For a clean, repetitive look, add structure to your whitespace with multiples of the exact same frame size and mat. Creating a series with similar photos, be they portraits or shots from the same vacation, weave together a narrative with the type of organized cohesion that makes minimalist decor feel unique to your vision.

Pro tip: Consider keeping to the same family of tones to make the multiplicity feel more like a meaningful whole.
---
Idea 02
Outside the Box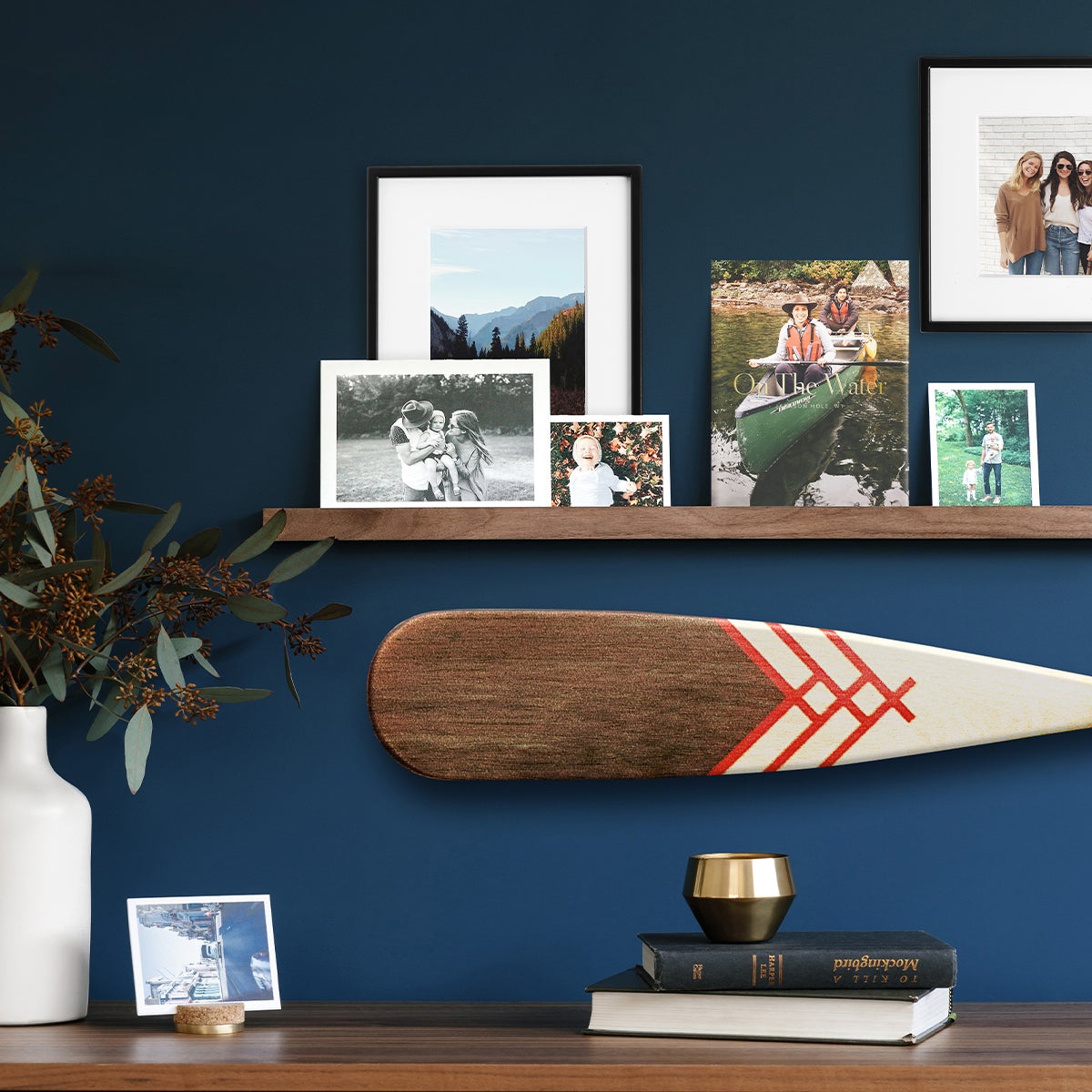 Who said gallery wall inspiration can only contain frames? For a whimsical, curated approach, include organic shapes, favorite pennants, or even photo books facing outward. This method encourages visual exploration, so playing with shapes, scale, and texture gives the eye an opportunity to move from one object to the next.

Pro tip: A Wooden Photo Ledge can provide the flexibility needed for this mix-and-match approach, all the while saving you the trouble of having to hang each individual piece.
---
Idea 03
Curated Collector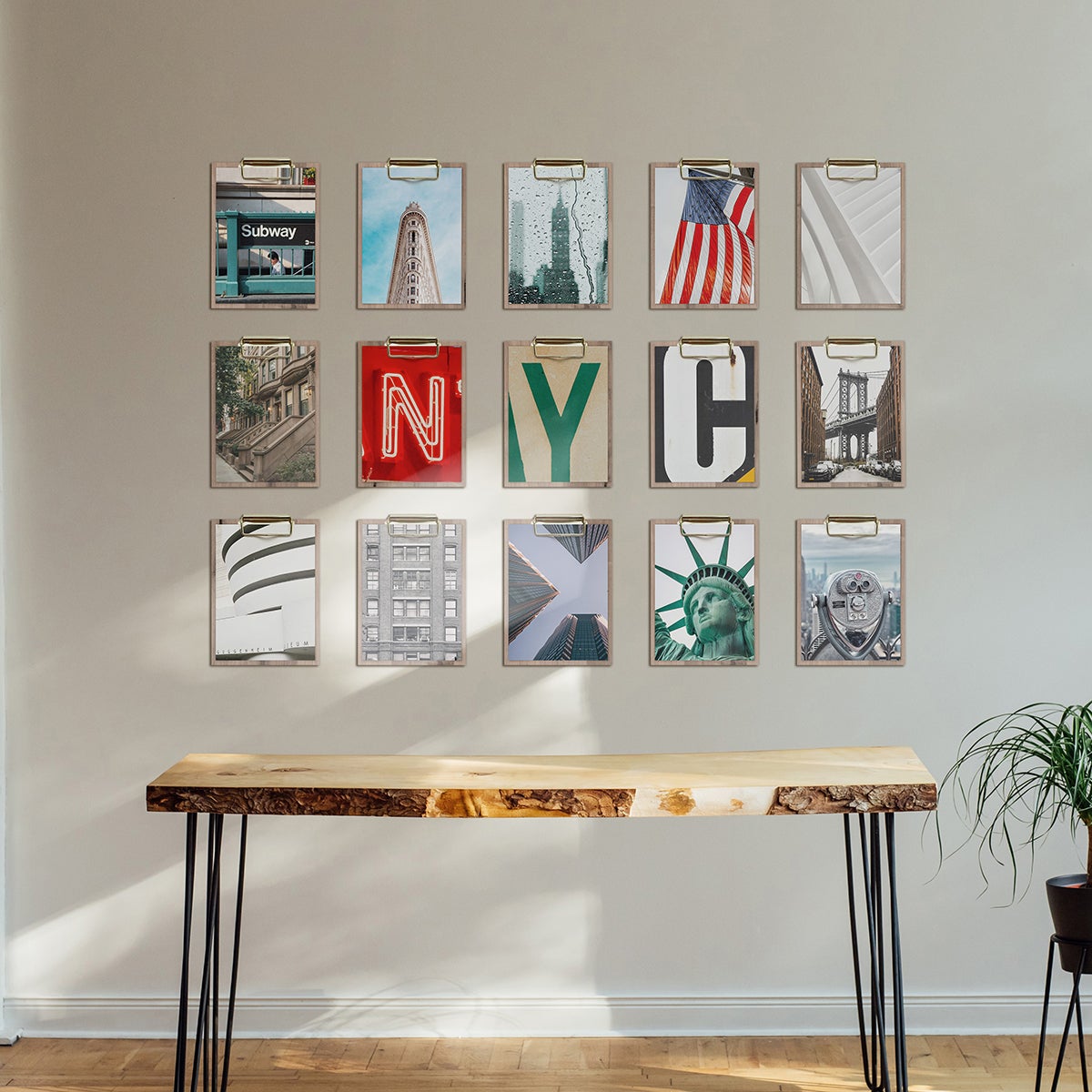 Keep it fresh with ever-rotating prints for a unique gallery wall. We love the idea of a grid of clipboards that allow you to constantly swap out photos without ever having to hang something new. Switch it up by season, celebrate someone's birthday, display art from your littles, find printable wall art, or get ready for an upcoming holiday. You can even get prints of miscellaneous letters to spell it out. As far as creative DIY wall decor ideas go, this one's about as flexible as it gets: the perfect way to refresh your space with minimal effort.
---
Idea 04
Appetite Appeal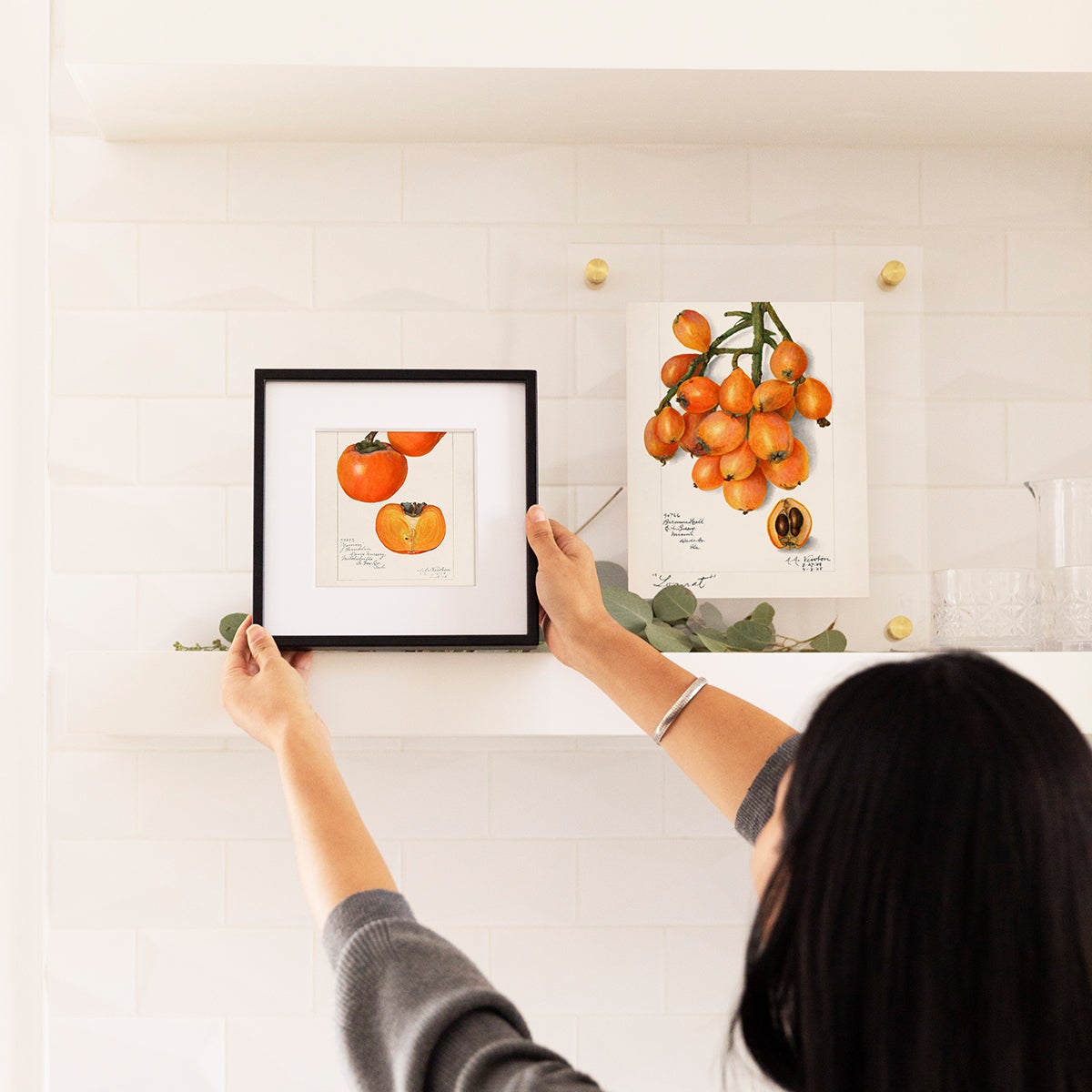 Put your culinary love on display with beautiful imagery of food in the kitchen. Whether illustrated or photographed – the kitchen is the perfect place for botanicals, still life, or even scientific diagrams of your favorite ingredients. You can skew rustic or modern with this approach to enhance the style of your kitchen. Our recommendation is the Floating Frame, which visually echoes pressed flowers or botanicals and is easy to clean.

Pro tip: For more ways to infuse botanicals (both real and print!) into your space, look no further than our guide to pairing plants and photos, created with our friends at The Sill.
---
Idea 05
Your Favorite Things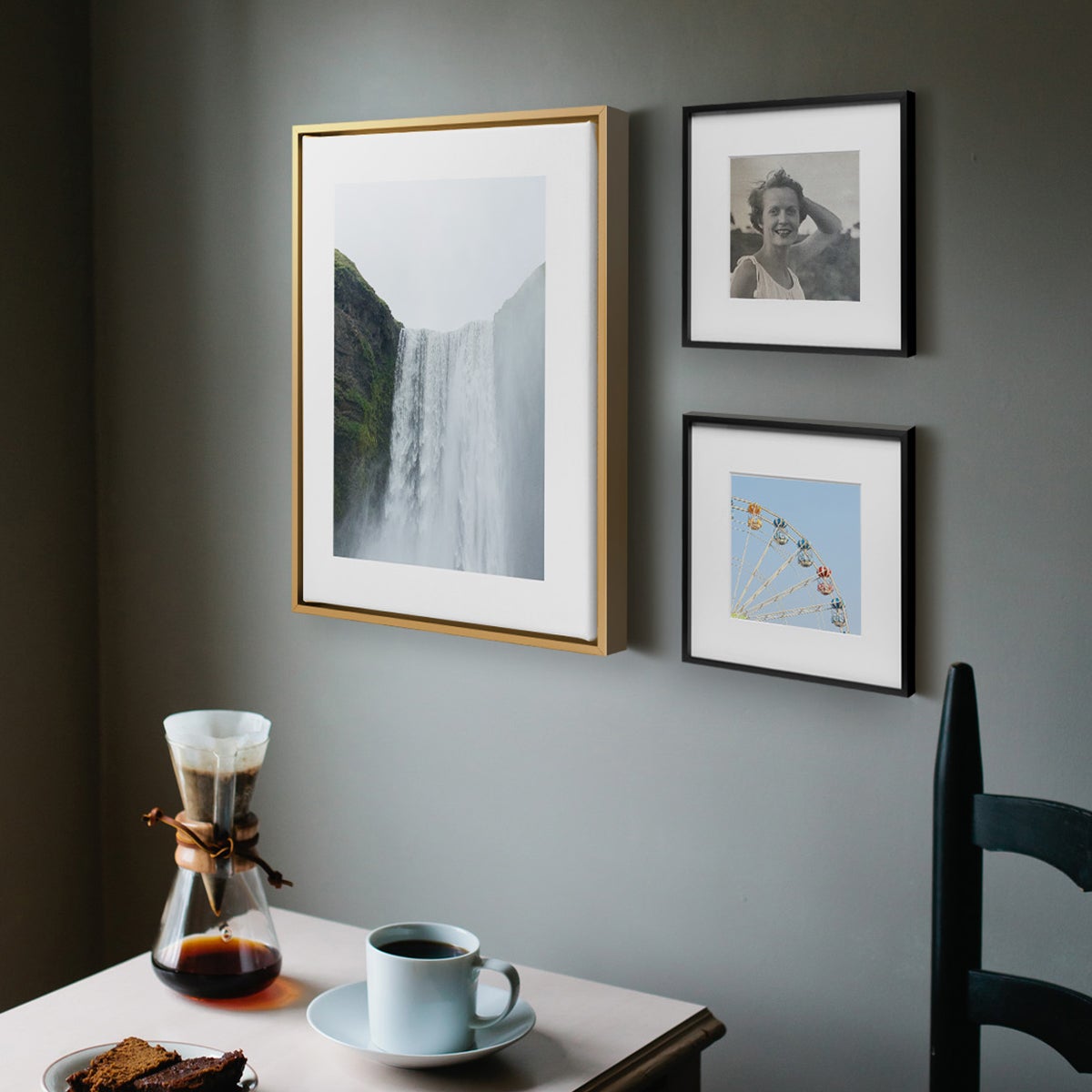 Surround yourself with your favorite things with a gallery wall that gathers them together. We suggest dawning your favorite nook with photos and objects that bring you the most joy. A missed relative, a once-in-a-lifetime trip, or even something so simple that it makes you smile everytime you see it. This gallery wall draws its magic from the theme therein, and is sure to brighten your day every time you catch a glimpse.
---
Idea 06
Of the Grid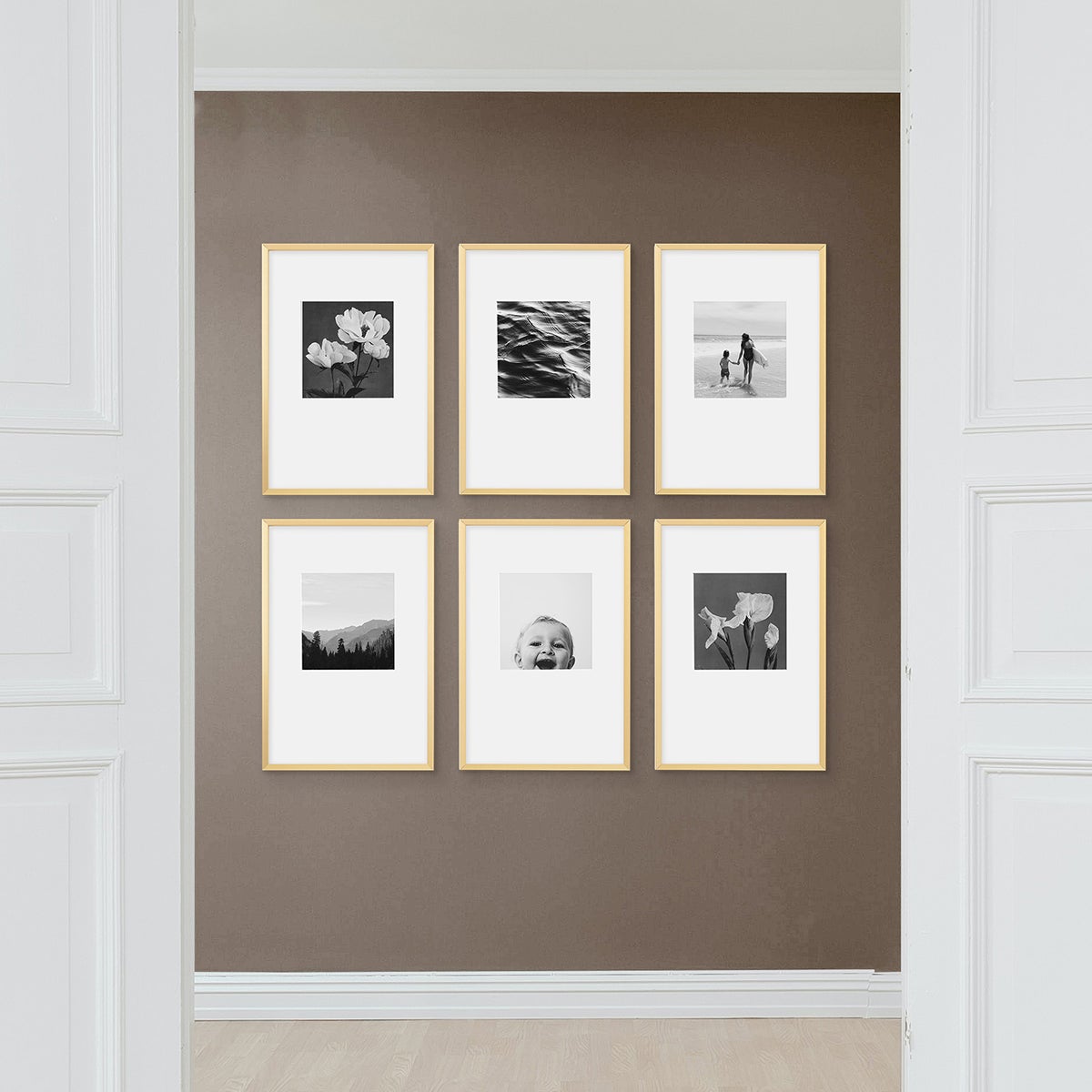 Looking for timelessly chic art wall inspiration? Consider organizing your wall art on a grid for a clean, architectural look. We recommend sticking to a "bounding box" approach, where each frame fits within a larger invisible square or rectangle. Keeping your lines straight is key here, as is leaving a healthy amount of breathing room in between. (When frames get too close it creates clutter and the opposite effect!) As far as grids go, 2 x 4 and 3 x 3 are a couple of our personal favorites, but honestly, the more the merrier — it's your gallery wall, after all.
---
Idea 07
Asymmetric Simplicity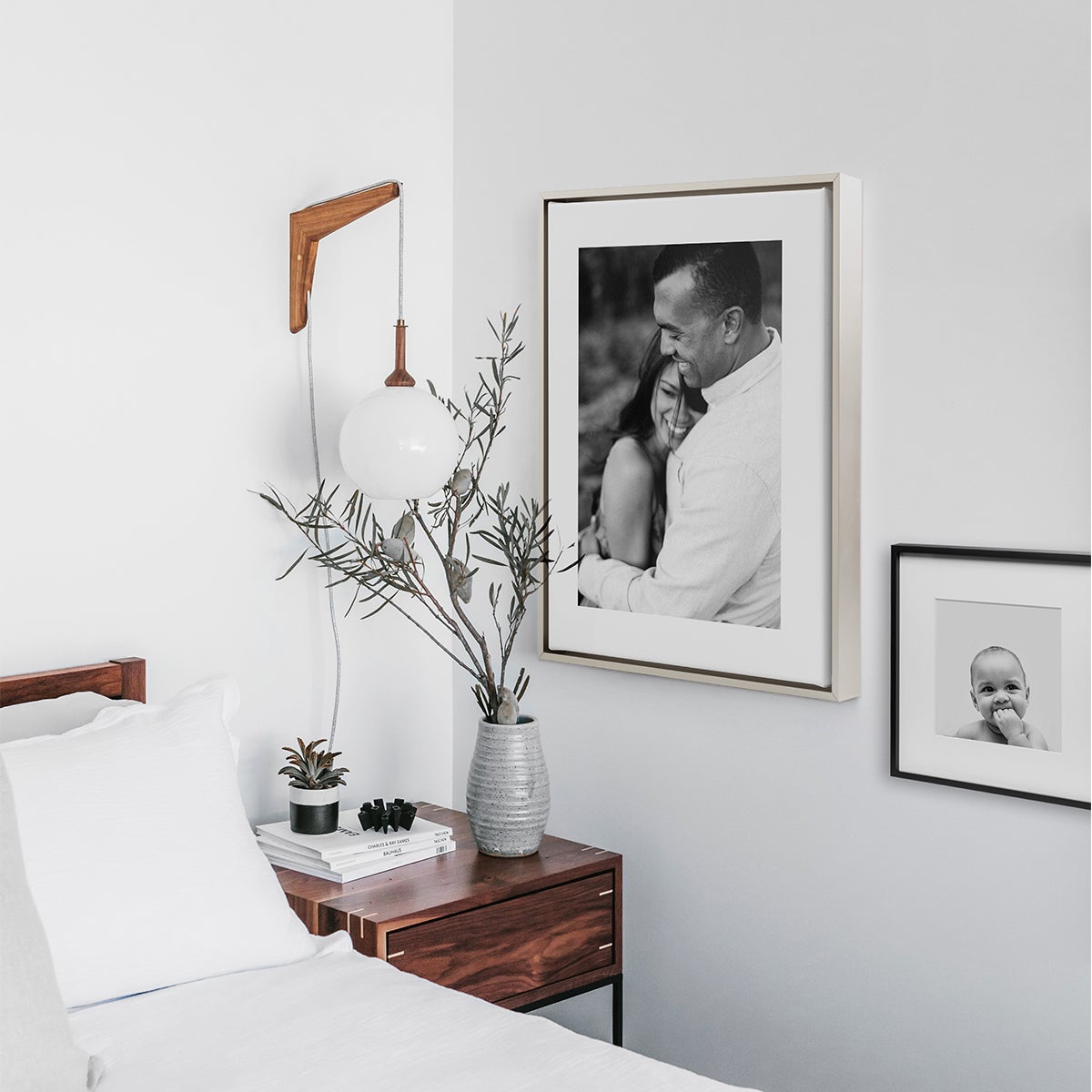 For an effortlessly cool, creative way to hang pictures, mix and match two frames of different styles, finishes, and matting, then offset them on your wall. Depending on what the images are, lay the frames on the floor first to find the right balance. Small above? Large on the right or left? This way, you'll find a layout that works before you put nail to wall. Plus, it makes it simple to determine your exact measurements — no need for those third-time's-the-charm holes!
---
Idea 08
Three of a Kind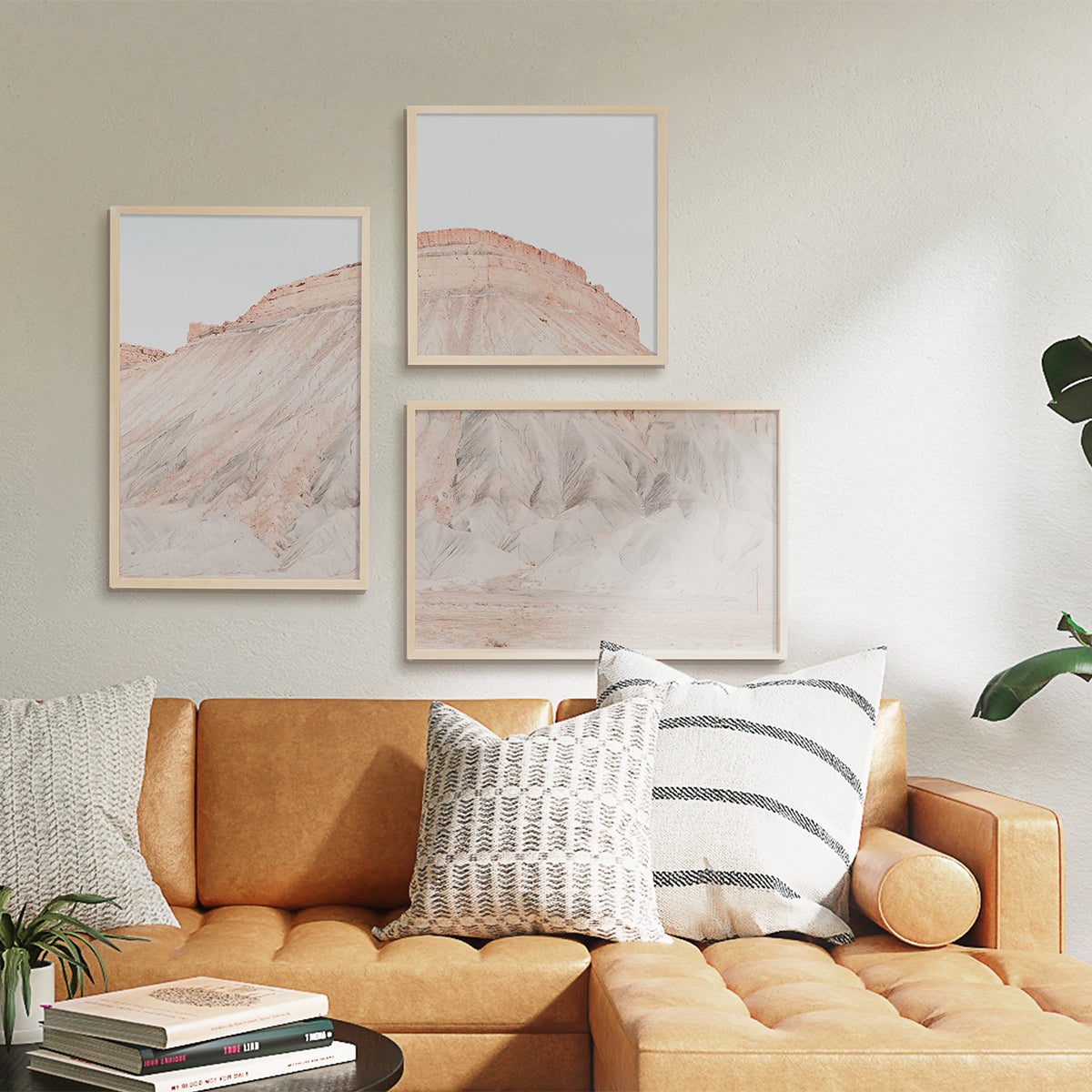 A fun play on a triptych gallery wall, this organic approach dissects the larger picture into three mismatched sizes for a modern effect. Since there is visual noise created by splicing a larger image, keeping your frame finish and style consistent will help balance the arrangement and create continuity. The overall effect is a larger work of art that helps fill big blank spaces for half the cost.

Pro tip: Generally speaking, landscape photographs translate into triptychs best, because they're usually horizontally oriented and ensure balanced visual interest across the frames.
---
Idea 09
Understated Impact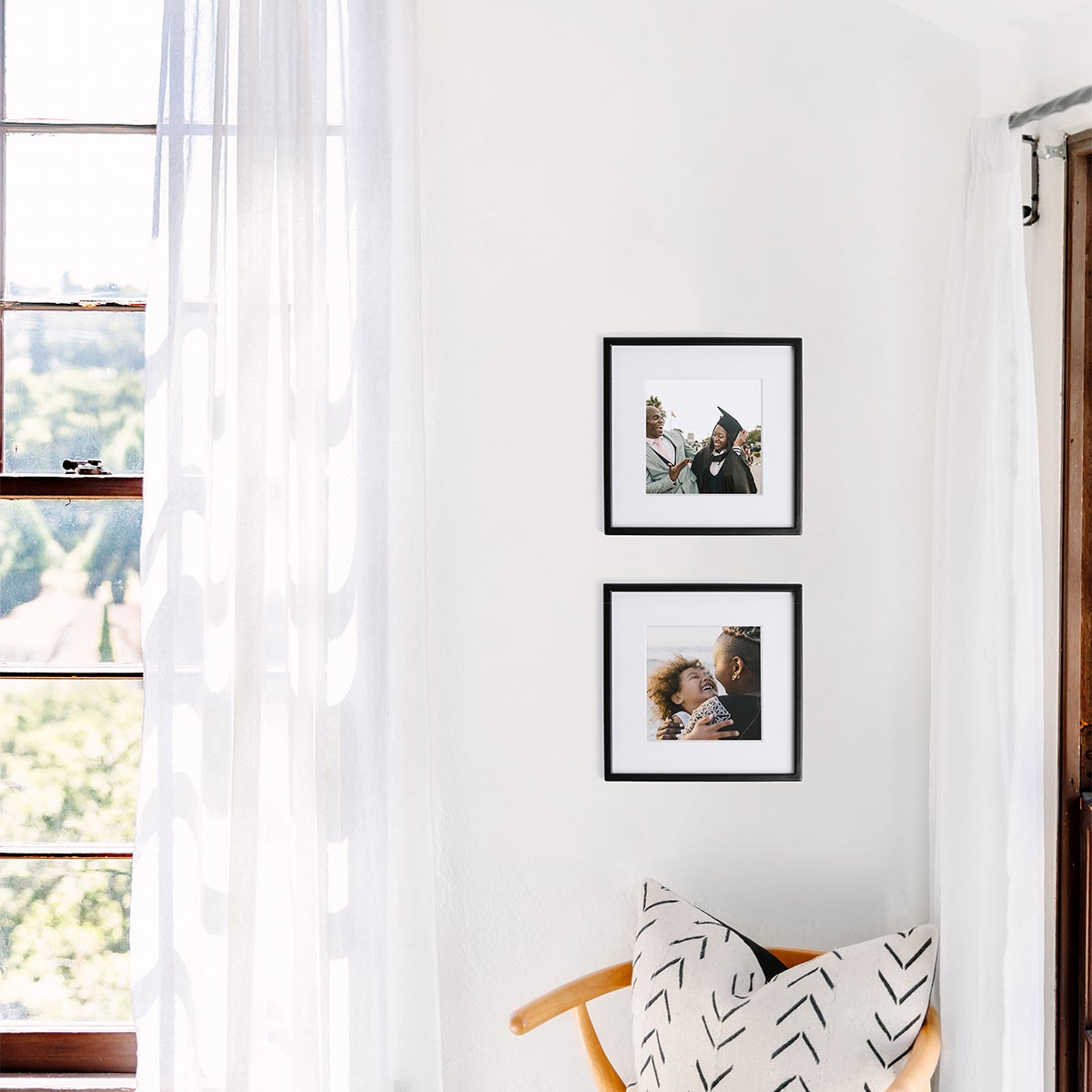 In smaller spaces, we have seen great success with two to three small format frames stacked in sequence. Great for bathrooms, small hallways, or even bedroom decor, matching frame styles with a healthy amount of breathing room creates a series that feels intentional and beautifully understated. It's one of our favorite ways to display family photographs, bringing your stories to even those small crannies and corners.
---
Idea 10
Hanging... Out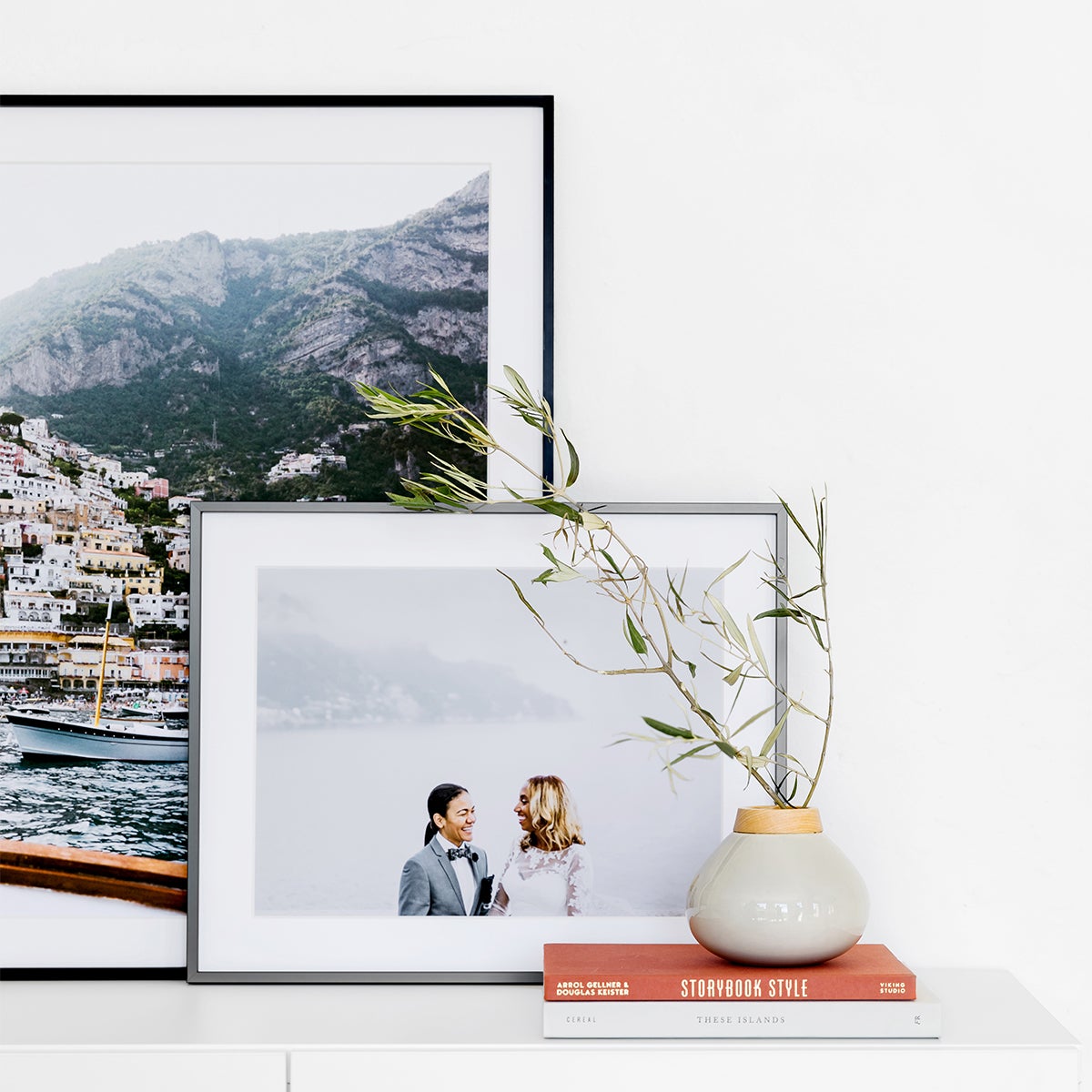 Creative wall art ideas are all about how you hang it — but sometimes, that means not hanging frames at all! Technically a gallery, and technically on a wall, this approach is a fun way to layer frames and imagery without a single nail. Especially renter-friendly, leaning frames along a shelf, bench, counter, or floor is a clever way to personalize a space without permanent "beauty marks."

Pro tip: We like to attach small rubber pads to the bottom of each frame to prevent sliding and potential damage.
---
Found Your Photo Wall Inspiration?
We can't wait to see how you bring it to life, so don't forget tag us on Instagram using @artifactuprising and #tellon. You can even submit your photo here for a chance to be featured in a future blog post!