---
6 Bedroom Wall Art Ideas From Our Team
Idea 01
Skip the Single for a Series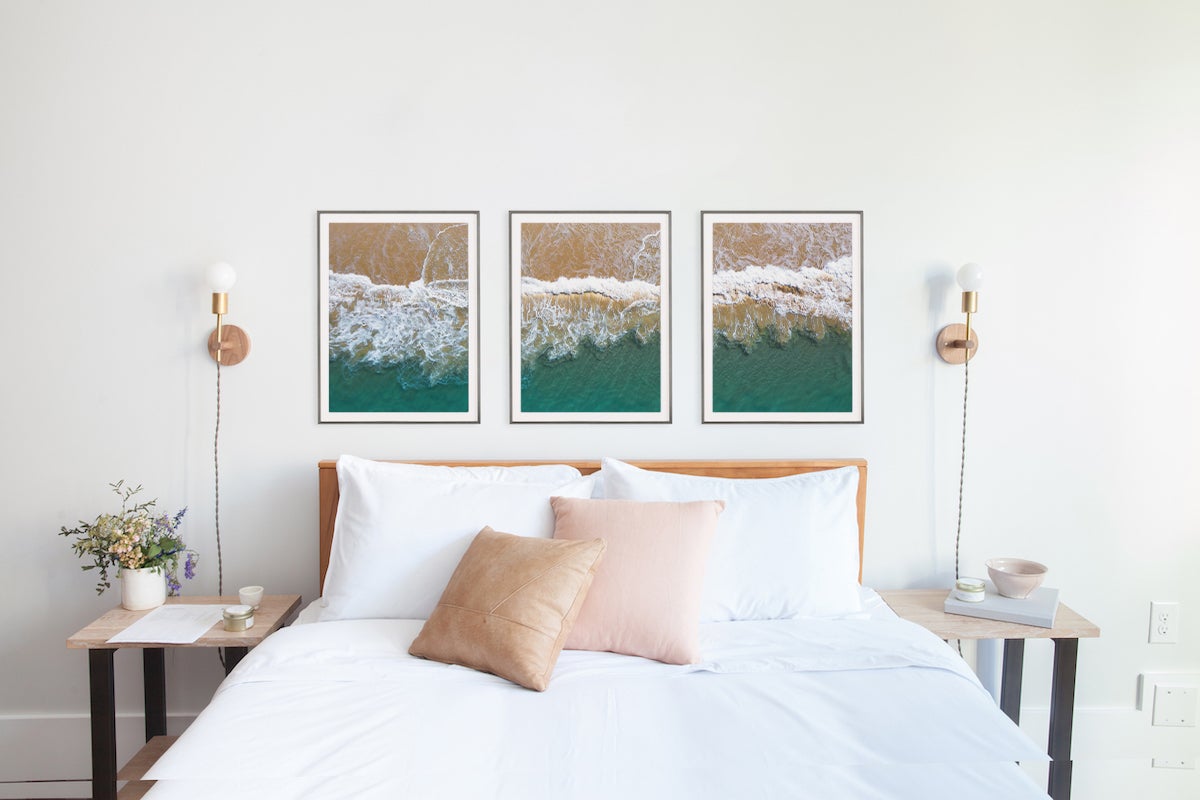 Give the above-bed statement piece a welcome twist by splitting that sweeping panorama into a seamless triptych. Aside from creating beautiful symmetry, it gives your bedroom wall decor a completely unique element. You'll just need to use a photo editing tool to split your image into separate files, so that you can upload them individually when creating your frames.

A tip from our team: When cropping the image, don't forget to factor in the space between frames. It's essential for waves, hills, or buildings that roll smoothly from one frame to another.
---
Idea 02
Give That Ledge Some Love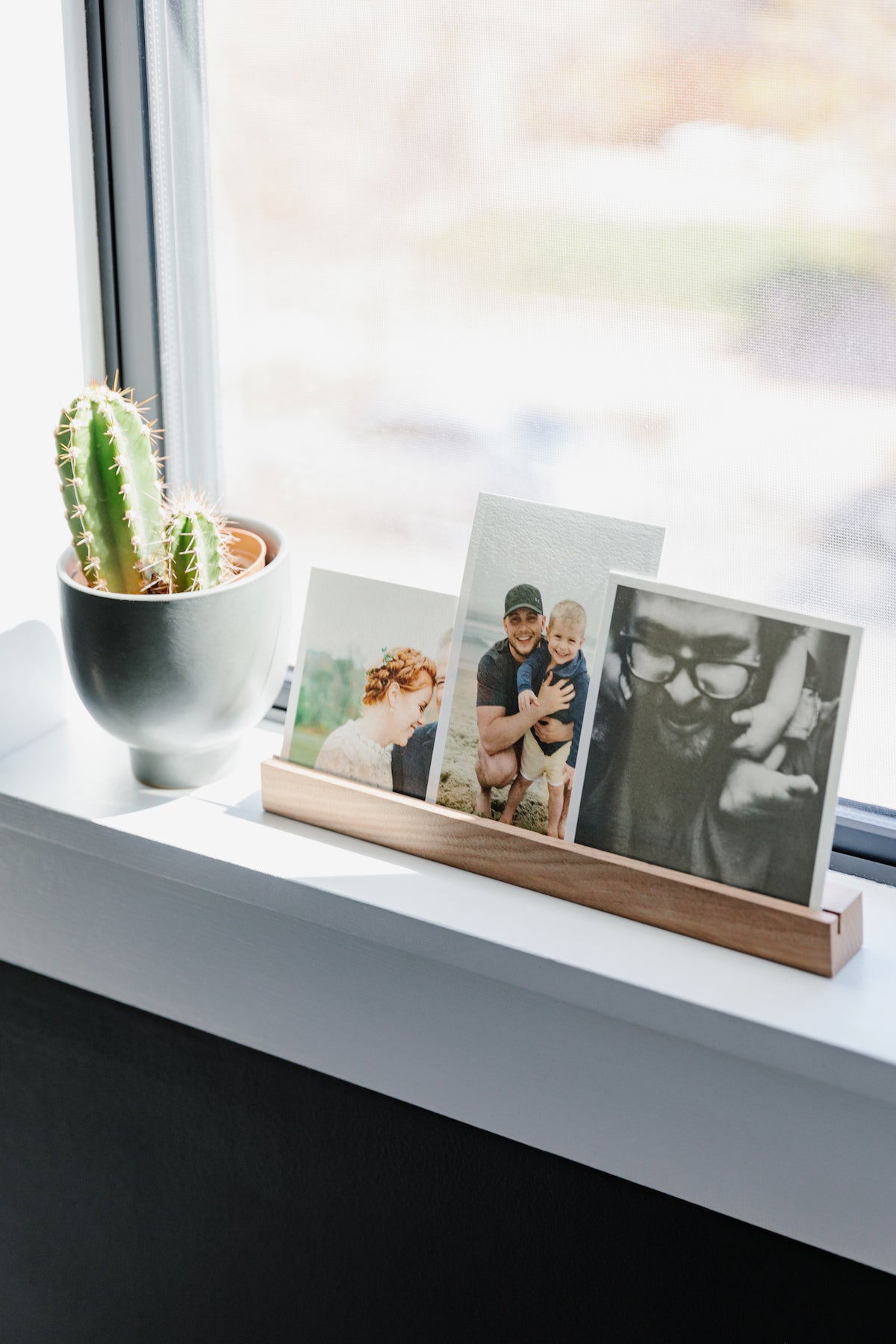 When it comes to elevating decor, it's all about those little details. In that regard, we find that the windowsill is a welcome place for small plants and sentimentals that make the room feel like home. A small stand really shines in a setting like this, as it's one of a handful of frame-free photo display ideas that allow you to quickly and easily swap prints. Just remember to mix and match print sizes to keep things from becoming too uniform.
---
Idea 03
Nest With Your Nightstand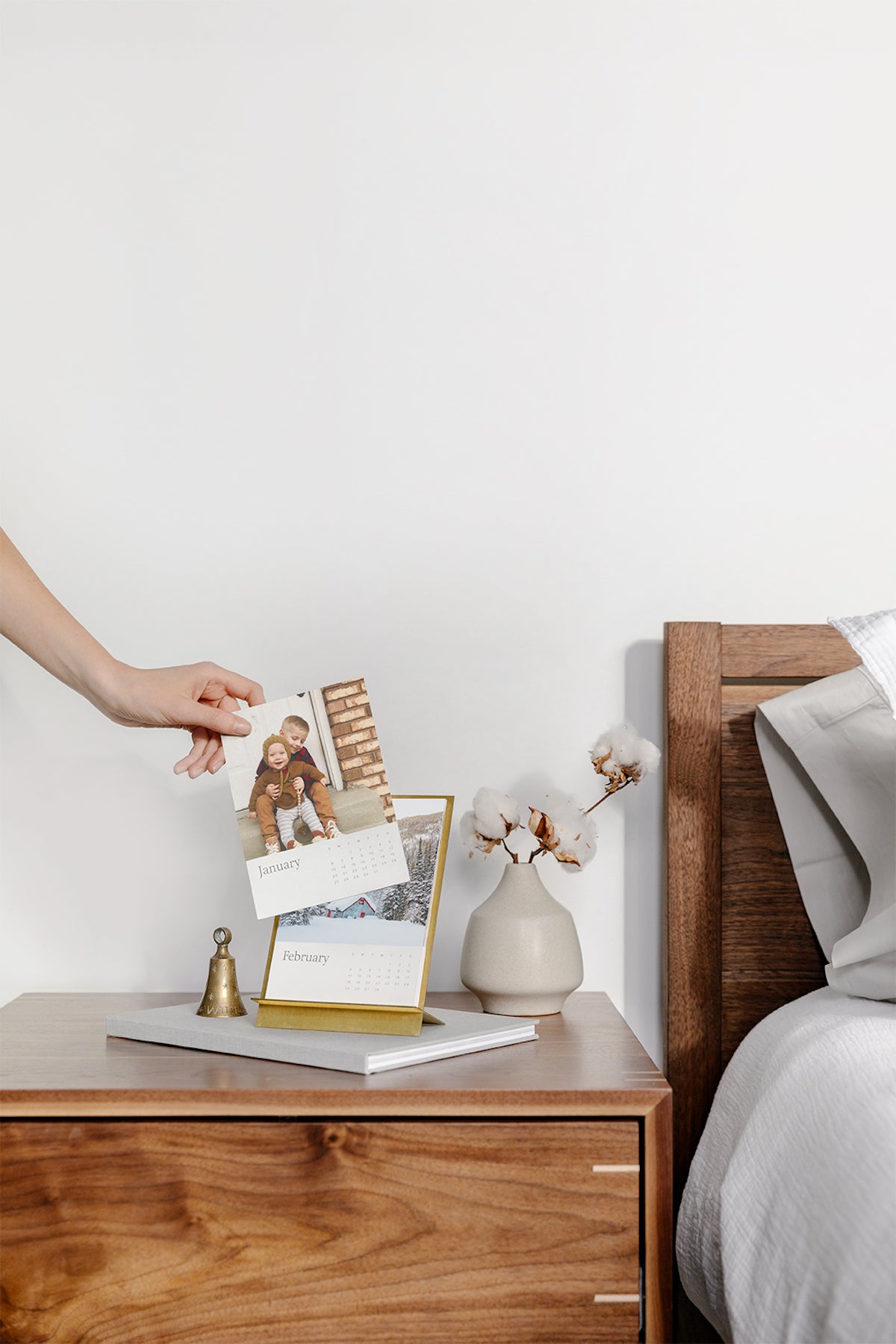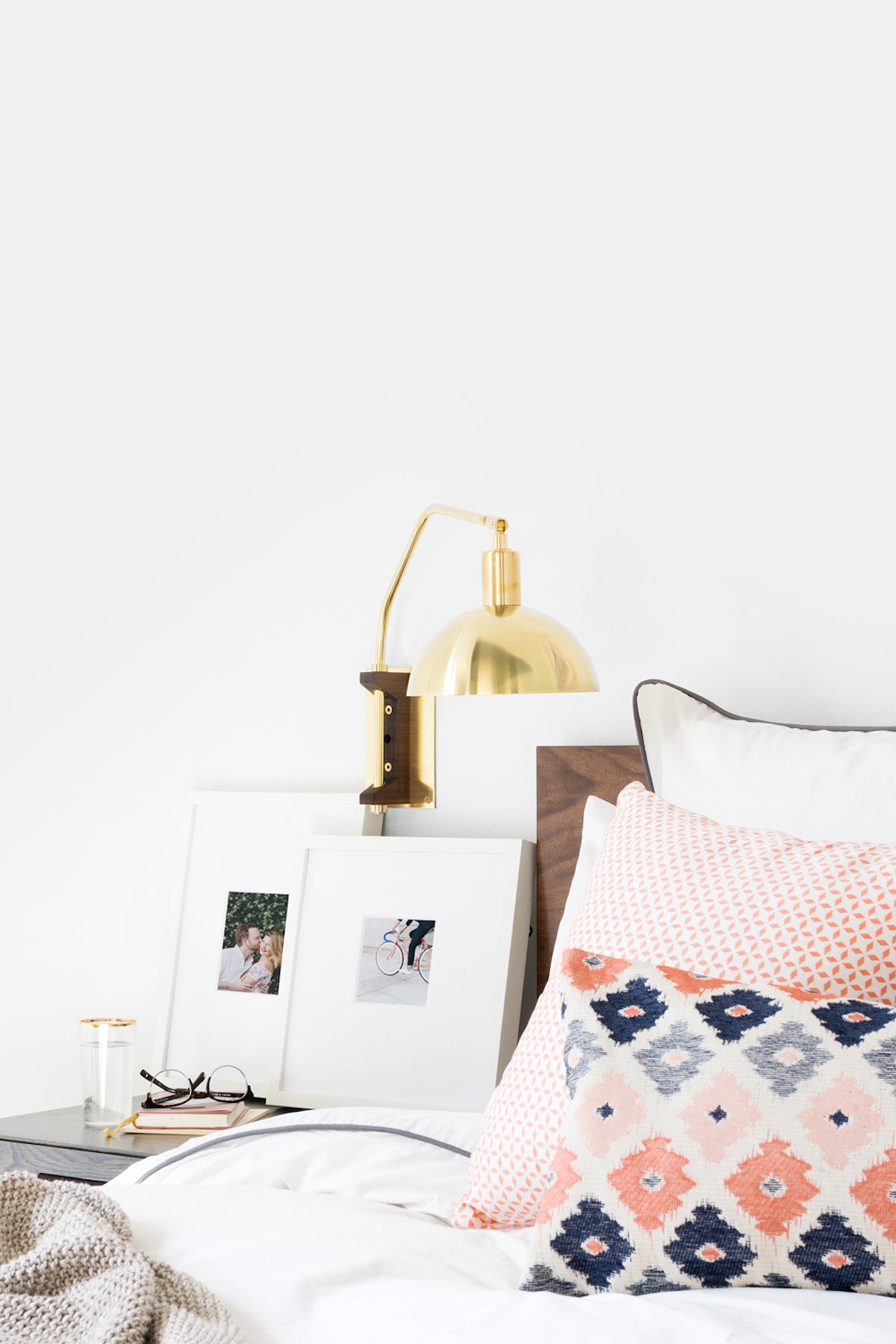 The contents of your nightstand are the last thing you see before you fall asleep and the first thing you see when you wake. Lining them with photos is a simple way to ensure you start and end the day with that which is most important. Look to photo calendars and tabletop frames to fill the void with familiar faces and moments that bring warmth to even the smallest of surfaces.

A tip from our team: Try breaking the rules a bit with your tabletop frames. We love opting for slightly larger frames that you can rest against each other to create a layered look.
---
Idea 04
Let the Wall Be the Art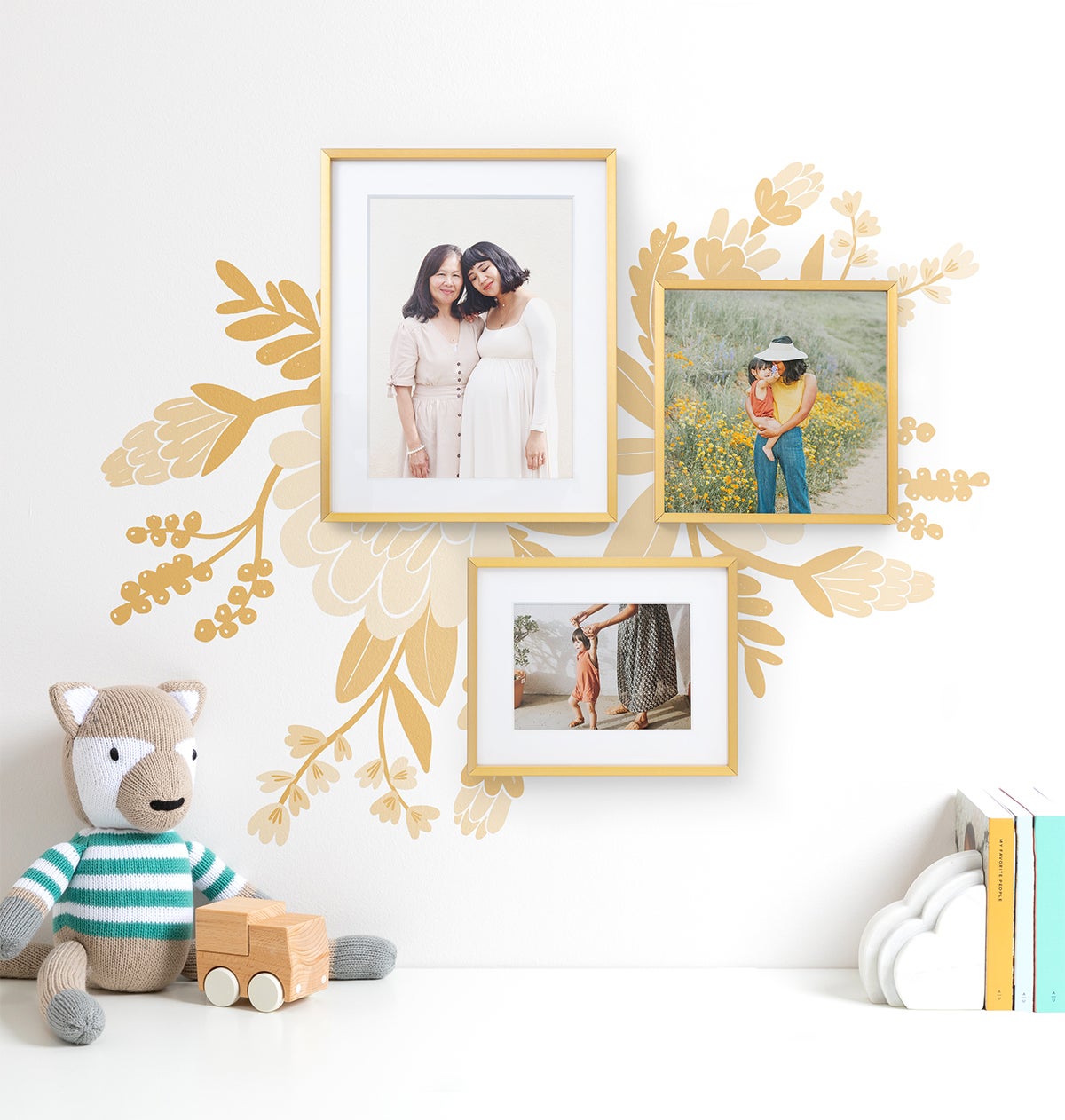 That bare wall is your blank canvas, and there's no better way to fill it than art from your own hands. And while a wall painting may feel like it's not to be covered up, a few photos placed over top with intention can create a surprising bedroom wall design. Don't fancy yourself a painter? There are plenty of stencils out there that you can use to get a clean result that you absolutely love. We're especially fond of this idea for nursery wall decor.
---
Idea 05
Create a Vignette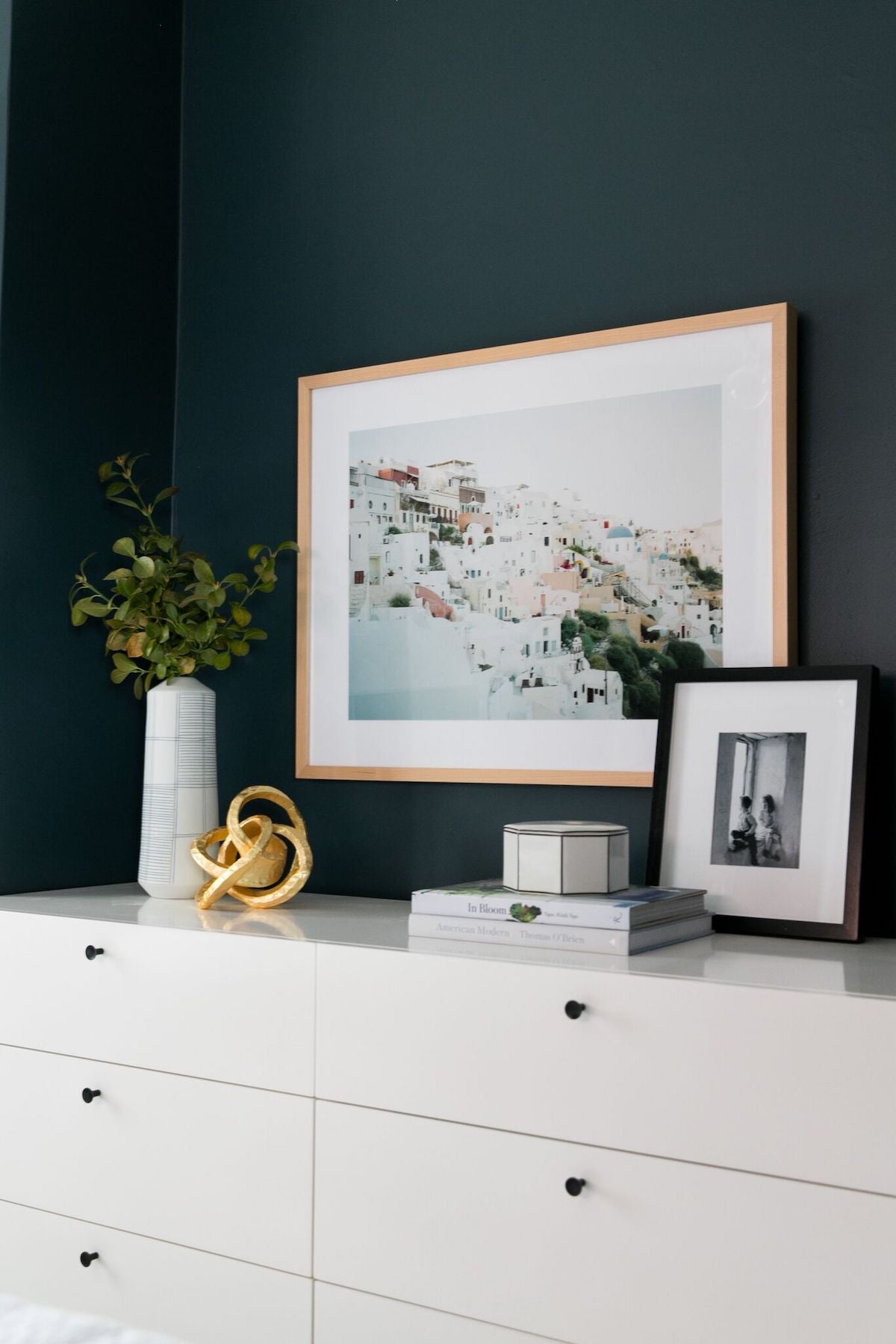 Find solace in the story you create by using a few carefully chosen pieces to turn your dresser area into the setting of a nostalgic vignette. Create continuity of story and surface by placing tabletop frames on the dresser and layering them with a related photo on the wall behind. Make sure that each photo element speaks to the same subject — whether a dream trip relived, family moments remembered, or whatever it is you deem worthy of return.
---
Idea 06
Keep It Minimal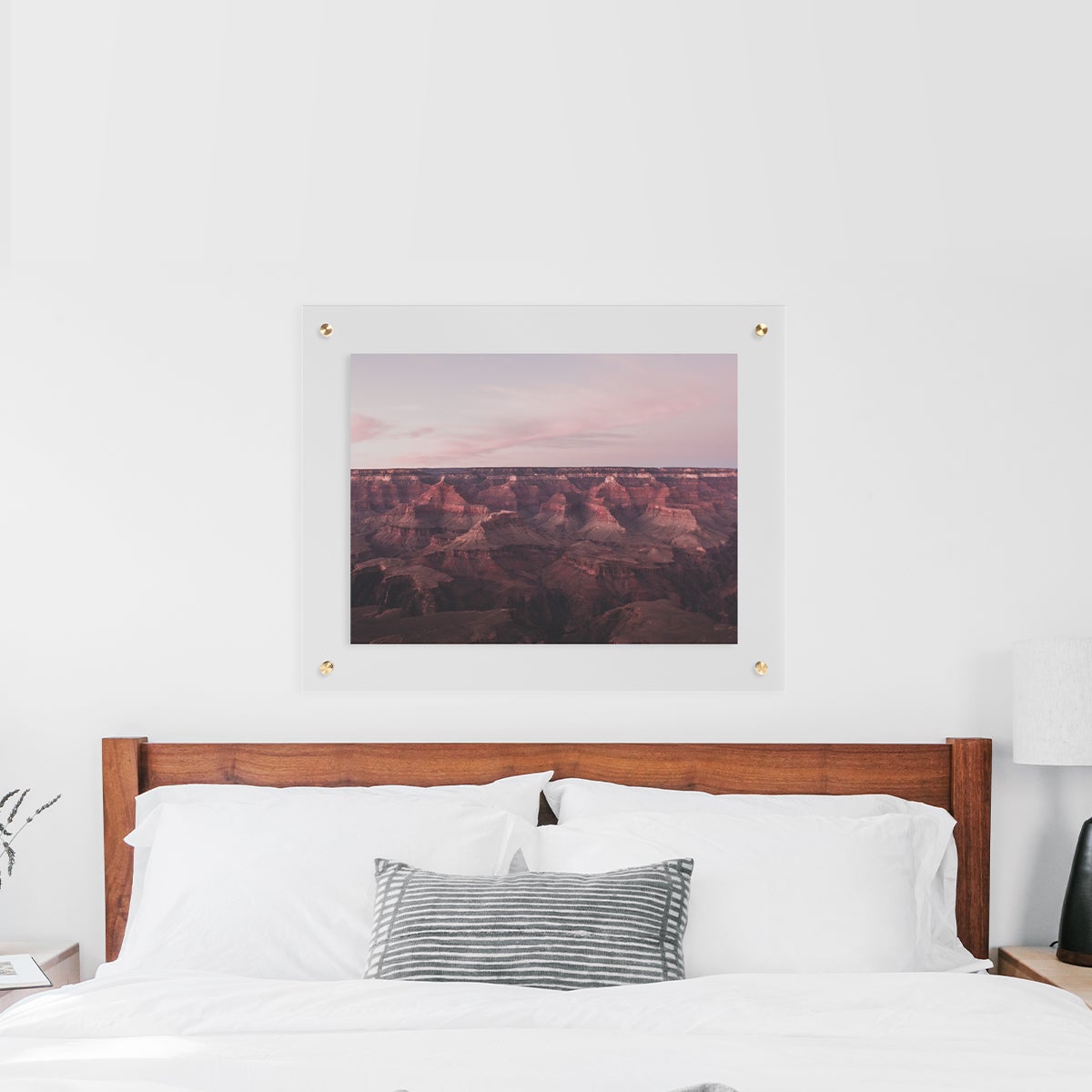 At the heart of any minimalist bedroom design is a simple tenet: Less is more. By keeping things clean and simple, it opens up the flow of the room for calm, creativity, and a much needed breath of fresh air. The transparent effect of a Floating Frame makes it welcome wall art for anyone trying to stay true to minimalist decor ideals. Above, the frame acts much like the nooks on either side of the bed, creating negative space that nests the image and gives it depth.
---
6 Minimalist Bedroom Decor Ideas From Parachute
Idea 01
Brighten Things Up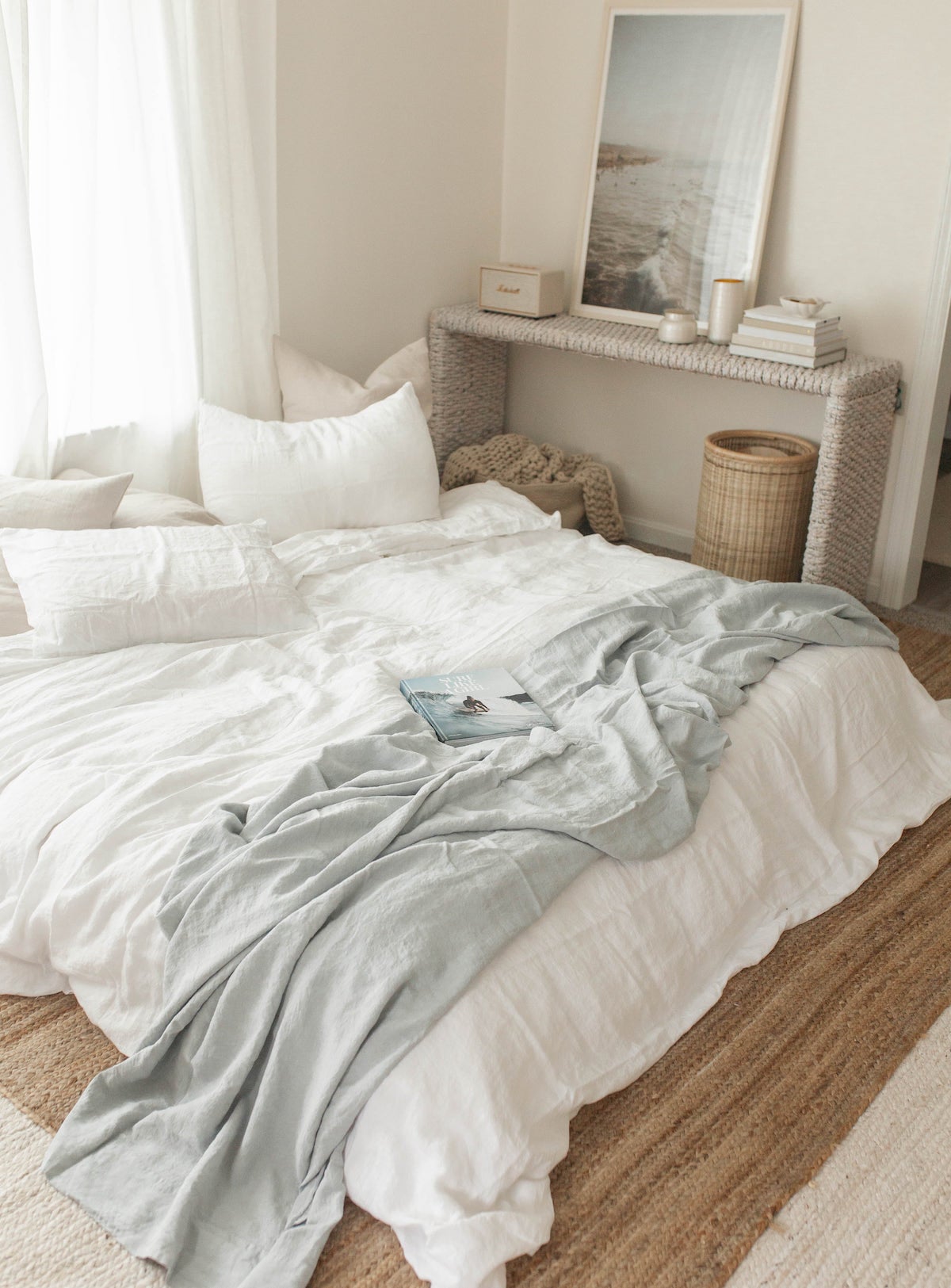 Not a morning person? Brightening up your bedroom might just be the little nudge you need to kickstart your daily trek to the coffee maker. Start by pairing all white bedding with neutral decor to help the room's natural light shine a little brighter. It's also a design-forward way to make small spaces feel open, airy, and ethereal — no matter the square footage. For those craving a little color, light blue throw pillows and other understated pops of color will go a long way in a neutral palette.
---
Idea 02
Let the Tones Take Over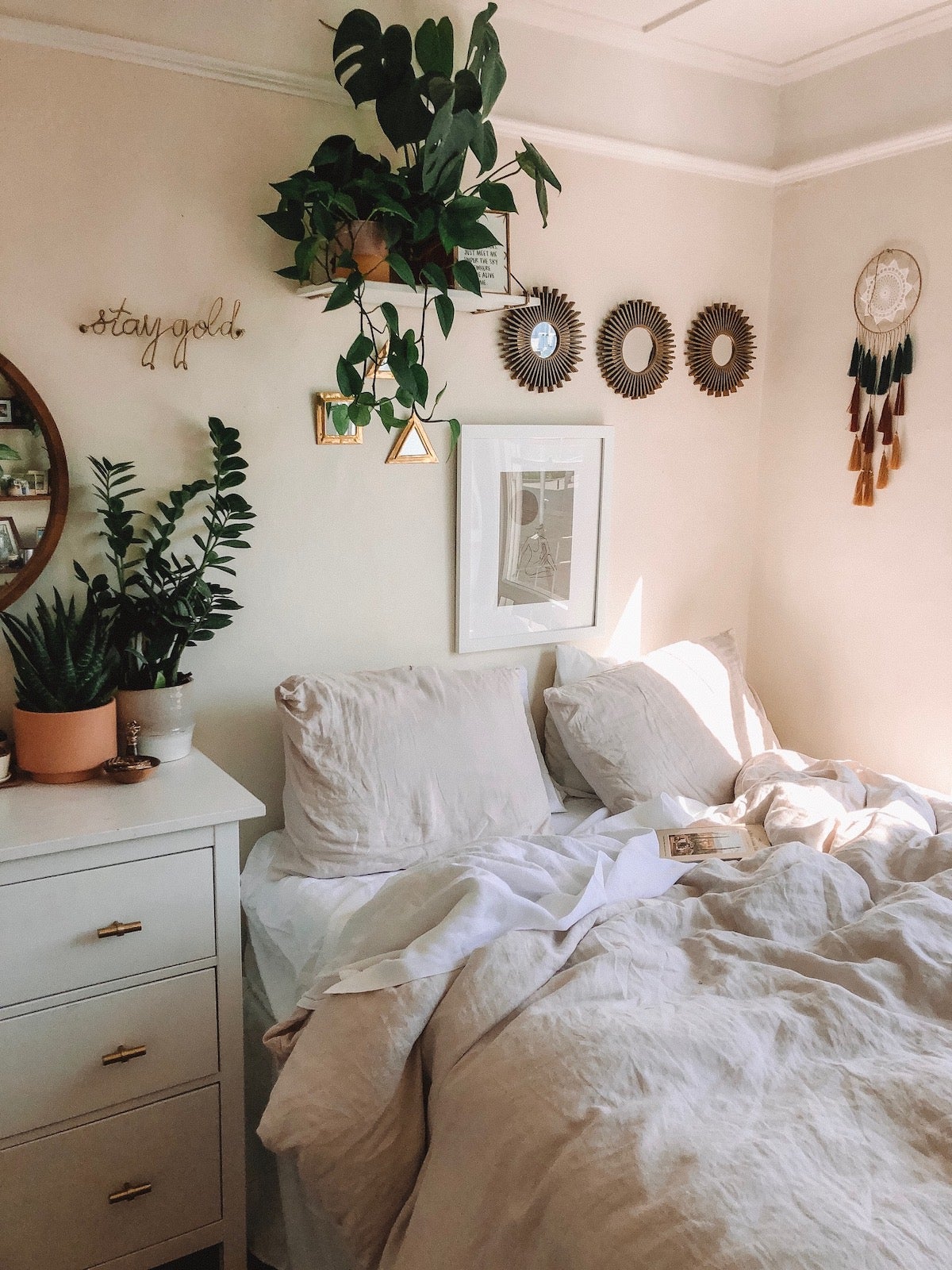 Color families are always a safe palette for experimentation, making it a little easier to create cohesion between the various elements of your bedroom decor. This design transitions from white to creams, terracotta, browns, and even black in the wall art, taking advantage of soft transitions to tie everything together. It might be subtle, but we love how the hues in the piece on the right wall complement every other piece of wall decor in the room.
---
Idea 03
Play With Texture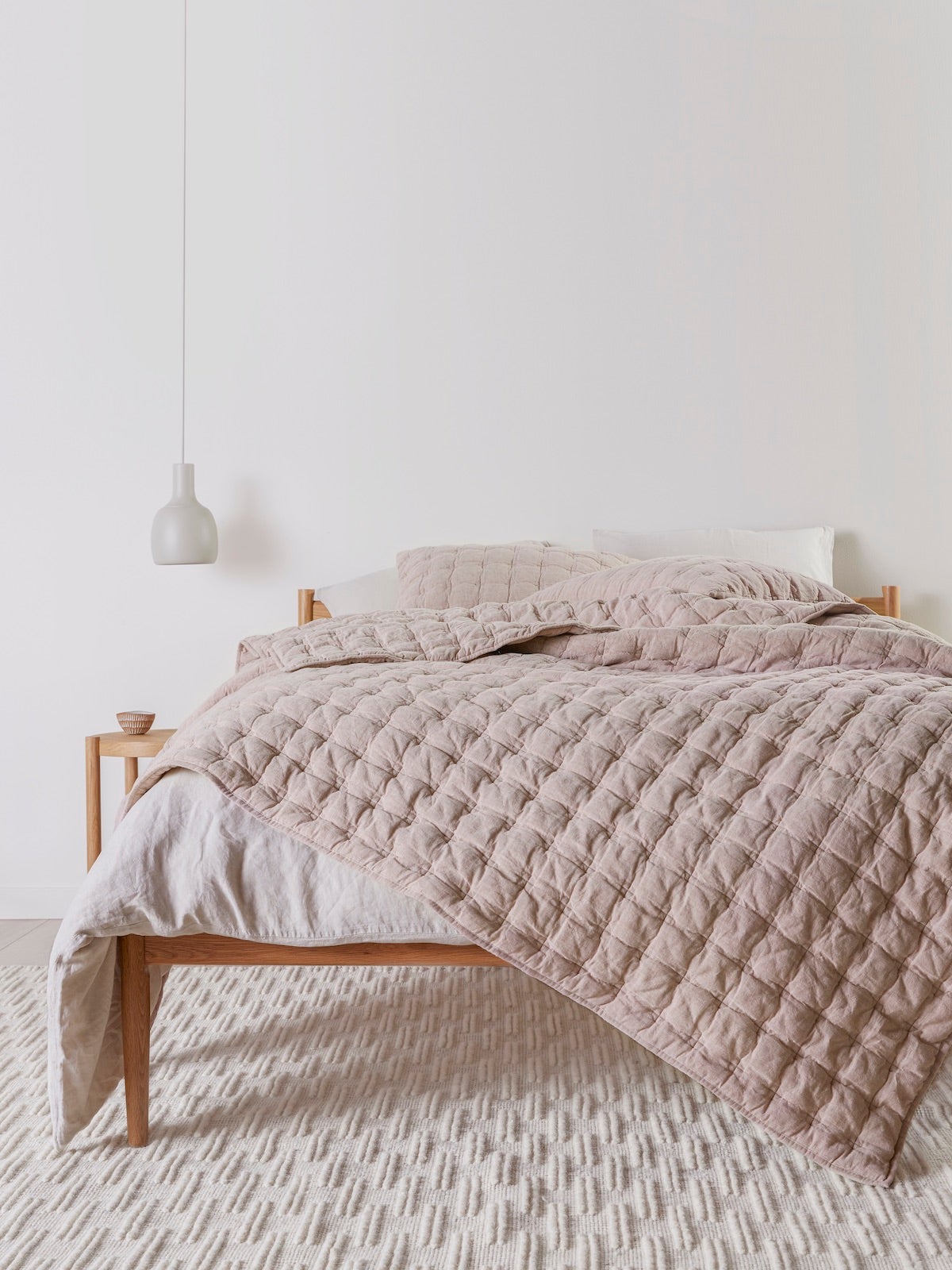 When it comes to bedroom decor, especially bedding, color and texture are your two best friends. Try toning down the color and turning up the texture to create a uniquely dimensional look in your bedroom. While there's certainly such a thing as too much texture, don't let that scare you off from mixing things up and adding another pattern in your area rug. Pair the patterns right, and they'll play off of one another to create visual interest in a complementary way.
---
Idea 04
Make Way for Monochrome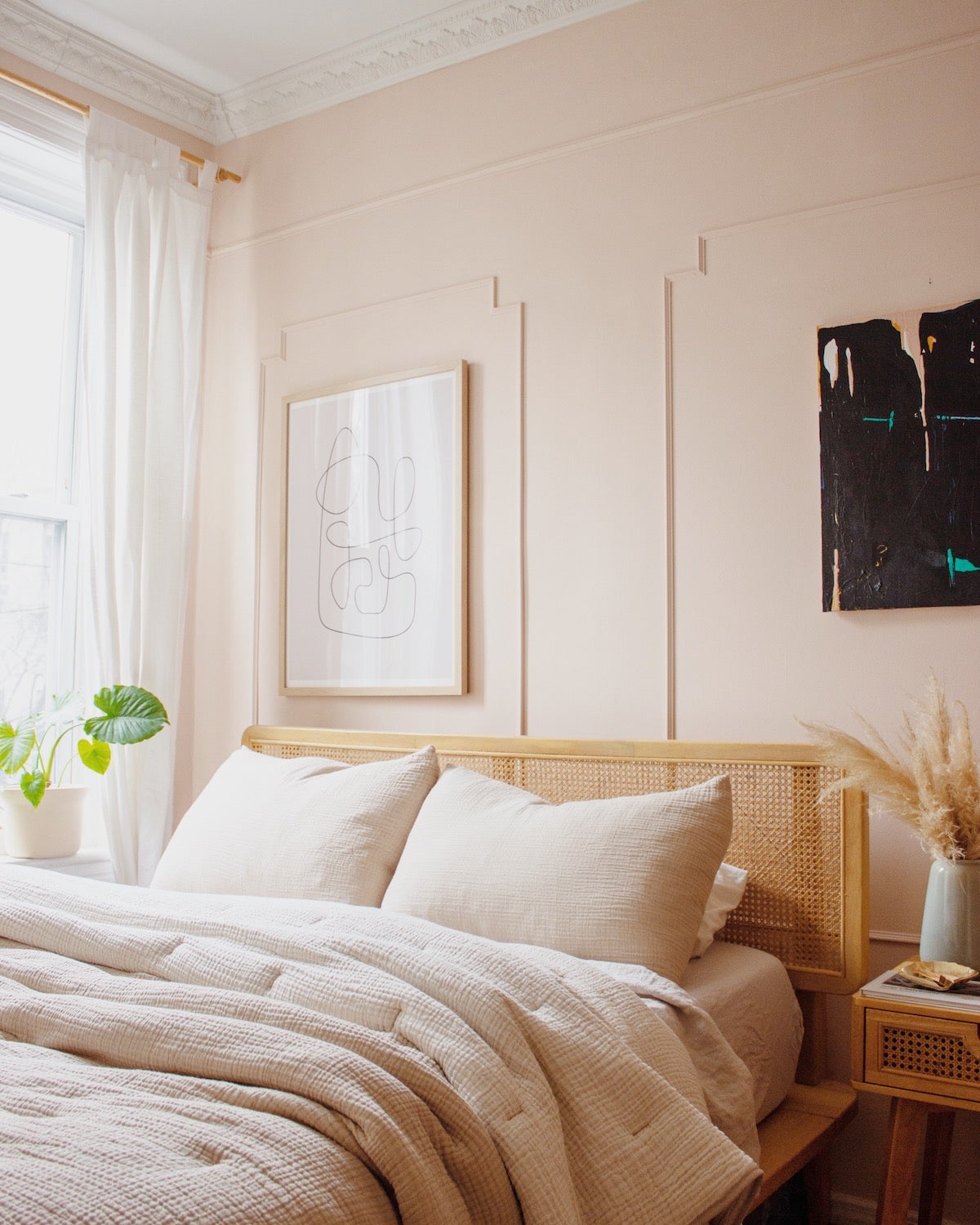 Sometimes, you love a color so much, that you can't help but make things monochromatic. So instead of fighting the allure of that all-blush room, run with it! Embracing a single neutral color and really leaning in can create a clean, comforting look, all the while staying true to the hue of the moment. Just remember: If you go too dark with your color it could feel overbearing and stuffy, while if you go too bright it's almost certainly bound to be overstimulating. (A bedroom should be relaxing, after all.)
---
Idea 05
Add a Living Element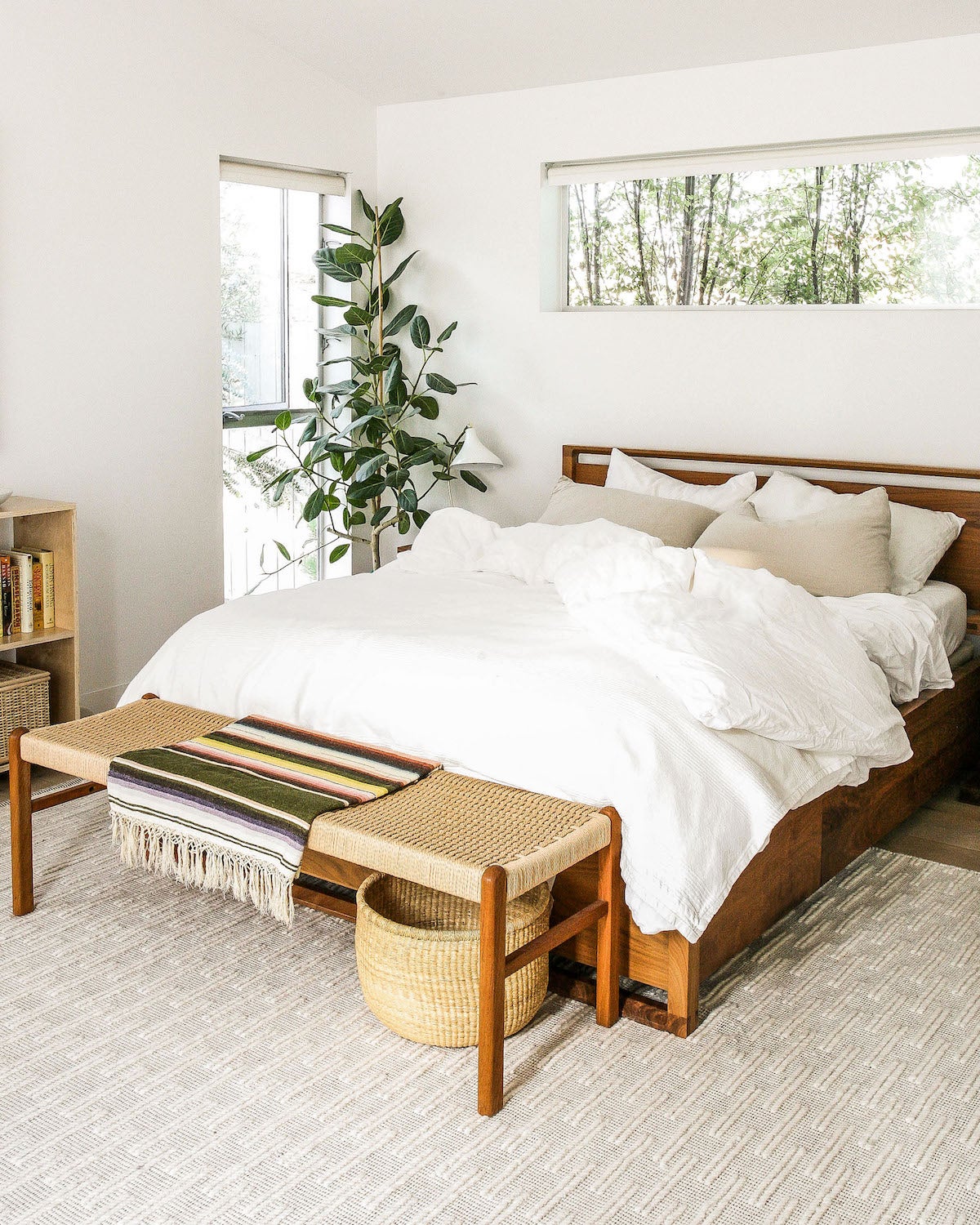 Sometimes, adding a touch of greenery is all you need to breathe some much-needed life into modern bedroom ideas. In this case, a well-placed Fiddle Leaf Fig Tree complements the neutrals in the room, adding welcome color (and oxygen). Thoughtfully pairing this small tree with the wood furniture gives the room an organic look and newfound sense of zen. Just make sure to do a little bit of research before investing in a plant to make sure your new friend will adapt well to the levels of natural light.
---
Idea 06
Give It a Pop of Color
Bold hues are like the wasabi of decor… a little spice is nice, but a little bit more can quickly become too much. The bedspread is often the perfect place for that pop. The canvas of solid color becomes the focal point for the bedroom, giving your decor scheme something to map those little accents back to. The burnt orange of this bedroom is clearly the hero, but the small piece on the nightstand and the flowers in the photo are what bring it all together.
---
Sleep On It
Which Bedroom Decor Ideas Are You Drawn To?
The most important thing your new bedroom decoration can do is feel like it fits you. Take these ideas and give them your own little tweaks. If you do, we'd love to see the space you create! Just tag us on Instagram (@artifactuprising).