---
IDEA 01
Look back on big transformations.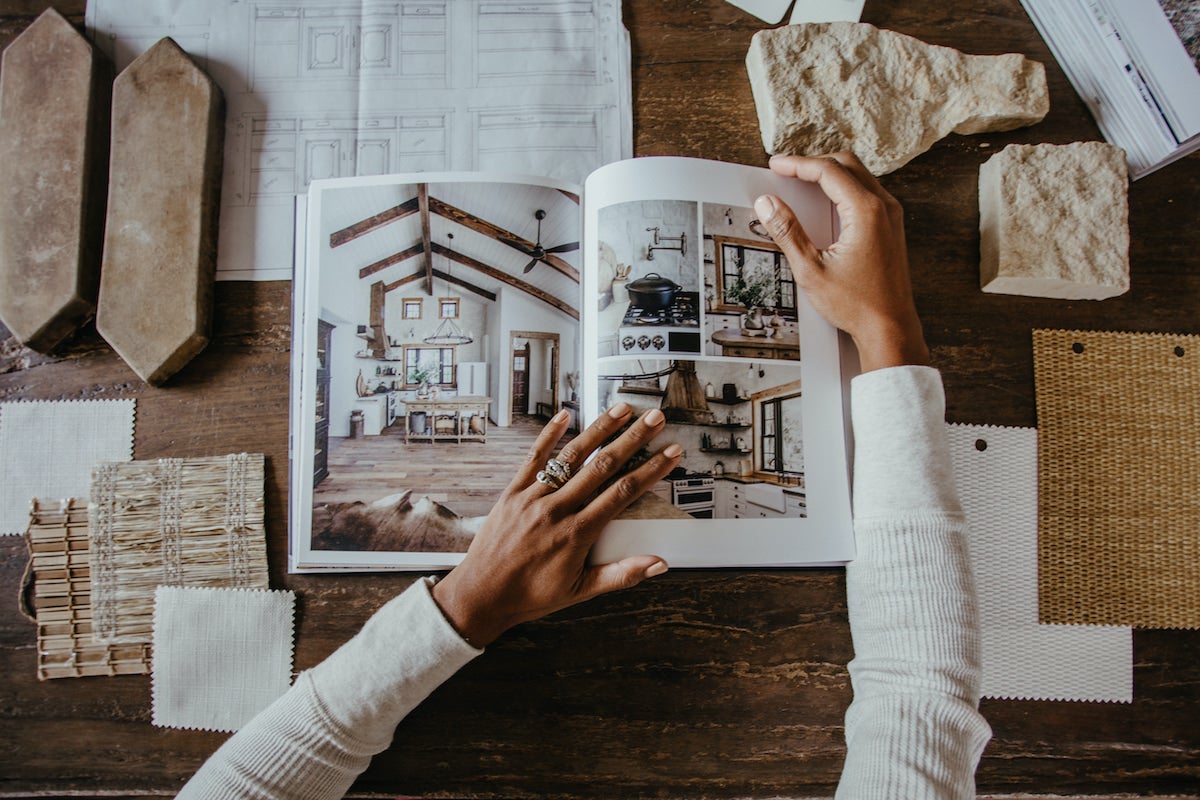 Every home renovation comes with its fair share of stories: what it looked like before, what didn't go as planned, and how your vision came to life. If you find yourself fresh off of a big remodel, or in the middle of reimagining your home decor, archive the before, after, and in-between. It's a living reminder of how you've made a space your own — one that you can share with guests to give them a sense of what once was.
Our Recommendation
The Hardcover Photo Book makes an eye-catching coffee table book, serving as a centerpiece for conversation. Its soft-touch dust jacket cover has an elegant, editorial look and feel, so it's striking even when on display.
"Scrolling through the months of photos we have from this project and finding so many moments forgotten... I want to touch, feel and flip through pages, to pass a story from my hands to our guests as they come into our new home and wonder what once was."

— Melissa G.
---
IDEA 02
Take pause for pets.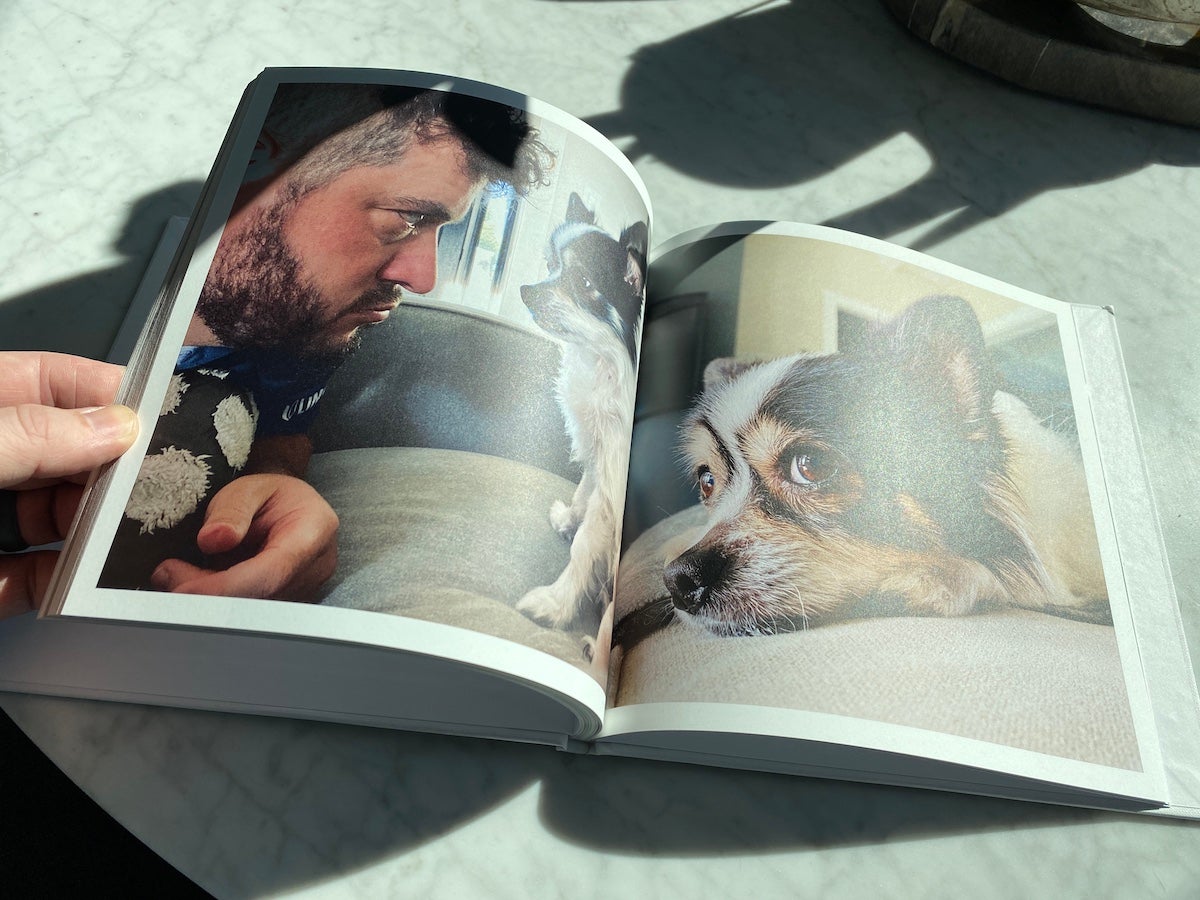 Who doesn't have countless photos of their pets? These furry friends fill our days, and our camera rolls. Even when the dreaded time comes for them to move on, it's often those very photos that not only bring us joy, but are near impossible to rid of. So we say: don't. Print them in a pet album, and revisit their little face as frequently as you please.
Our Recommendation
The Photo-Wrapped Hardcover Book combines hardcover quality with the refined playfulness of a full-bleed cover. It looks just as beautiful on the shelf as it does while you're flipping through it on your lap.
"In January of 2021, our 16-year-old Chihuahua Harley passed away. He was a HUGE part of our lives since he basically had been with us our entire marriage. I had taken thousands of photos of him over the years, so a photo book was the perfect way to use all those images."

— Paul S.
---
IDEA 03
Revisit moments as a family.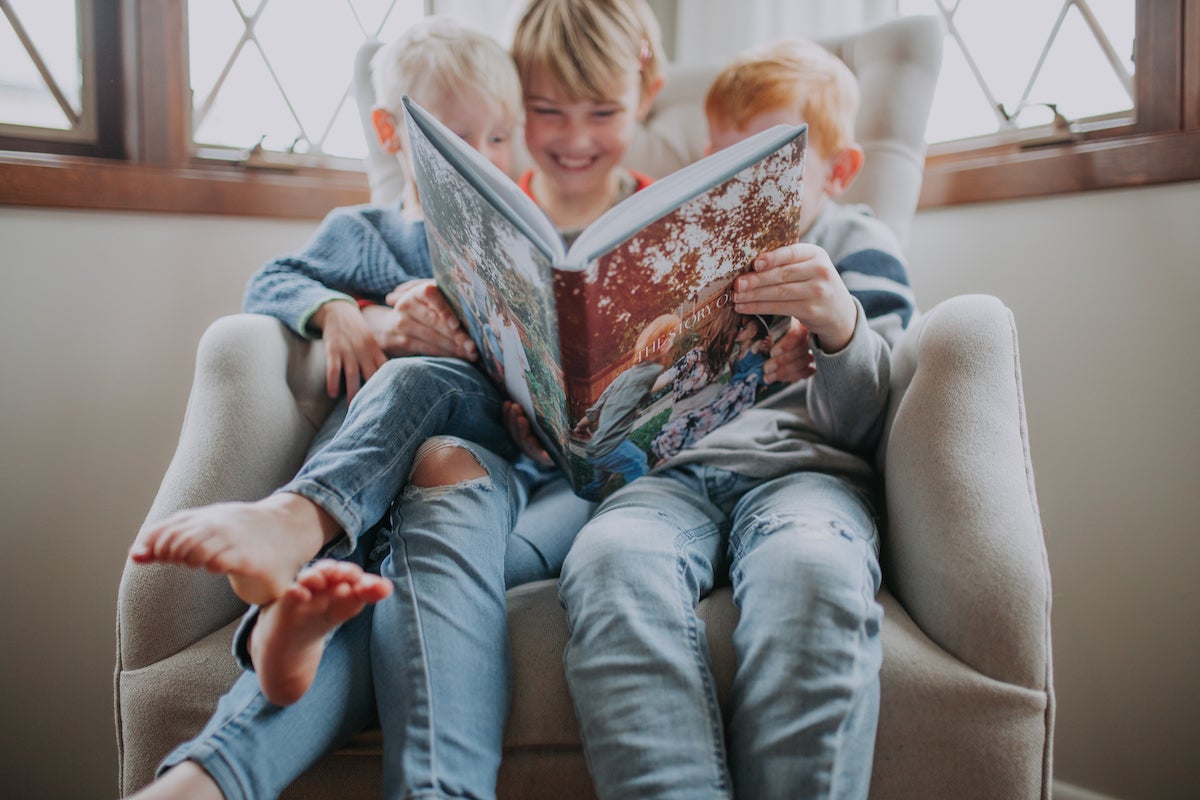 Family albums might just be the most classic of memory book ideas. They're time capsules of childhood and parenthood alike, taking us back through years and grounding us in who we are. From the thrills to the (many) spills, our community finds meaning in this age-old tradition — like Heather Hall, who beautifully recalls how she revisited years of photos to create a book that begs to be handed down.
Our Recommendation
Whether it's one year of photos or nine, like Heather, we're sure there are lots of them. Fitting the most pages of our premium books, the Hardcover Photo Book offers ample space and time-tested quality, so you and your family can flip through your many moments together.
"Nine years of family photos — a feat for even the most stalwart of memory keepers — and it was so good to see them again, to remember. This book was no longer a project to conquer; it was the chance to see my babies again. To remember their edible cheeks."

— Heather H.
---
IDEA 04
Archive a big project.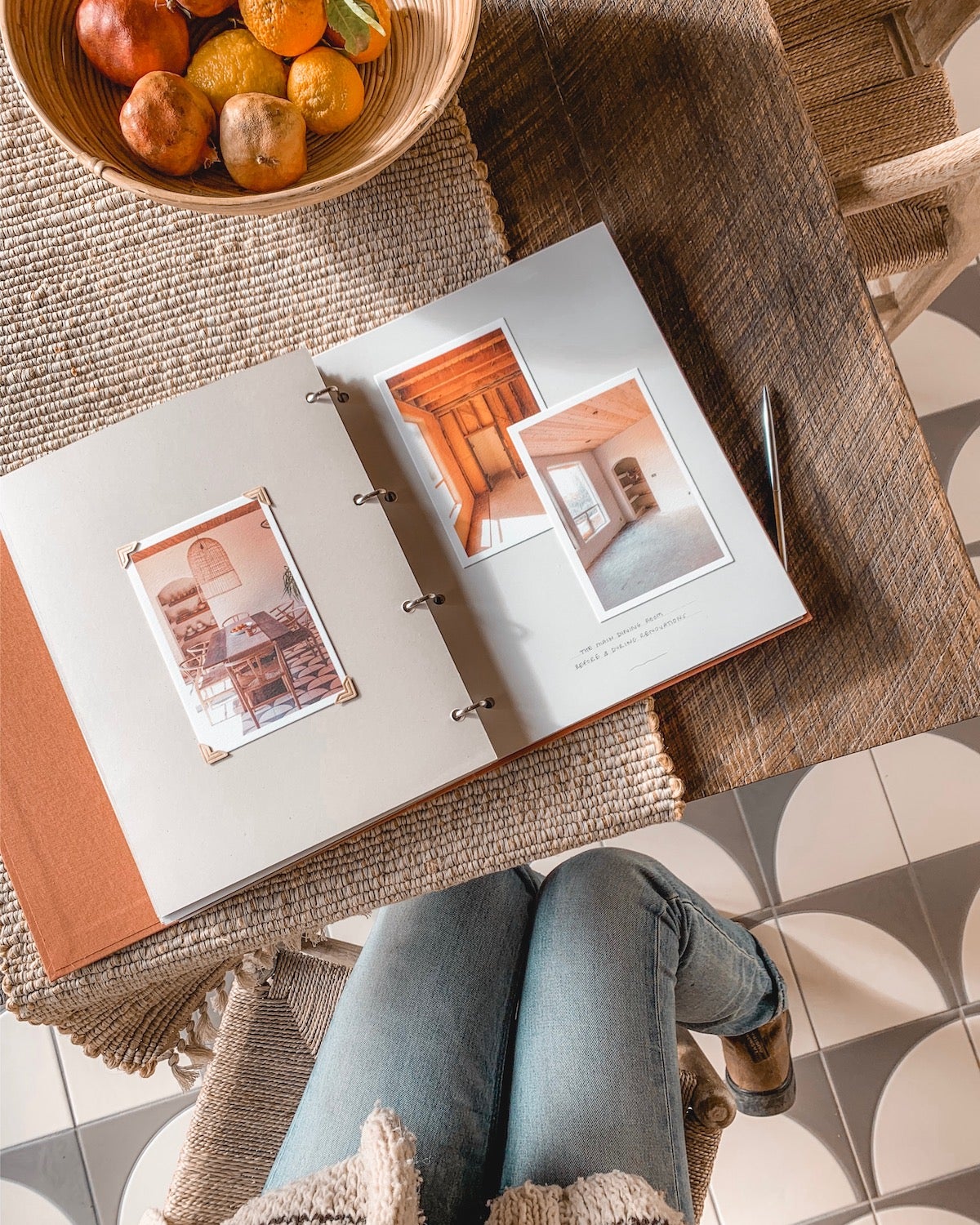 Big undertakings, from cultivating a garden to building a business, takes a lot of time and toil. What often gets us through is celebrating the wins and milestones. We love the idea of marking each moment to revel in the accomplishment once it's all done! Take it from Rich and Sara, owners of the Joshua Treehouse, who archived their story in the pages of our Scrapbook Album.
Our Recommendation
The Stories We Tell Scrapbook Album is a streamlined, interactive approach to the classic scrapbook, filled with prompts and photo spaces that you can fill in as you go.
"Working on the project was such an intense time of our lives, we never had a chance to stop and just enjoy the moment. Going back and looking through everything allowed us to appreciate that time and the decisions we made in a way we couldn't back then."

— Rich C.
---
IDEA 05
Mark baby's first year…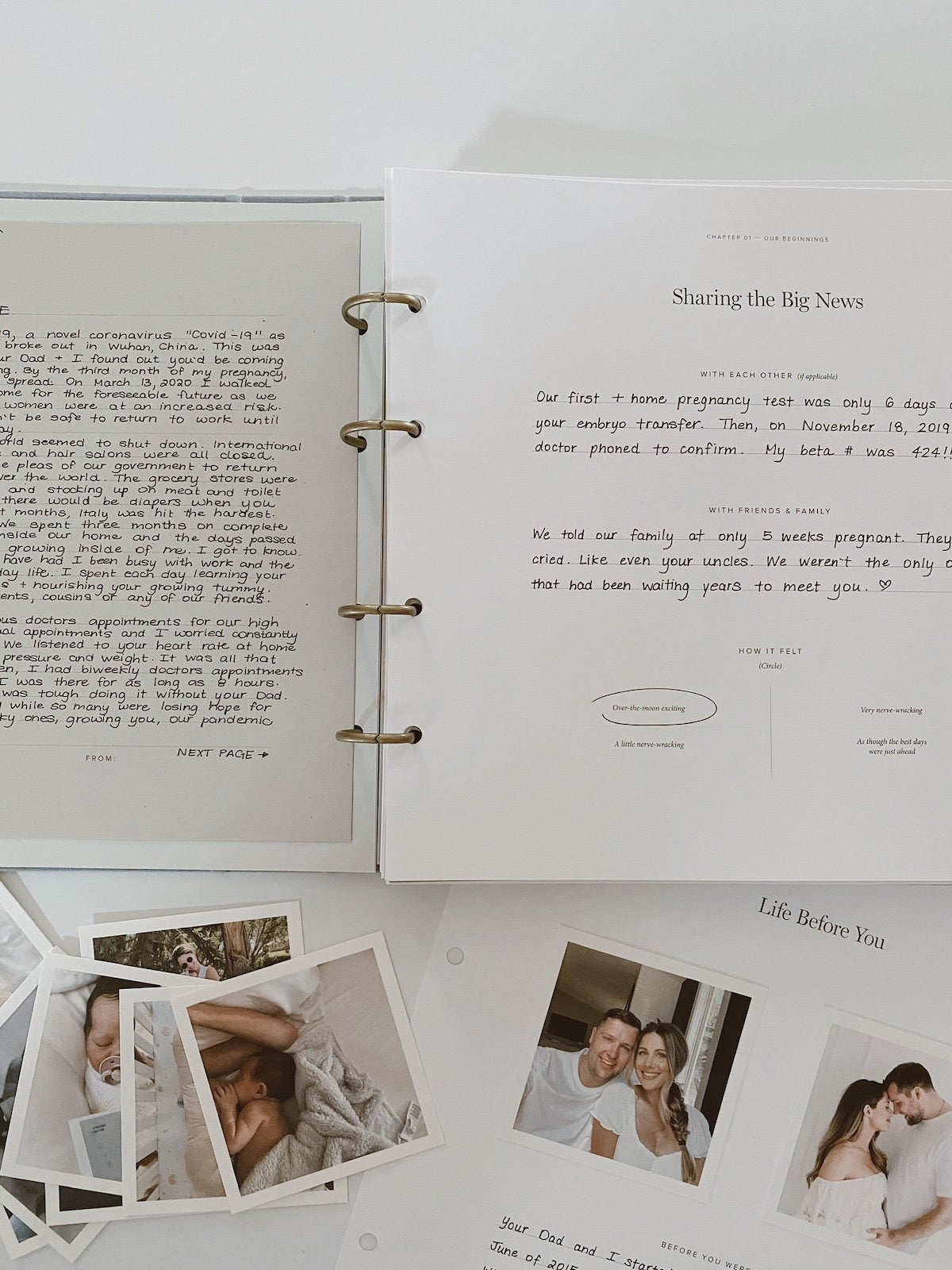 A growing family is certainly grounds for celebration — and don't forget documentation! While most spare time in the first months may be spent catching up on sleep, no new parent ever regrets dedicating some here and there to filling out a baby book to remember it all, big and small.
Our Recommendation
The Story of You Baby Book makes it a joy to jot down what mattered most in the first year with your little. If you're looking for baby memory book ideas, this one was made with exactly that in mind.
"I have been holding onto this book for years while we waited for our miracle baby. She was born in July of 2020 and this book has been such a joy to fill with memories of our little one... truly an heirloom piece that I can't wait to share with my daughter."

— Sara S.
---
IDEA 06
…and the next few too.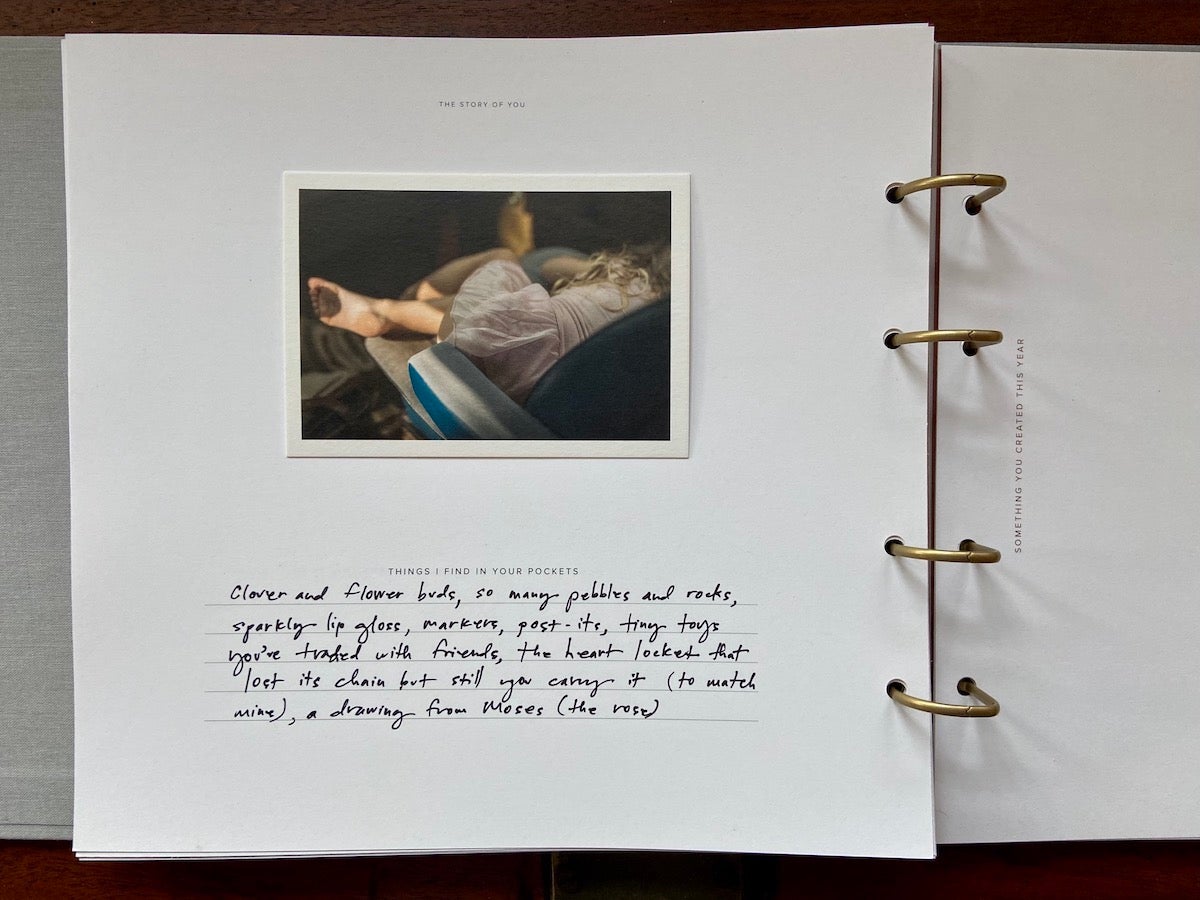 A child's first year always feels monumental. But the next few are just as exciting, as a personality evolves and the family along with it. Don't let the record stop right when the fun starts — keep jotting notes and printing photos as you go. Even just making an annual tradition of getting it all in a book will result in an heirloom you'll love to look back on together.
Our Recommendation
The Story of You Early Years Book tells the story of a child's life, age one through five. It goes beyond basic milestones, capturing the little moments and characteristics that make your little one exactly who they are. For an inside look, see our interview with the author.
"Suddenly you have this abundant palette of your child's life that you didn't even know you could capture — but you did. Simple answer by simple answer. Photograph by photograph."

— Liz Y.
---
IDEA 07
Celebrate a family legacy.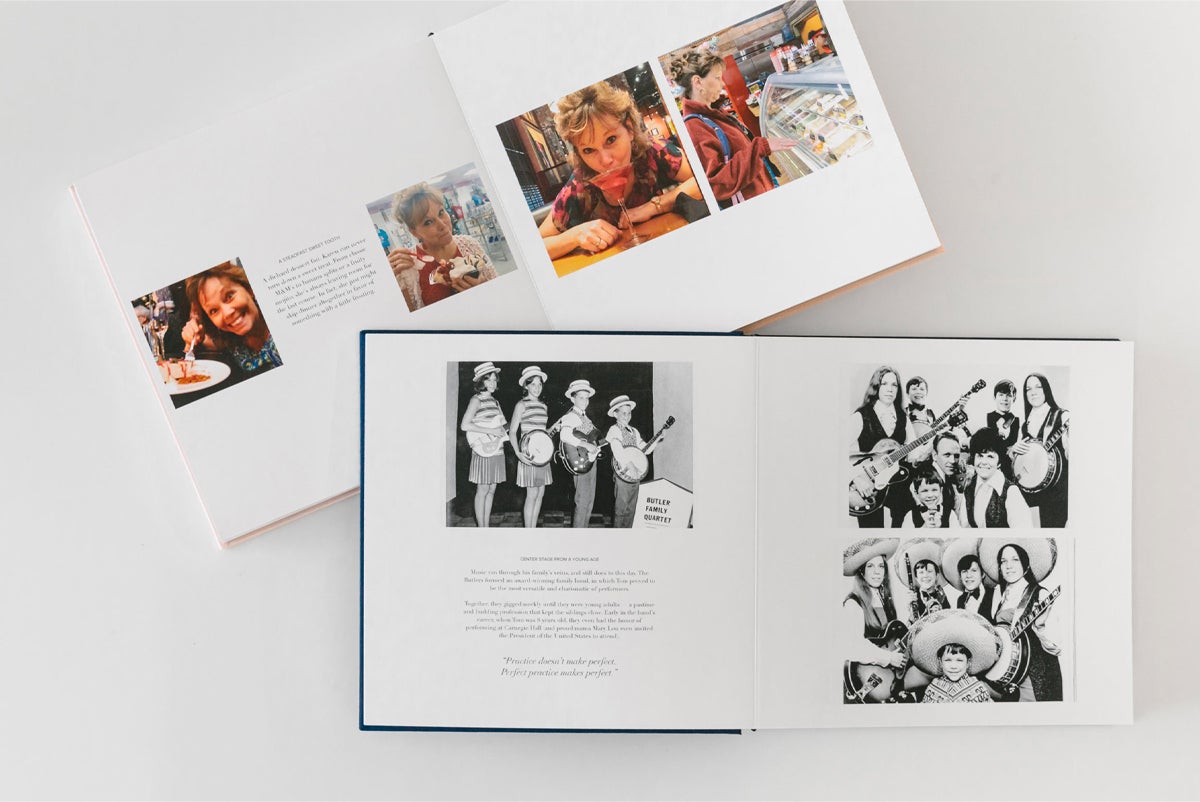 Every family has a history, and with history comes moments to remember and pass down. All the love and care that go into collecting the photos, newspaper clippings, and context for this type of album make it one of our favorite birthday memory book ideas. Just take it from our friend Erin, who has seven tips that can help if you're wondering how to create a family history book.
Our Recommendation
Elevated in quality and design, the Layflat Photo Album simply can't be beat as an heirloom. Its ultra-thick pages and premium press printing render even old, scanned photos in the most timeless way.
"To celebrate my parents' respective 60th birthdays, I decided to gift something homemade and from the heart... It encapsulated their lives up until this point, honored through photos and written word."

— Erin W.
---
IDEA 08
Go back to new beginnings.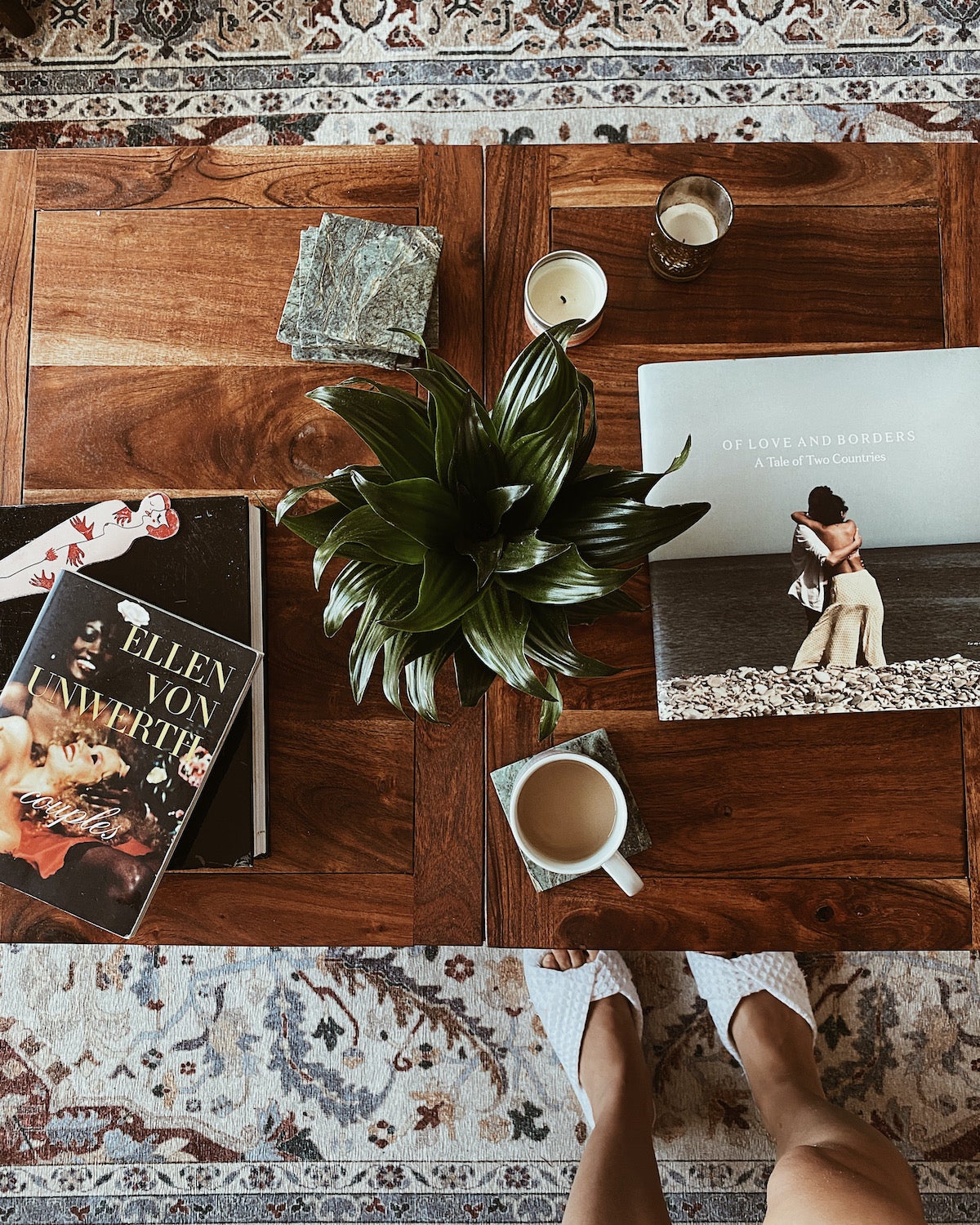 When it comes to memory book ideas for couples, one of our favorites is telling the story of your beginnings — how you met, what you overcame, and all the selfies together in between. These make meaningful gifts for a spouse or partner, and one that you get to enjoy just as much.
Our Recommendation
The Hardcover Photo Book carries quality that's worthy of your relationship, with an interior paper weight that's casual enough for everyday photos from your camera roll.
"I created this book as a collection of memories my partner and I created together while living in two different parts of the world. The book, aptly titled 'Of Love and Borders, a Tale of Two Countries,' was inspired by love and perseverance…"

— Xenia P.
---
IDEA 09
Put your progress in print.
If you've ever taken on a new craft or skill, or simply set out to improve yourself, you know the varying stages of confidence and accomplishment that come with it. And yet, it's so easy to forget how far you've come! Taking a page from Michelle Gardella's photo book, which she created to celebrate the process and progress of something that became so much more to her than a hobby.
Our Recommendation
It doesn't take much to make the Everyday Photo Book come together beautifully. In fact, it's one of the options that requires the least photos to fill, while still bearing a substantial look and elevated feel.
"I think the reason I created this book is to give myself a place to be found… These pages are a gentle pause to see just how far I've come, and honor the muddy process of how I got here."

— Michelle G.
---
IDEA 10
Reflect on their lives.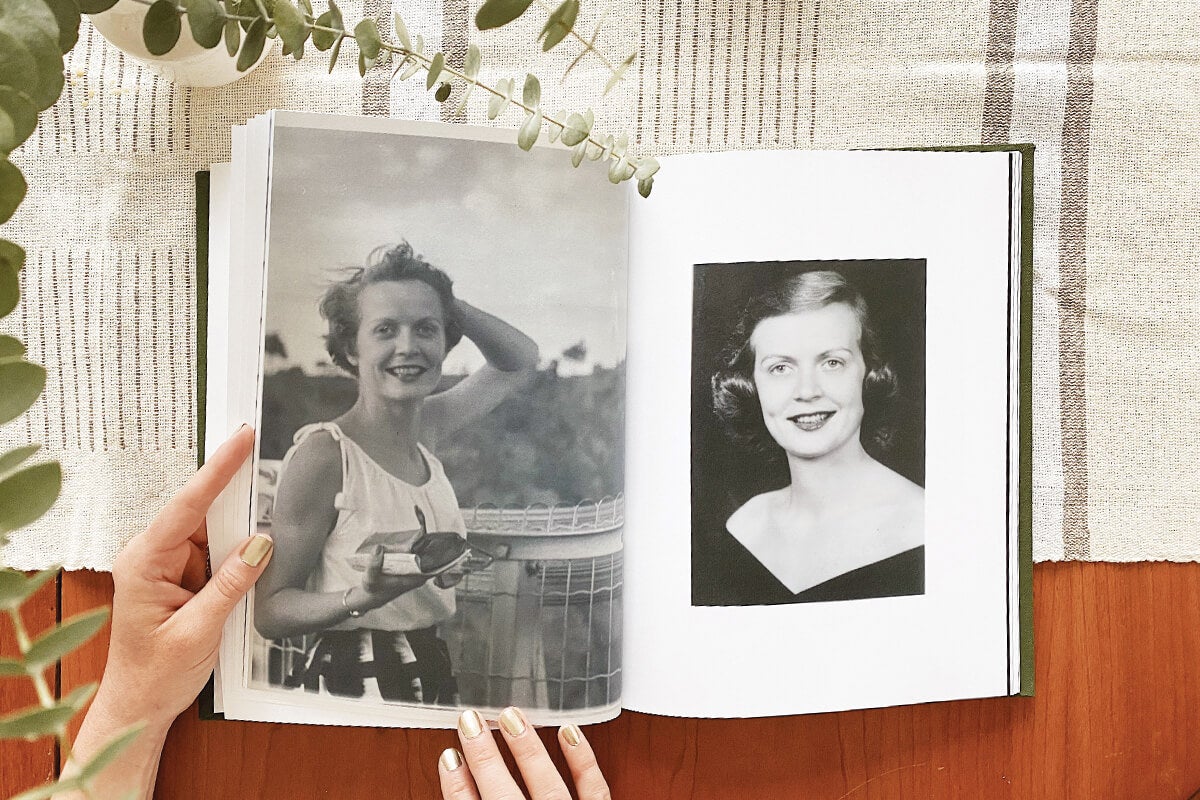 One of the most meaningful and cathartic ways of honoring a loved one who's passed is to look back on memories of their life. The process alone of making a memoriam photo book can be an emotional and healing experience, and having that physical reminder of their legacy to share with family and friends makes it all the more worthwhile. Plus, it's easy to duplicate the book so that everyone can keep their memory close by.
Our Recommendation
The Hardcover Photo Book offers premium quality crafted to ensure their legacy lives on.
"When my Grandmother passed away, I created a photo book for our entire family that celebrated her life. A simple gift that brought everyone together to grieve, laugh, and most importantly, heal."

— Barrett B.
---
IDEA 11
Book a return trip.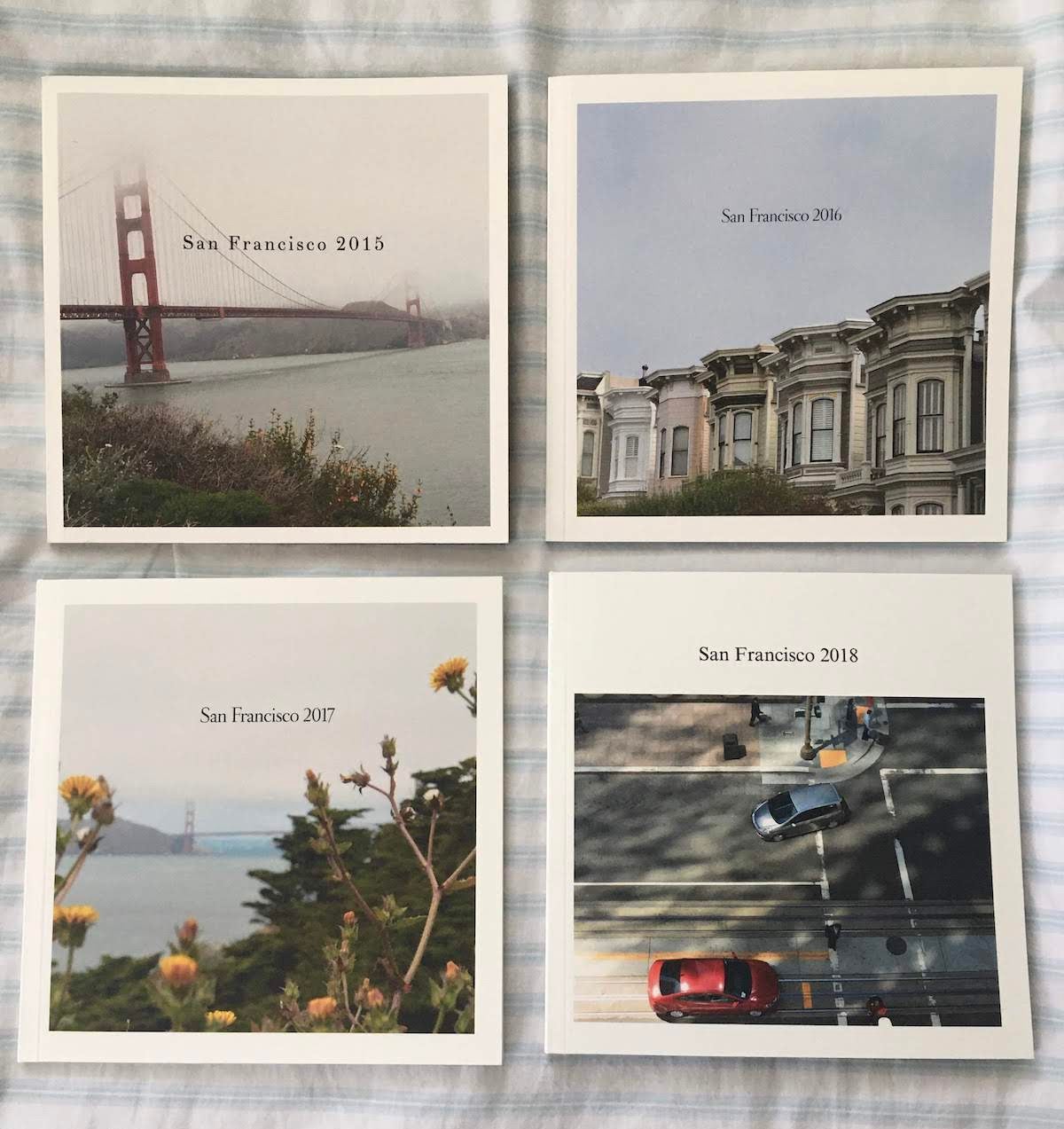 Weekend trips or oversea sabbaticals, they all can be relived through photos. Of all the memory book ideas, travel consistently comes to mind for our community, too. So much so that we've put together 10 Tips for Creating Your Travel Album by popular demand.
Our Recommendation
Coming in at our highest capacity among our photo books, The Softcover has plenty of space for even the most snap-happy of travelers and bespoke options like gold foil titling. Customize the cover with any one of several design layouts to capture the character of the places you go.
"I have been exploring the streets of San Francisco with my dad since 2015. We use our common love for photography to make many great memories together. These books commemorate dozens of trips and the highlights of many hidden corners in the city."

— Kayla N.
---
IDEA 12
Preserve childhood memories.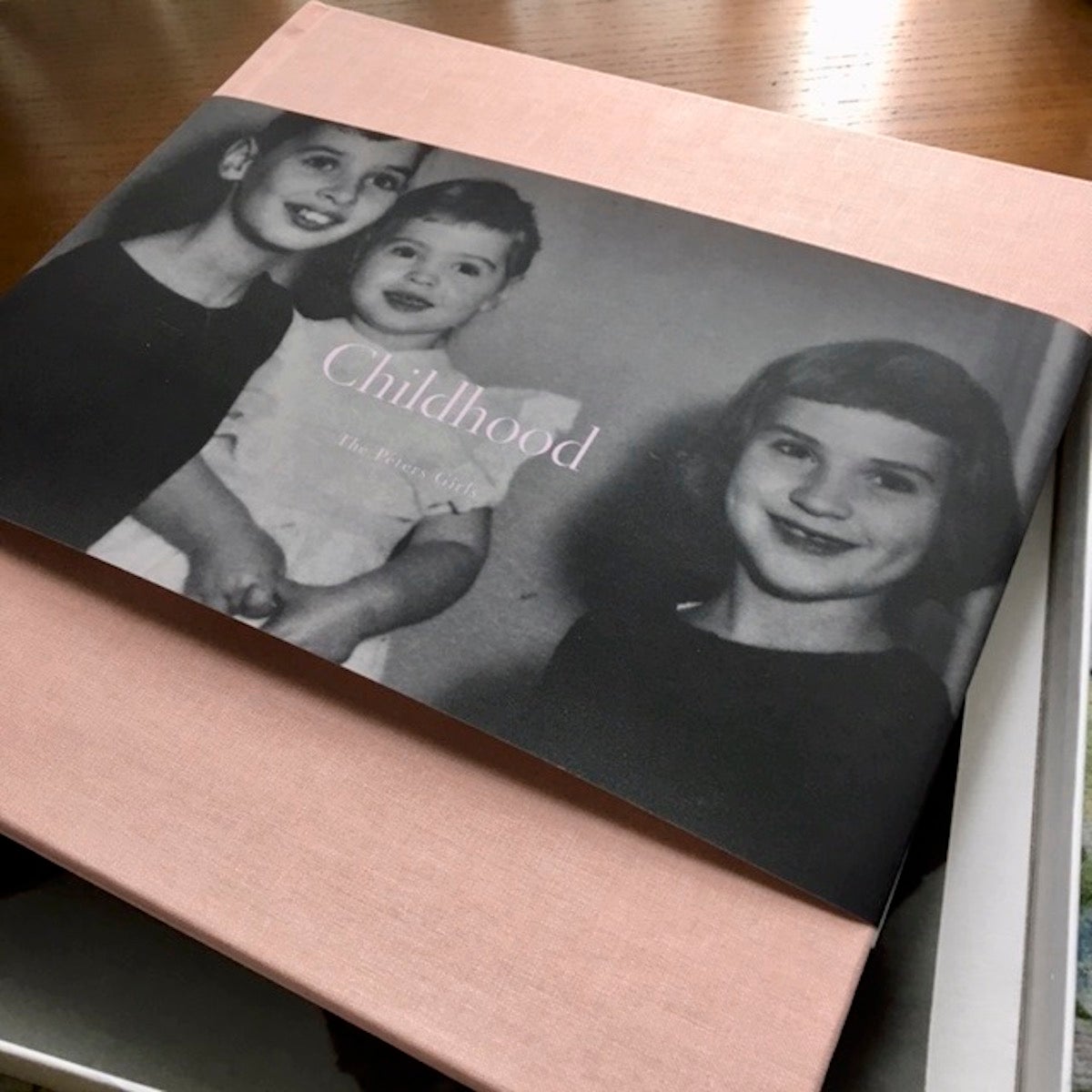 Whether your childhood was 50 years ago or 15, it's worth ensuring those photos find a safe home in print. These books make great gifts for siblings and parents, too, allowing you to look back on the little moments that steal your hearts but sometimes slip your minds.
Our Recommendation
The Hardcover Photo Book exudes quality with its fabric-bound cover, design-forward dust jacket, and premium paper. Its large capacity for pages and photos makes it popular among DIY memory book ideas for those with lots of moments to document.
"In the winter of 2018, I decided to go through the mountain of old family slides… I doubted my nieces and nephews would want to keep hundreds of slides with no way to look at them. Even if I had them put on a disc or thumb drive, who knows if 50 years from now anyone would be able to look at them?"

— Sandy P.
---
IDEA 13
Relive a year in the rear view.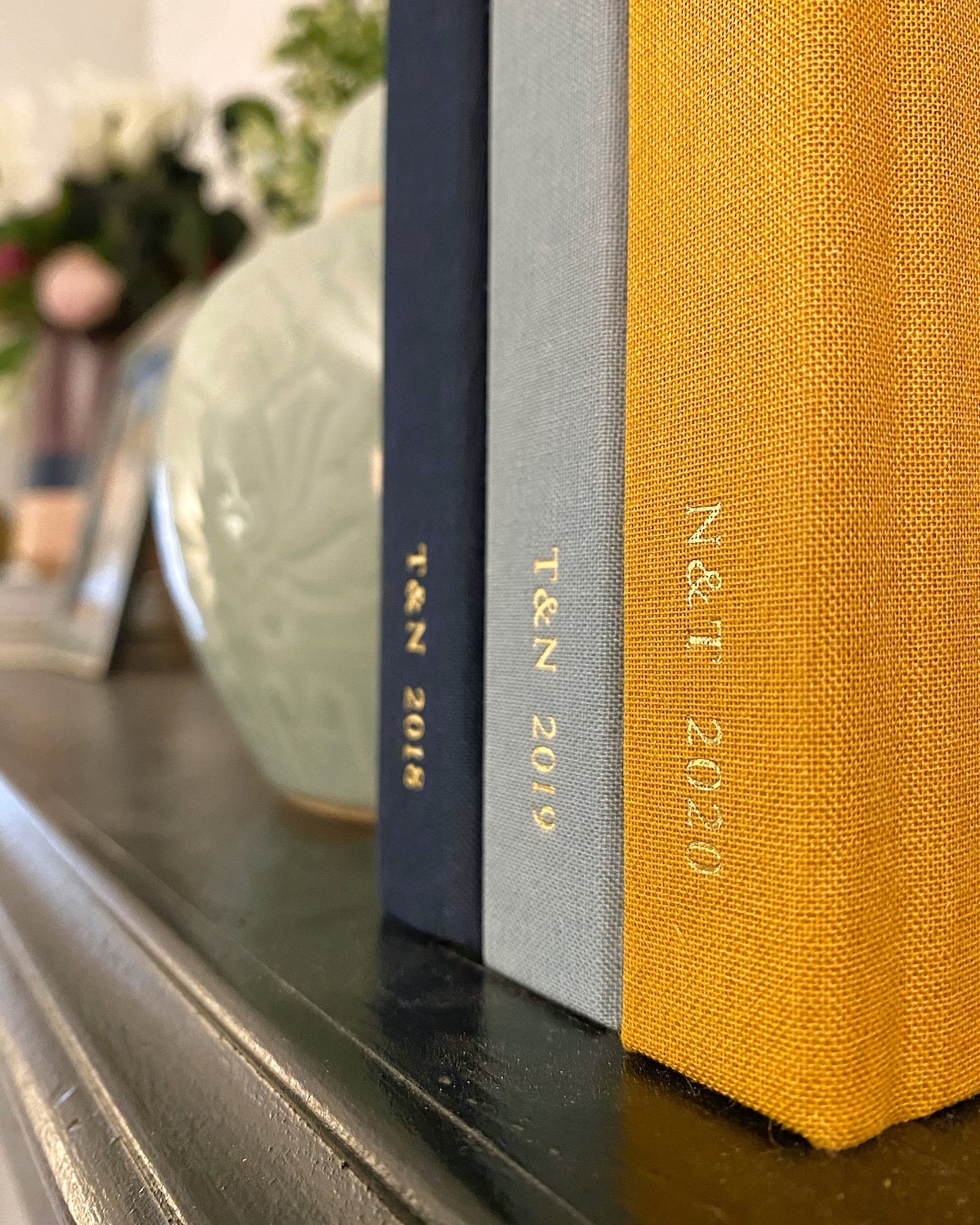 One of the most popular memory album ideas, an annual yearbook doesn't require too much creative effort, and is an easy habit to make. You can set time aside each January to look back, or even base your books around the kids' school year.
Our Recommendation
In its elegant simplicity, the Everyday Photo Book makes it incredibly easy to whip up your annual album in no time. Each ultra-thick page has only one photo, so the hard part is just choosing your favorites!
"Back in 2018, I started the tradition of ordering the Everyday Photo Book with photos of our everyday life. The big moments and the small ones. Now, three years later, we are married and I'm getting ready to order a wedding book to accompany our growing collection of family yearbooks."

— Natalie F.
---
Sometimes, capturing the sentiment of a physical object in photo form can preserve its meaning, even beyond your time with it. Maybe it's children's artwork, a storied rocking chair, or a well-traveled RV. The importance and memories they hold may be anything but material. And sometimes, a photo book is the only way to sum it all up.
Our Recommendation
The Hardcover Photo Book is worthy of any memory with great meaning. Its design puts emphasis on what's inside, all wrapped up in a fabric-bound cover and protective dust jacket to keep those moments safe for decades to come.
"My dad bought his dream classic boat and fully restored it. After six years, he decided to sell it, and has been very emotional about the sale. My sister and I decided to create a book of photos and stories collected from 30+ friends of his (and ours) that reflect memories that have been made on that boat."

— Savannah B.
---
Let those stick-to-your-memory stories live on.