---
Idea 01
Go On a Photo Scavenger Hunt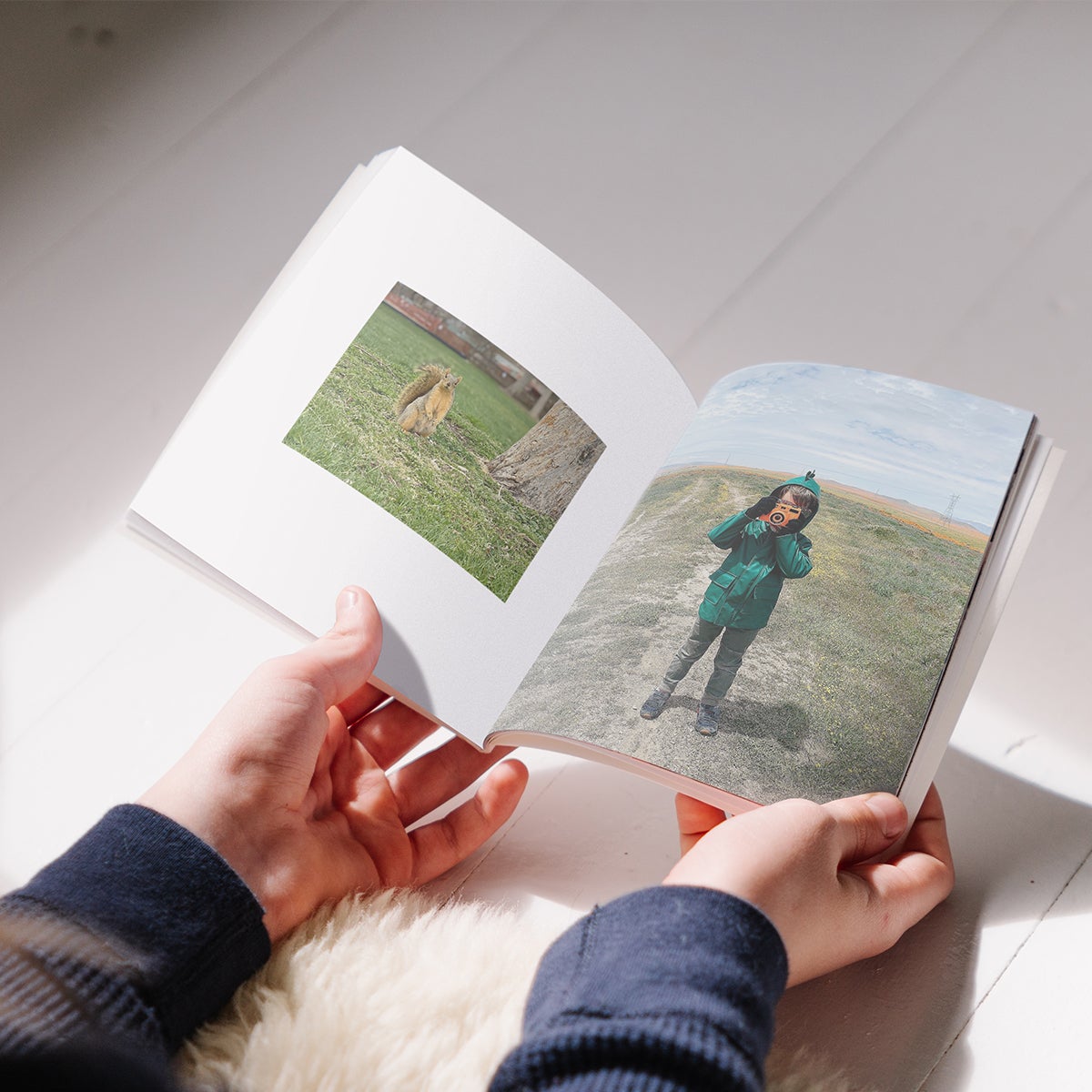 Grab your cameras and slip on some shoes for a photo-based adventure, even if it's just outside your front door. A photo scavenger hunt makes for a creative activity centered around interacting with the world and people around you. By capturing little moments around your neighborhood and city, you'll discover the beauty in the seemingly ordinary and enjoy a full day exploring together. For a list of what to take photos of, follow along with our photo scavenger hunt guide.
Ideas for Putting It in Print
01
Create Everyday Prints with the ten photos you love most, and gift a set to anyone who was there with you.
02
Narrow down to your most frame-worthy favorite and hang it in your home with a Modern Metal Frame.
03
Too many too choose? Make a quick Color Series Photo Book to flip through your collection!
---
Idea 02
Let Your Little Take The Lens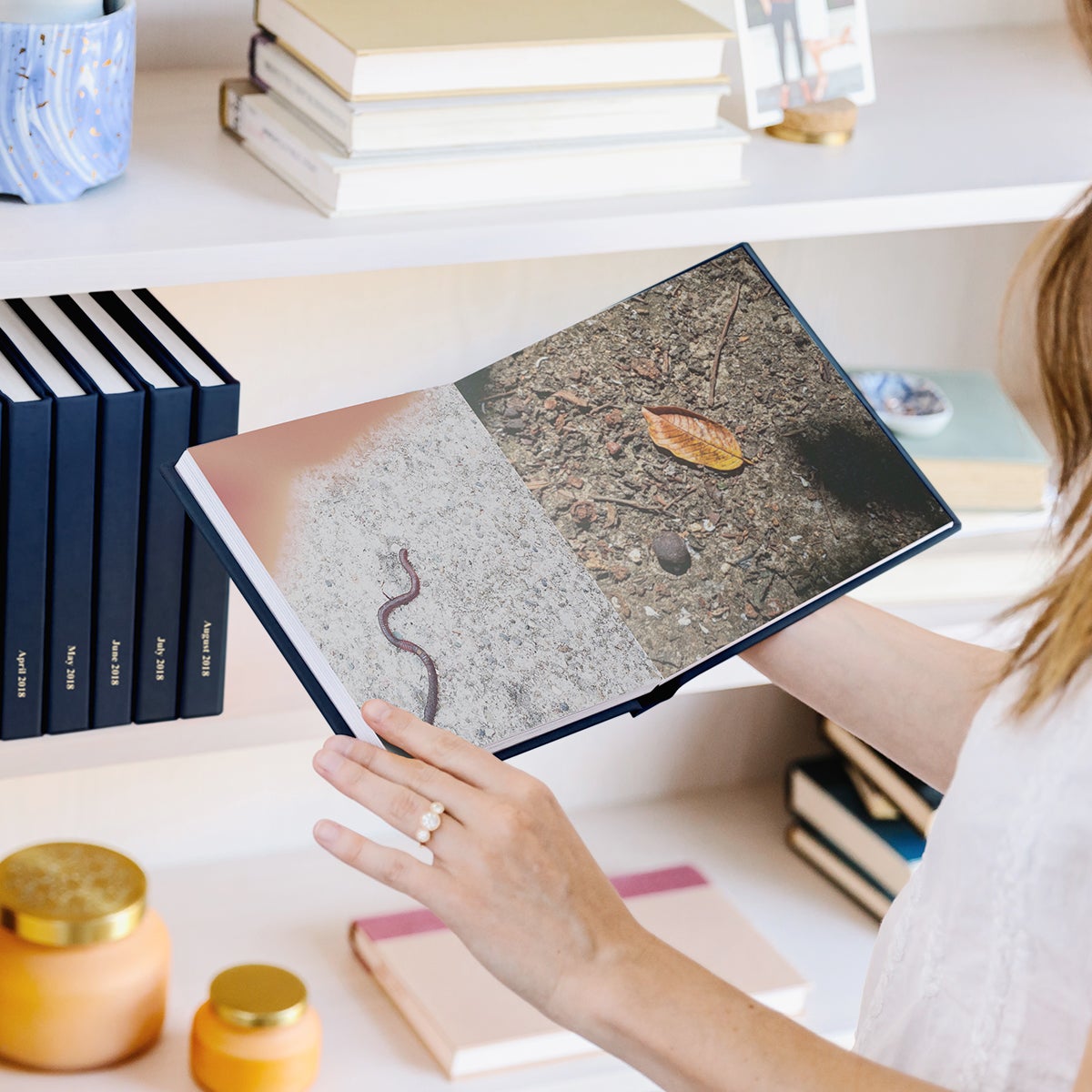 Head out for a day of sightseeing and adventure-capturing, and let your children be the main photographers. That's right, go ahead and give your little the lens. This family day idea allows you to teach your kids about photography while also learning a thing or two from how they capture the world around them. Find a location to post up for the day — like a local park or even your backyard — and allow them snap away. Once back home, you can go through the photos together to find selects and print their photography.
Ideas for Putting It in Print
01
Use their photos to create our easy-to-build Everyday Photo Book in mere minutes.
02
One photo really wow the group? Frame it in a Wooden Tabletop Frame for you or your little's nightstand.
03
Share their photography on the go and in the carpool line by creating a pocket-size Mini Photo Book.
---
Idea 03
Start That Family History Album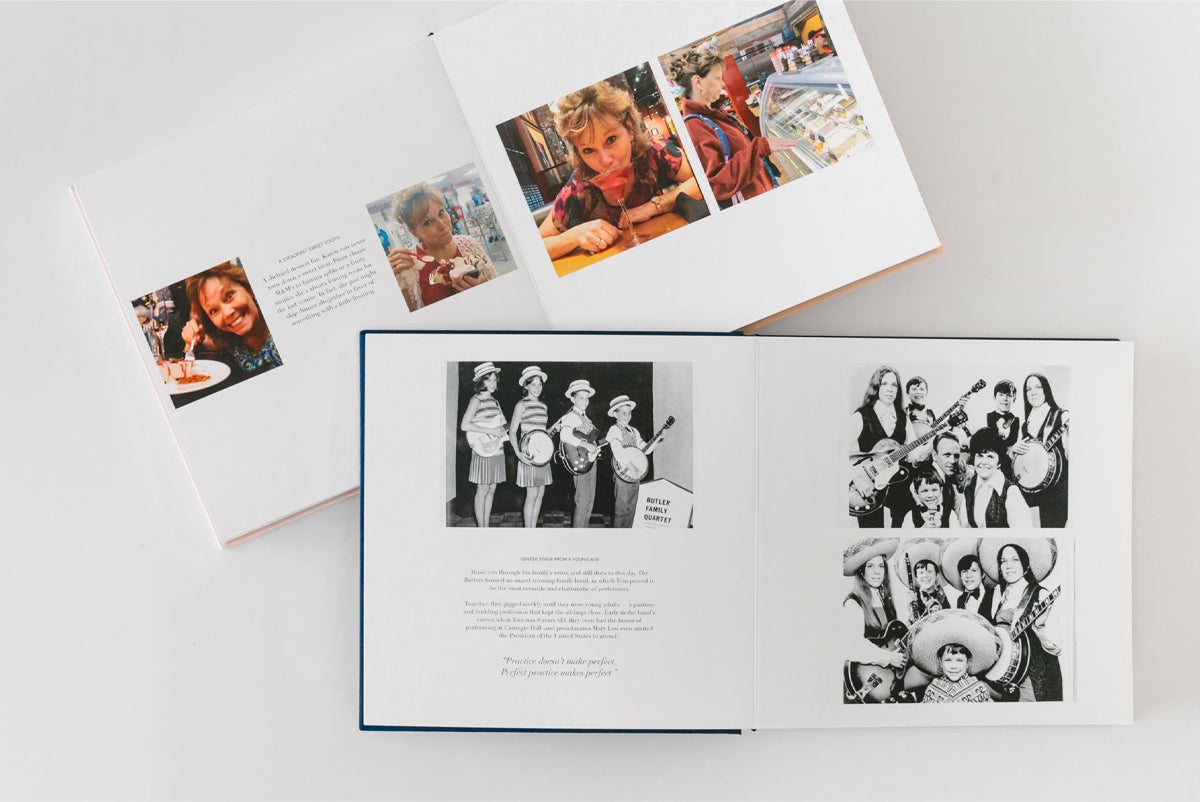 Looking through old family photos is a great way to teach your kids about your family history — telling fun stories of grandparents, aunts, cousins, etc. Especially during the days where being together in person is challenging, feel connected through the power of passing down your family's experiences. To help you honor your family's story, we even put together some tips to show you how to create a family history book. From where to begin and visuals to include, this guide will show you how to keep memories alive for generations.

Photos not digital? No worries. We also have some tips for scanning old photos to help you digitize those timeless shots.
---
Idea 04
Write a Story Together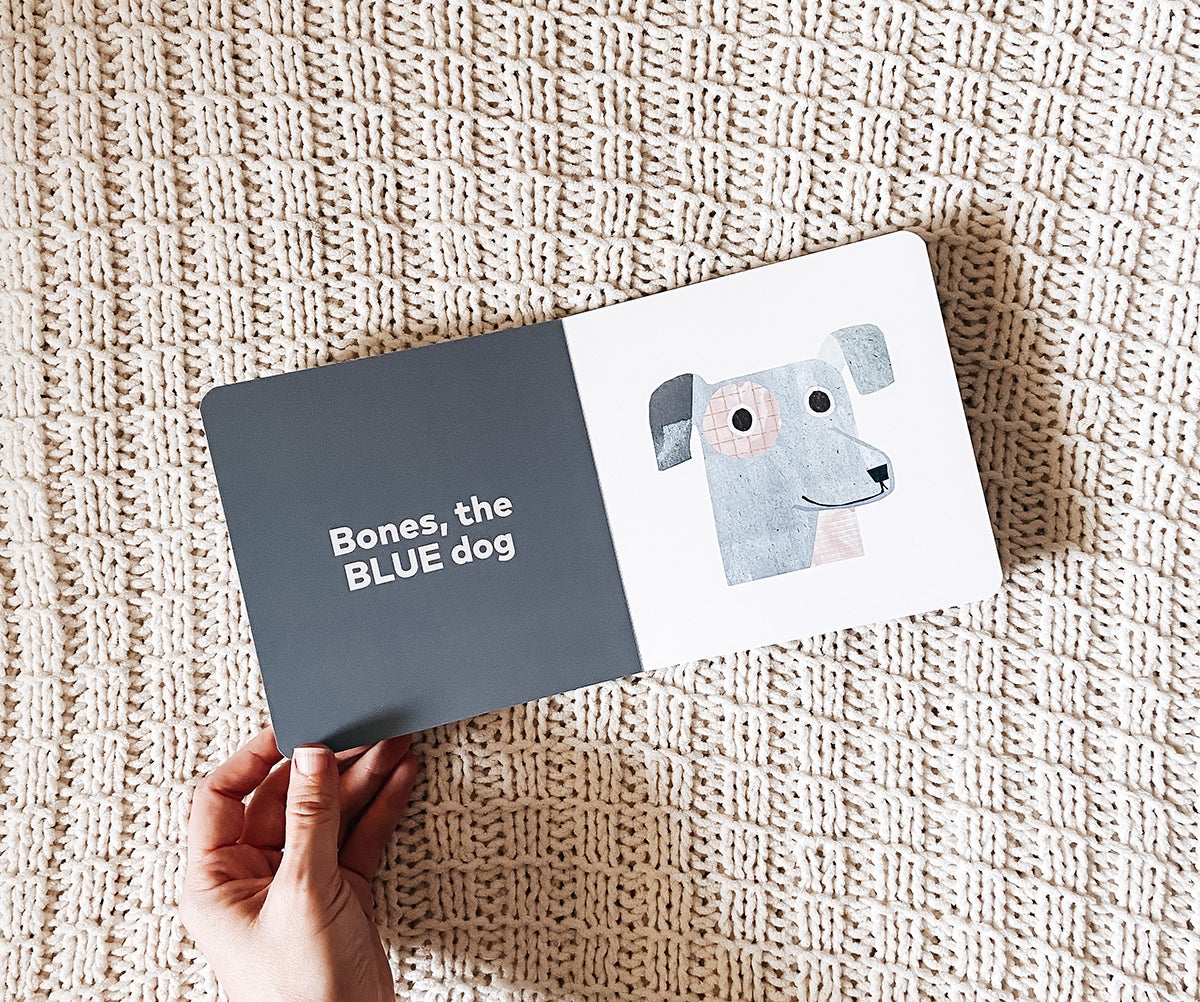 For a creative and educational family activity idea, put pen to paper and write a story together. Depending on your little one's interests, you could write a story about your pet and their daily adventures or about a family vacation to the beach. You can even create artwork to go along with the story, letting them stretch their creative muscles in multiple ways.
Ideas for Putting It in Print
01
Once you have your story, bring it to life by pairing words with photos in a Baby Board Book. Select the "Custom" theme and personalize the book with your own words, colors, and photos.
02
Is your tale a little too grown up for the pages of a board book? Opt for the Softcover Photo Book for a little more flexibility.
---
Idea 05
Create and Celebrate Art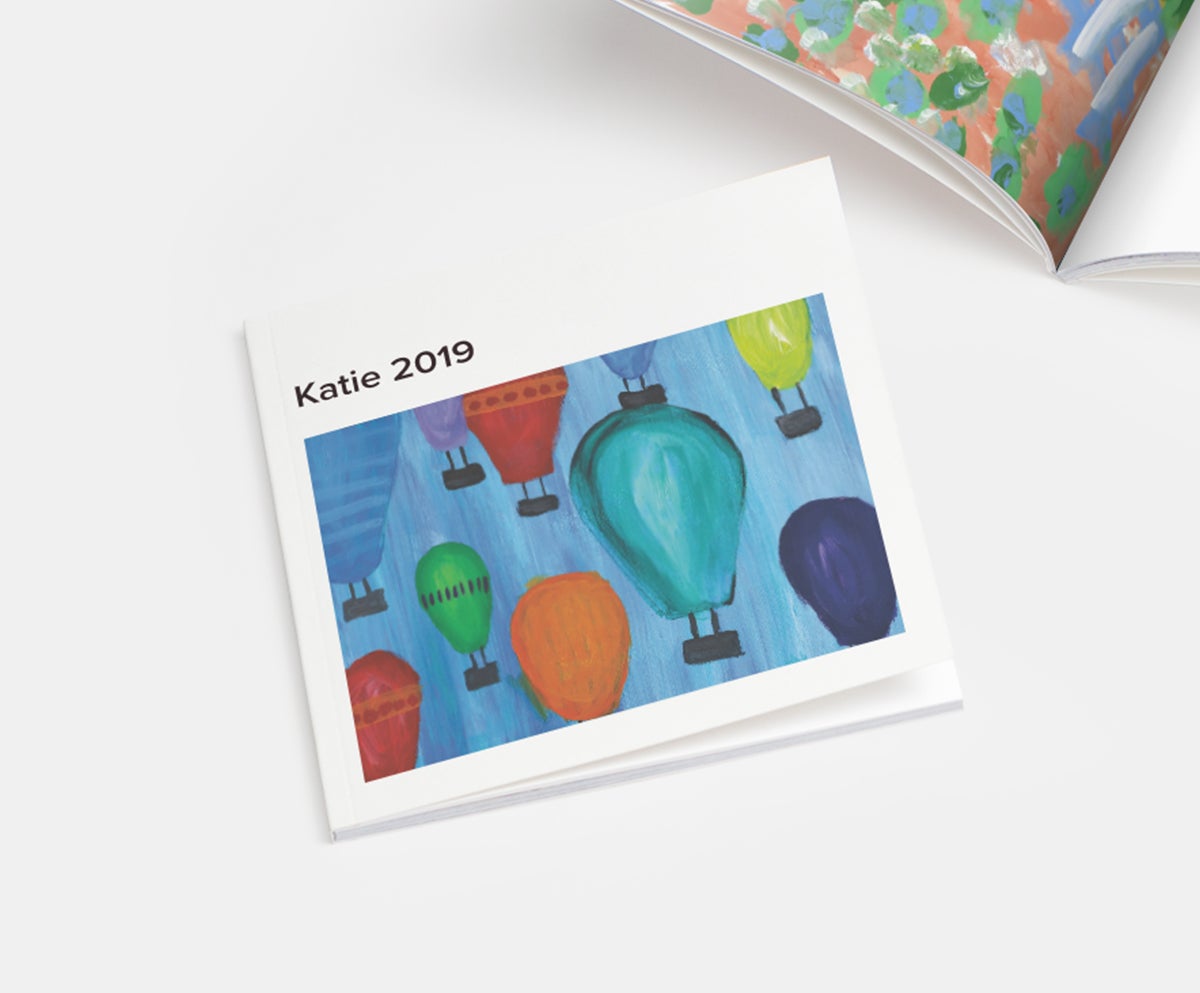 Break out the crayons, watercolors, colored pencils... and let your littles get creative. Show them pictures of people and places to draw and create a whole myriad of kids' art. Now, this is where things get fun. Our guide to scanning photos can also help digitize your children's artwork to feature in a photo book.
Ideas for Putting It in Print
01
Create a set of Everyday Prints to hang on your refrigerator.
02
Feature the art for each month in our Modern Wall Calendar. (Tear away the perforated photo section at the end of each month to give their art a second life!)
03
Have quite the little Picassos on your hands? Our Softcover Photo Book can hold more photos than any other book in our line.
---
Idea 06
Learn Something in Your Own Backyard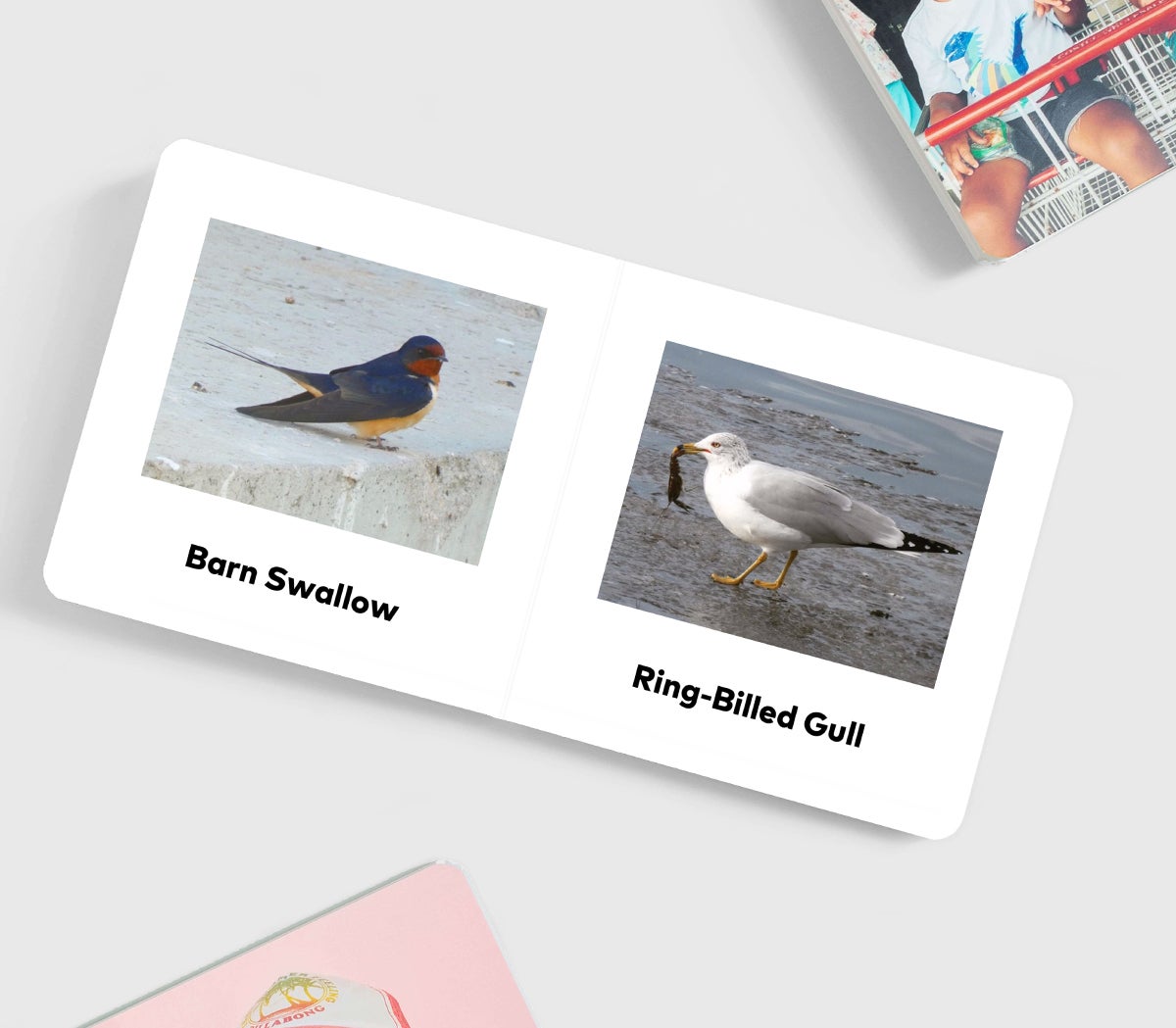 Unleash their inner biologist by taking photos of nature around your house. From critters in the garden to different types of trees, create snapshots of as many animals and plants you can find. Bonus points if together you can identify each specimen discovered by name. Look through an approachable biology book or Google it to find answers. After the adventure, make a photo book to document what you learned. (Fun fact, we got this idea and photo from a book one of our team members made!)
Ideas for Putting It in Print
01
We'd recommend the Baby Board Book to pair photos with names — jumpstarting learning while recapping a fun and educational day.
---
Idea 07
Color on the Walls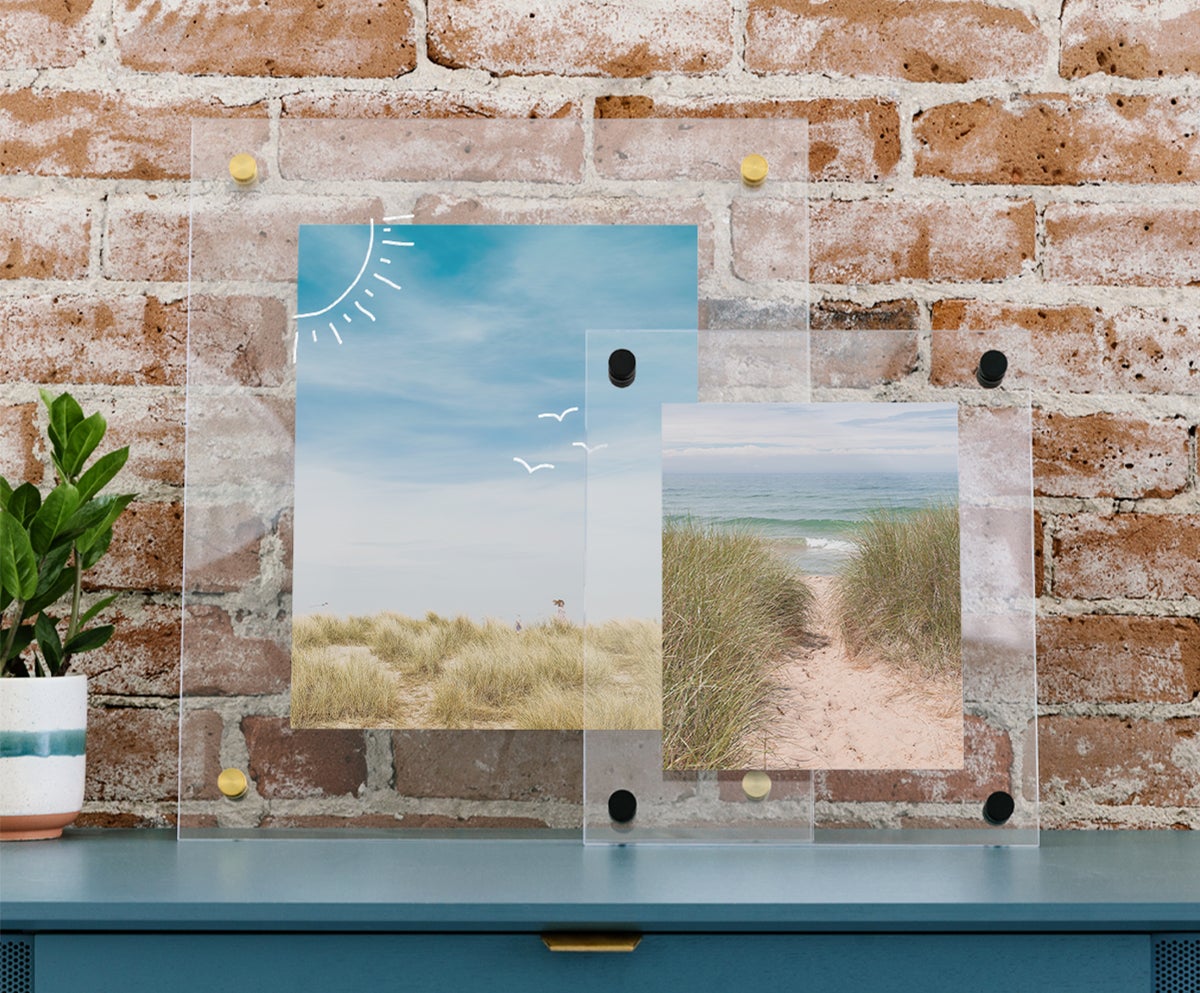 This fun family activity allows your little one to color on the walls — well, sort of. Go with us on this one... First things first, capture a photo of a scene you love. This can be a photo of the mountains or of the park near your house. Just be sure that the image has some empty space! Print your photo in a Floating Frame, which is made out of a clear, acrylic material. Once you hang your frame on the wall (not too high up), get creative with a wet- or dry-erase marker. Let the whole family draw animals, people, or any detail they dream up.
Ideas for Putting It in Print
01
Opt for a Floating Frame and follow the steps above!
---
Idea 08
Play With Portraits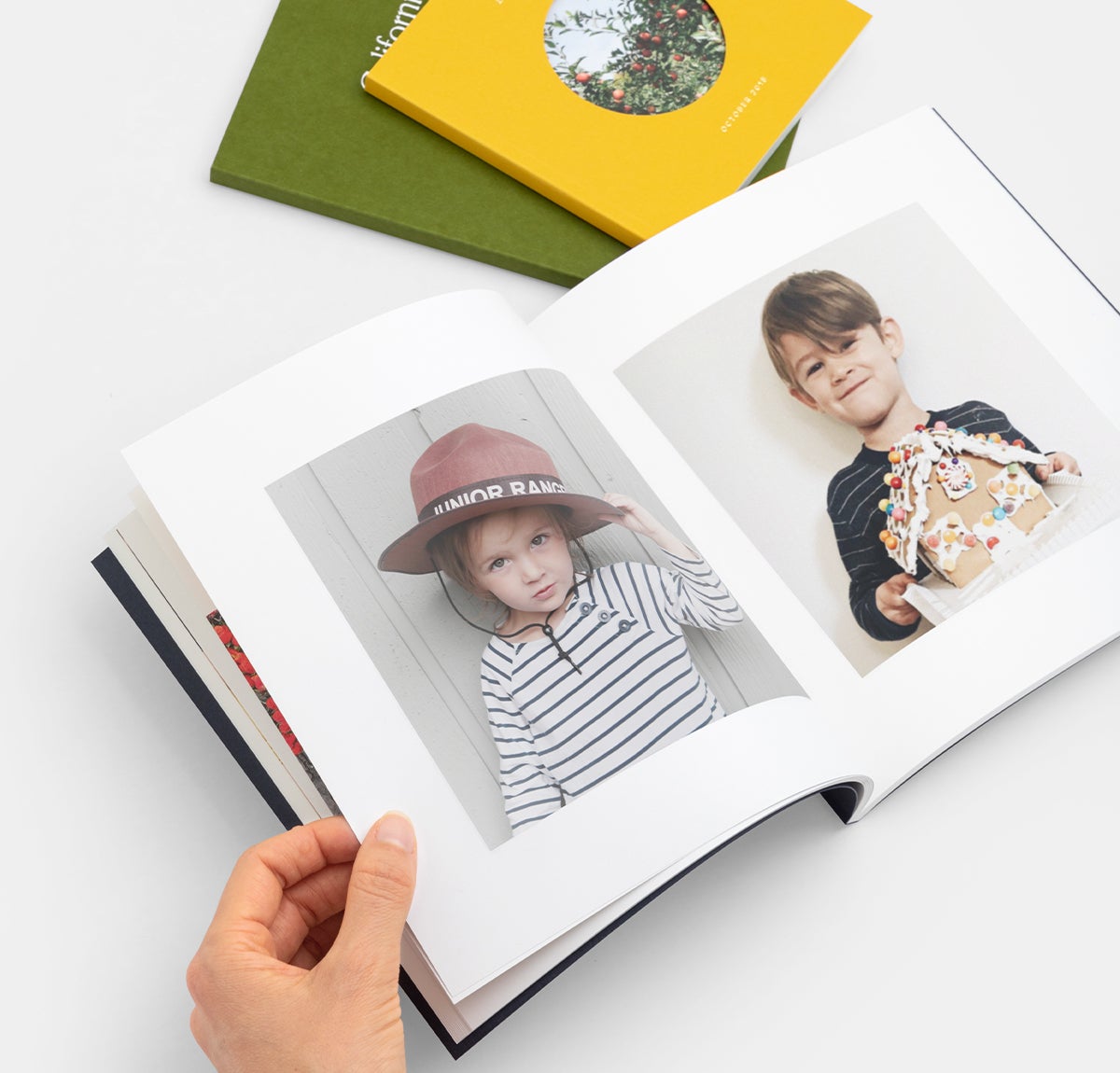 For this activity, follow along with our Tips to Photograph People and set up a family photoshoot all your own. Take turns creating portraits of one another, while encouraging your little ones to point out things they like about themselves in the photos. (We love a good lesson in self-confidence!) Don't be afraid to repeat the shoot in various locations by heading out to the park or trying out different rooms in your home.

Just keep in mind that portrait photography works best with basic backgrounds that allow your subject to shine. So find a fun but simple exterior wall, gate, or fence to serve as the backdrop of your photo.
Ideas for Putting It in Print
01
Feature a Large Format Print in everyone's room with their portrait.
02
Round up a series of portraits and showcase them in a Color Series Photo Book. (Don't forget a group shot for the die-cut cover image.)
03
Make a Brass Easel & Calendar, pairing everyone's portraits with their birth months. (Grandma and Grandpa would love this as a gift!)
---
Idea 09
Make a "Thankful Book"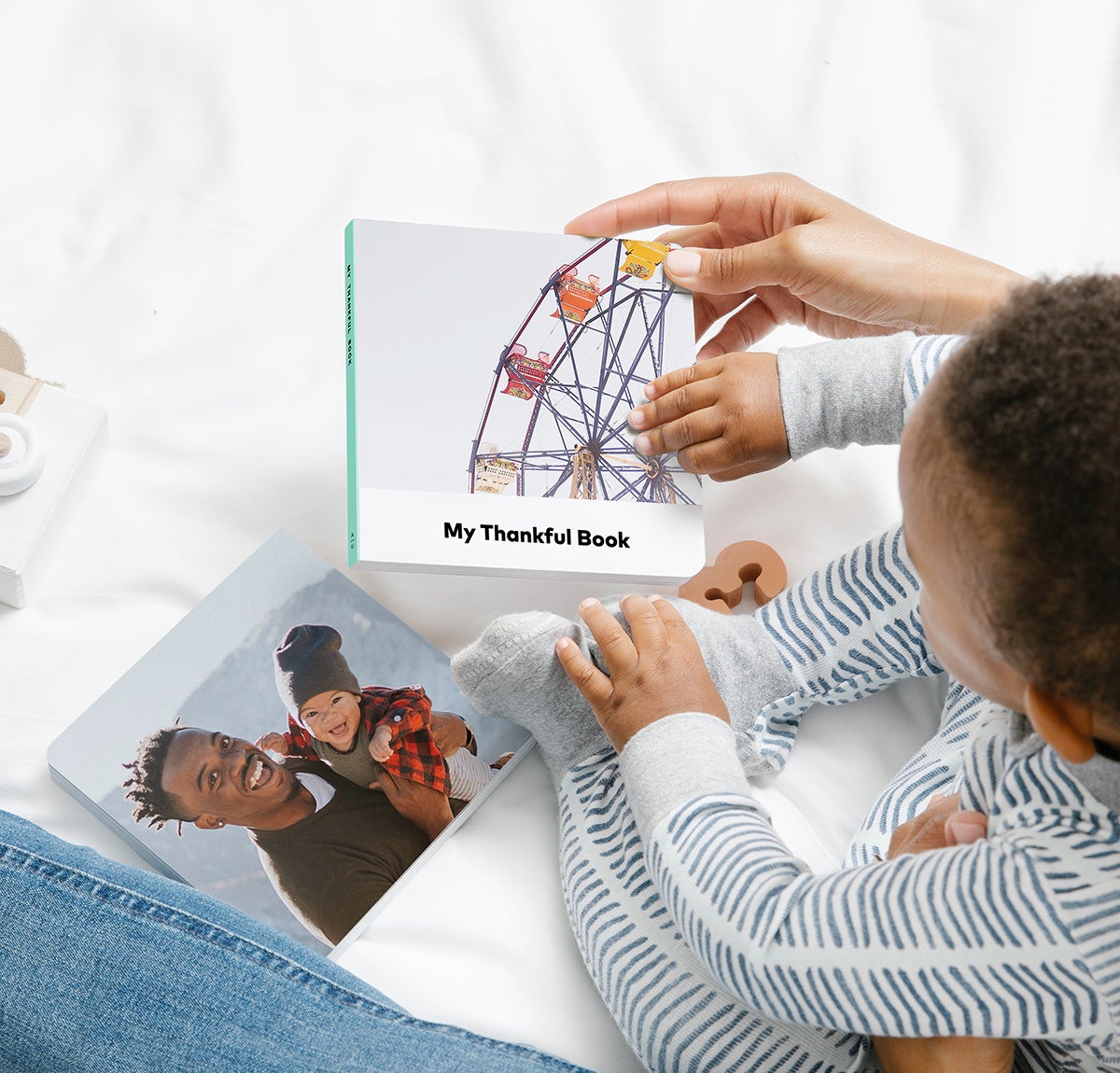 One of the simplest ways to practice gratitude is to create a photo journal of all that you are thankful for. Have your kids make a list of people, places, and things that make them happy and then find corresponding photos. Next up, create a photo book with their gratitude photos and select text option layouts to write notes like, "I'm grateful for my sister's funny laugh." With each photo, they'll remember why it is meaningful to them — to serve as a reminder of joy.
---
Idea 10
Recreate Recipes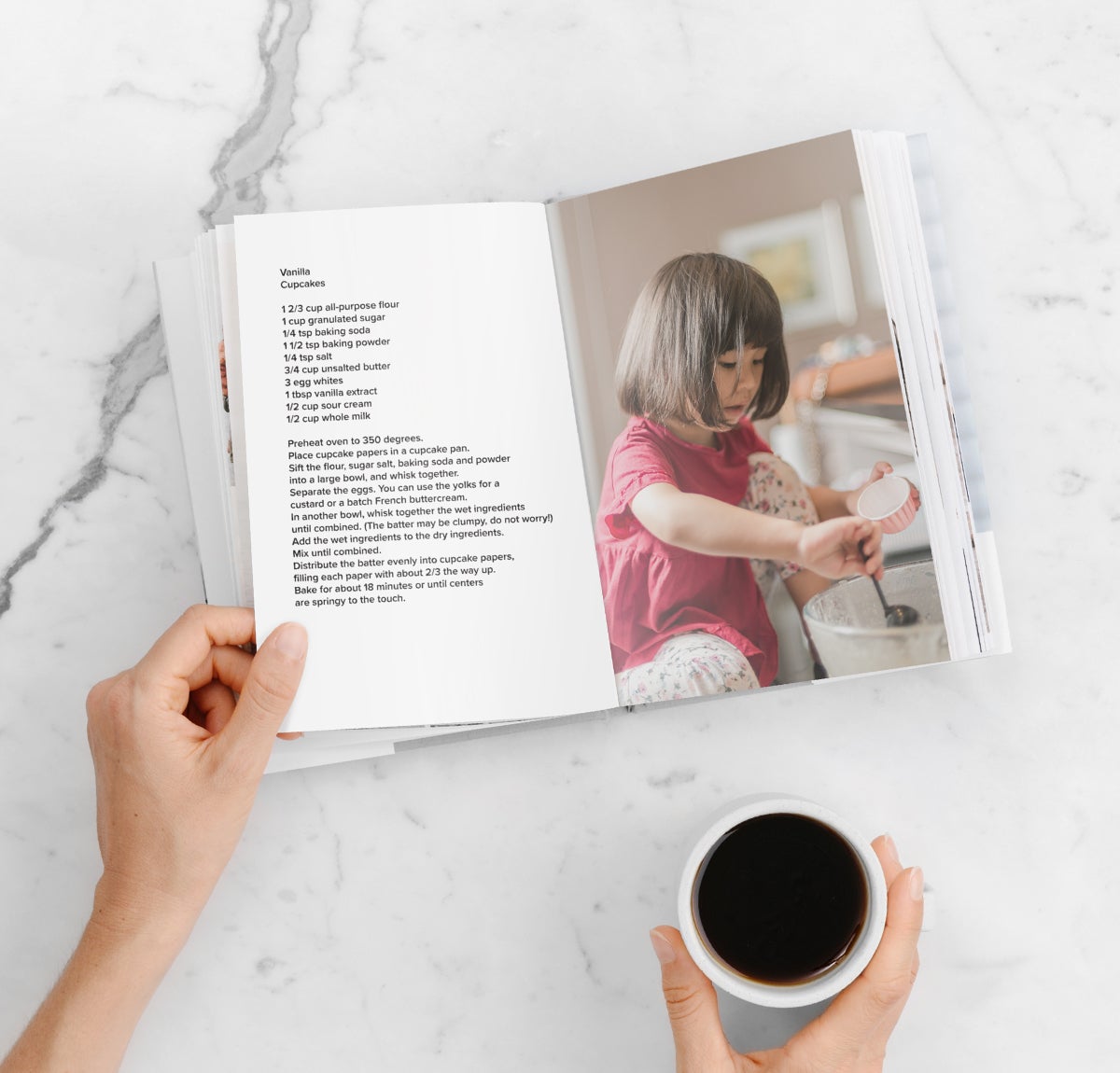 Have your aprons ready for this family day idea! Whether Grandma's famous chocolate chip cookies or that breakfast casserole everyone craves on Saturday, whip something up in the kitchen together, taking photos throughout the process. Once you have a few family recipes made, you'll be ready to create a custom recipe book!

Savor the flavors in print by uploading photos of the food and pairing them with a text-only page to write out the ingredients and instructions. You could also snap a photo of the recipe instructions to upload as a .jpg in the editor. Either way, get creative and be prepared to make copies for everyone in the family.
Ideas for Putting It in Print
01
We love the Layflat Photo Album for its sturdy, ultra-thick pages that can lay flat for easy reference (and endure some messy days in the kitchen!).
---
Honor Time Together
Preserve These Moments.
Return to Them Often.
We'd love to see what you create as a family!
Tag us on Instagram with @artifactuprising.