---
For your partner
Say "home is with you."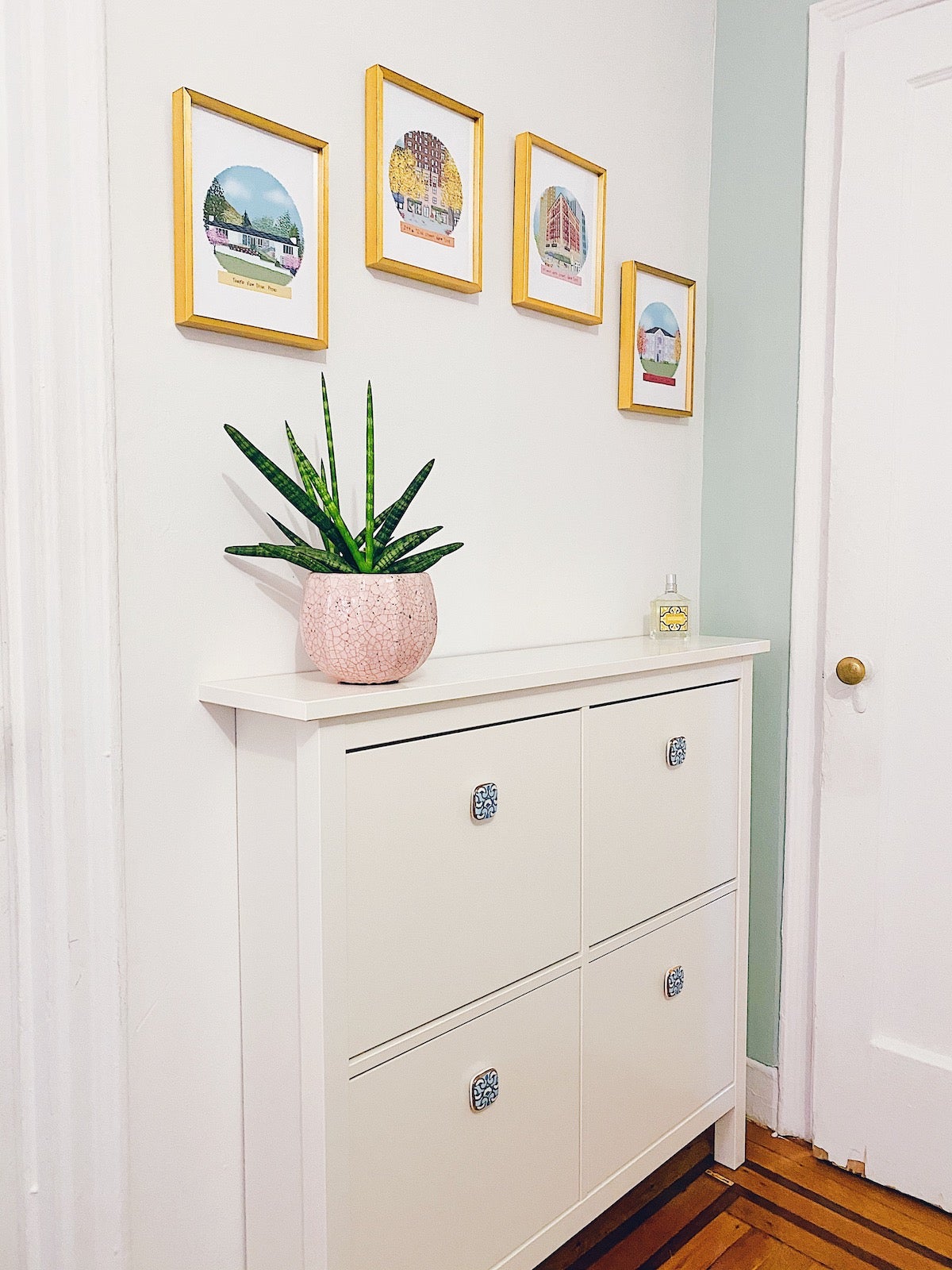 Over the years together, there are a lot of spaces you might have called "home." The first of our Valentine's Day gift ideas commemorates those houses, apartments, or cities by putting them on display in the one you share today. Framed photos or portraits of those places make for a hanging reminder of what "home" really means — just like this little gallery wall arrangement by @ashlinalmquist.

Pro tip: If you need help choosing a frame, our guide to different types of frames can help you find what works best for your photos and space.
"For Valentine's Day, I wanted to gift my husband something special and sentimental. I commissioned an artist to draw portraits of all of the houses and apartments we've lived in so that we can always remember them! … When I opened the box to wrap the frames, I was blown away by the quality."

— Ashlin A.
---
For your "I Do"
Relive your big day(s).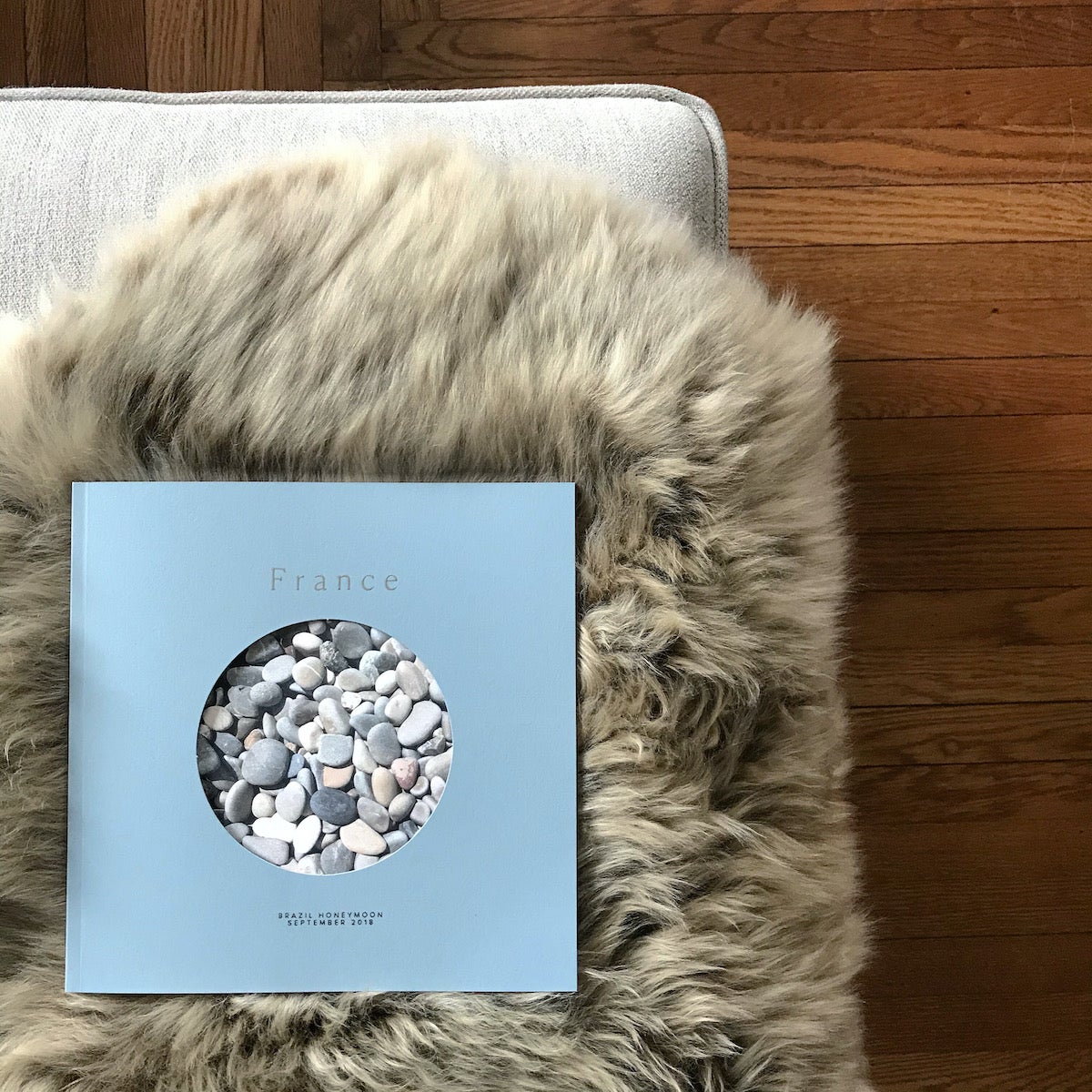 Your best days together make for the best gifts, right @sambrazil1? Photo books filled with moments from a wedding, engagement, or honeymoon are easy Valentine's ideas for newly engaged or married couples. No matter what the next chapter brings, flipping back through these familiar pages will have you catching feelings all over again.
"My husband and I went to Nice, France for our honeymoon in 2018. We wanted to gift ourselves something, and this book was the perfect addition to our coffee table! We love being able to open it up and travel back to one of the most special trips we have taken together."

— Samantha B.
---
Many of us have a relationship we look up to — and that long-standing love goes hand in hand with old photo albums, worn and discolored over time. Though these photos might not look light what they once did, their meaning and value have only grown. You can help ensure they live on in one of the most unique Valentine's gifts.

Start by borrowing one of their old albums that may be a little tattered or yellowed. Then scan its pages with a scanner (or even just your camera). From there, you'll have all the images you need to recreate their album digitally, in an heirloom-quality printed on acid-free, archival paper sure to stand the test of time.

Pro tip: If you need a hand, the video above by @shroots can get you started. We've also got some great tips for scanning old photos and a video guide that can show you how to make a photo book when you're ready.
"With my mom's permission, I tore apart their original album so I could scan each page, crop out each photo, apply light edits, and then create the album via Artifact Uprising. The entire process took about a month, but was well worth the effort to preserve these memories for years to come… I'm so happy that my parents love it so much!"

— Shruti T.
---
For your girls
Celebrate your circle.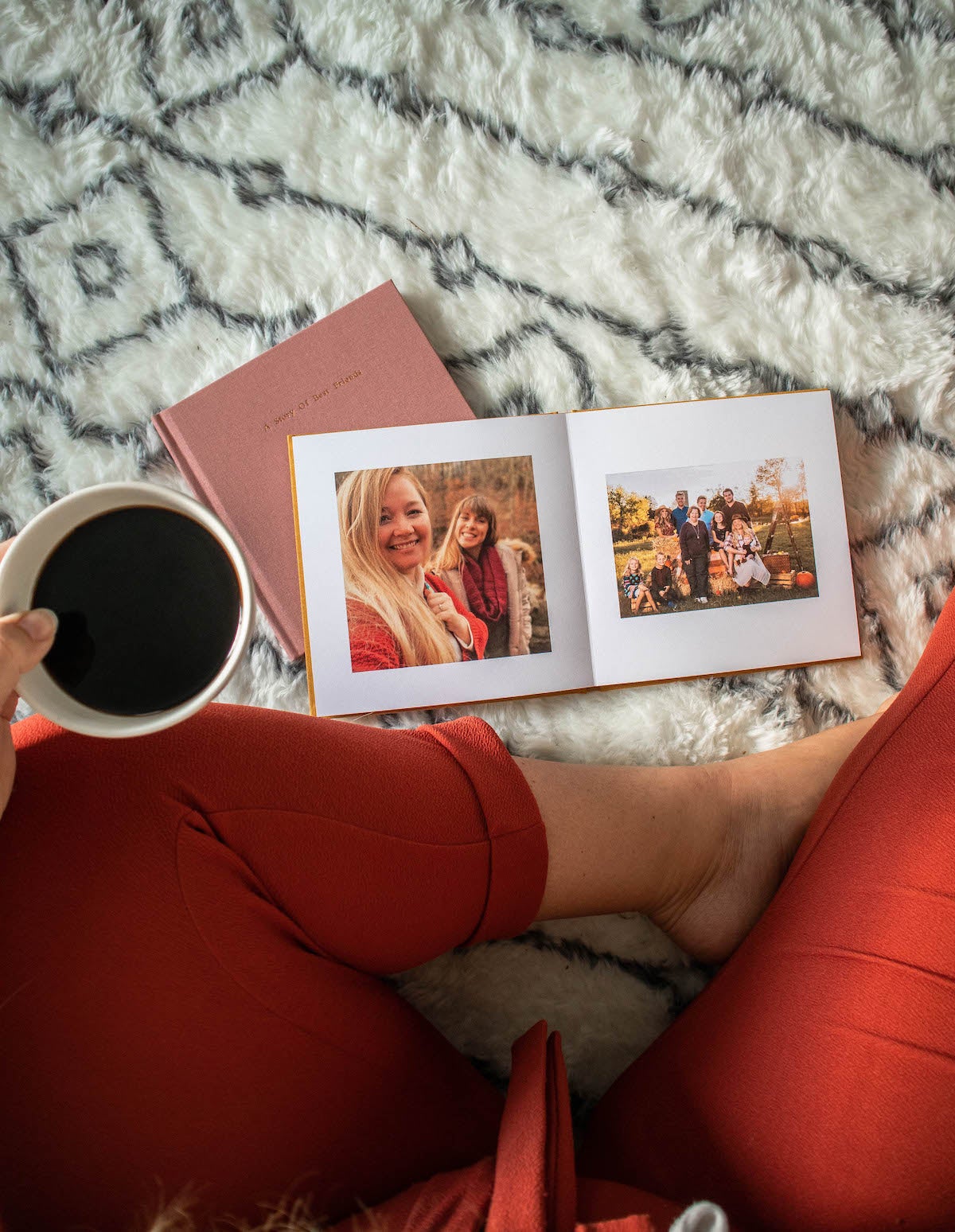 This holiday isn't just for couples; it's for love. That means the many relationships you share… best friends too! You know — the ones that were by your side through the tough years and the ones who never let the distance between you get in the way. A few Valentine's Day gift ideas for them: print a photo book of your girls vacation, frame your favorite selfie together, or put together a photo calendar featuring a fun photo for every month. For friend groups scattered in different cities, it's an especially thoughtful way to keep in touch!
"I created Everyday Photo Books for a few of my favorite girls — with pictures from beach and boat trips and my bachelorette party. These hold some of the most memorable moments with these friends."

– Nicki O.
---
For you
Show yourself some love.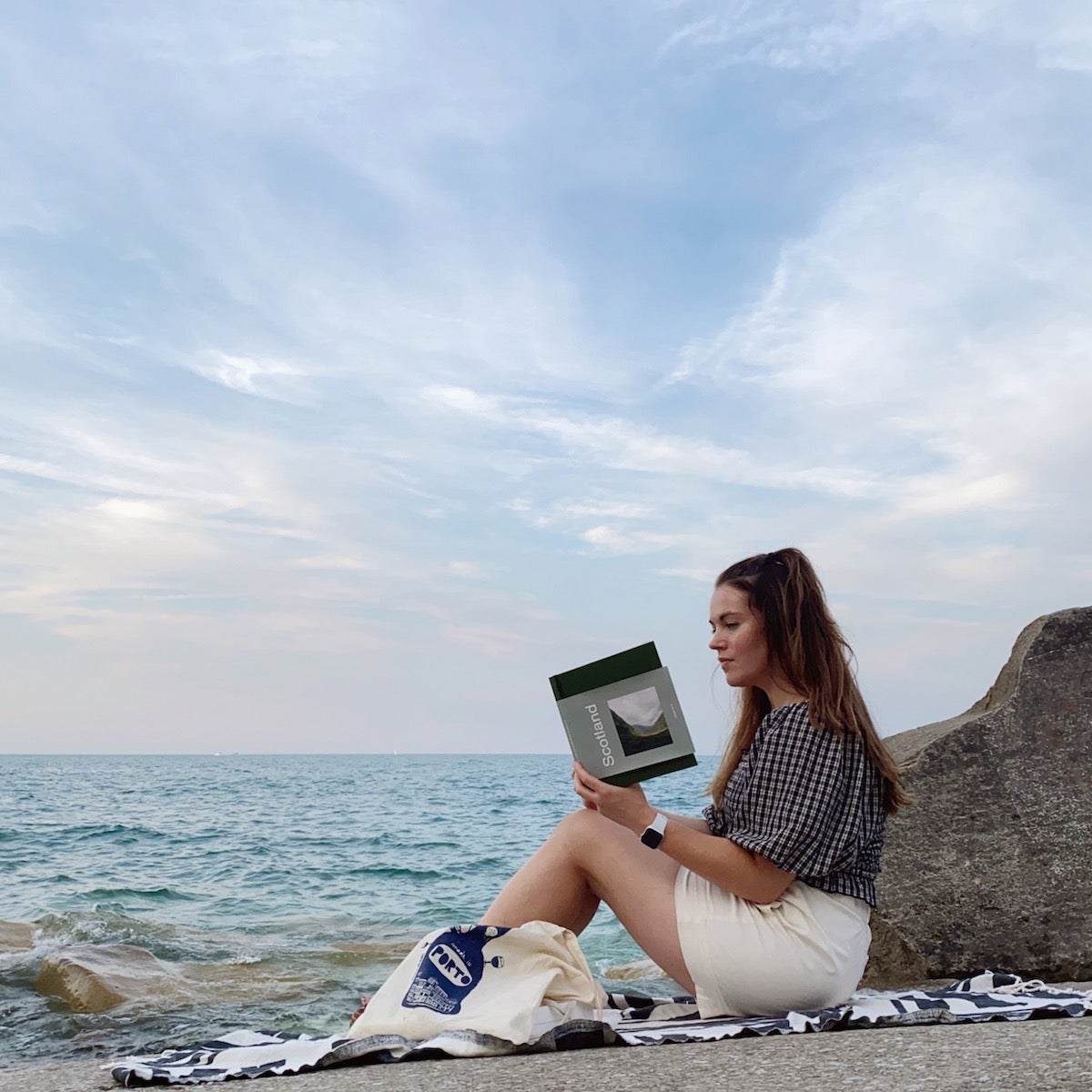 Sometimes, we all just need to show ourselves a little love. There's no better Valentine photo gift to give yourself than reflecting on what you've accomplished, how you've grown, and everything you are — all on your own. Have a little fun with it by putting together a photo album to mark the moment. Take a solo trip recently? Hit a major milestone? You've got the official green light to relish it, and even toot your own horn.
"This book may be my favorite thing I've ever created… I print these photos to remind myself that I always deserve to feel as free and content as I do when I travel on my own, and that I should always seek out those opportunities."

– Courtney C.
---
For a significant other
Leave little notes.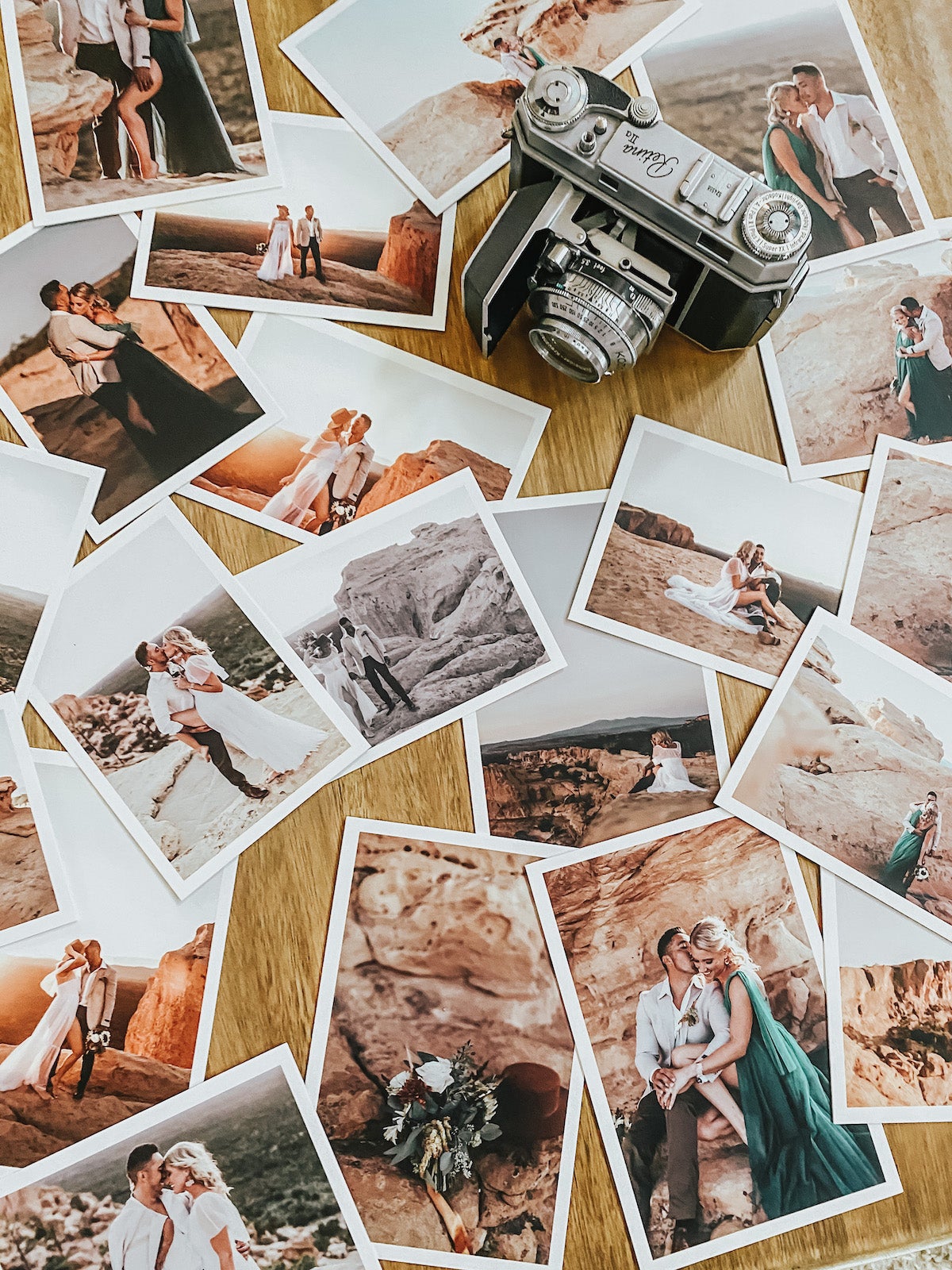 The simplest way to make their day? Create a set of photo prints, and write little notes on the back: a memory from the day pictured, a favorite quote, an inside joke. Your partner - or even roommate - will love finding them around the house. (Bonus points for making a scavenger hunt of it!)

Once they've found them all, you can put them on a display in a photo holder on the shelf, or post them up on the fridge.
"I had the idea to write love notes and have them in a keepsake box to always look back on! Handwritten love notes on photos, what could be better?"

– Amy L.
---
For your family
Look back on stories you share.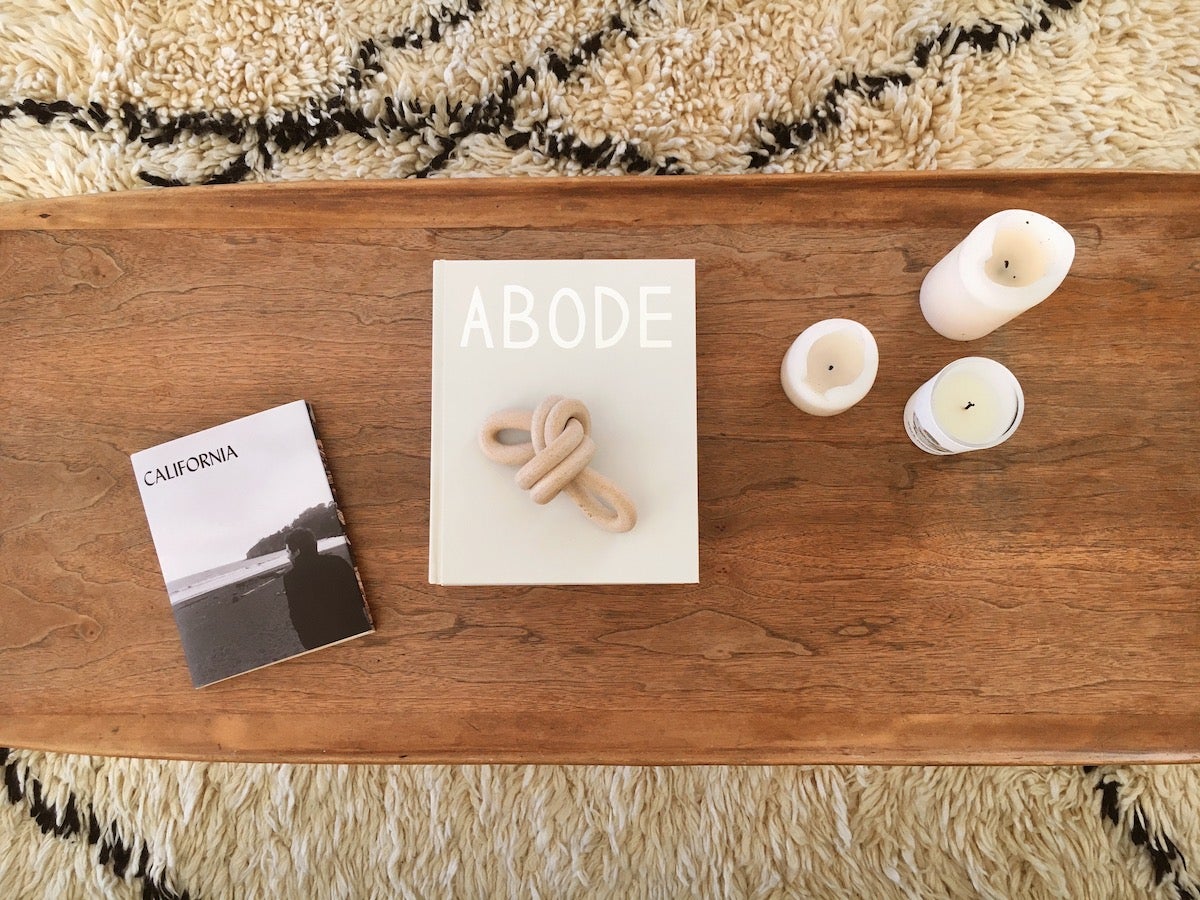 This idea works for just about any relationship, especially family members with whom you share a long history. Looking back, what people, places, and experiences have you enjoyed together? Maybe it's your group of mutual friends, where you used to live, or a recent trip. From your spouse to your siblings, who could say no to taking pause for those belly-laugh memories?
"I wanted to surprise my husband with a special collection of our favorite California memories — images of the people and places we love so dearly, to keep close with us always in the heart of our new home. This book was a beautiful and timeless way to do that."

– Emilie M.
---
For your closest friend
Collect the small sentimentals.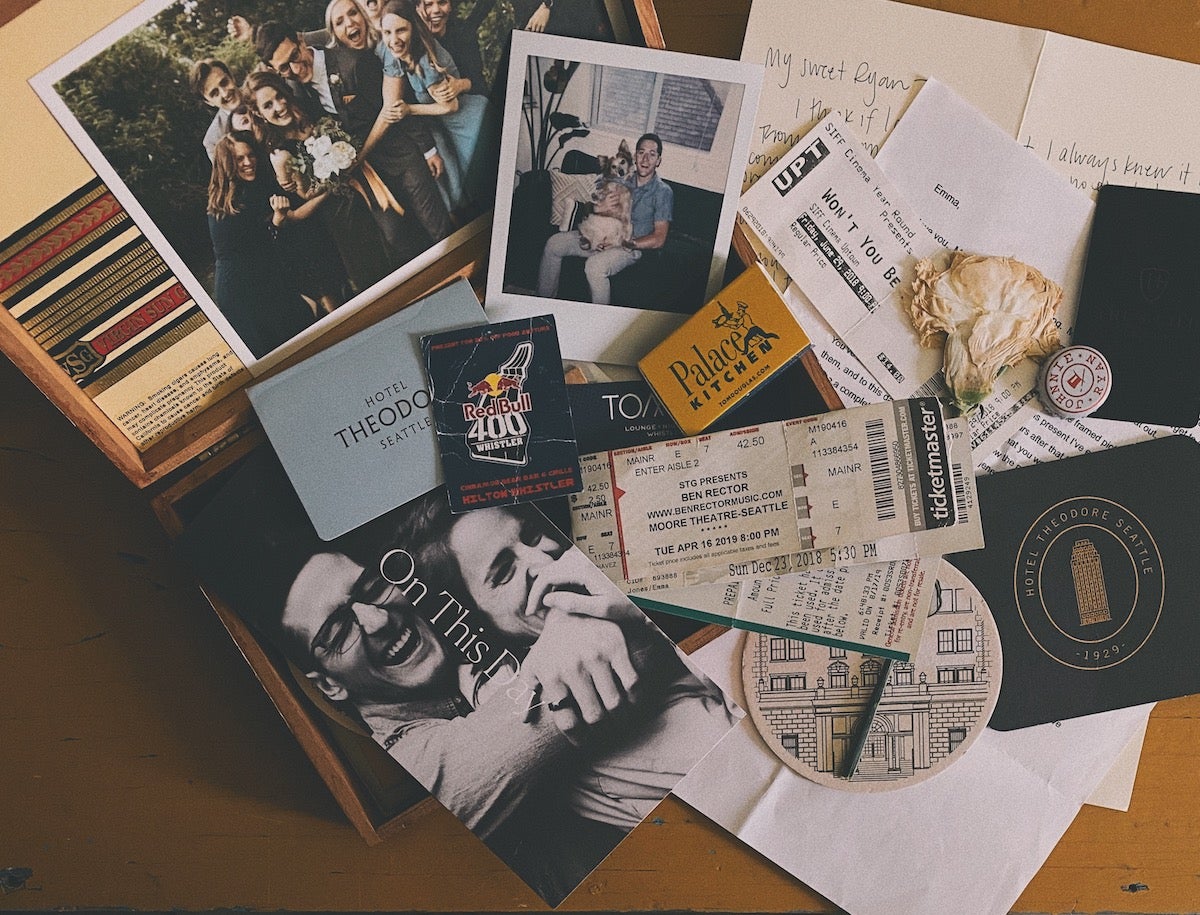 If you're the collecting type, we recommend making, finding, or buying a box to keep memories of you and your friend or partner. The box is gift-worthy all on its own — empty or full! A few ideas for things you can put inside: photos, concert tickets, cards, invitations, matchboxes, or handwritten notes.

Starting from scratch? Adopt a new exercise in intention by gifting a Reclaimed Wood Quote Box with a set of Everyday Prints tucked inside. Over time, you'll build a little collection of sentimentals together that encapsulate some of your favorite shared moments.
"I love having physical photos... in our 'keepsake' box with ticket stubs and hotel coasters of memories we have together."

– Emma G.
---
For your travel companion
Create their return ticket.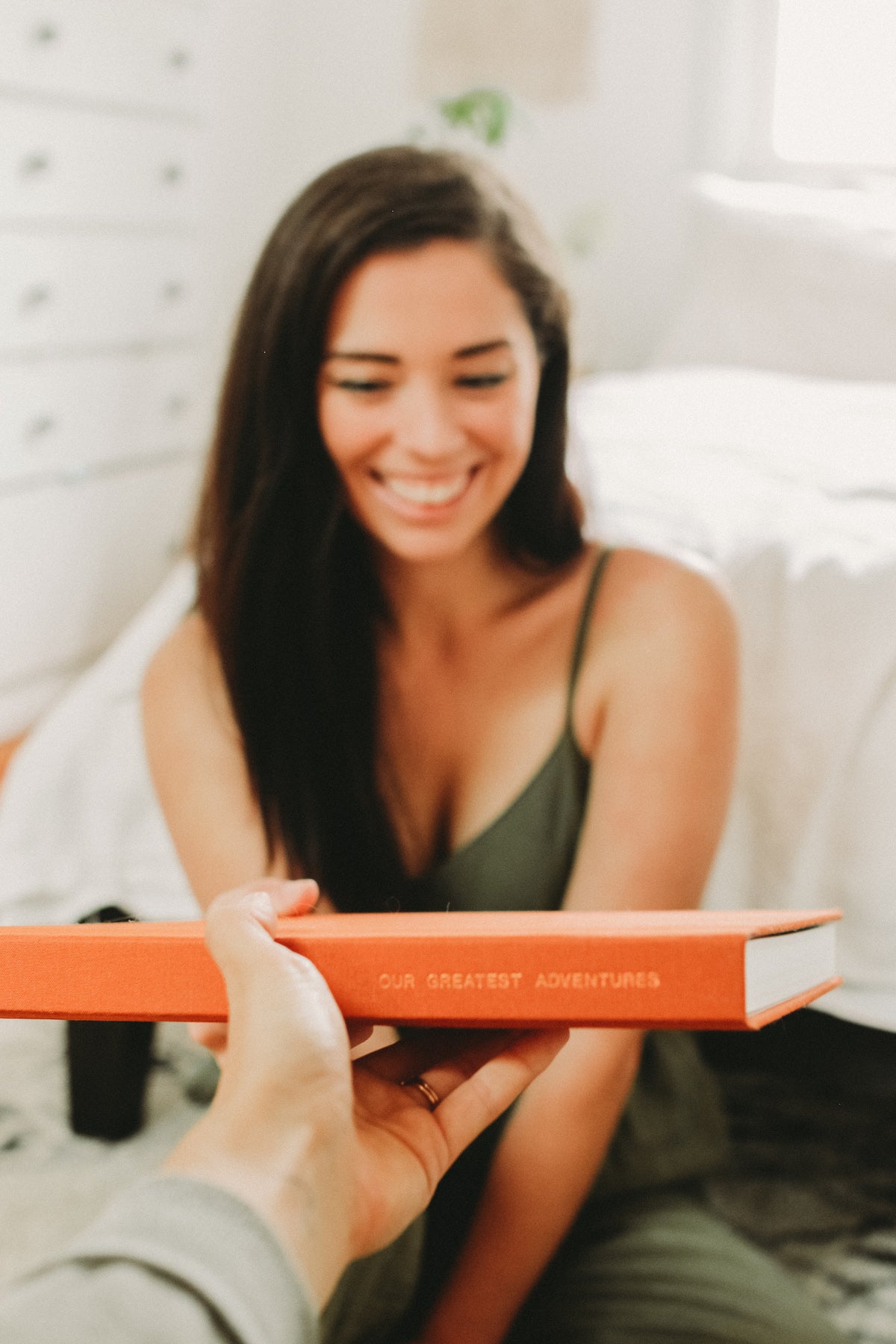 From weekend getaways to adventures abroad, these shared experiences are worth the return ticket. If you're a little behind on printing each trip individually, try making one book that summarizes them all from recent years. It's one of those thoughtful Valentine's Day gifts that's as fun to make as it is to receive. Who doesn't love looking back through photos?

Pro tip: Not quite sure where to start? Check out these 10 tips for making a travel album that can get you from blank page to baggage claim.
"We've somehow had a lifetime of adventures in under 6 years! I wanted to make Sam an Artifact Uprising book with some of our favorite travel memories, so we can keep it out on the coffee table and enjoy reliving the memories."

— Alexandra
---
For your creative partner
Reflect on what you've built together.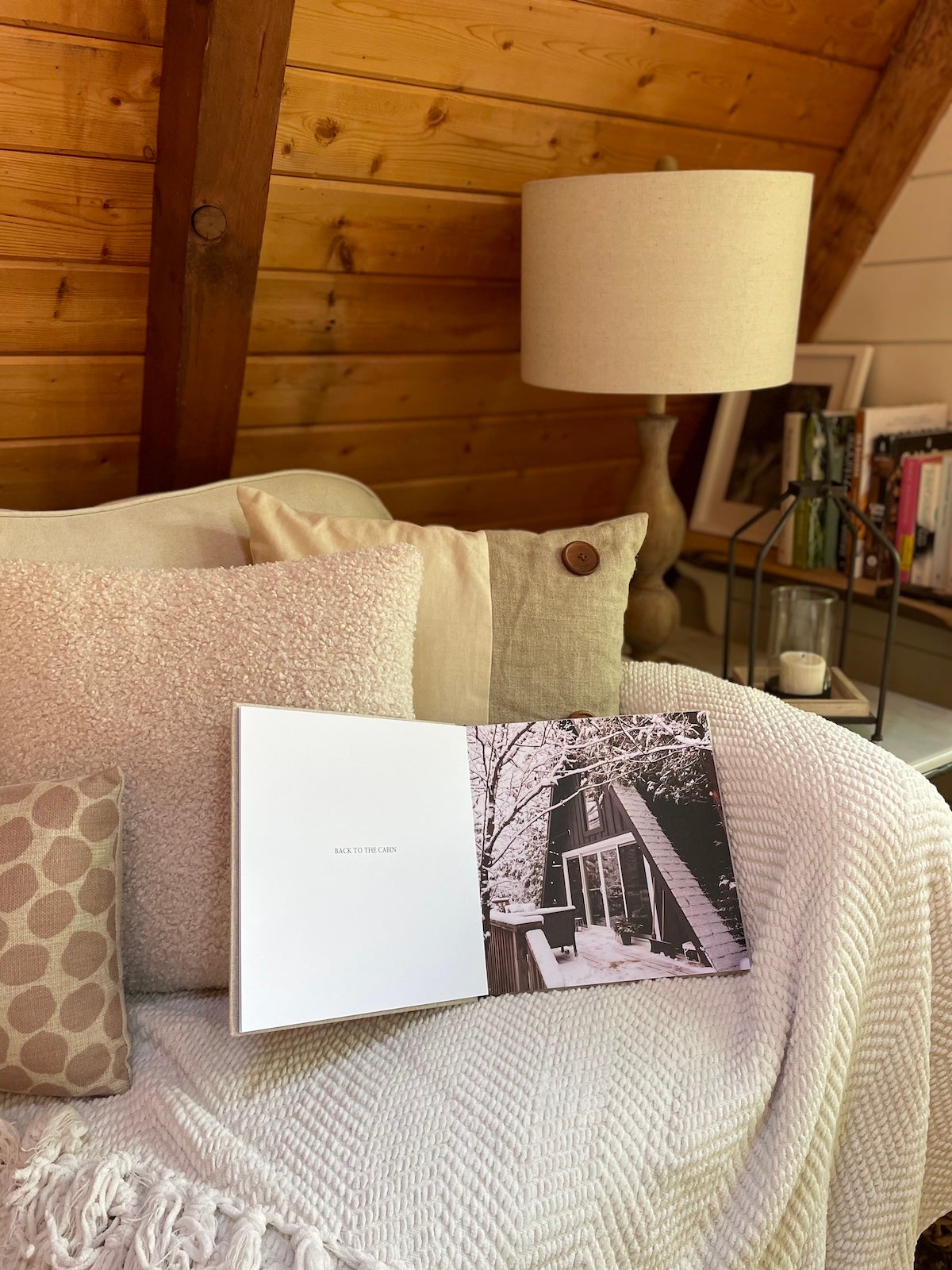 Whether in business or fun, you may have a special person who challenges you creatively and makes you excited to keep building. Maybe it's artistic, entrepreneurial, or simply the home you've shaped together. Celebrate what you've created as a pair by putting it all in print — start to finish.
"I wanted to do something extra special for Corey — something to celebrate him… for helping make @backtothecabin what it is today. I created this photo album with @artifactuprising to showcase all of his hard work over the past year."

– Amber E.
---
For your partner
Tell the story of "us."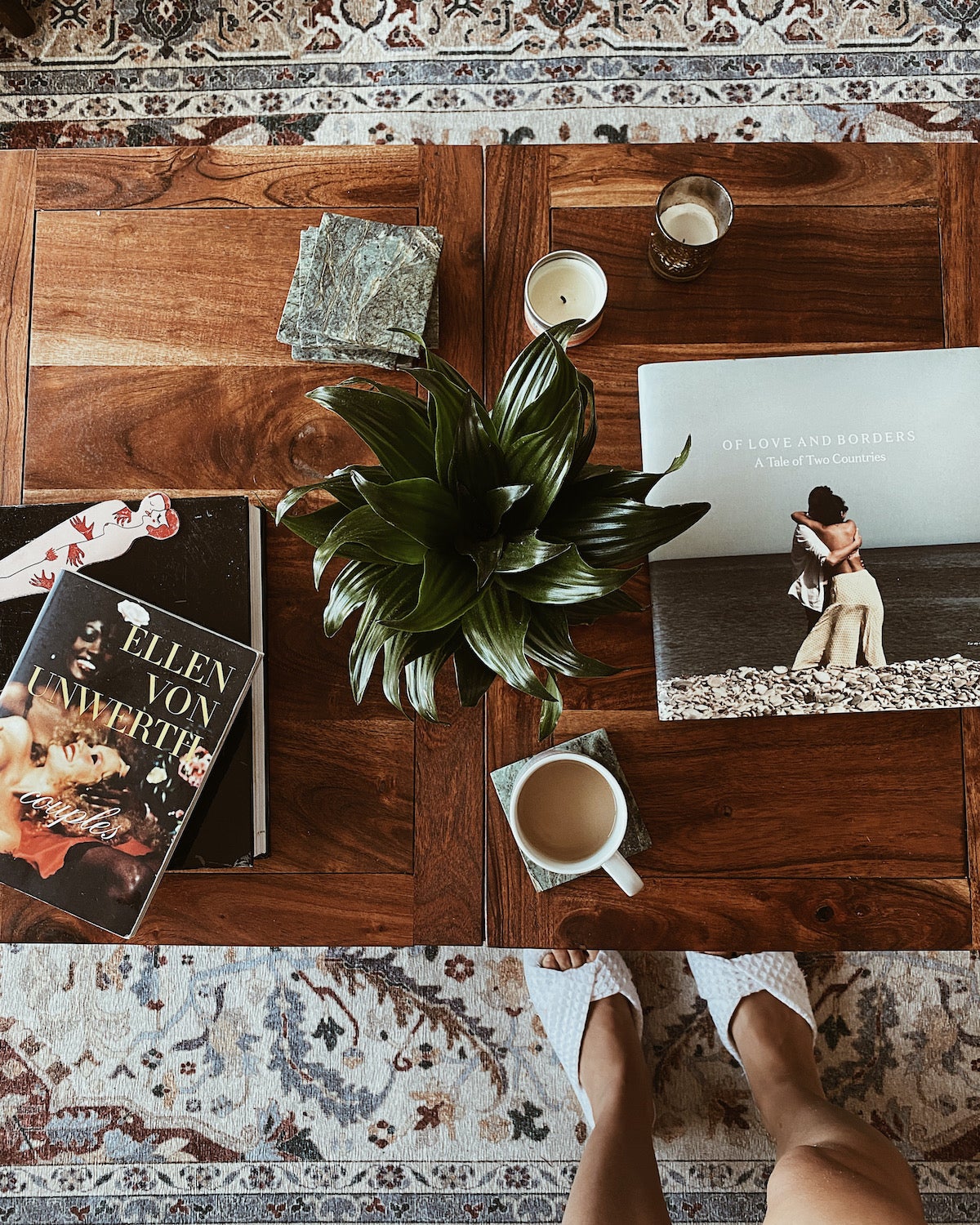 This is one of those Valentine's ideas for him or for her — a classic choice for couples, and yet the same story is never told twice. Go back to the beginnings: how you met, what you overcame, and glimpses at where you may be headed. It's a reminder of the feeling of falling for one another, and a look back at what brought you so close in the first place.
"I created 'Of Love and Borders, a Tale of Two Countries' for my partner, as he was living in the U.K and I had been in New York. It perfectly captures our love, our relationship, and our memories."

— Xenia P.
---
Photos are our love language.
Have a few thoughtful Valentine's Day gift ideas of your own? We'd love to see what you make. Share with us on Instagram by tagging @artifactuprising or submit your photo for a chance to be featured on our blog.