---
Idea 01
Relive Your Travels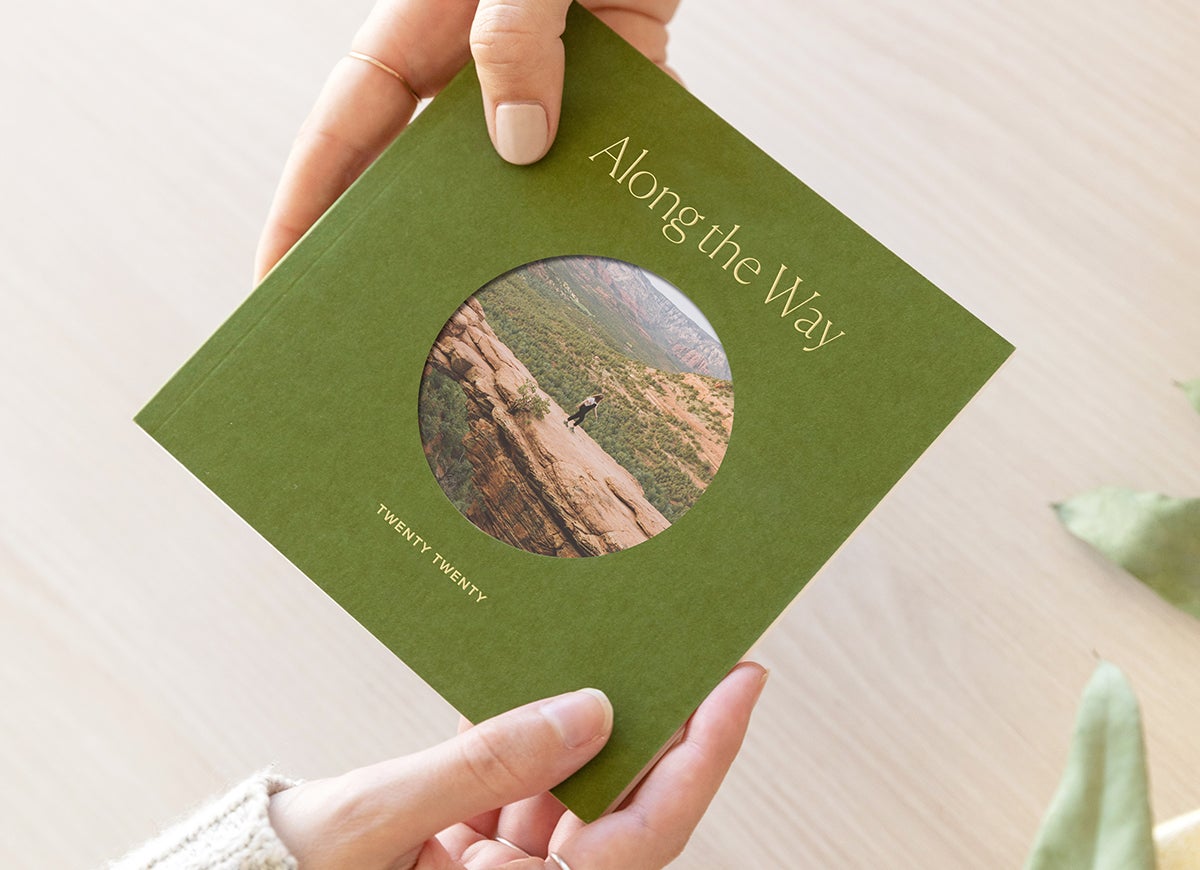 If you're anything like us, you have a camera roll full of photos from recent road trips, past vacations, and long weekends with friends and family. One of our most-loved stocking gift ideas is to relive these travels in print with our Color Series Photo Book. Featuring a die-cut cover that showcases your first (and most likely favorite) photo in the book, this little album creates a big impact with vibrant cover designs and colors. Plus, thanks to easy-to-customize layouts and autofill options, you can create it quickly.

Pro tip: Select the 5.5 x 5.5" size to conveniently slip this book in their stocking. (For more quick-to-create themes and books, peruse our easy photo book ideas!)
---
Idea 02
Feature Furry Friends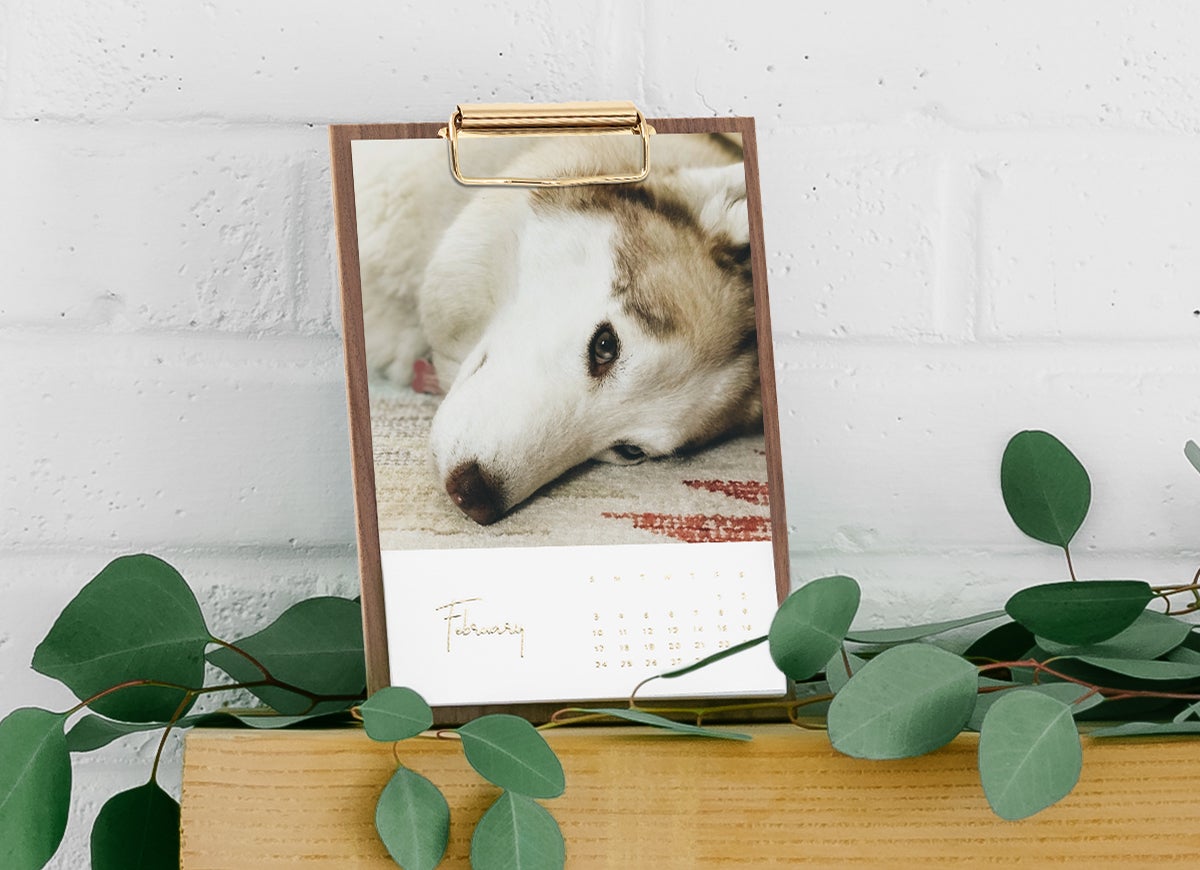 For a DIY stocking stuffer sure to make them smile, feature their furry friend in a Desktop Photo Calendar. Chances are they frequently photograph their pet, so it'll be easy to find 12 images to showcase (especially if this is a pet you share!). You can feel great about gifting your personalized piece, as our wood and walnut calendars are made from reclaimed materials and designed to bring year-round joy.

If you're looking to create a calendar for someone without a pet, we've got you covered with a whole roundup of creative calendar ideas. From monthly milestones to featuring your kid's artwork, there are plenty of other ways to gift a calendar they'll love.

Pro tip: Already give someone a calendar? A refill pack makes for a great stocking stuffer.
---
Idea 03
Decorate and Display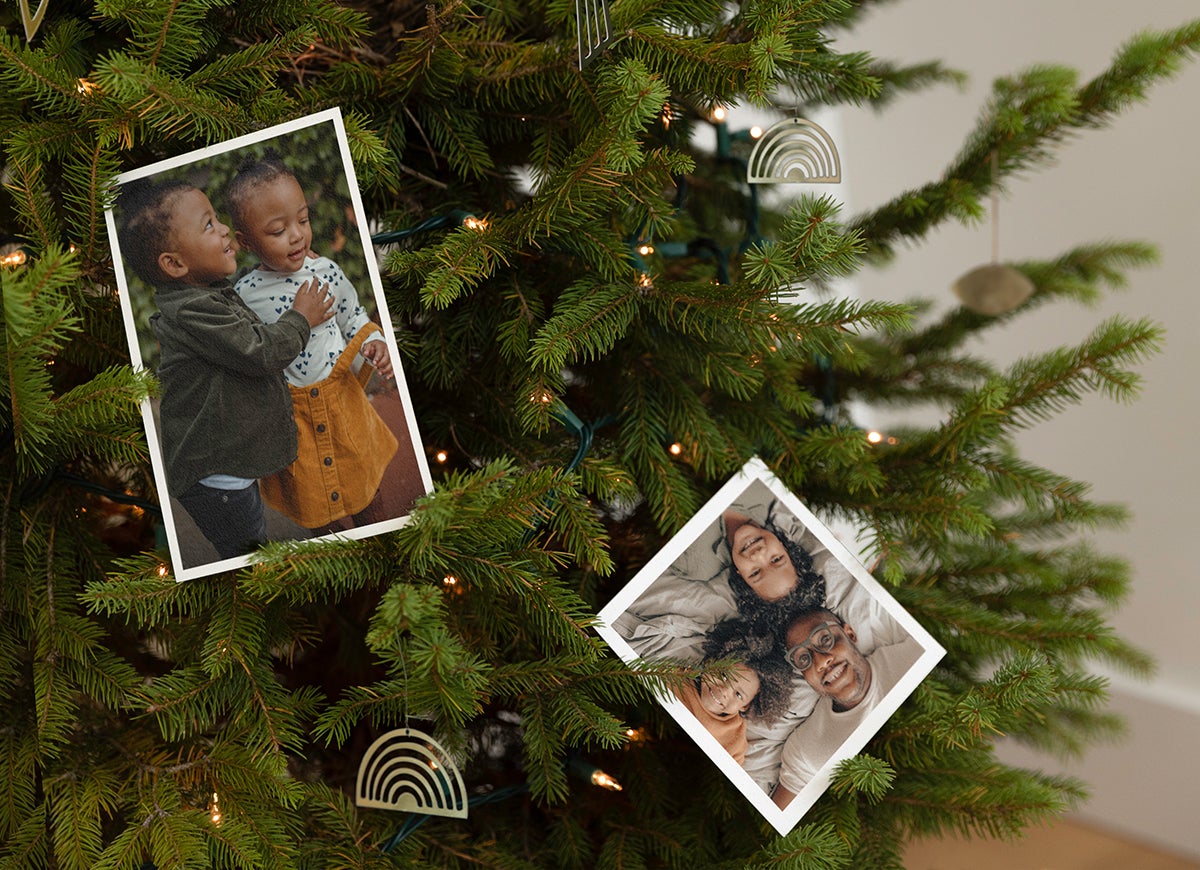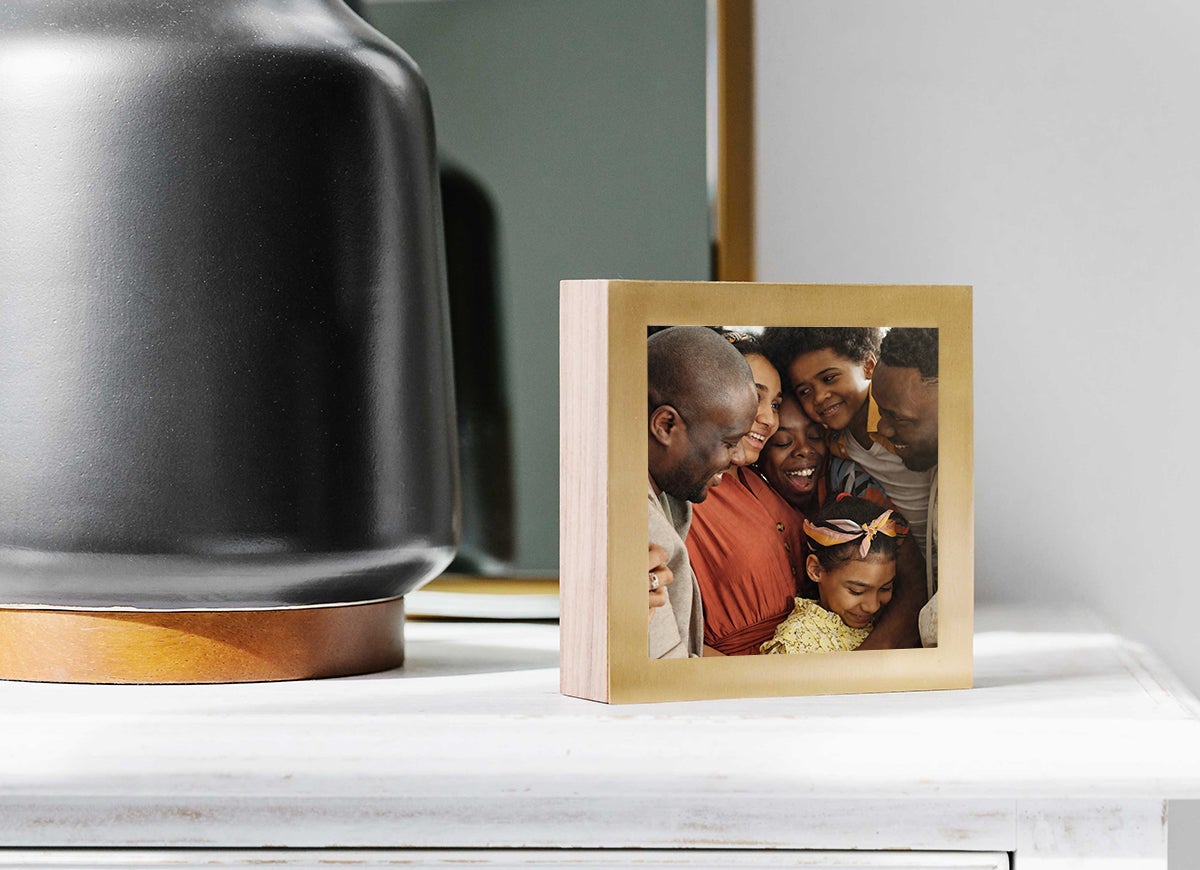 Make a gift that's more than meets the eye. First, place a Brass & Wood Display Box (or any of our other photo holders) in their stocking. Then order a set of prints to hang from the tree or to use as decoration around the house. When they open their stocking and find the box, add to the surprise by showing those other prints are theirs, as well, to place in the holder.

Just remember to double-check what size of prints pairs with the holder you chose to make sure they'll fit nice and snug!
---
Idea 04
Mini Works Of Art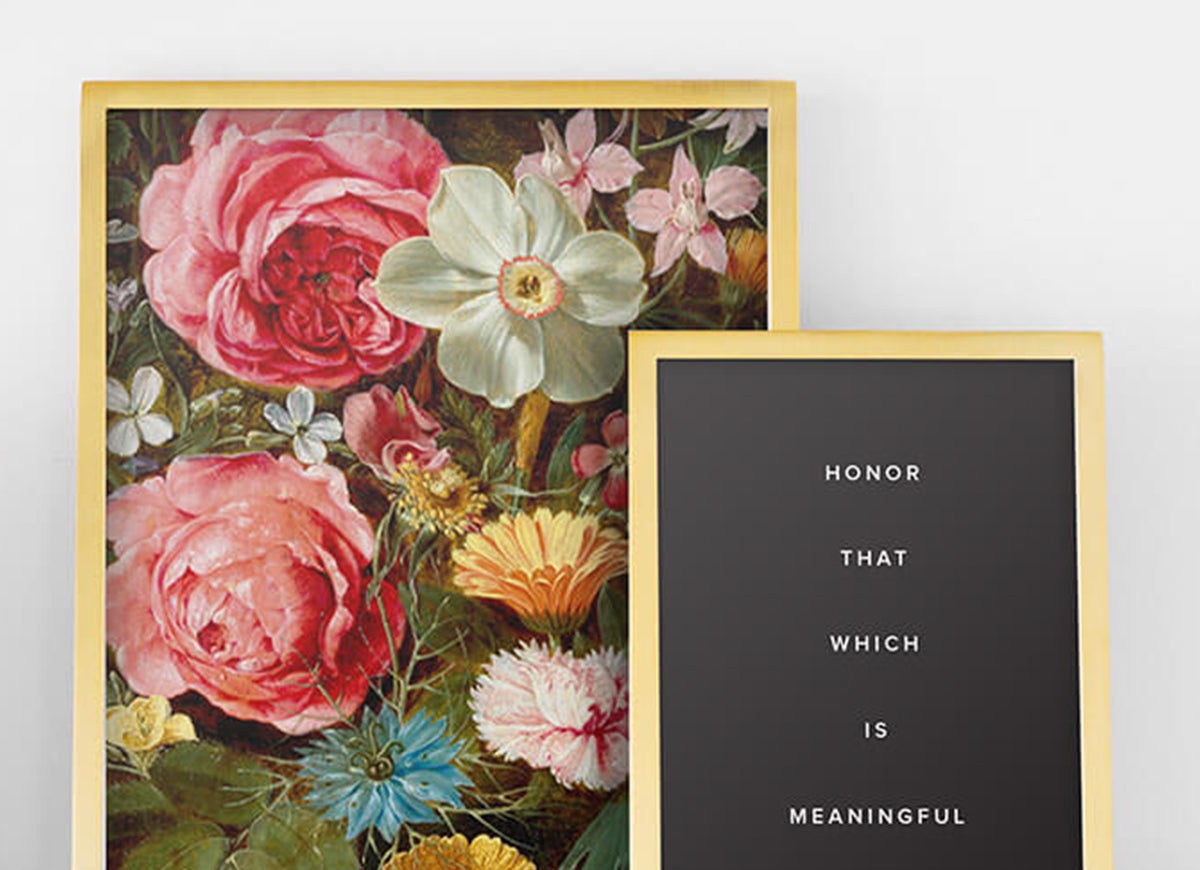 For a unique stocking stuffer that will add a pop of personality to their space, gift a tabletop frame featuring an art print. Bonus points if you know their favorite artist and select one of their pieces for the frame. Luckily for you, there are endless options for beautiful artwork in the public domain that you can download for free and print legally. We break it all down in our Guide To Finding and Framing Free Art.

If you're wondering which frame to choose, take a look at our premium frame finish options and select a style that complements the art. Our tabletop frame sizes will fit perfectly in their stocking!
---
Idea 05
Prints With a Purpose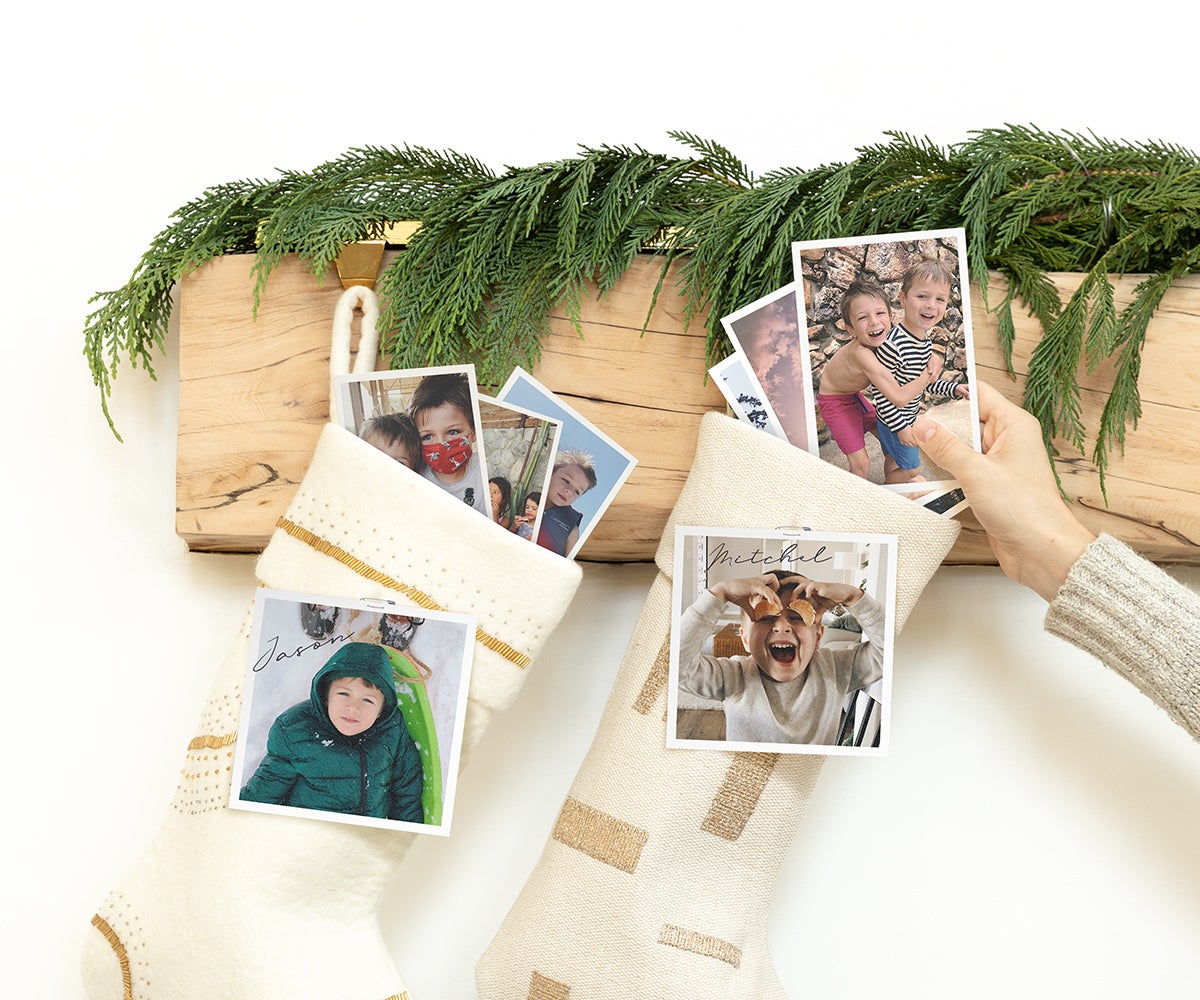 Make your stockings festive by creating and pinning prints on them to label whose is whose. Either print portraits of everyone in the group or upload a designed image with their name. Then you can use the remaining photos in your set as thoughtful "stocking fillers" that celebrate simple and joyful everyday moments from the year.

Psst... Pair with a photo holder so they can display and enjoy them year round.
---
Idea 06
Words of Encouragement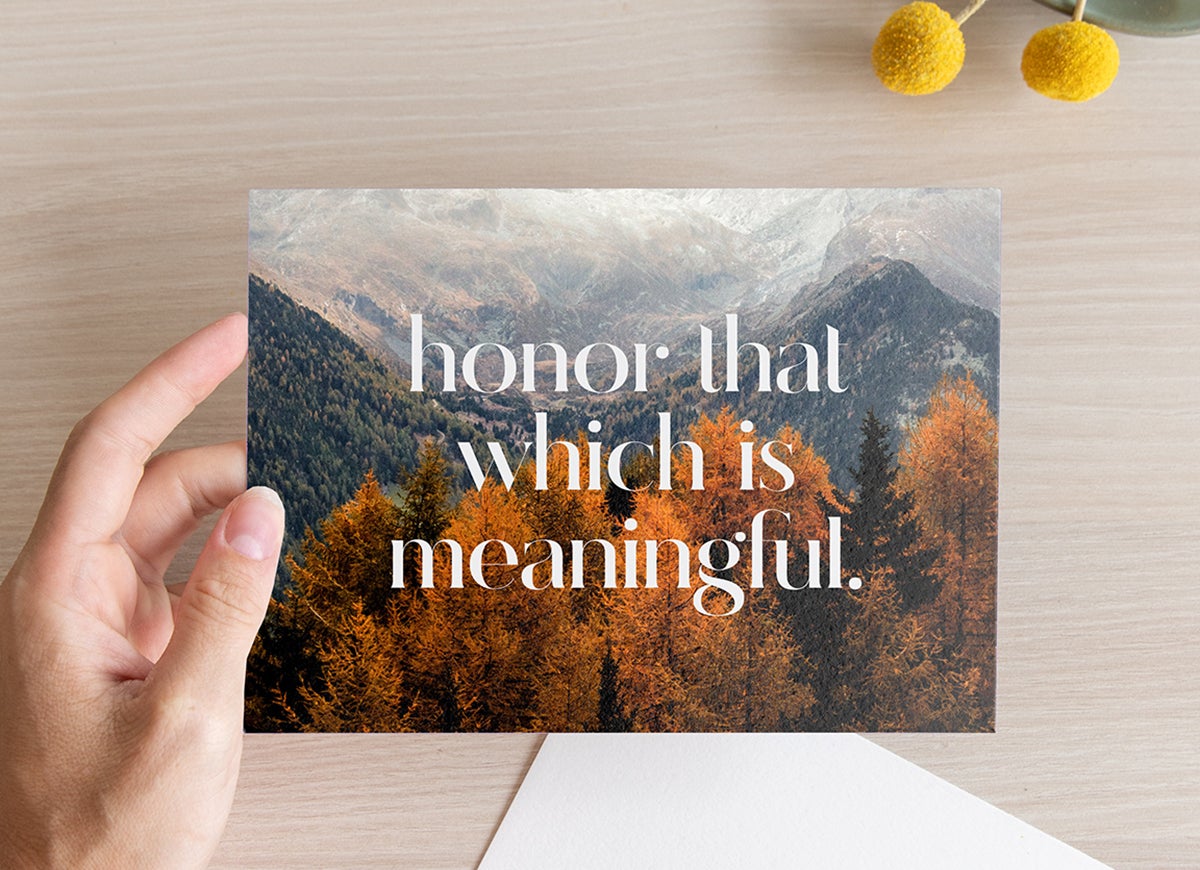 Put thoughtful words to print with this DIY stocking stuffer idea. Select a few meaningful quotes — sourcing words from poets, comedians, and more to create cards that inspire. Wondering whose words to feature? Go with classics by Mary Oliver or John Muir, find quips from a comedian, or follow a popular writer/influencer like Morgan Harper Nichols.

Upload the quotes as images in a gallery by saving the designed words as a .jpg or .png. With our Design Your Own Flat Cards, you can customize each card in the set with a unique photo, so one order can cover a few recipients.

Pro tip: Since your quotes need to be uploaded as images (.jpg or .png) in our editor, you may need to use a design tool. Lucky for you, there are plenty of free options out there that make things easy! We love Canva for its simplified and sleek interface — but in a pinch, styling it in a Google Doc and taking a screenshot works too.
---
Idea 07
Feature Their Feed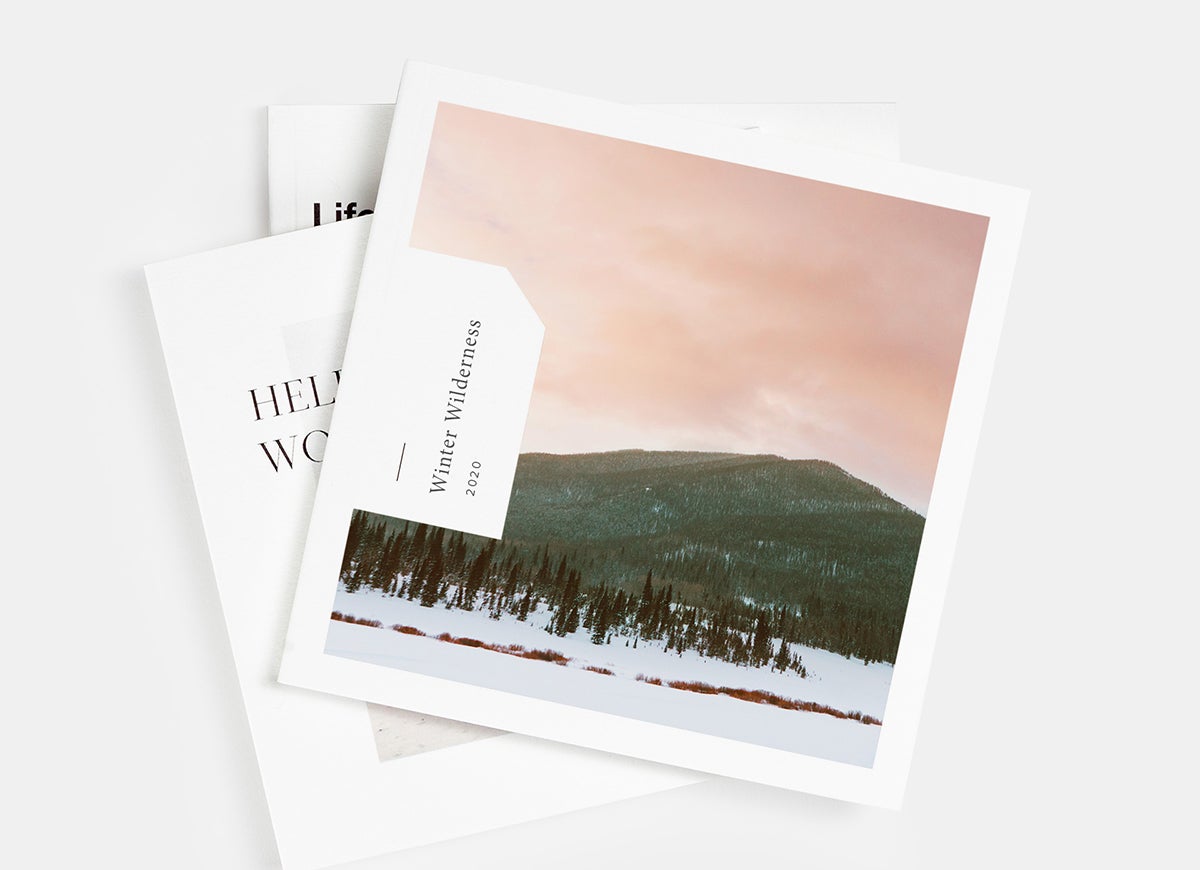 Our Mini Photo Book is a great personalized stocking stuffer — proving a little book goes a long way. And if you're feeling low on photos to include, look to social media for some help. You're likely to find quite a few fun and meaningful moments shared there that make for a thoughtful gift. Think of a theme like "2020 Roadtrips" or "Days At Home," and use that as your guide for selecting the photos to include in your book.

To feature images you've shared on your own feed, simply sync your Facebook or Instagram account with our editor to access and print them. Another option is to download images your recipient has posted on their social media pages like Facebook (only if you know them well enough to know they are okay with this, of course!).

Note: No need to worry about low-resolution warnings with these web photos, as this small-but-mighty book is just the right size for them to print beautifully.
---
Idea 08
Fridge-Worthy Decor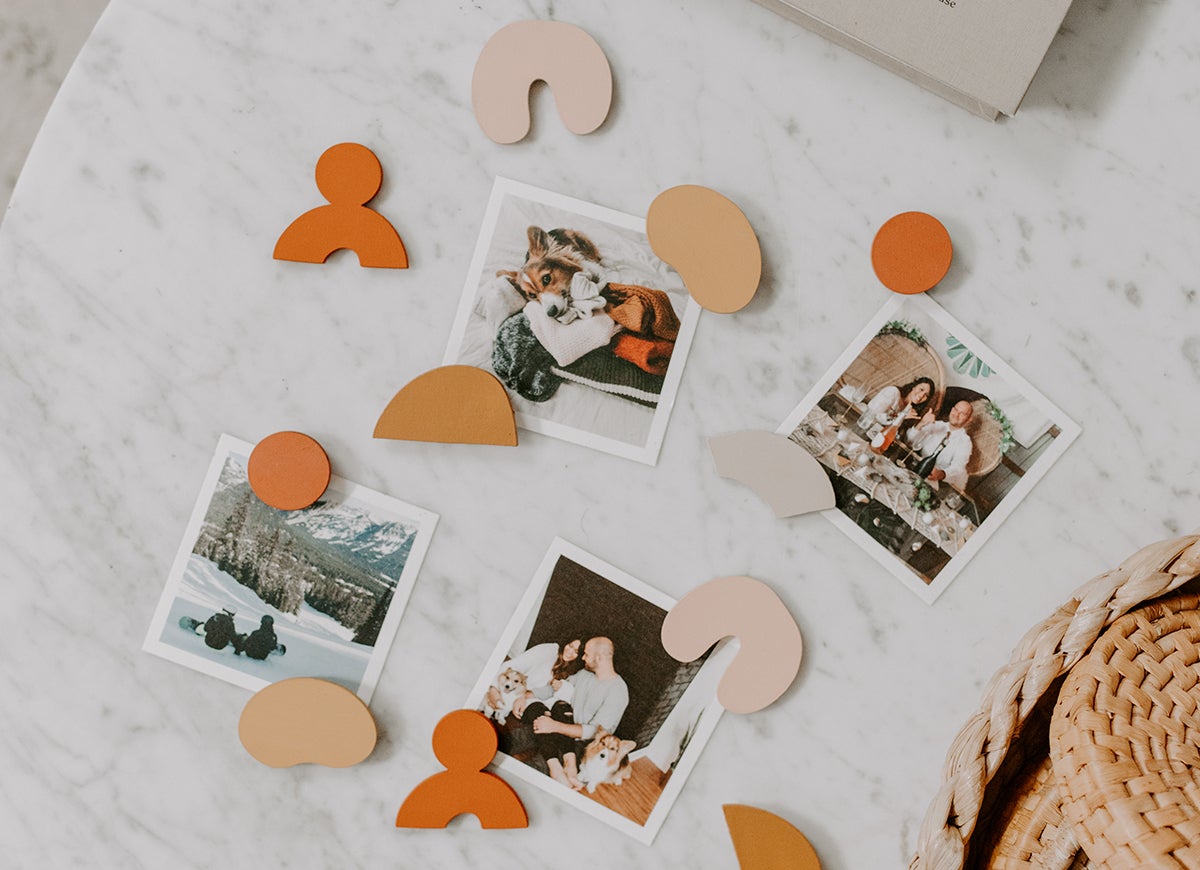 This creative stocking stuffer idea pairs everyday moments with a fun way to display them. Gift a handful of prints alongside crafted magnets, so your recipient can put them up on their fridge. We love how @olivecreativeco made her own magnets, but there are plenty of unique options you could order from sites like Etsy that feel handmade as well!
---
Idea 09
Gratitude Journal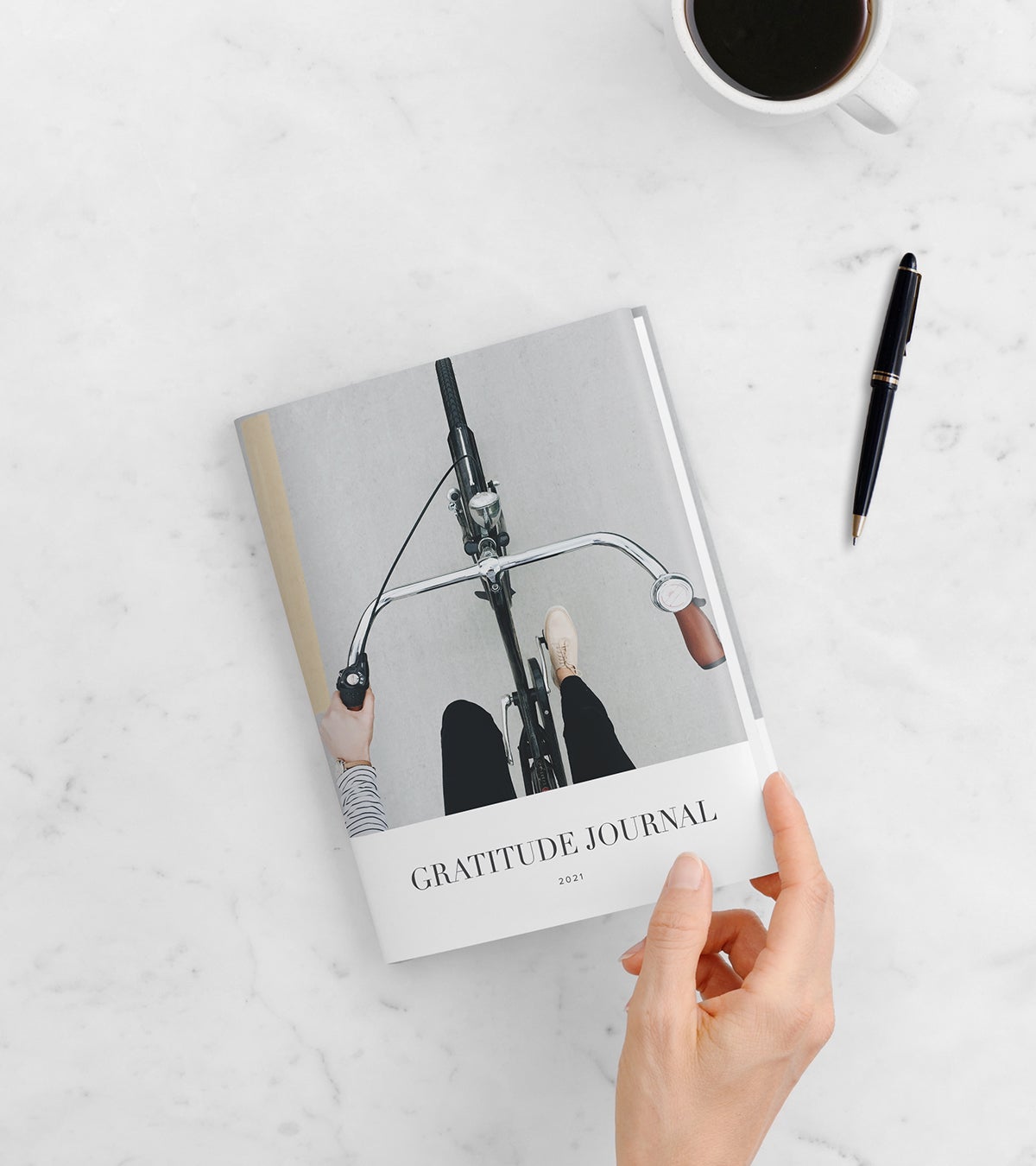 Here's a stocking stuffer they'll actually use. Create a DIY Gratitude Journal by interspersing photos among blank pages in a book — leaving those empty pages for writing and journaling. For this idea, we think it best to showcase photos that inspire gratitude, from milestones and occasions to loved ones' faces. You could even include typed-out prompts to guide them along their thoughtful journey. This unique stocking stuffer will graciously encourage them to make gratitude a practice.

Pro tip: The matte-finished paper in our Softcover Photo Book is perfect for writing.
---
Idea 10
Let Them Do The Fun Part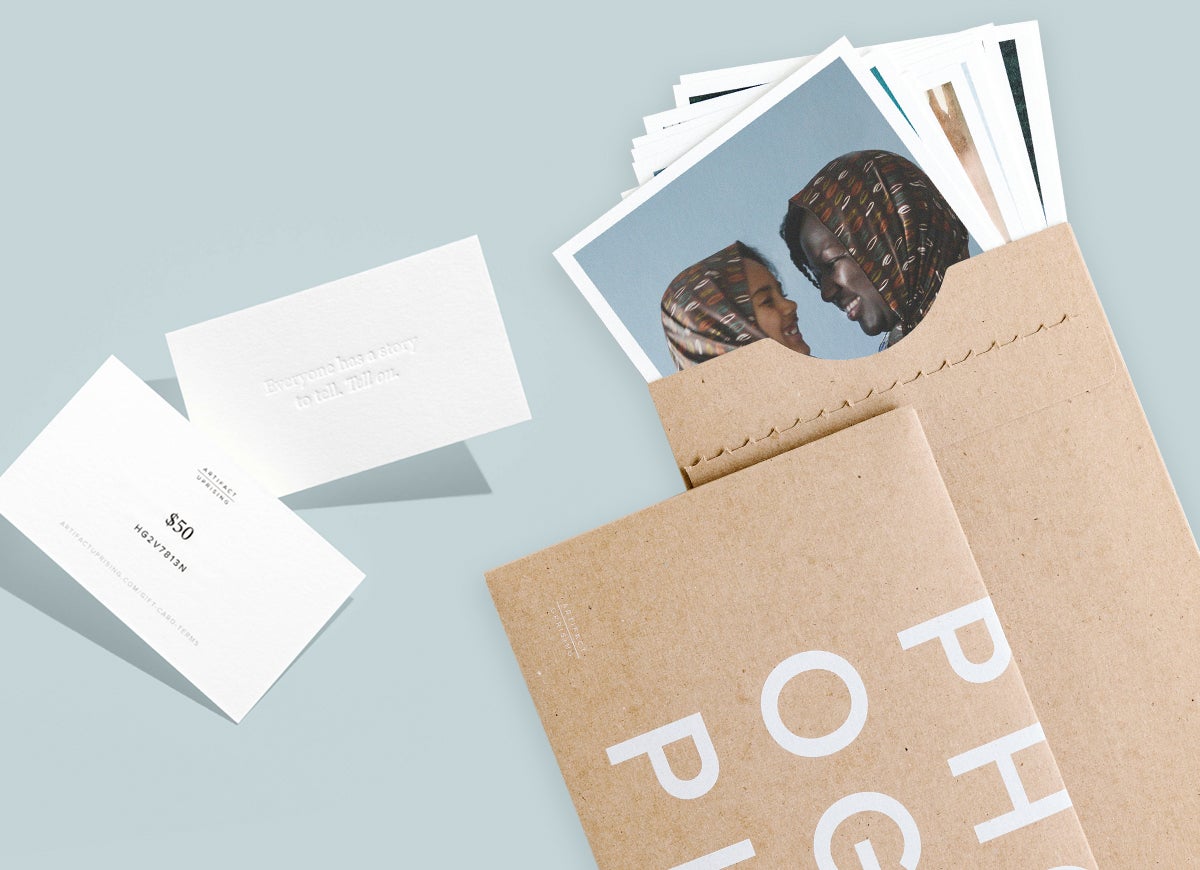 Find yourself looking with little time to spare? Let them do the fun part in creating a photo book, calendar, or frame when you give a gift card. Whether a tangible or e-gift card, this last-minute stocking stuffer will make sure everyone on your list is covered in a matter of minutes. To make yours stand out from the others in their stack, pair it with a print to inspire what they could create themselves.
---
Create little gifts.
Spread lots of joy.