---
Black Friday, Redefined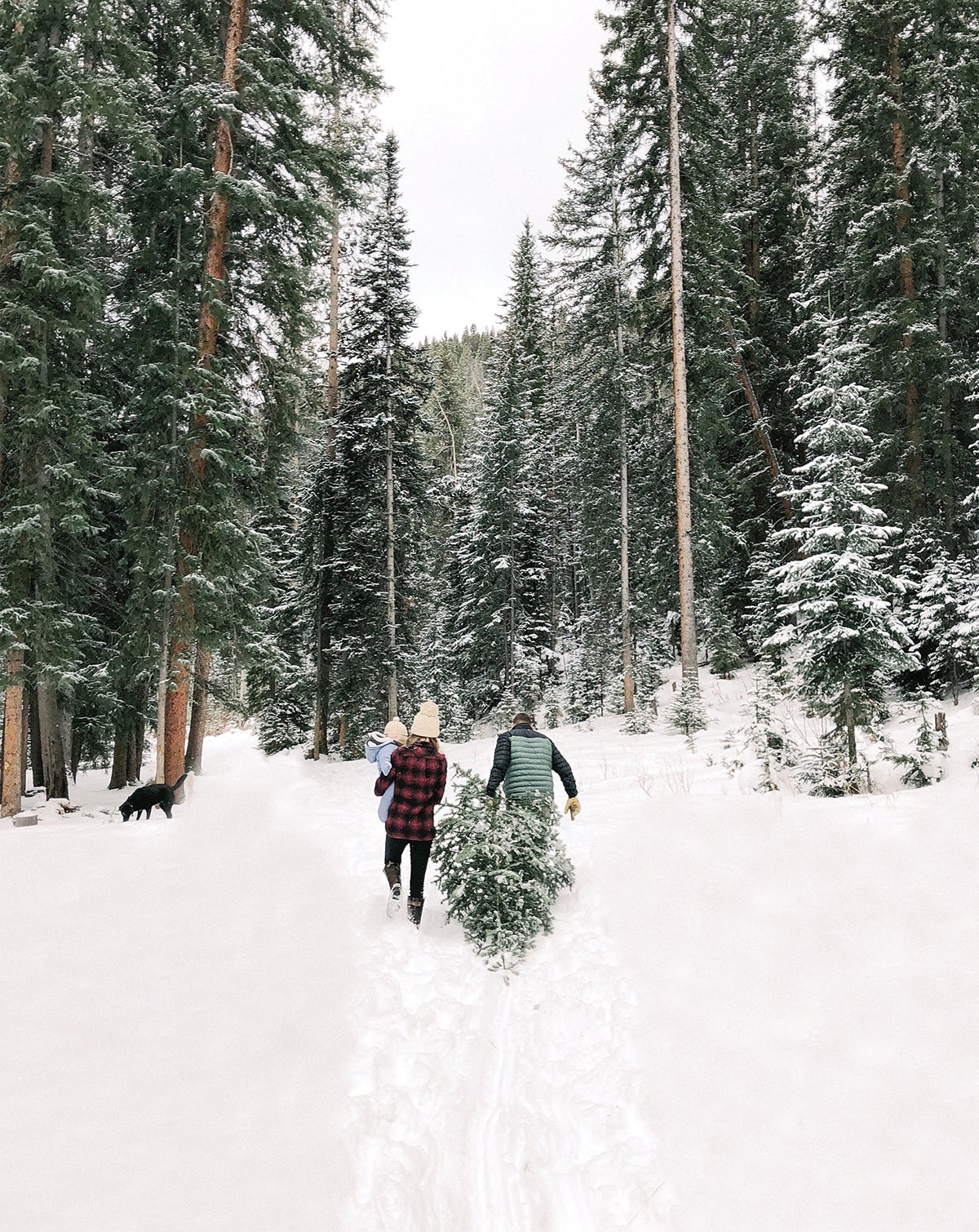 "I wouldn't have called myself a 'holiday person' five years ago. Well, honestly, I don't know if I'd call myself one now. But there is one thing I know that makes my season: tree cutting.

Growing up, our holidays were scattered — dinner one place, christmas morning somewhere else. The inconsistency gave me little sense of tradition: I simply knew that tradition was born from consistency, for certainty gives us shape to hope from.

We didn't find our first family tradition until I was 25, spending Thanksgiving with my sister's in-laws outside of Vail, CO. Here, instead of strapping on their street shoes for Black Friday shopping, they would take their hiking boots to White River National Forest in search of the perfect tree.

Since that day, the tree-chopping tradition has held, but our crew has grown — including new little faces (most recently my niece, Blake). Close to twenty of us run through the forest hoping to exclaim, "this is the one!" But in reality, the victory hike down is always the best. We take in the frosted trees, axes and ciders in hand, debating all the while whose tree most resembles the one from Charlie Brown.

Maybe this tradition-worth-waiting-for has made me a holiday person after all."
---
A Ritual in Recipe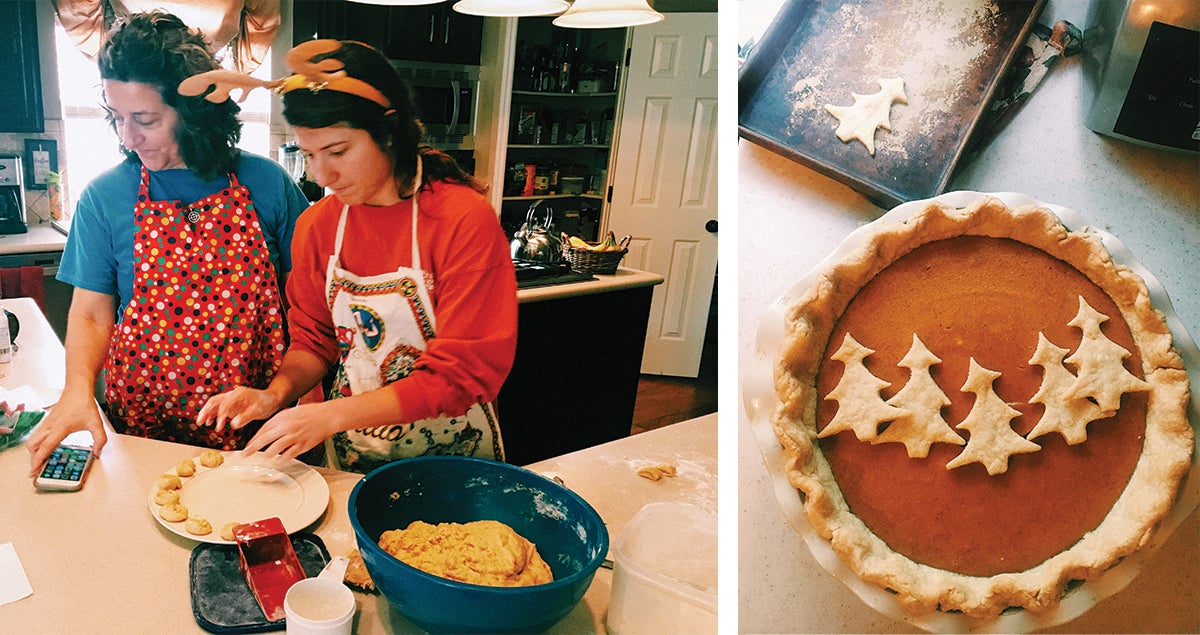 "My family traditions are centered around the kitchen. The holiday season is marked by flavors uniquely ours and recipe books stained with a copious amount of olive oil and flour. I know when I hop off the plane in my hometown there is an apron and a glass of wine in my near future. We bake endless Christmas cookies and give an Italian-nod to Linguine Clam Sauce on Christmas Eve… but it doesn't quite like the holidays until my mom and I bake a pie together.

Something about rolling out pie dough with her is the one tradition I have come to adore most. And since somehow pie became the way I feel connected to the joy of this season, I find myself now making more and more pies each year — experimenting with new ingredients and creative crust presentations, but always Facetiming my mom when it's time to roll out the dough."
---
The Joy of Giving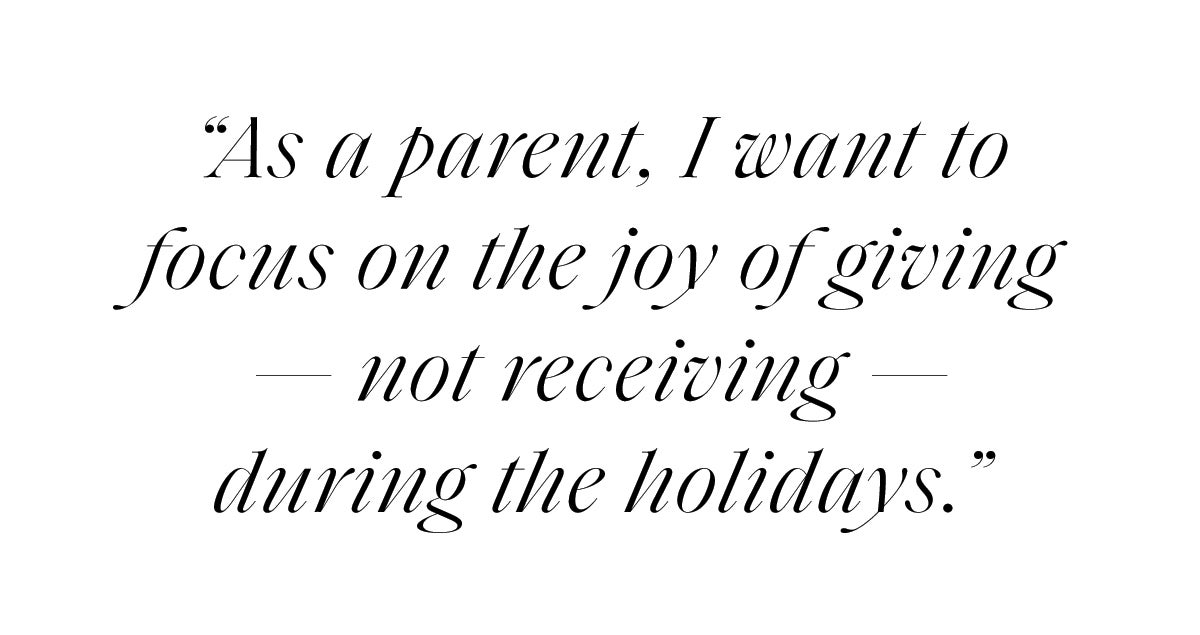 "As a parent, I want to focus on the joy of giving, not receiving, during the holidays. So we kick off every Christmas morning by volunteering with Meals on Wheels, delivering food and a special holiday treat to around 10-15 of their senior clients.

Later in the day, when we congregate as a family, the grandkids kids go around the table and talk about their annual charities. My in-laws started this ritual around 15 years ago, when their first grandkid was around 4 years old. Each grandchild researches nonprofits and 'awards' two organizations a donation, discussing their rationale over Christmas Dinner."
---
Some Things Never Change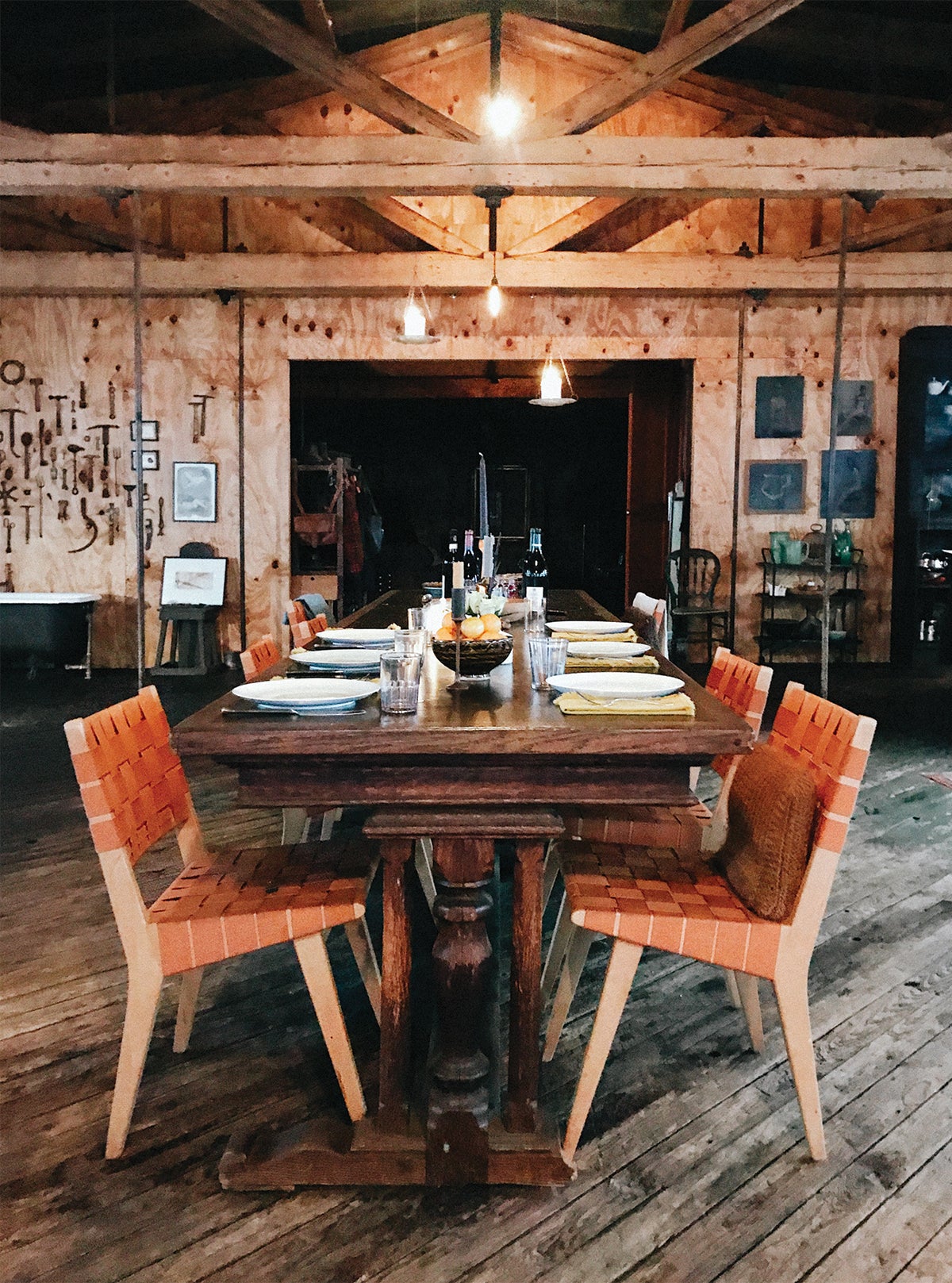 "Since many of my family members are spread out these days, the traditions have evolved over the years. Some years everyone in the family is together, others I find myself on a remote island somewhere with just my husband. No matter where we are, food is the one thing that resembles the holidays in my family.

When we're home for the holidays, we wake up to homemade coffee cake made by my incredible mother-in-law and open gifts by the fire. For dinner we cook a feast to share around the festive dinner table and finish the evening with my grandma's fruit tart recipe for dessert.

It's been fun to get creative year to year with different traditions, but one thing never changes: an orange in the bottom of our stockings!"
---
More Than a Wreath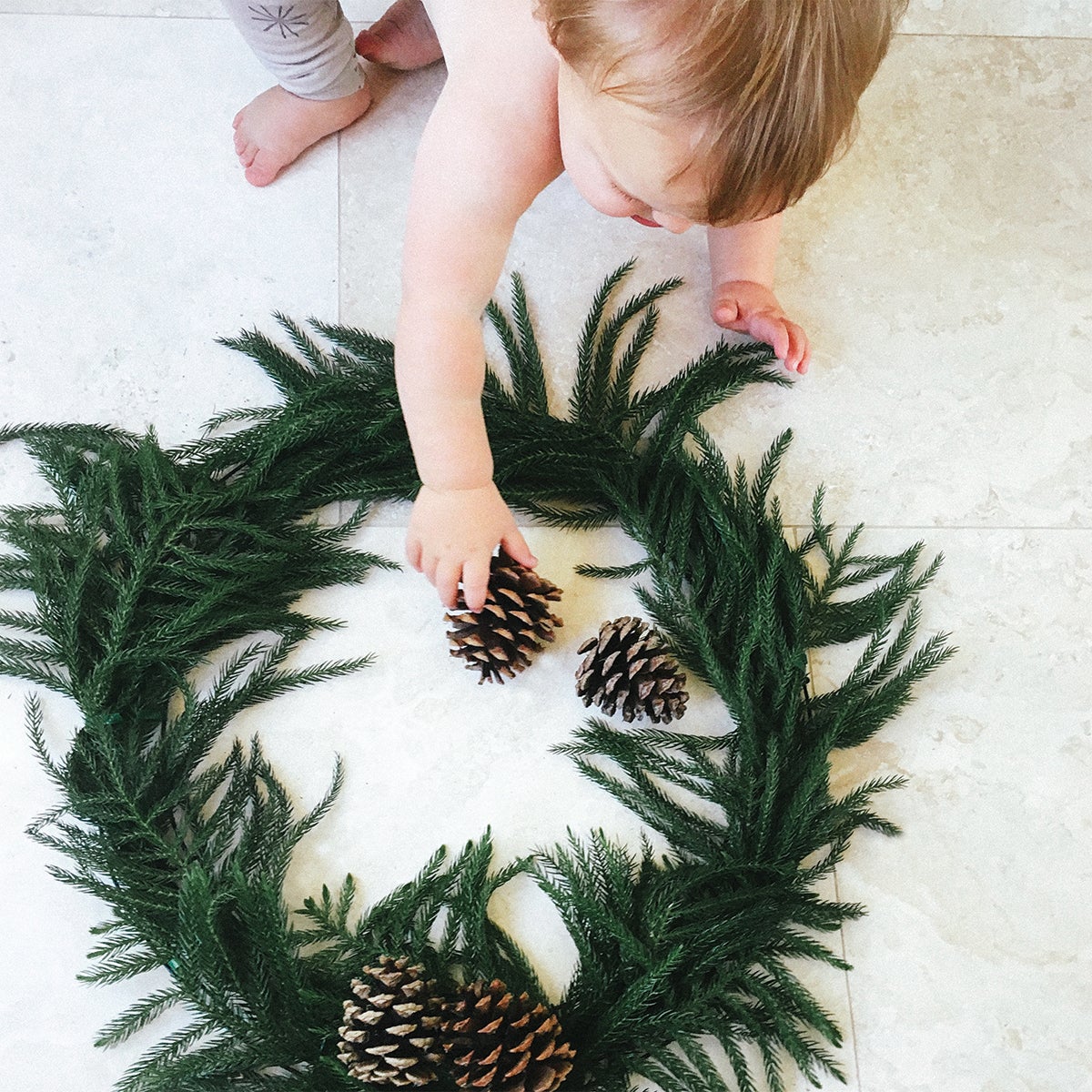 "Every holiday season we pick out a new handmade wreath for our home. Instead of hanging them on our front door, we instead hang them in our home, over the fireplace or above the sink in our kitchen. Some years we have even made it ourselves using greenery and pinecones from our own yard. Each one has been unique and special.

A favorite was one we purchased from a local craft market, designed by friend @florabynora. Another year, a close florist friend @barerootflora gifted us one she made. This meant so much because, at the time, our preemie twins were in the NICU — we didn't have time to even set up a Christmas tree that season."
---
Closing the Distance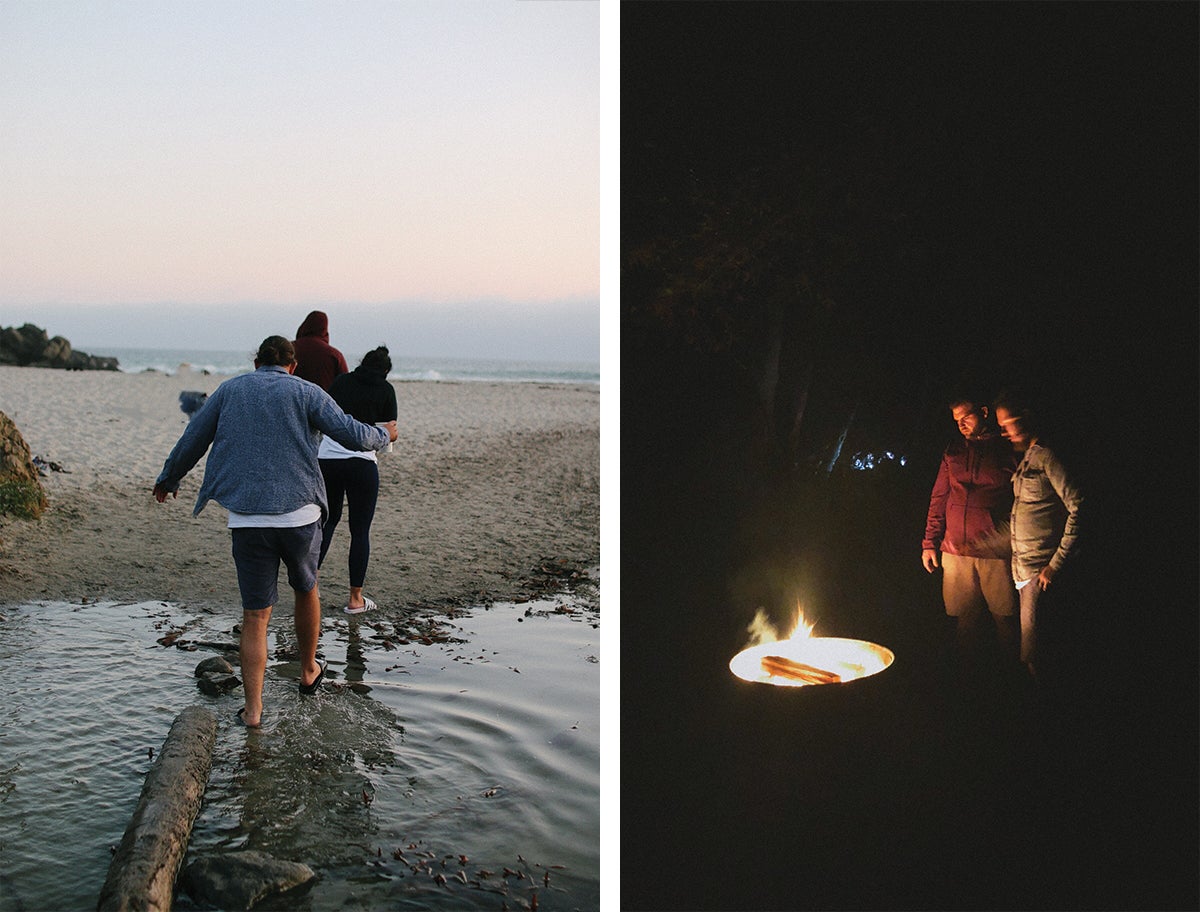 "Having moved away from our hometown, my husband and I find this season to be a much-needed (and convenient!) time to reconnect with our age-old friends who are also home for the holidays. Each year, we rent a house or campsite together for a couple of days, where we trade Secret Santa gifts, cook meals, and play games — like we're teenagers all over again. Spending this quality time both takes us back and fills us up to last the rest of the year when distance often separates us."
---
Not for the Faint of Art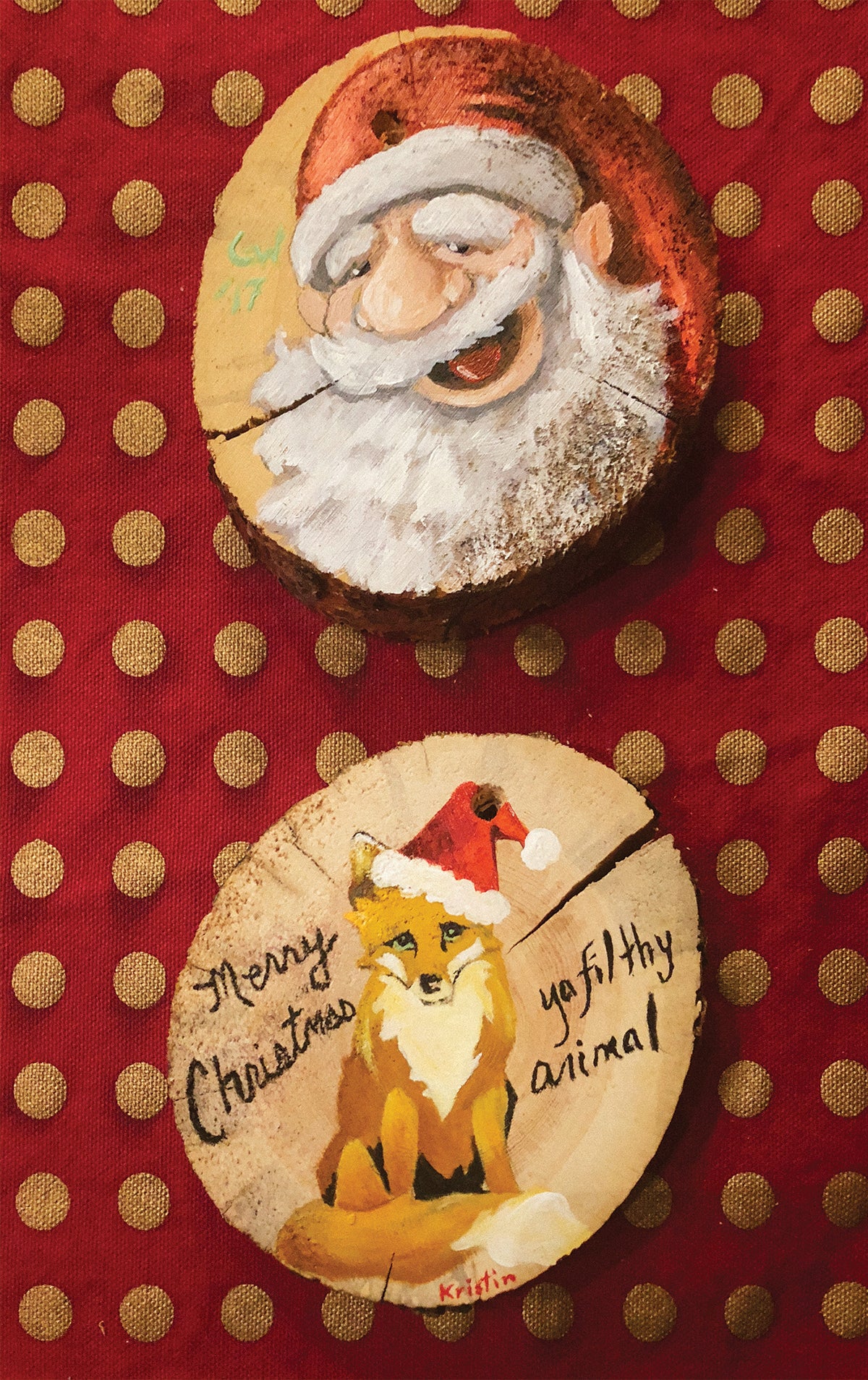 "My dad has always been the king of competition, and no Christmas goes without our annual pine-ornament-painting contest. Every year, we all sit around the table and try to out-artist one another. It all started because our 20-foot, cut-your-own mountain trees never had enough ornaments to make them feel fully decorated, so my dad started cutting small pine slices for us to paint.

Over the last 25 years, we have created a large collection — so much so that if your ornament isn't up to par, it usually goes towards the top of the tree (out of eyeline). Any guest to our cabin, no matter their painting ability, is also required to paint an ornament with some call-out to the place they call home.

We now have a colorful collection of ornaments representing a myriad of US states and countries."
---
Kara, Product Manager
Fortunes and Ferden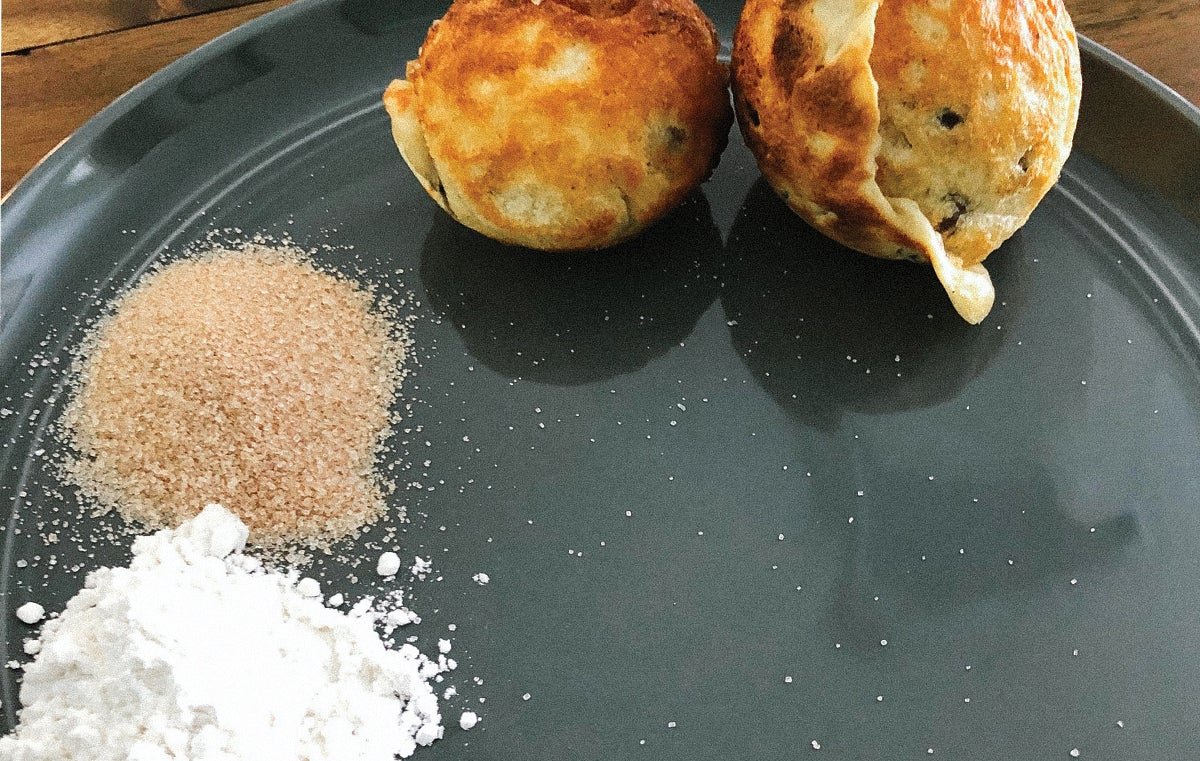 "For five generations, my family has gathered on New Year's Day to enjoy a unique German tradition: Ferden.

Ferden is a breakfast pastry that resembles a rounded, filled-in pancake or donut hole, usually filled with currants and served with cinnamon-sugar or powdered sugar.

The exact origin of Ferden is a mystery, and the recipe we use is specific to our family, handed down over the years — just like the semi-circle cast-iron used for frying the dessert. (There have been a few unsuccessful Googling attempts to try to find the history of Ferden — the closest thing is a Danish treat called Aebleskiver.)

The tradition goes, if you eat Ferden on New Year's Day, it will bring good luck for the coming year. For me, this pastime is about more than good fortune or savoring something that only comes once a year. It's about inviting friends and family to gather together, connect, and share in the excitement of the year ahead."
---
A Tradition All Our Own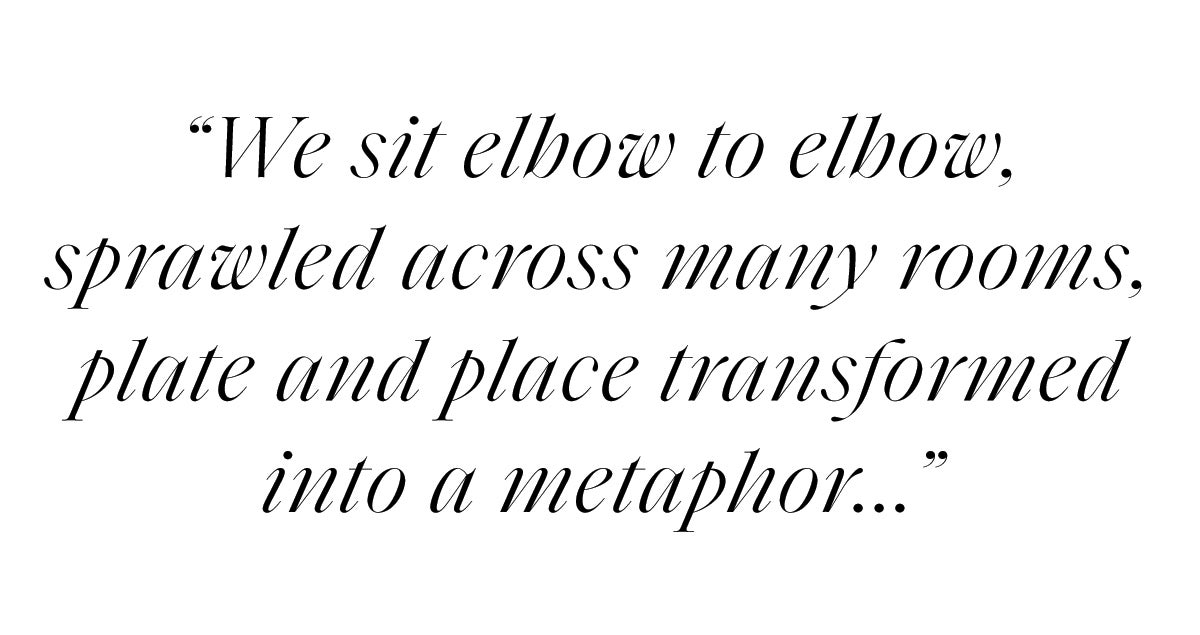 "Moving to the U.S. from a different country, you find yourself caught between the push of old routines and the pull of new traditions. So you embrace both — welcoming the fresh, finding solace in the familiar — borrowing from each to create something uniquely your own.

In this exercise of tradition-molding, you break free from false binaries. You reinvent rituals… and in turn, redefine home.

For my family, it all began with Thanksgiving. After all, gratitude is inherently human. And food? Well, that's a language we all speak.

The first year, we reached out to other Persian families we knew, and came together for turkey and traditional Persian food — all seasoned with saffron, of course. And with each year, our numbers grew. Not just Persians, but Ethiopians, Mexicans, Americans: displaced friends forming a diasporic family (and eclectically international menu), far away from what we once called home.

Today, Thanksgiving draws more than 50 people to the 'table.' Old friends are joined by new families, just as tadig is joined by tamales. We sit elbow to elbow, sprawled across many rooms, plate and place transformed into a metaphor for what Thanksgiving really means. Truly thankful."
---
Almond Joy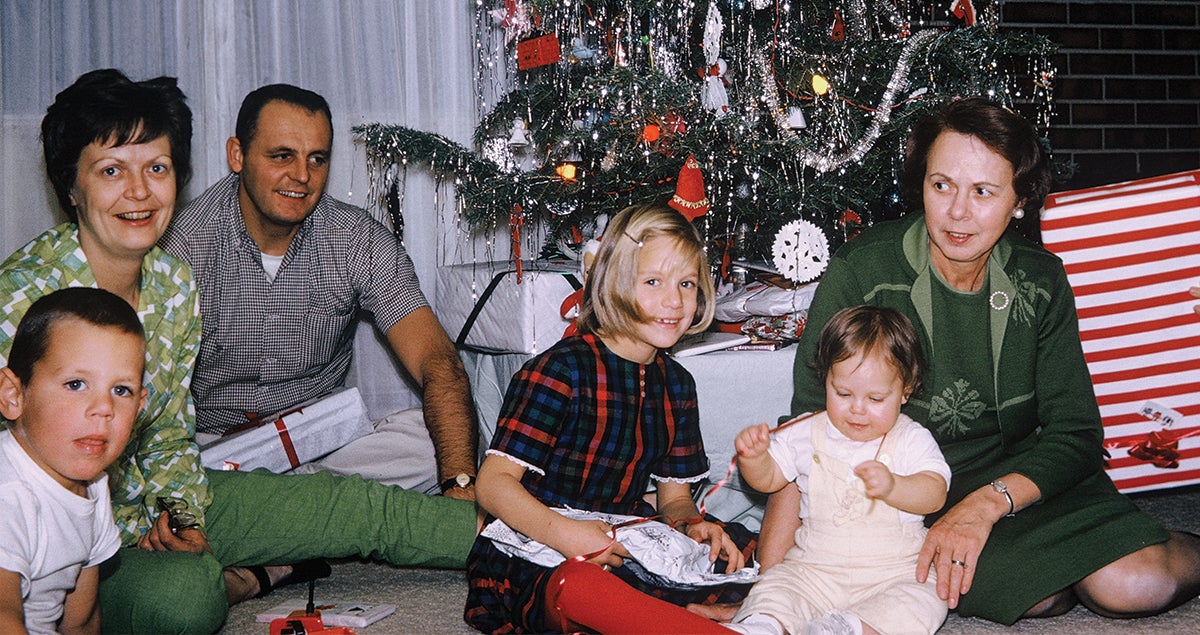 "As a kid, the next best thing to opening presents was our family tradition of finding the single hidden almond in the many bowls of tapioca pudding — which made Christmas Eve the height of family competition.

My Grandma would make enough tapioca to fill small green and red decorative bowls for every family member. We would each pick a bowl at random and begin eating in search of the hidden almond.

What would normally take two minutes to eat, took at least 30. Each bite followed by tongues in cheeks, poker faces, fake choking, and sometimes, an inability to conceal that the winning nut had been found.

The stakes were high as the annual prize was the same pale green box, adorned with photos of each past winner with the almond in their mouth. It was filled with knickknacks and candies — but really, the prize was bragging rights for an entire year.

As with most traditions, when you're a child you think that everyone else does the same thing. It's not until later in life that you realize these things that only your family did are what made the time together unique and yours."
---
---