---
Idea 01
Your Social Feed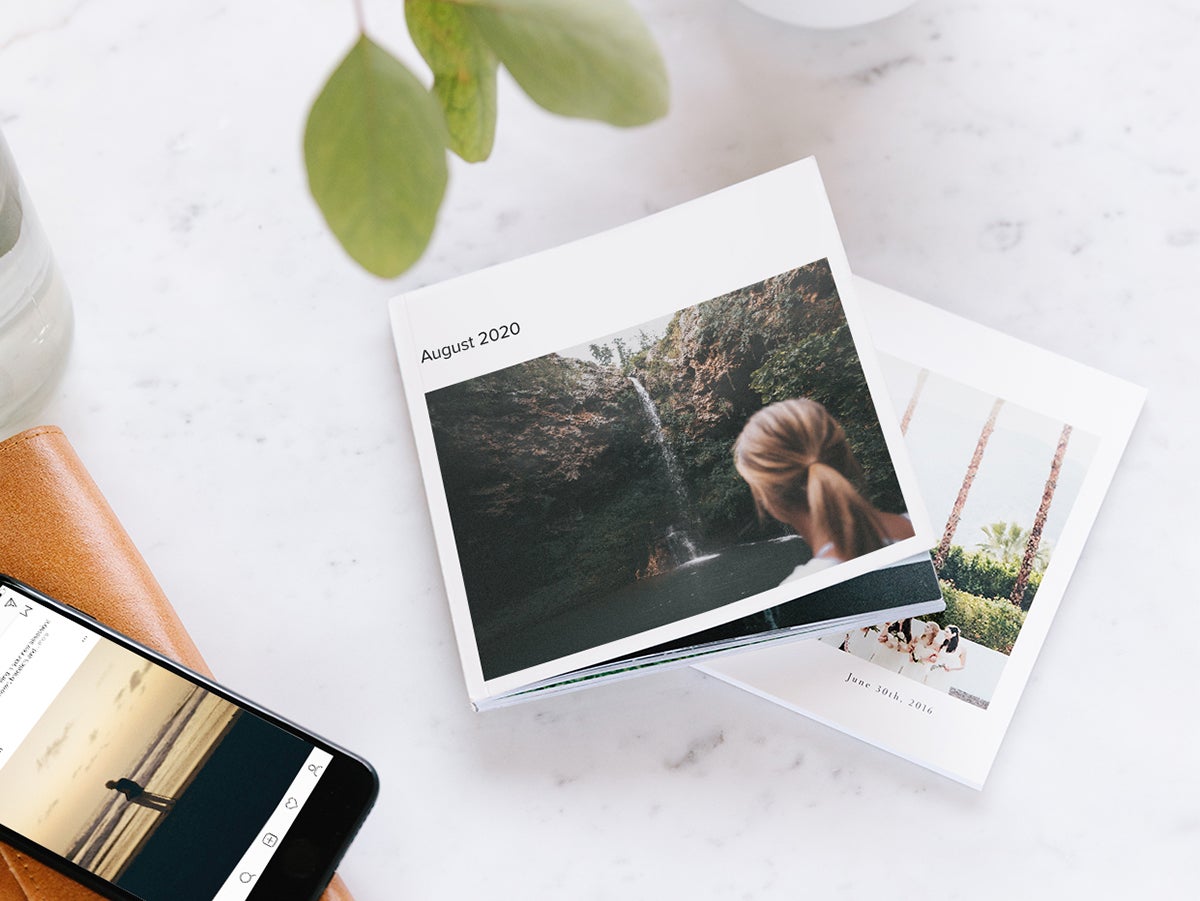 We often publish some of our favorite shots to Instagram, but they shouldn't only live online. By printing your photos, too, you save them from getting lost in this ephemeral space, creating a tangible photo book you can flip through for decades to come.
Our Recommendation
For iPhone users, the images you post to your feed automatically collect in an album within your Photos library. The Instagram-Friendly Photo Book is a contender for our easiest photo book to make, with the ability to import photos from your phone straight to our mobile or desktop website.

Pro tip: Make things a little easier by creating a gallery in your account before beginning to build your book.
---
Idea 02
Celebrating Pets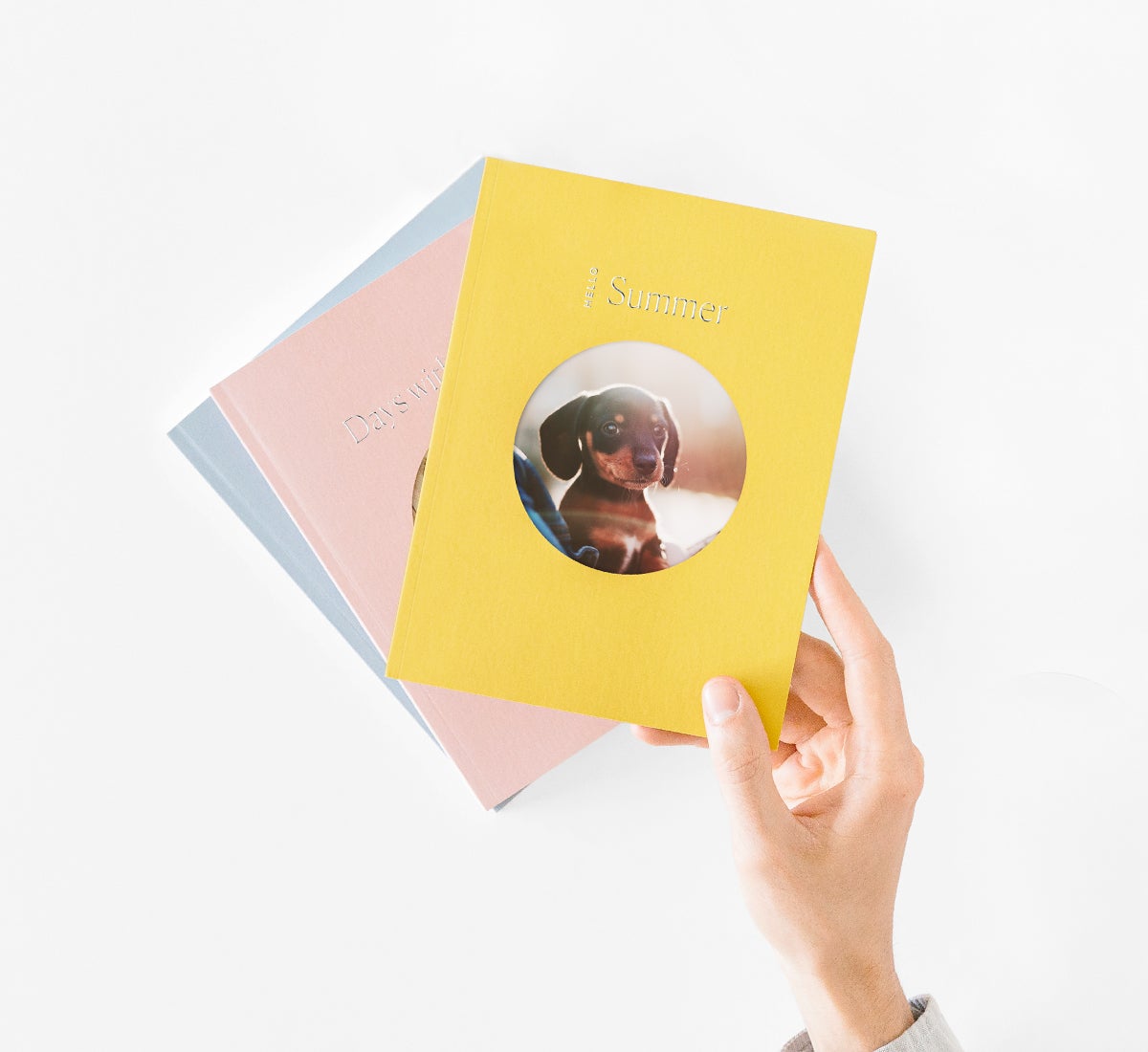 Chances are, if you have a furry friend at home, you've got dozens (if not hundreds) of photos to prove it. What easier way to honor the impact they've had on your life — and their cuteness, of course — than by creating a photo book featuring your favorites?
Our Recommendation
Find your pet's most famous pose and feature it front and center through the die-cut cover design of the Color Series Photo Book. This casual softcover is quick to make, remarkably soft to the touch, and equally welcoming to skim through!

Pro tip: Need a few images of your fur child to round out the book? Look to our guide full of tips for photographing pets.
---
Idea 03
Weekend Adventure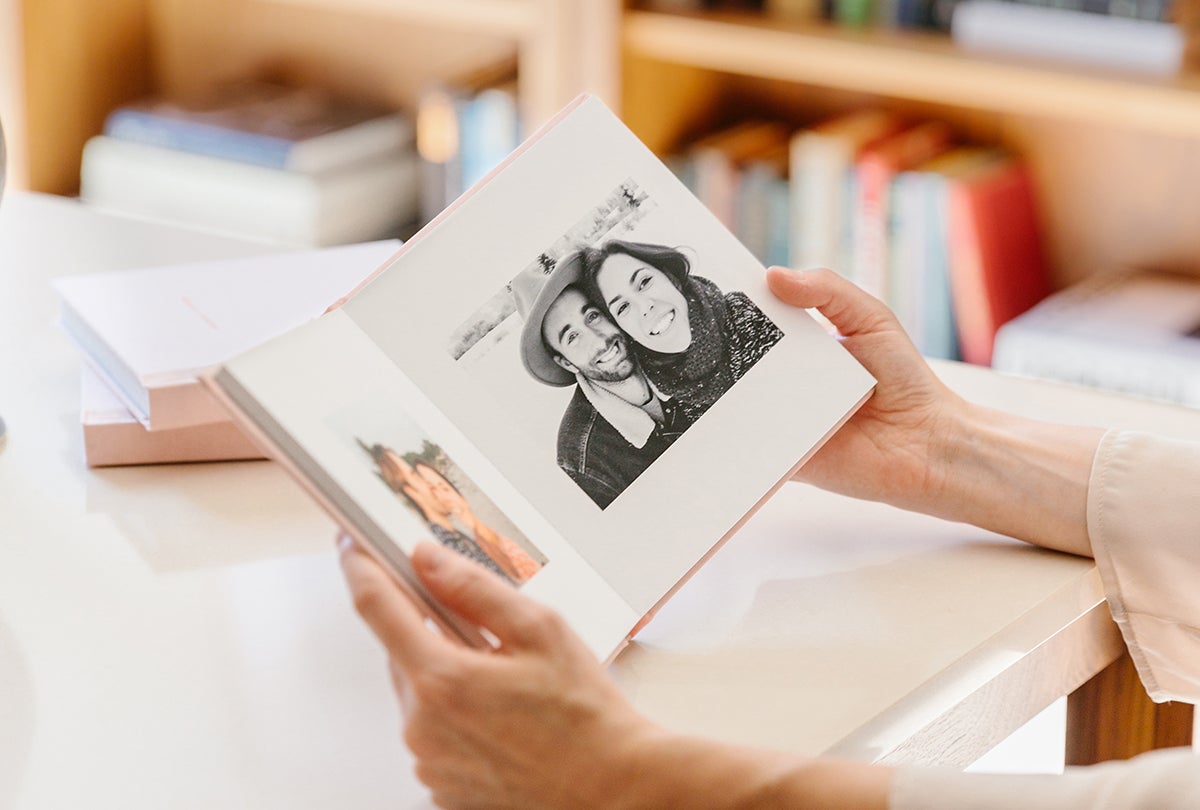 Weekend getaways, whether a simple staycation or a few days of travel, often have a way of filling our spirits and our camera rolls. No matter how small the trip, it's worth revisiting in a simple photo book that brings you right back. Think: scenic views, selfie outtakes, food shots — those micro-moments of joy and adventure that make it all worth remembering.
Our Recommendation
The minimal Everyday Photo Book features single-photo page layouts that streamline album creation (it might be our easiest photo book to make!). All you need are your photos, a title, and your cover color preference to make a small-but-mighty album, every time you travel.
---
Idea 04
Photo Journal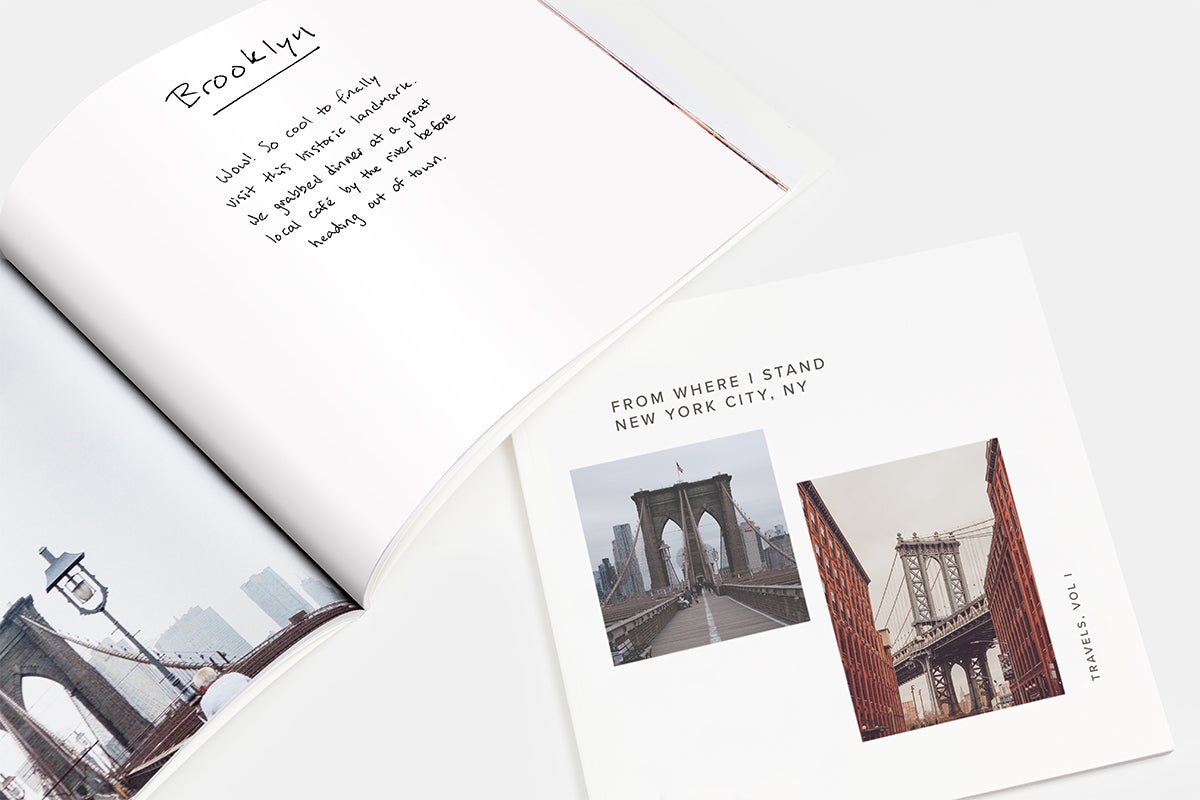 Give yourself a place to put pen to paper with a homemade photo journal. Each spread can feature a photo from your camera roll or even a royalty-free image, alongside a blank page to write in. You can even use optional text layouts to include a quick prompt for your future self to think on. Turn it into a gratitude journal for one of many ways to practice gratitude through photo!
Our Recommendation
Practical and petite, the Mini Photo Book is a low-pressure option for a creation to be enjoyed solely by you. Its convenient size gives it an on-the-go quality that's fit for scribbling whenever inspiration strikes.
---
Idea 05
Family Reunions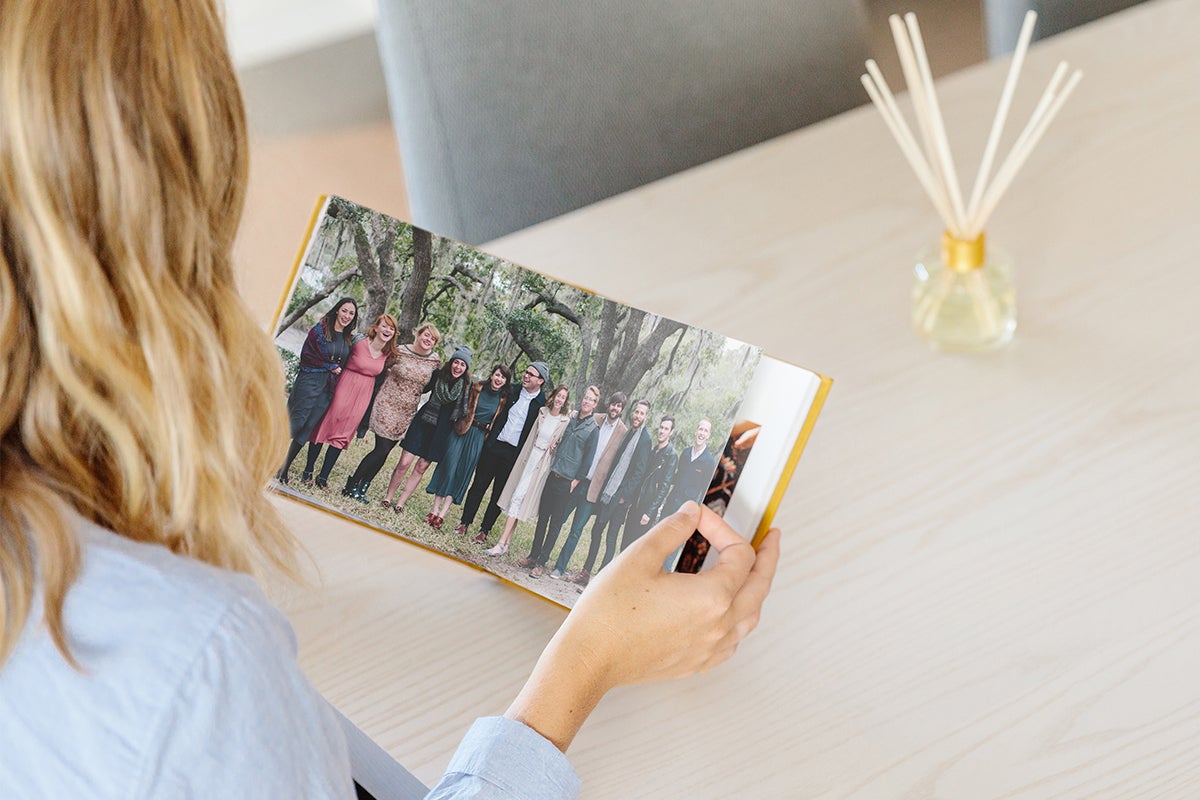 Getting back together with family can yield an astounding number of photos on our camera rolls. From group shots to long strings of candids, it's these pictures that remind us of connection and all that comes with it. Looking back on a time you were all together, make an album to keep close by — and even order copies as gifts for parents, siblings, and extended family.
Our Recommendation
Putting focus on one photo per page or spread, the Everyday Photo Book touts the type of simplicity that gives readers the space to appreciate and recall every moment as they feather through.
---
Idea 06
Digital Albums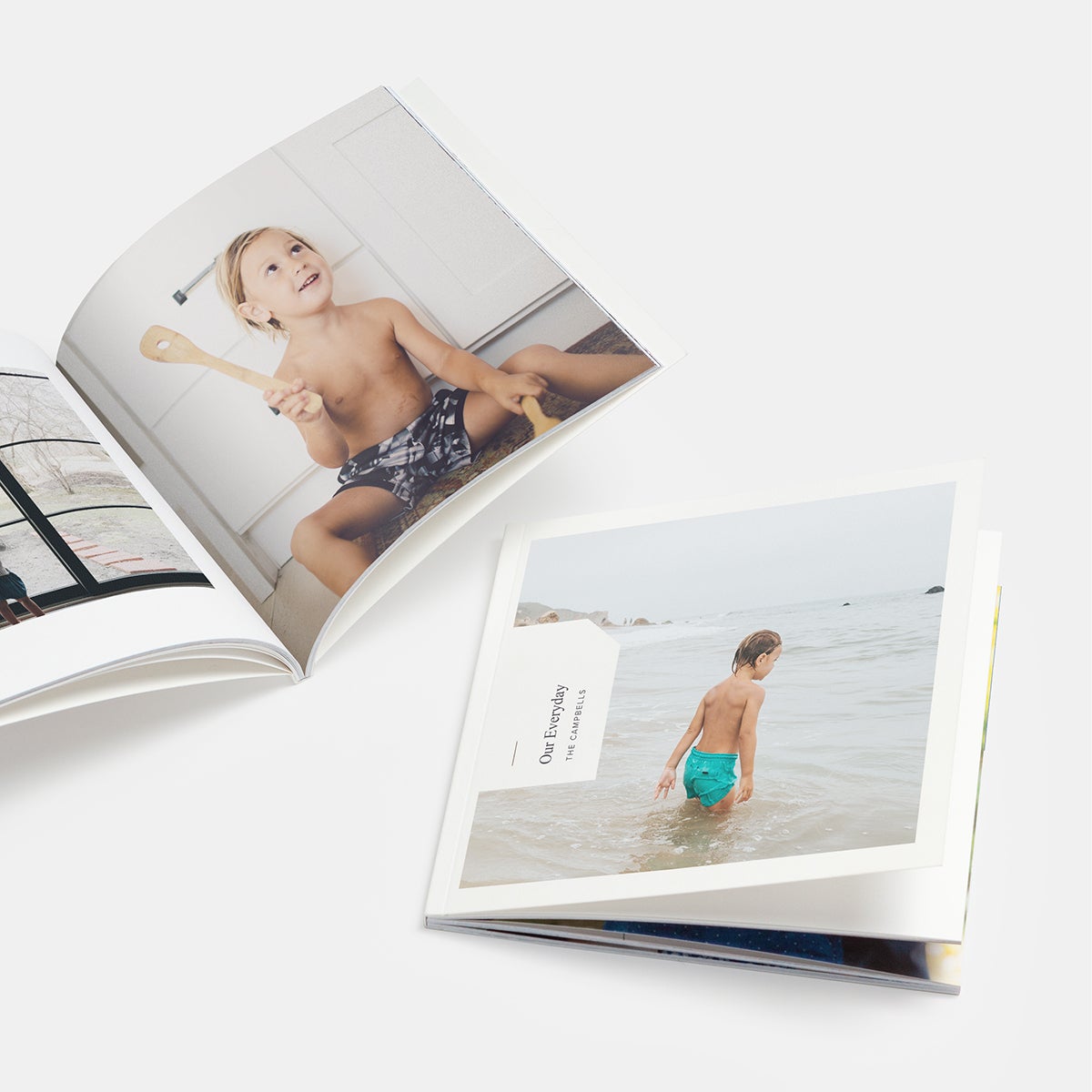 Have your photos organized into albums within Facebook, iPhotos, or Google Photos? If so, then half of the work is already done! Import pre-made albums directly from any of these sources to save time rounding up related images. This especially comes in handy for printing trips, events, or a defined period of time.
Our Recommendation
Try this out in the Softcover Photo Book, our highest-capacity choice for albums with a few hundred photos, or more!
---
Idea 07
Names & Faces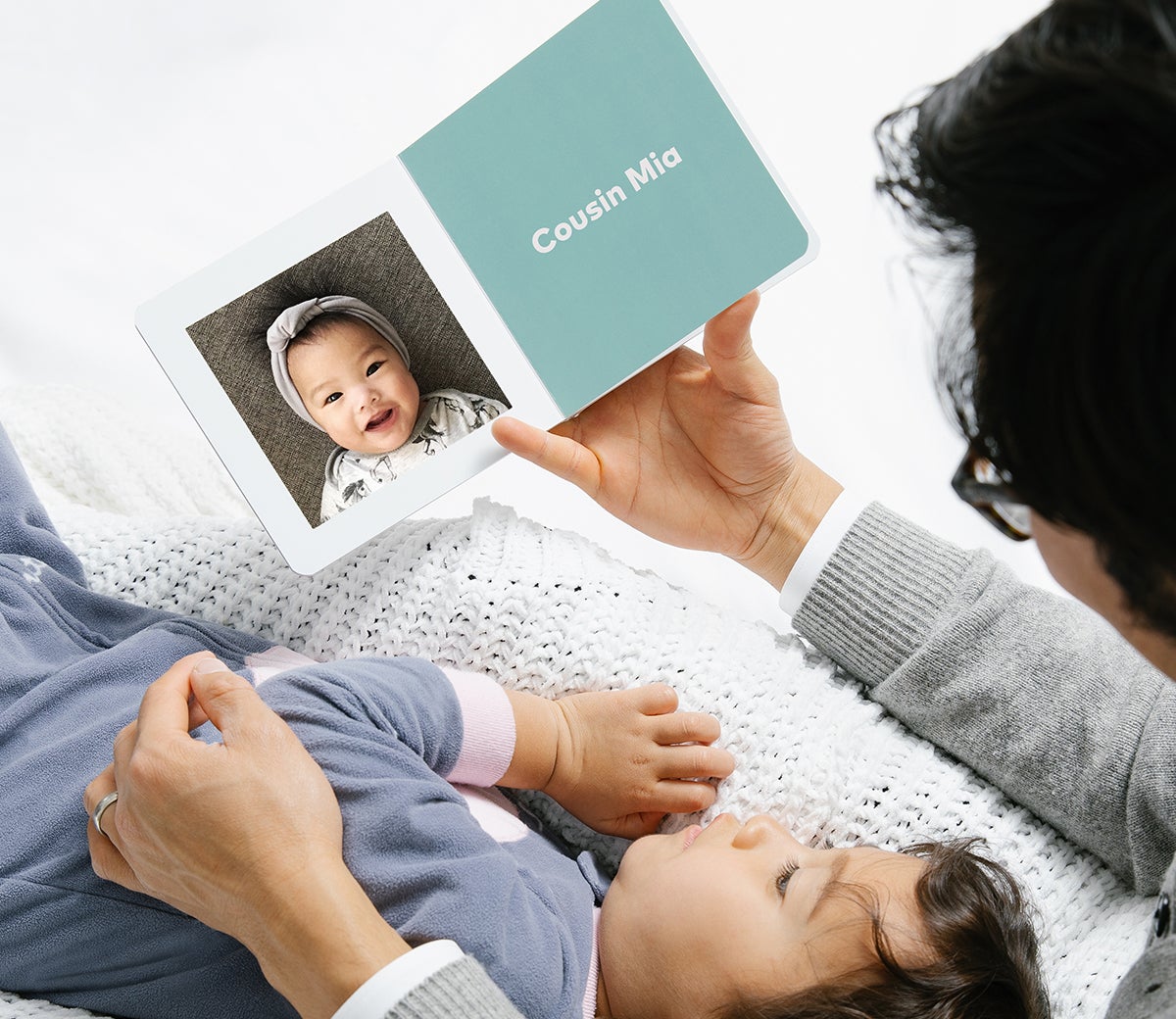 Pair familiar faces of family and friends with their names for your little one to learn every time they pick up this book. Especially handy for keeping distant loved ones close and top of mind, this idea is sure to delight children and the adults who love them, alike.
Our Recommendation
We've already started this one for you! The "My Favorite People" theme of our Baby Board Book includes an introductory poem and spread layouts in an easy-to-use template. Make it your own with our curated color palettes or custom color picker.
---
Idea 08
Group Getaways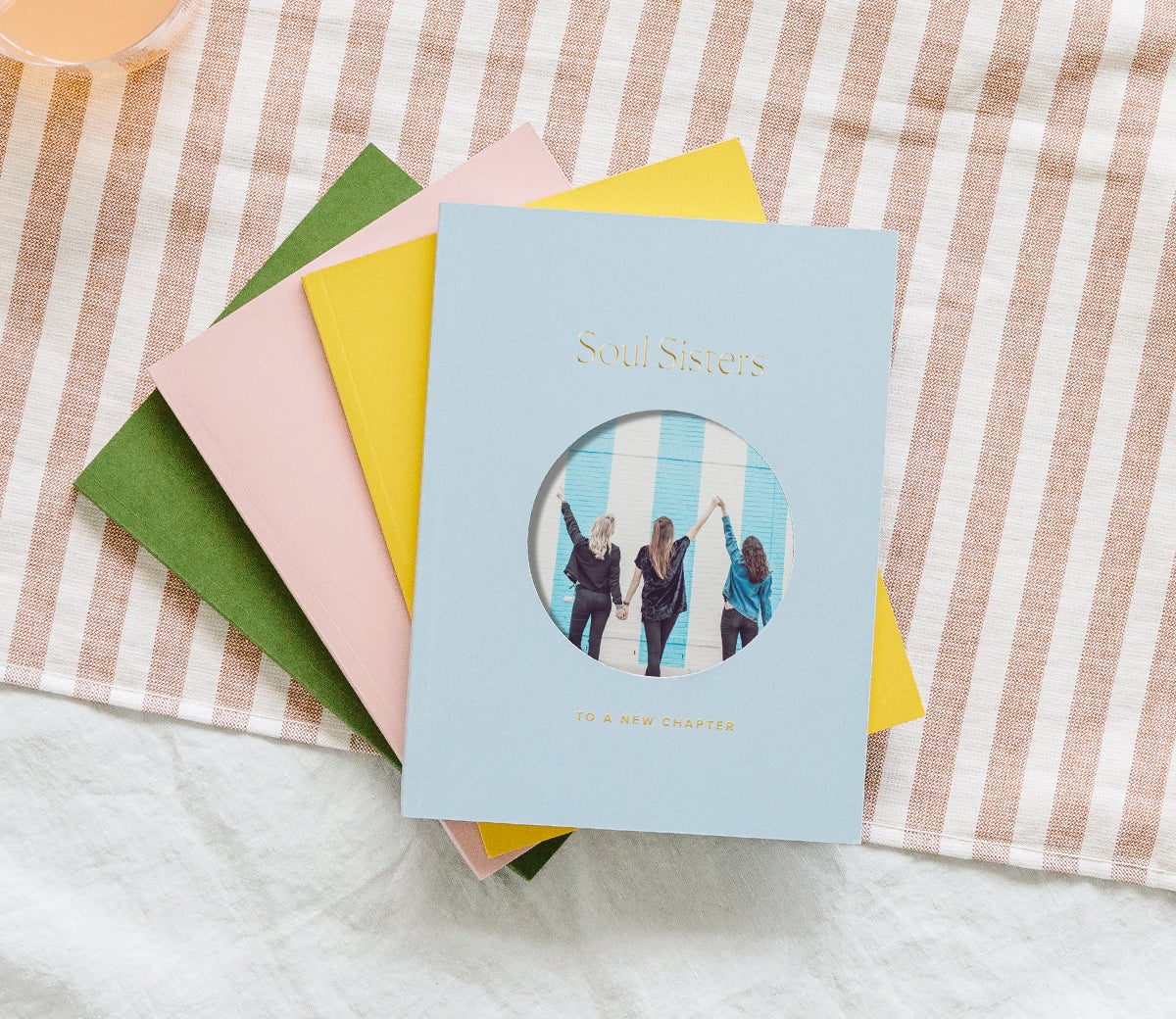 Remember the laughs of a recent friends weekend, like a bachelorette party or birthday trip, in a simple photo album to gift or keep for yourself. You may find that shared albums in iPhoto or Google Photos are particularly useful in collecting photos from everyone in one central place to print.
Our Recommendation
The best photo of the whole group should go right in the peep-through cover of the Color Series Photo Book. A playful option with an approachable price point, this book makes a great gift for the whole gang.
---
Idea 09
Documenting Gratitude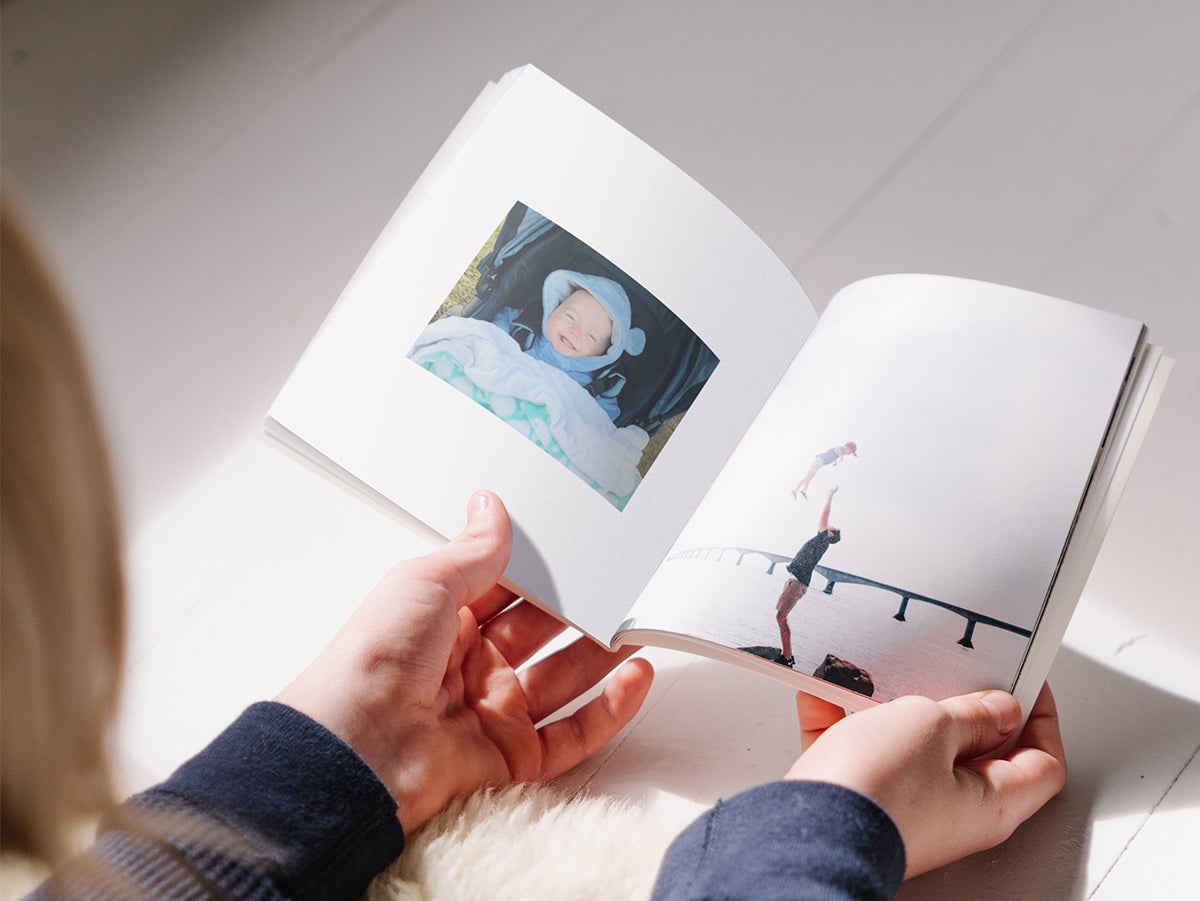 For an activity that stirs up a sense of gratitude, create a photo book of all the things you're thankful for… be it family, home, hobbies, nature, or anything that's meaningful in your world. You can even make use of captions with any extra time to spare, describing your stories and reasons why you're grateful.
Our Recommendation
Among our easy photo books, the Softcover Photo Book's minimalist aesthetic makes use of white space to place more importance on each image. This means there are less frills and decisions involved in building your book.
---
Idea 10
Celebrating One Person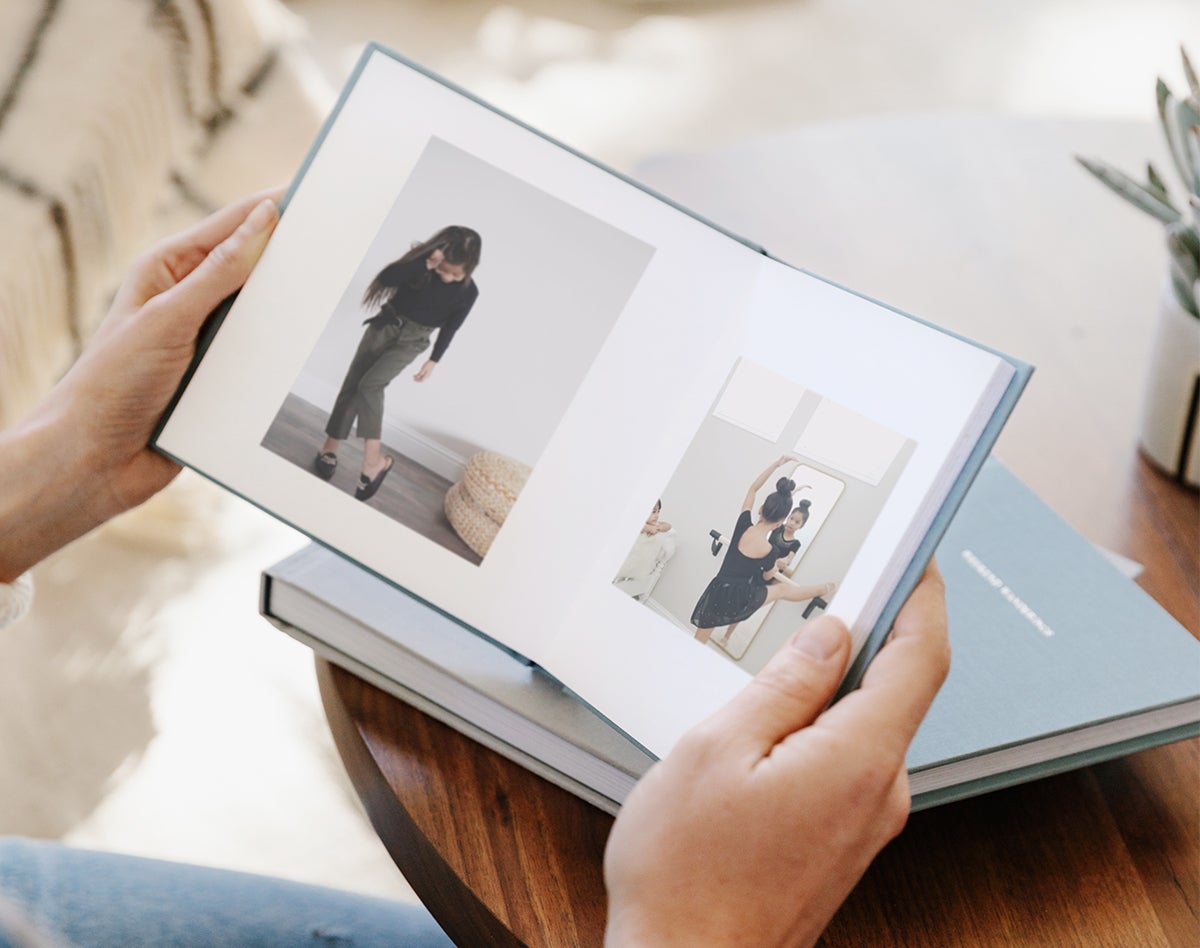 Thoughtful gifts don't have to be difficult. Making a photo book starring a special person is made extra easy with the facial recognition sorting function (standard with Apple's and Google's albums). Do a quick scan for photos with and of the recipient, and create a book that's all about them.
Our Recommendation
The Everyday Photo Book makes a perfect birthday, graduation, or special occasion gift with its linen-bound and foil-stamped cover. Plus, it's easy to create, with only one or two photos per page spread to plot out.
---
Idea 11
A Window of Time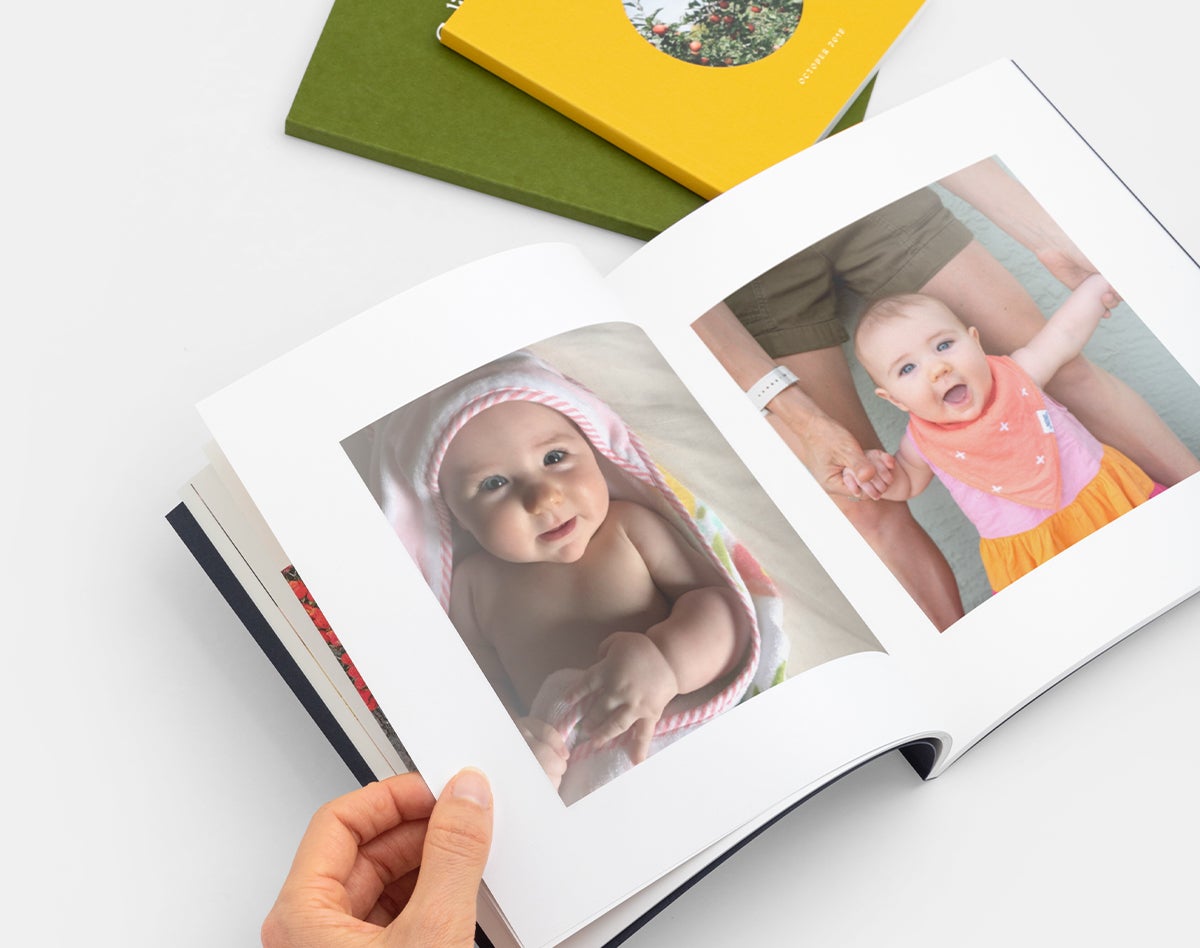 Sometimes, the most easy photo album to make, especially when you're in the habit of printing frequently, is one based around a given time period. Annual reviews, seasonal recaps, monthly lookbacks — our memories of experiences are so bound by time, so why not make photo books that are too?
Our Recommendation
The Color Series Photo Book lends itself best to creating an ongoing volume. Each book in the series can take on a different color, or you can distinguish different groupings by creating a handful of books in a single cover color (for example: four 2019 season books in Navy, four 2020 season books in Petal Pink).
---
Idea 12
Save Kids' Artwork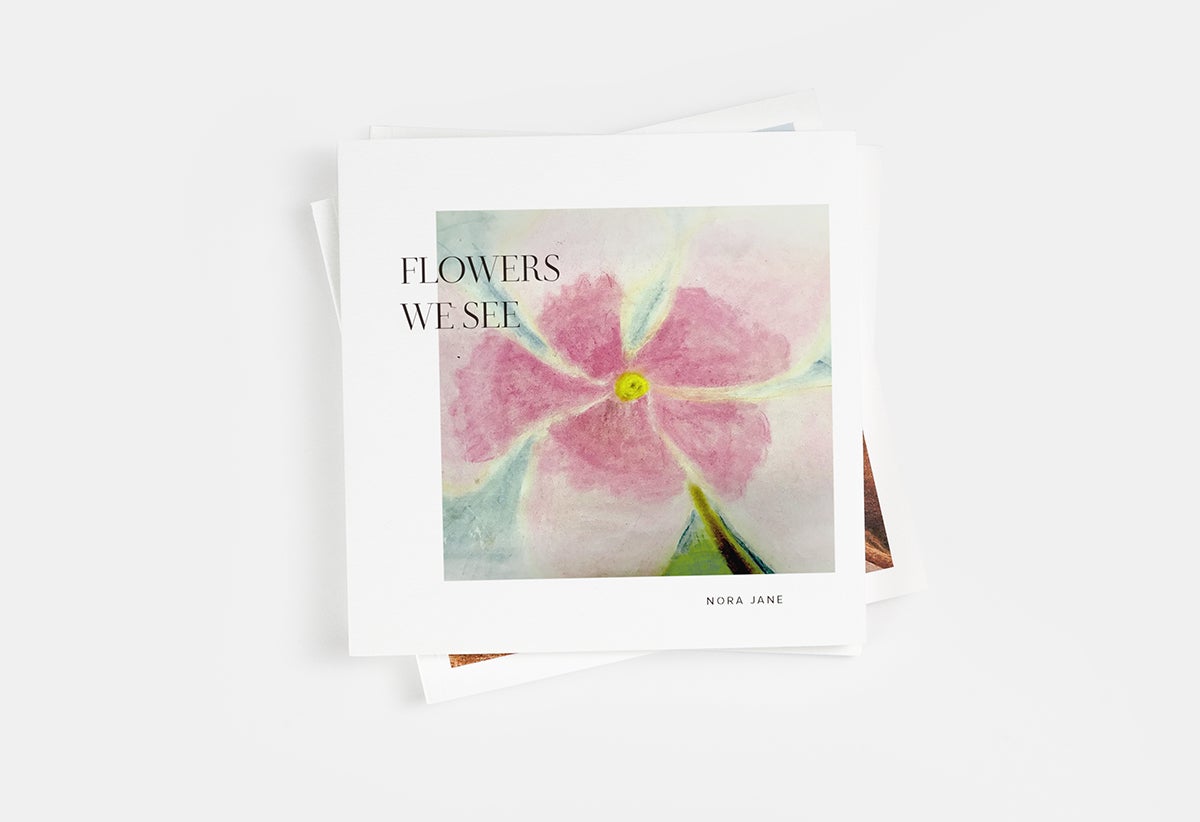 You may not have the space to store every work of art from the little ones, but that doesn't mean you can't save your favorites! Scan or take a photo of the kids' creations for safekeeping and look back on them together down the road.
Our Recommendation
Your mini prodigy's masterpieces can be kept sound in a Softcover Photo Book, one of our favorite options for creative art portfolios.
---
Easy Does It
Tips for Quick Photo Book Creation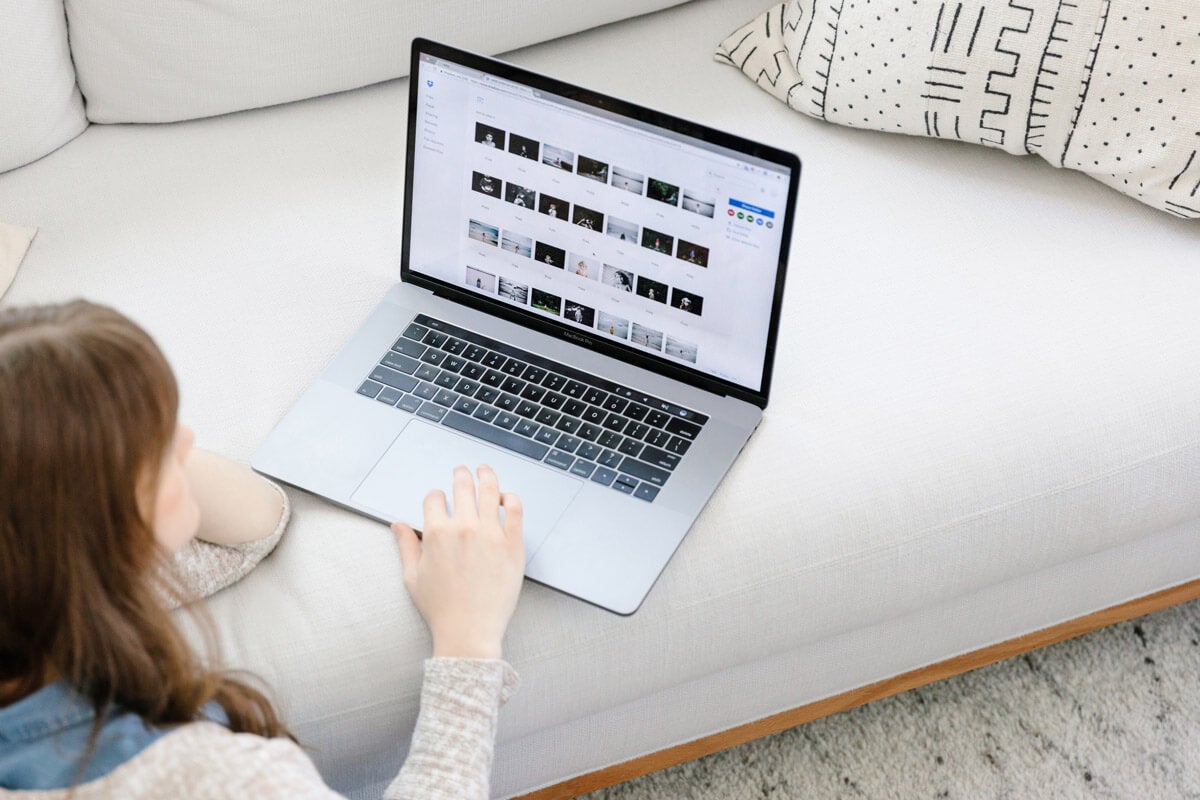 Use Technology to Your Advantage
Searching with facial recognition, keywords, dates, and auto-created albums within your photo storage provider helps spur ideas and collect related images for grouping into a book.
Upload Photos to Galleries All at Once
Having all of the images from your device(s) ready to go in your account will make placing them into the book a much speedier process! To get photos off of your phone, try either uploading from our mobile website first, using AirDrop, or importing from other platforms like Google Photos straight from our editor.
Select Your Book Before Starting
Nothing takes the wind out of one's sails quite like having to start over. It's not possible to transfer your creation in one product into another (e.g., from Hardcover into a Softcover Book) once you're in the editor, so explore the features of each before laying out all of your photos inside.
Auto-Fill Makes For Easy Photo Books Fast
If photo order isn't of importance, get started placing them on each page with the help of the auto-fill feature. From there, you can scoot images around to your liking, or simply add your title and check out!
Borrow Our Photo Book Title Ideas
Stuck on the front? Here are 100+ photo book title ideas that you're welcome to use as your own!
---
Building Photo Books Can Be a Breeze
And we're always here to help