---
To put it simply, giclée signifies the highest-quality print available — known for unparalleled detail that maintains its integrity well beyond the point at which other prints may start to fade. (We'll dive deeper into the criteria in just a bit.) The term itself, pronounced zhee-clay, comes from the french infinitive "gicler," meaning to "spurt" or "spray" — a direct reflection of how inkjet printers produce images on a given medium.

When giclée prints first hit the market in the late '80s, it was a breakthrough for photographers and art connoisseurs alike. Photographers found a means of creating high-quality prints at a low cost and large scale, while people who may otherwise not have been able to afford an original piece of art could now purchase the next best thing: a true-to-life recreation. Today, it has newfound significance for a much broader scope of potential printers.
---
Until very recently, nothing short of a high-end digital camera would make photos at resolutions that print in giclée quality. But in a new age where modern smartphone cameras (often surpassing 10 megapixels) create as much detail as the DSLRs of old, the potential for large-format giclée printing is already sitting in many people's pockets.

In this sense, giclée prints aren't just for photographers — they're for modern moment-markers too, from parents and travelers to the "do-it-for-the-Gram"ers. They open up the opportunity to turn life's little moments into larger-than-life pieces, so we might personalize decor and preserve the moments that are truly important. Think: a chance to enlarge that baby photo or frame your favorite shot from the summit.
---
While rich detail is the most common characteristic associated with giclée prints, there is a set of established criteria that each print has to meet in order to earn its name. This criteria falls into four categories, each of which affects not only quality, but also just how long that quality will remain intact.
Resolution
An image is printed at 300 DPI (dots per inch) or greater to be considered a giclée reproduction. That means that the original image must be photographed or scanned at a resolution of 300 DPI or higher.
Ink
The ink in at-home inkjet printers is dye-based, but giclée prints are instead rendered using pigment-based inks. These higher-quality alternatives have a longer lifespan, lasting over a century (up to two!) without significant fading.
Paper
A print is only as good as its paper, and giclée prints are always printed on 100% archival paper. And while there's no universal definition of what makes a paper "archival," there are some widely accepted standards. The paper should be free of acid, brighteners, groundwood or unbleached pulp, and meet limits on metallic content. These elements affect not only how the color of the ink renders on the page, but also how long the print stays true to its original rendering.
Printer
Giclée prints are created using a wide-format inkjet printer, which must hold eight ink cartridges minimum for giclée printing capability. The additional inks allow for a richer, broader spectrum of color than a three-ink system you might find in at-home inkjet printers (which are significantly smaller than their wide-format counterparts).
---
To perfect the transfer from camera to print, we looked at both method and medium when creating our own giclée prints — ensuring nothing would be lost in translation when recreating the moments and images with which we are entrusted. It is through this pursuit of authentic preservation that the Large Format Print was born.
Our Paper
The heavy weight 230 gsm (6 pt.) paper on which we render every giclée print is an acid-free Archival Matte Paper certified by the Forest Stewardship Council (FSC). It features a smooth, neutral-white finish that is fine-tuned to embrace the distinct nuance of every hue, giving the color a true-to-life quality sought after by the most discerning of eyes.
Our Ink Story
10 inks are used to create fluid finish and incredible resolution, allowing us to create and match colors that may have otherwise been lost in even an eight-ink system.
---
Keep in Mind
A Few Tips for Printing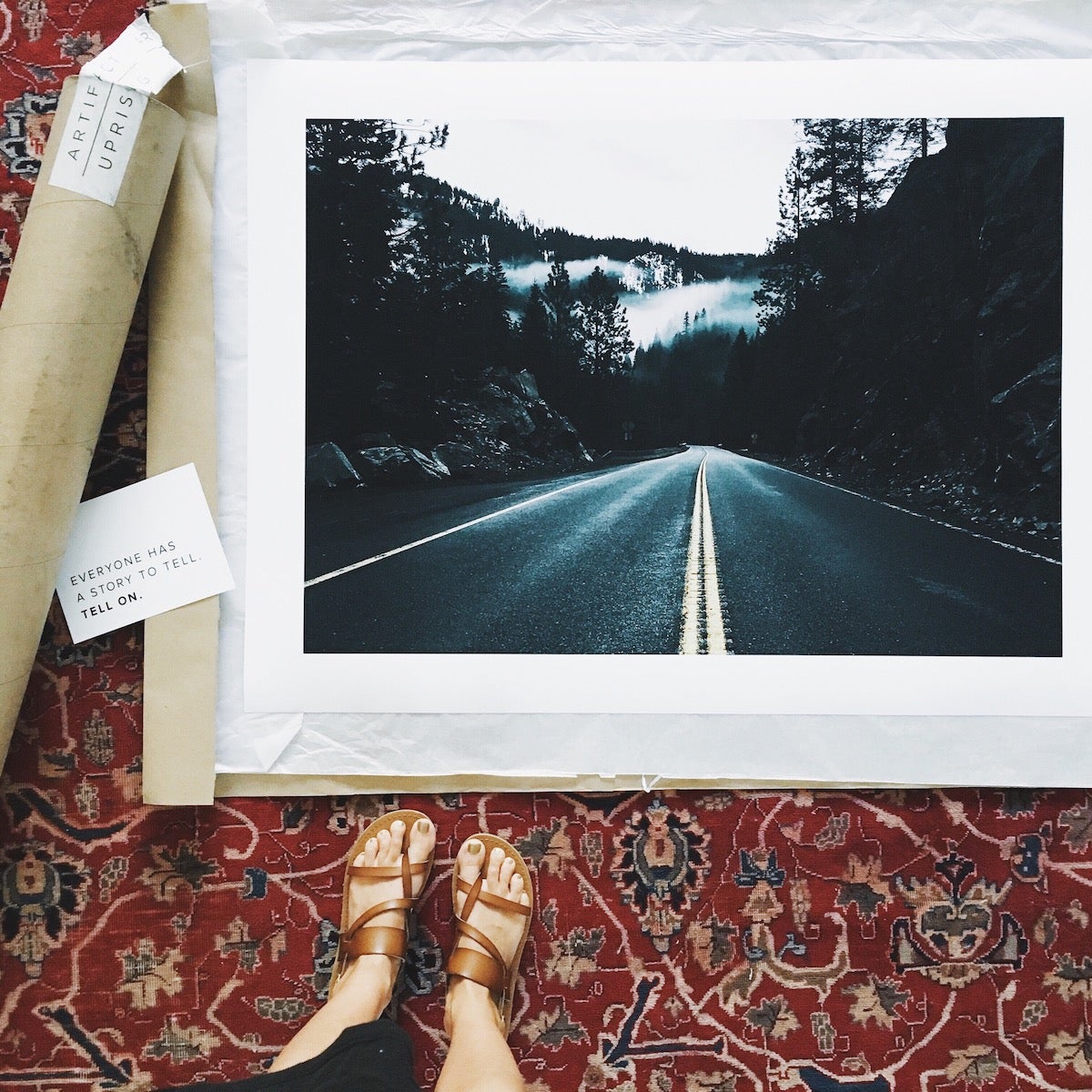 While giclée prints lend themselves to incredible quality, the quality you get out is a product of the quality you put in. With that in mind, here are a few tips that can help with the printing process.
Check Your Resolution
To get the best results from any giclée print, it's imperative that your photo has a resolution of at least 300 DPI. If you're exporting your photo from your phone, it might not be set at the full resolution automatically. Luckily, this is easy to adjust. Just follow the steps we lay out in our guide to enlarging photos for printing.
Know Your Maximum Size
Using the same process referenced in the previous tip, you can also get a sense of the maximum size your image will print at giclée resolution. (We lay it all out in the same guide!) Knowing your maximum size ahead of time can help you pinpoint just how big you want to go with your print.
Use Your DSLR When It Counts
While your smartphone might have a 10+ megapixel camera, it's still safe to assume a digital camera purchased in the past five years will create crisper images. By doing a little bit of research into the lenses of each, you'll know which to count on for the photos you know you'll want to put on display.
Check Your Camera Settings
If you're shooting in raw on your DSLR, you shouldn't run into any issues. However, for those shooting in jpeg, we recommend setting your camera to the highest quality possible for your device.
---
Bring Every Detail to Life